I love making things and giving them to others, and here is a great list of handmade Christmas gift ideas I plan to make now, to get ready for the holidays. Yes, some handmade gifts aren't so great, and you may receive one and wonder what you'll do with it, but there are some great gift ideas that are really useful and nice to receive. I have lots of women and young girls in my family who I know will enjoy the body scrubs and lip balms. It's the perfect time to get started on these handmade Christmas gift ideas, and you can make extra for yourself!
---
1

Citrus Salt Scrub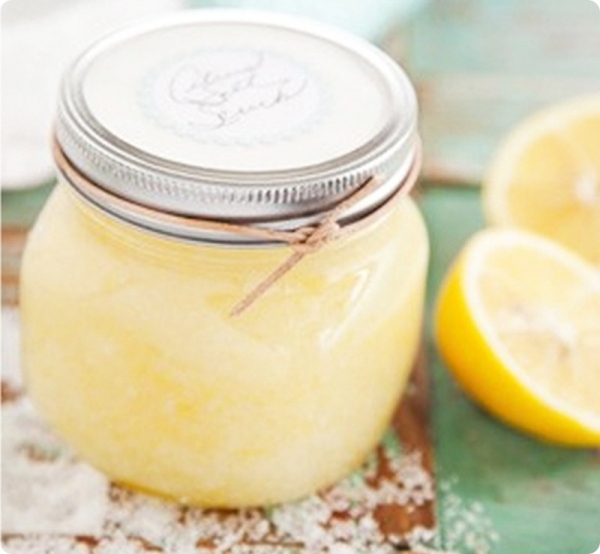 Does your skin not feel great after exfoliating? This scrub is great for that and is an excellent moisturizer. I know my cousins will all love this as well as some other handmade Christmas gift ideas I have planned for them.
Ingredients:
½ cup fine sea salt
½ cup coarse sea salt
½ cup sweet almond oil
½ teaspoon zest of lemon
½ teaspoon zest of lime
½ teaspoon zest of grapefruit or orange
Directions:
In a medium dry bowl, combine all ingredients making sure to not let any water touch them as it will dissolve the salt. Pour mixture into an airtight container and store in a cool dry place. I'd suggest a festive green or red jar, to make it Christmas-appropriate.
---
2

Lip Balm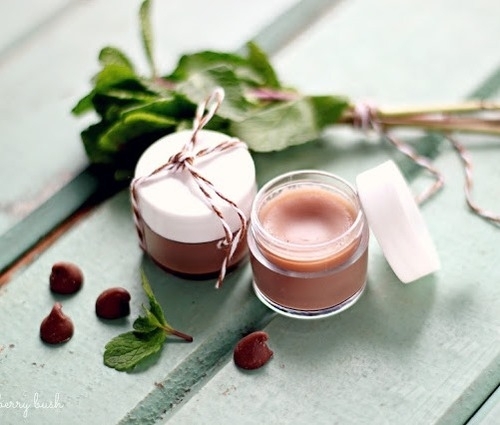 I'm combining a couple of different recipes here and you can also play with the ingredients you use to make your perfect lip balm. Try essential oils like grapefruit, peppermint, lemon, etc. Also, add a sliver of your favorite lipstick for color to the heated mixture. You can purchase several different containers on line from metal tins to plastic jars.
Ingredients:
3 teaspoons grated unbleached beeswax
5 teaspoons carrier oil (sunflower, castor, or jojoba)
6 or 7 drops essential oil
1 teaspoon honey, for flavor
Directions:
Melt the beeswax and carrier oil together in the top of a double boiler, stirring to combine. Remove from heat; add honey and essential oil. Mix thoroughly so the honey does not clump. To add a little color, stir in a tiny dab of lipstick with a coffee stirrer. Pour the mixture into containers; let sit 20 minutes before covering or moving. For glossier lip balm, use 2 teaspoons wax and 8 teaspoons carrier oil.
---
3

Oatmeal Soap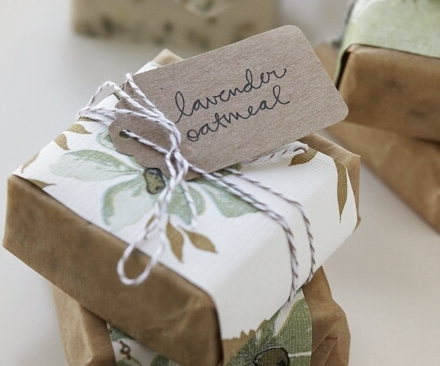 I love handmade soaps. They don't come with all the additives that our skin doesn't need. You can purchase everything you need at your local Michael's or Hobby Lobby except for the oatmeal, of course.
Ingredients:
Goat's Milk Soap Suspension Formula
Sweet almond oil soap extract
Oatmeal (not the quick cook, but the old fashioned)
Soap molds
Directions:
Place 8 cubes of Goat's Milk Soap Suspension Formula in a microwave safe bowl and melt in microwave for approximately 1-1/2 minutes on high. Tip: It melts evenly if you use a knife to cut the individual cubes instead of leaving it in a block.
Add approximately 40 drops of sweet almond oil soap extract (I purchased at Michaels for $2.99). This is about a 6:1 ratio. 5 drops of oil for 1 cube of soap. If you like a stronger scent, I'd use more drops of oil.
Add 1/4 cup oatmeal that has been lightly blended in blender to make grains smaller.
Mix ingredients in microwave safe bowl and pour into soap molds (I got mine at Michaels for $1.99). This recipe fills two square molds and makes 2 nice sized bars of soap.
---
4

Lemon Sugar Scrub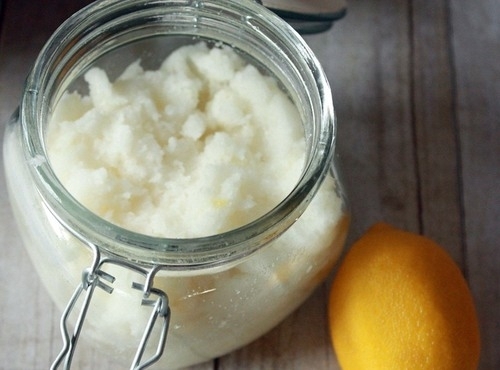 This is probably the easiest sugar scrub you can make. I cannot wait to hear what everyone thinks about this once I gift them.
Ingredients:
5-1/8 cups of sugar
2 cups of olive oil
7-8 tablespoons of lemon juice
A few drops of lemon essential oil
Directions:
Mix all the ingredients and spoon into pretty air-tight containers and it's ready to use! Or put all onto your storage container and shake. Be sure to stir before you use since the oil will separate, so let everyone know this when you gift them.
---
5

Candy Cane Soap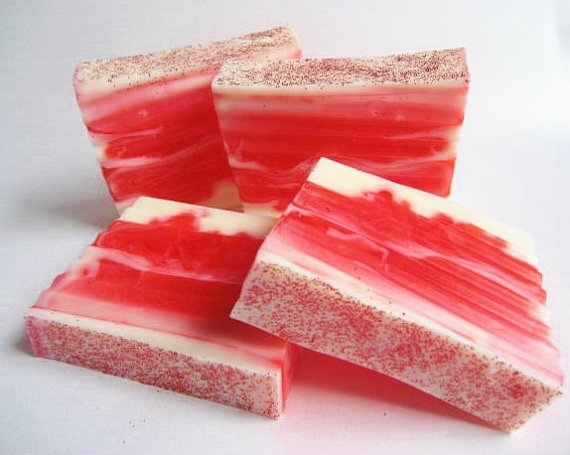 I have yet to try this one, but I'm so going to this year!
Ingredients:
Glycerin
Glass measuring cups
Popsicle sticks for stirring
Peppermint extract (or essential oil)
Red soap coloring
Molds
Directions:
Place your bars of glycerin in the glass measuring cups and microwave on high 30 seconds at a time (stirring after each 30 seconds) until melted. This takes about 45 seconds using 3 blocks at a time. Add the red soap coloring to one batch, enough to make a peppermint red shade. Pour into the molds, layering the white and red, after each layer has hardened. If you don't wait for each layer to harden completely, you get a swirlier look to your soap, which is nice, too. Just for fun, add a bit of crushed peppermints on top of the last layer and then let the soap completely harden. Cut into bars.
---
6

Wine Glass Charms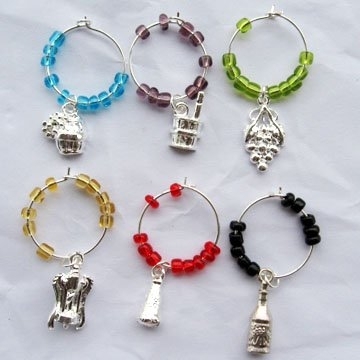 We all know what happens when we put our glass down to run to the ladies room at a party. It disappears or someone else has put their glass next to yours and you have no idea which is yours. Make these adorable wine glass charms for your next party, but also put a set of 6 or 8 in a cut box for gifts. These are incredibly simple and very inexpensive. Of course, you can add whatever type of beads you like and not just the simple colored ones I've suggested.
Materials:
Simple beading hoops
Colored beads
Needle nose pliers work best, but regular pliers will do.
Directions:
Open the hoop, slip the bead on, and close the hoop. Is that not easy? Of course, you can get fancier than just a single colored bead. It just depends on how much you want to spend.
---
7

Monogrammed Serving Tray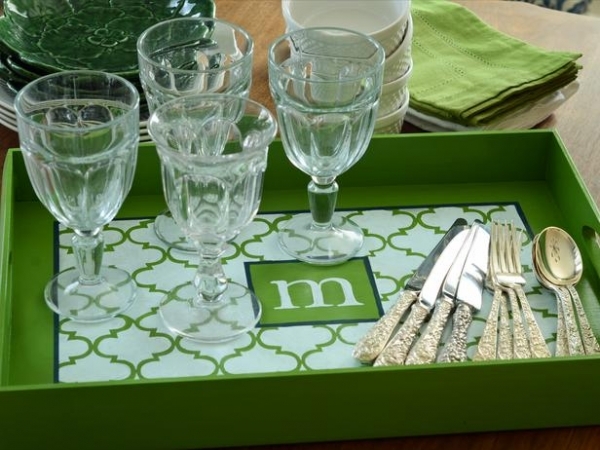 This is not only a great Christmas gift, but hostess or housewarming gift as well. HGTV shares with us how to paint and monogram a wooden serving tray
Materials:
Wood serving tray
Acrylic craft paint in 3 coordinating colors
Graphic patterned stencil
Stencil brush
Painter's tape
Pencil
Computer and printer
Scissors
Graphite transfer paper
1" Liner Brush
1/2" flat brush
2" sash brush
Spray polyurethane
Paint Tray
Directions:
Using a 2-inch angled sash brush, apply one to two coats of acrylic paint to tray. Note: Most acrylic paints have good adhesion, so a primer is not required, but when painting a slick surface, a primer and/or sanding may be necessary to prep tray for painting. Allow paint to fully dry.
Stencil Design:
Tape off inside border of tray with painter's tape. Also tape off a square or rectangle in the tray's center for the monogram or use a piece of card stock or paper to mask it off. Make sure pieces of tape are firmly pressed down to avoid bleed under. Place stencil in top corner of tray and apply paint with a stencil brush using a straight up-and-down pouncing action. Tip: Don't overload the brush with paint, and wipe off excess to prevent bleeding under the stencil. While the freshly stenciled design dries, clean any errant paint off the front side of the stencil to prevent smears. Working in sections, line up the pattern, then repeat the stencil until entire tray is covered with the design. If stencil pattern smears, go over design with an artist's brush to sharpen them up.
Paint Borders:
Allow stenciled design to fully dry, preferably overnight. Tape off a 1/4-inch stripe around the stenciled design and the center box. With a 1/2-inch flat brush, paint a border between taped lines.
Create, Trace and Paint Monogram:
Using a word processing program on your computer, design a monogram. It can be a single letter or three initials. Tweak the font size until the printed design will fit in the monogram box on tray. Print then cut out the chosen letter or letters. Also cut graphite transfer paper to approximately the size of the monogram. Place monogram on top of graphite transfer paper with the dark side facing down. Check that monogram is centered in the box then trace lettering with a pencil or the back side of paintbrush handle. Paint lettering with a 1.0 liner brush; apply a second coat of paint if necessary.
Apply Topcoat:
Once the painted design has fully dried, apply two to three coats of non-yellowing polyurethane. Allow finish to fully dry between coats and to cure for a few days prior to use. Tip: It takes approximately 30 days for most paints to fully cure, so be gentle with the finish during that period.
---
8

Bath Snowballs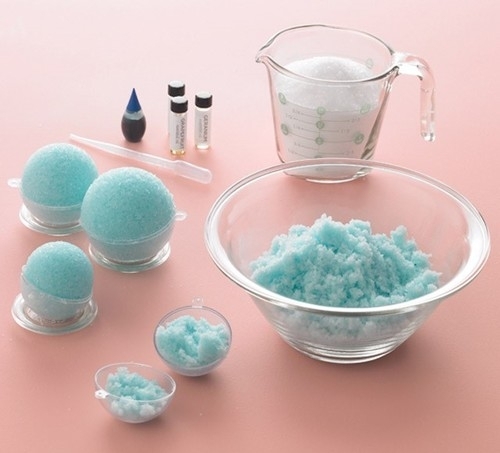 These are so great, and I plan on making these as well for my cousin's gift baskets. I know they'll love them! Martha Stewart shows us how to make these great bath snowballs.
Ingredients:
2 cups Epsom salts
2 tablespoons water
A few drops essential oil(s)
1 drop food coloring, plus more if desired
Materials:
Plastic pipette
Large or small round bath-ball molds
Pretty storage jars
Directions:
Stir together Epsom salts and water in a mixing bowl. Using pipette, add oil, 1 drop at a time, until strength of scent is to your liking. Add food coloring, 1 drop at a time, until desired shade is achieved; stir until color is even throughout.
Spoon a generous amount of mixture (more than necessary) into 1/2 of a bath-ball mold. Pack firmly. Repeat, packing mixture into second half of mold. Press pieces together until they connect. Remove top half of mold very carefully. Let bath ball stand, mold side down, overnight (set ball on an overturned jar lid to keep it from tipping over).
Remove mold carefully. Invert, and let ball dry completely, 2 to 3 days more. Transfer to jars.
---
9

Photo Cubes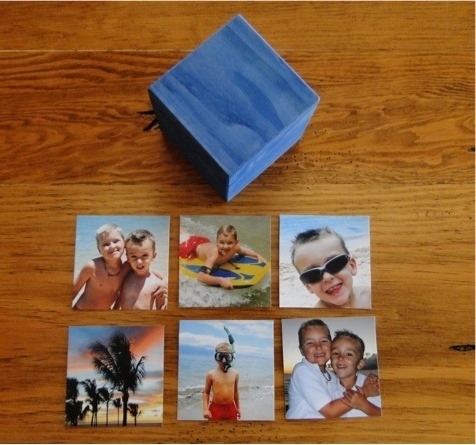 How about a gift that would be perfect for any man in your life? It's hard to pick out gifts for the man who has everything, and these wooden photo cubes make a great gift and can be used for bookends while displaying family photos. Again, Martha Stewart shows us how easy these are to make.
Materials:
Laser printer
4- or 6-inch wooden cube
Scissors
Small craft brush
Acrylic craft paint in white
Small glass bowl
Soft-gel transfer medium
Freezer paper
1-inch foam brush
Spatula or burnisher
Paper towel
Directions:
On a computer, resize six photographs to the size of the cube, and convert each to black and white. (The image will be reversed when printed on the cube, so choose or adjust accordingly.) Maximize the contrast and adjust the brightness to make the black in the pictures as strong and sharp as possible. Print them onto regular printer paper, and trim to fit the sides of the cube.
Using the small craft brush and the acrylic paint, paint the cube. Let dry.
Fill the small glass bowl with transfer gel. Lay one image face up on a sheet of freezer paper. Using the foam brush, apply a smooth, even layer of transfer gel; avoid letting ridges and bubbles form. Repeat, applying gel to each of the six images. Let dry (about 1 hour).
Using the foam brush, apply gel to one side of the cube. Lay one picture face down on that side. (The white side of the paper should face you.) Press the spatula or burnisher across the paper, applying light pressure to squeeze out excess gel and to make sure paper is flush with edges. Let dry 1 hour.
Repeat step 4 on remaining sides, working on opposite sides as you go.
Dampen a paper towel in cool water. Applying a bit of pressure and working in a circular motion, use the paper towel to rub off the paper. (Rewet paper towel as needed.) The transferred images will remain as the paper comes off.
---
10

Rice Foot Warmers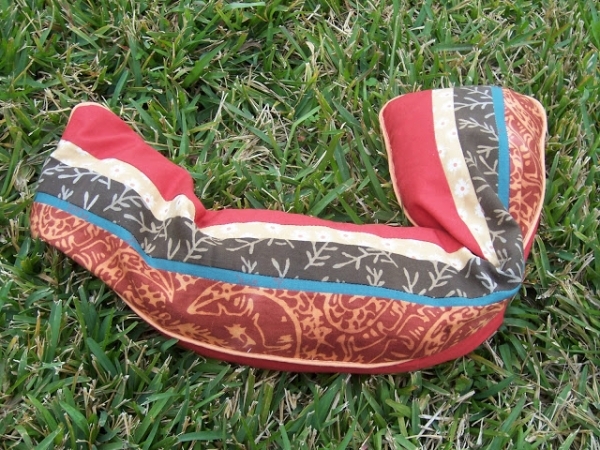 Your hands and feet get cold in the winter, so you can assume that your loved ones have the same problem. Luckily for them, you're here with a gift that will warm their fingers and toes any time the temperatures drop. This easy to make rice warmer can be popped in the microwave for a few seconds and then placed on frigid body parts or in the bed for instant warmth.
Materials:
Piece of fabric in the desired size (6x6 inches is great for a hand warmer and 12x12 inches is ideal for feet)
Long grain white rice (how much you need depends on the size of your warmer)
Thread
Scissors
Directions:
Cut two pieces of fabric in the same size. Match up the two pieces, right sides together and stitch them on 3 sides at a ¼-inch seam, using your sewing machine. Turn the warmer right side out and loosely fill it with rice. Be careful not to add too much or it'll be hard to close the hole. Tuck in the edges of the opening and use a needle and thread to hand stitch the hole closed. You're done!
---
11

Hot Chocolate in a Jar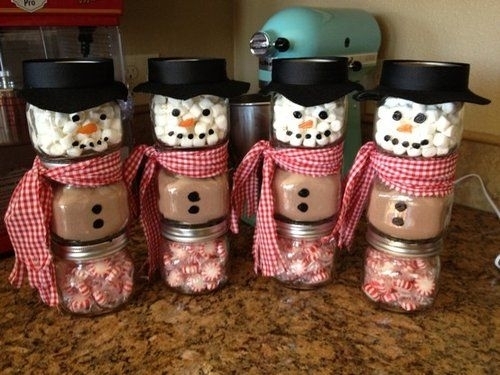 What's better than a warm handmade cup of hot chocolate? Not a lot, which is why this is such a great gift idea. It's perfect for the Christmas holidays, but it's also fun for Halloween, Thanksgiving or even a winter birthday. Not only that, but this gift is simple to put together, but is so cute you'll hardly be able to stand it.
Materials:
1 Mason jar
Powdered hot chocolate
Mini marshmallows
Chocolate chips
Ribbon
Colored paper
Glue
Directions:
Remove the lid from the jar and fill it about ½ full with the powdered hot chocolate, then fill the remaining half of the jar with equal amounts of marshmallows and chocolate chips. Place the lid tightly on the jar and tie a ribbon to match the occasion around the lip of the jar. You can also decorate the jar with colored paper glued on to resemble a snowman, Santa Claus, a birthday clown or jack-o-lantern.
---
12

Log Candle Holders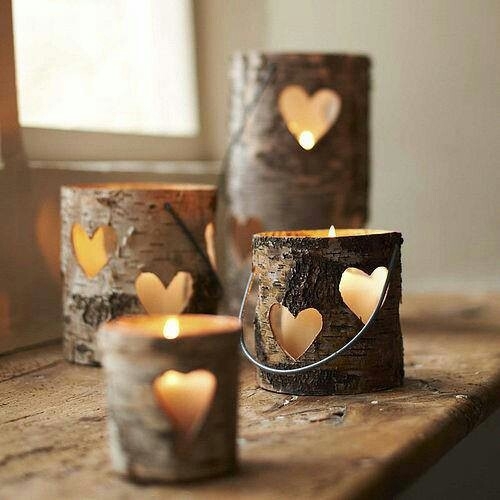 If you cut your own firewood or recently removed a tree from your yard, this is a great homemade gift idea to use up some of the excess. What an easy way to save money and give a gift from the heart! This gift is easy to make and doesn't take a lot of time, but it'll look fantastic as a centerpiece on anyone's table.
Materials:
1 log, about 2 feet in length and at least 6 inches in circumference
Drill with a 1 ½ -inch doorknob drill bit
Flathead screwdriver
Sandpaper
LED tealight candles
Wood sealer (optional)
Directions:
Use the drill to carve holes along the length of the log at even intervals. Make sure there is enough room between each to prevent the drilled holes from overlapping or the candles won't fit. Use a flathead screwdriver to remove the extra wood from the holes. Lightly sand the holes to make them smooth. Now you can insert the LED candles and you're done. If you want, you can also seal the wood, but leaving it unfinished creates a rustic and country-feeling candleholder. Don't use real candles because the flames can ignite the log and then you'll have real trouble!
---
13

Movie Bowl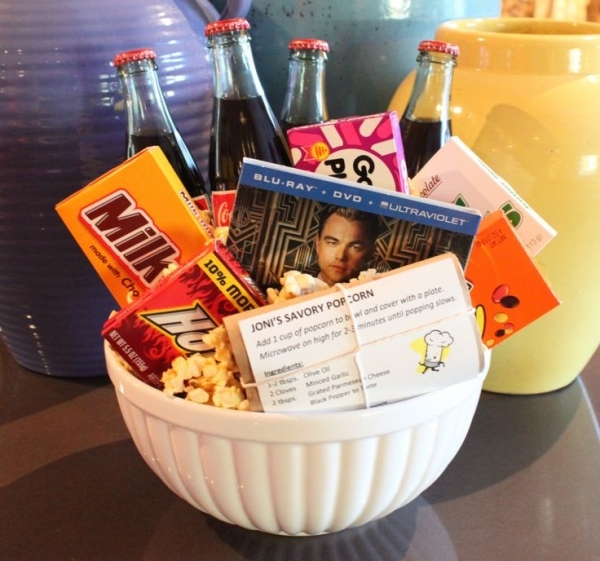 Who doesn't like to watch movies? Giving friends and family, or even your kids, a movie bowl provides all the items necessary to enjoy a fun evening at home watching favorite flicks. Fill a large bowl with packets of microwave popcorn, boxes of candy, bottled water or soda and a movie. Include napkins and 3-D glasses too. Wrap the entire bowl with a large piece of clear cellophane and tie it with a ribbon. You'll be be best gift-giver, for sure!
I do hope you'll try some of these handmade gift ideas. On one hand, you can get together with friends and spend time making some of these items together. On the other, you don't have to spend time at the mall or in huge crowds. A trip to the craft supply store and that's all you need. Plus, sometimes, it's nice to give and receive something from the heart and the hand. Do you have other hand-made holiday gift ideas to share?
Sources: pauladeen.com, smallhomelove.com, sevenclowncircus.com, gluesticksblog.com, notmartha.org, hgtv.com, marthastewart.com, marthastewart.com
Written in collaboration with editor, Eliza Martinez
More
---
Comments
Popular
Recent