Easter is fast approaching and if you want to add a festive touch to your home for the holiday and you are looking for some Easter decoration ideas, then you have come to the right place. This holiday, while religious in nature, is also a celebration of the beginning of spring and new life, and decorating for the holiday can add a sweet touch to your home. You don't have to spend a ton of money; these Easter decoration ideas are easy on the wallet and they are easy to achieve.
---
1

Egg Wreath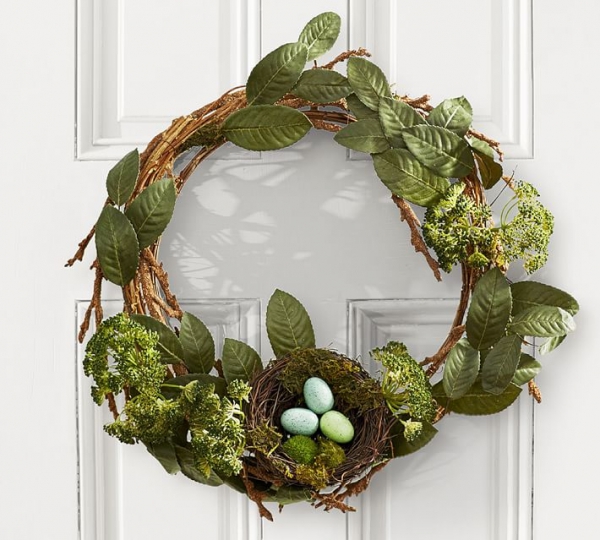 Of all the Easter decoration ideas, this one will give your guests a warm welcome into your home. Hang a wreath made up of eggs on your front door to usher in the Easter holiday and to welcome in your guests. You can either purchase a ready-made egg wreath from a store, or you can DIY. In order to make one yourself, just buy a straw wreath form and plastic Easter eggs. Attach the Easter eggs to the wreath with a hot glue gun and you will have a lovely wreath.
---
2

Easter Garland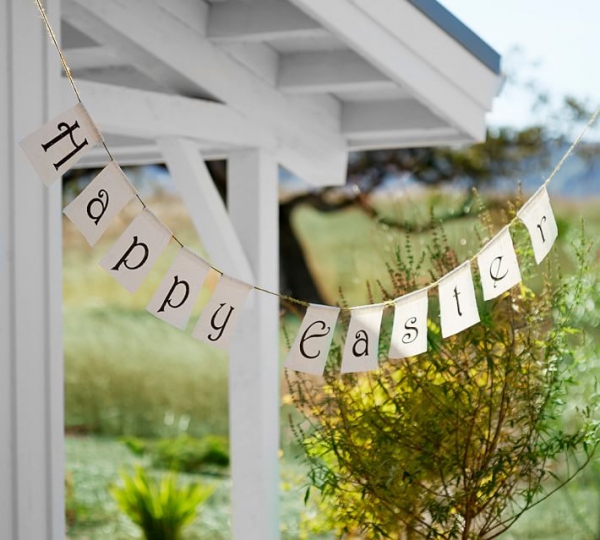 Buy a lovely simple garland like the one shown above or if you're feeling crafty do some DIY. Create egg garlands and display them throughout your house. Creating the banners is a cinch; just cut out egg shapes from pastel colored construction paper and embellish them with markers or glitter, if you wish. Punch holes on either side of the eggs and string them onto a length of ribbon. Display the garland on your mantle, from window valances or over doorways to add a festive touch.
3

Egg Centerpiece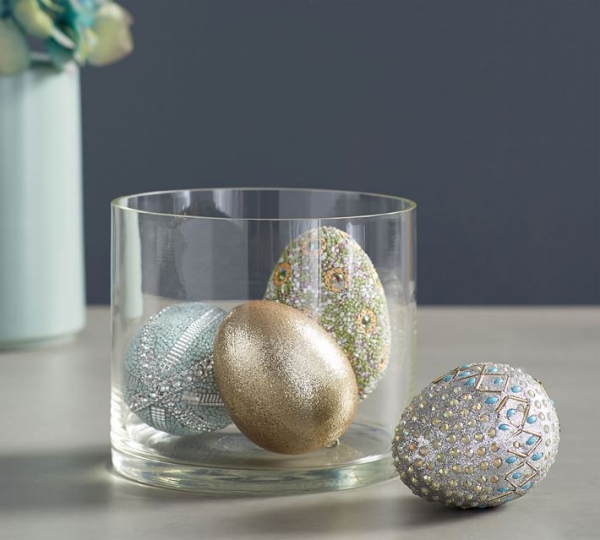 You can use eggs to create an attractive centerpiece for your Easter table. To do so, just fill a clear vase with a collection of plastic Easter eggs. You can further accent the centerpiece by adding some Easter grass between the eggs.
---
4

Floral Centerpiece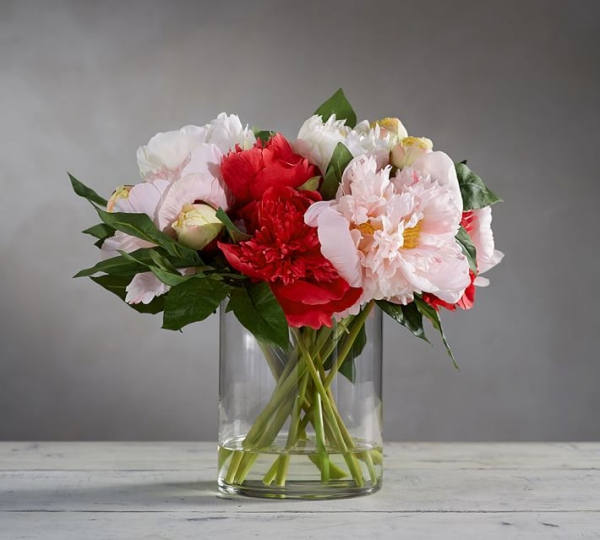 Spring flowers are such a delight at Easter. It's just a shame they don't last long. Solve that with a silk bouquet. For a different take on a centerpiece for your Easter table, use candy and flowers. Fill up a clear vase with pastel-colored candies and set a bouquet of spring flowers into the vase, such as lilies, tulips or daffodils. This centerpiece will certainly add a colorful spring touch to your table.
---
5

Flowers, Flowers Everywhere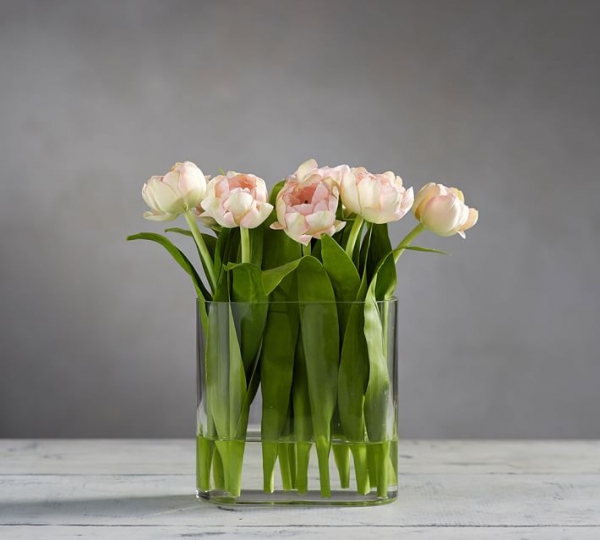 Since Easter marks the start of spring, flowers are a central focus of the holiday. Add a festive touch to home for the holiday by bringing in lots of flowers. Tulips, daffodils, and lilies are the flowers that are most commonly associated with the holiday and they are really quite lovely. Set them in vases throughout your home.
---
6

Indoor Egg Tree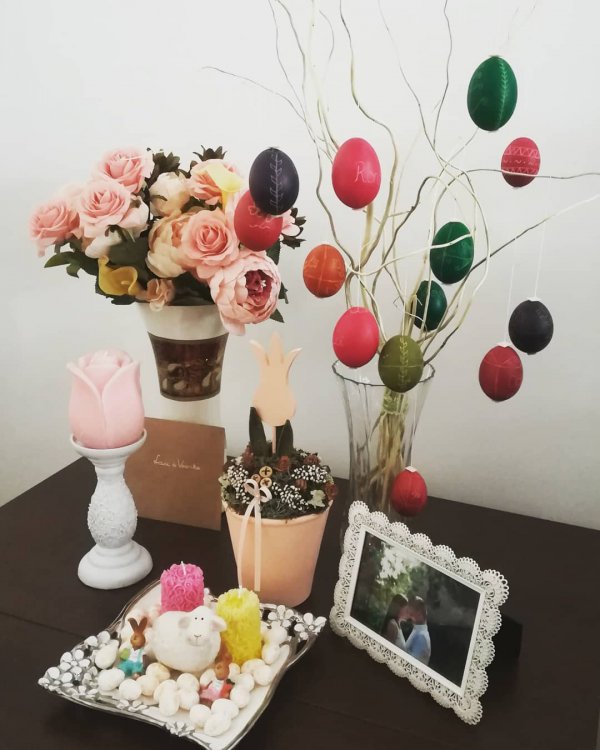 Construct a tree and display eggs on it inside your home. Collect some branches from outside and insert them into floral foam. Place the floral foam inside a decorative bowl. Tie decorative ribbon around plastic Easter eggs and hang the eggs from the branches. Set the completed decoration anywhere that you think is appropriate. a set of speckled eggs is just what you need to get started.
---
7

Easter Basket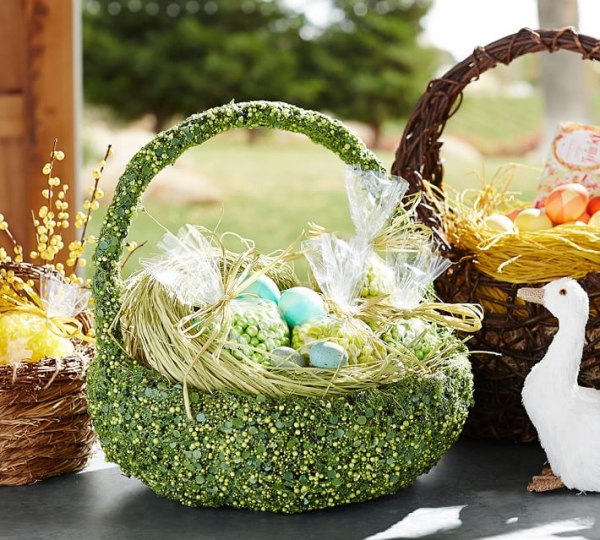 A basket is a great base for creating an Easter display. You can fill it with flowers, eggs, bunnies, greenery ... whatever reminds you of spring and the holiday. A largish basket can be set on a table, on the porch, or on the stairs to create a charming Easter statement.
---
8

Easter Bunnies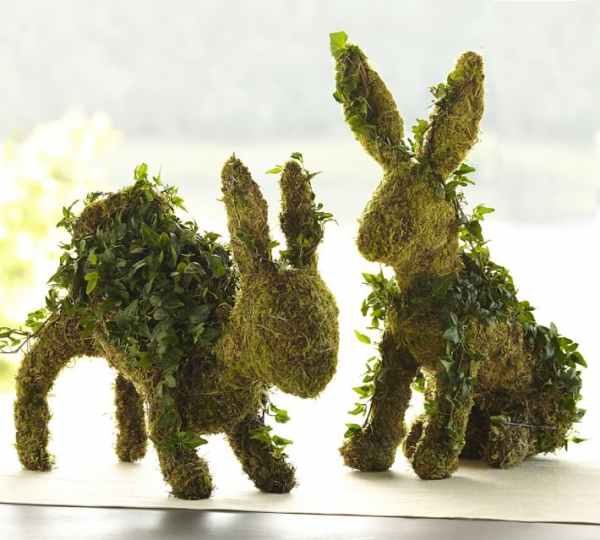 No other animal, except chicks, is as synonymous with Easter than bunny rabbits. Whether you have them poking out of displays or make them stand loud and proud, everyone is charmed by an Easter bunny. Knit them, craft them, paint them or buy some gorgeous live ivy topiary ones.
---
9

Easter Table Runner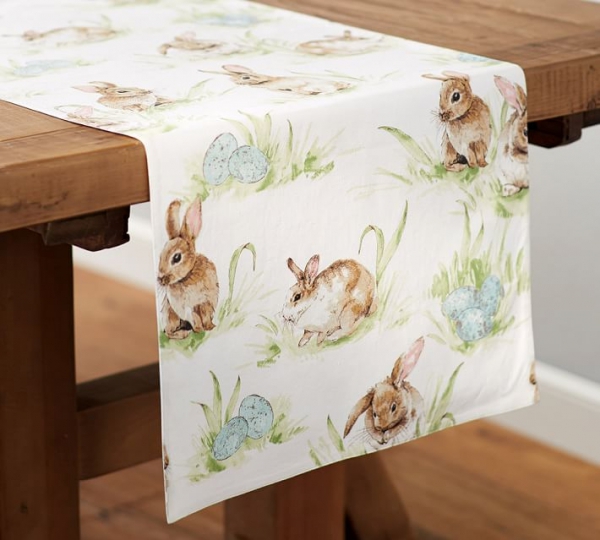 You don't need to be a whizz on the sewing machine to make a simple runner to grace your Easter table. All you need to do is hem a length of your chosen fabric cut to the size you want. Go for a bold color that offsets your table setting, an accent color, or something that totally shouts Easter, like one covered in Easter bunnies.
---
10

Placecard Holders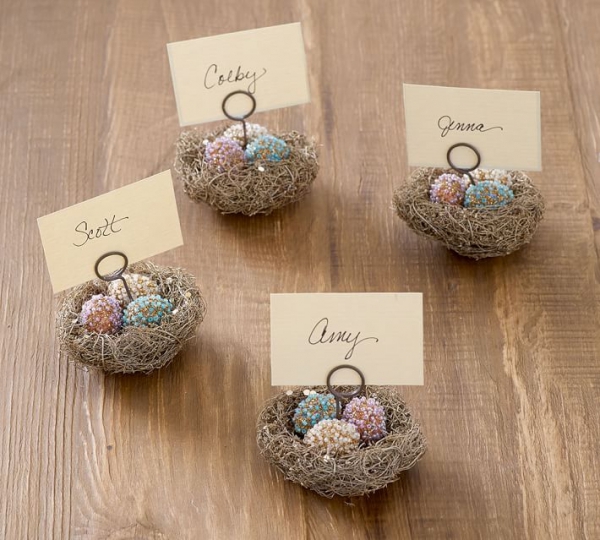 Placecard holders can be a simple craft. You can go to town with all sorts of materials - whatever gets your crafting juices flowing. A visit to the craft store will set your imagination running. Test your drawing or calligraphy skills for simple name cards or pick up some small nests, birds and mini eggs to assemble. Use mini chocolate eggs for an after lunch/dinner treat. (Or buy some ready made.🙂)
---
11

Easter Candles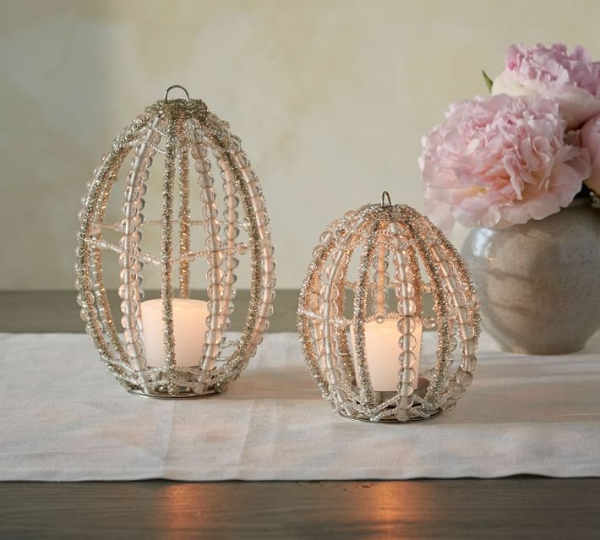 It's always fun finding new ways to display candles and there's no shortage of inspiration for DIY projects. Whether you want to paint glass or create multiple displays from collections of mason jars or wooden candlesticks, you'll add a cozy touch to your Easter home.
After a long and cold winter, Easter and the signs of spring that are associated with it are much welcomed. Decorating for the holiday can help you to quickly wipe away those winter doldrums and spread some springtime cheer. Which of these Easter decoration ideas do you think that you will try?
More
---
Comments
Popular
Recent