If it's warm enough to spend time in your back porch, it's warm enough to finally do that DIY Walkway or Garden Path that you've been planning for ages. Contrary to what you might think, making a DIY walkway or garden path is not that difficult. There are some ideas that are also quite easy on the pockets. If I had a yard, I'd be trying out some of these for sure. But I don't so I leave the DIY adventures to you.
---
1

Cobblestone Mold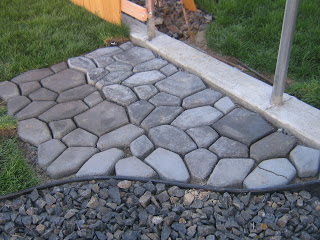 Cobblestones look romantic don't they? There is a way for you to enjoy the wonderful ambiance they give off by trying out this DIY walkway idea. This path is made of cement and was constructed using a mold. These molds are quite handy for many garden projects.
2

Stepping-Stone Path
This** DIY garden path** idea looks much simpler compared to the previous project. You will not need to mix cement or handle a mold this time. You will, however, do a lot of heavy lifting. To make this path, you simply arrange the stones in a way you like, dig out the sod where you want the stones, put them back in, and add sand to set.
---
3

Red Lava Rock Framed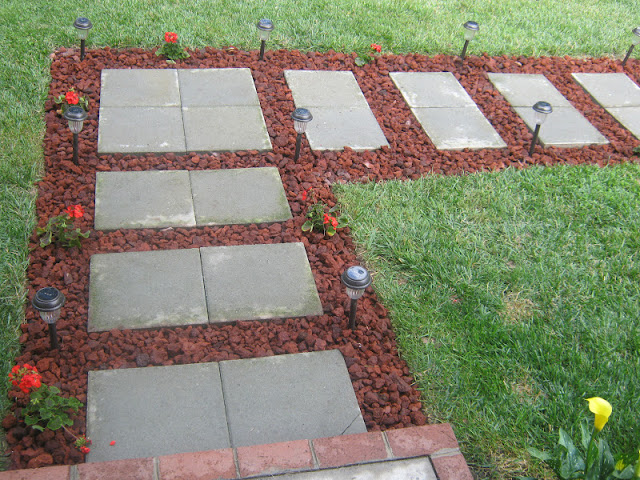 There is something quite zen-like about this modern walkway. I love how the gray cement provides beautiful contrast to the red lava rocks. Of course, the solar lights look great, too. I am thinking this kind of path will look magical if you arrange it leading to a secret nook in your garden. Check out how these pavers and rocks were installed after the link.
---
4

Pebble Mosaic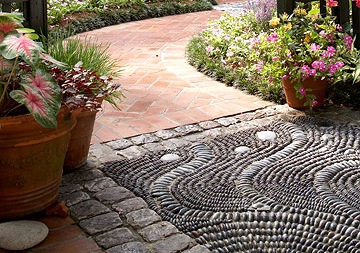 If the previous project was contemporary, this one is delightfully Bohemian. To make this DIY garden path mosaic, you will need pebbles. You will want to pick flat ones. Let your creativity shine and arrange the pebbles on moist sand mix. Let dry, grout with more sand mix, and you're done.
---
5

Faux Brick

Can't afford bricks or you don't have time to install them? What you can do is go the faux route. Yep, you can paint bricks on your cement walkway. To do this, you simply paint rectangular shapes onto your cement walkway using a small roller. Make sure that you use the right shade of brick-red.
---
6

Brick and Stone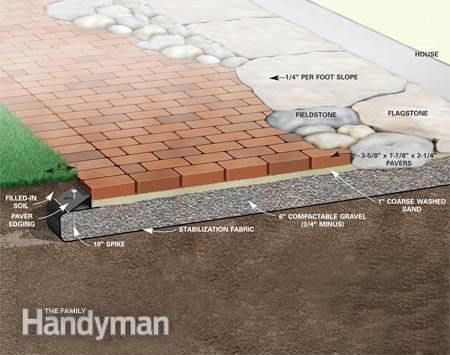 For this DIY yard project, you will be needing actual bricks. You will also need natural stones, much like the ones used for the 2nd idea mentioned here. This DIY falls under the "complicated" category but if you have all the materials needed (and help from able-bodied relatives), you will be able to finish your beautiful walkway in a day or two.
---
7

Leaf Cast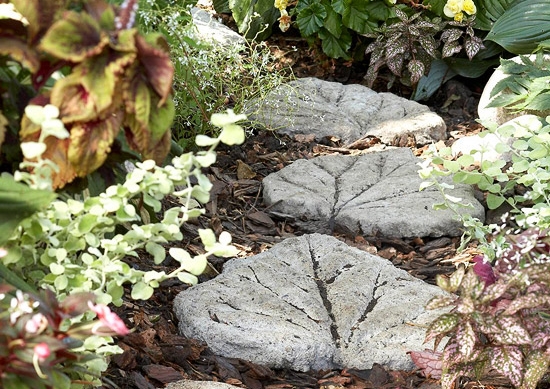 Isn't this beautiful? If you're looking for a fairyland ambiance for your garden, making these leaf-themed stepping stones is a must. According to BHG, several of these can be made in a matter of hours. The best part? You will also most likely spend less than $20.
---
8

Paver Path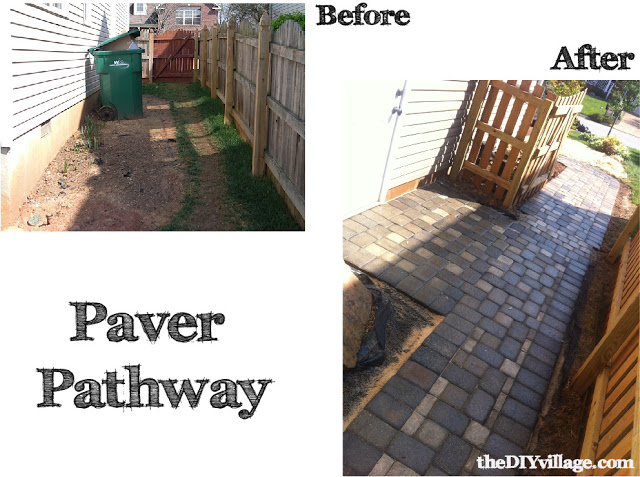 I love the aged look of these pavers. The DIY Village gives us a detailed rundown on how this beautiful pathway was created, from setting the gravel base to installing the stone blocks.
Oh man, these DIY garden paths are making me wish that I have a yard or a garden. If I do, I'd surely be doing the leaf cast idea. How about you? Which of these DIY walkways do you like?
---
Comments
Popular
Related
Recent