If you're on the lookout for easy and stylish crafts, we give you these DIY bracelets to make. Each handmade bracelet here can be worn alone or combined with the others for one fabulous arm party. These DIY bracelets are fashionable, simple to make, and total eye candies.
---
1

LEGO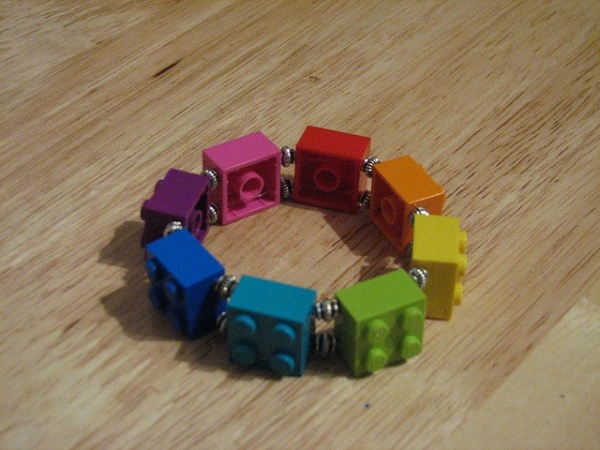 How cute is this DIY bracelet? To make this, you will drill holes near the two ends of flat LEGO bricks, loop embroidery thread through these holes, and braid the thread to finish the bracelet. Easy! If you're not liking the kiddie look, you can substitute the LEGO brick with any jewelry charm.
---
2

Studded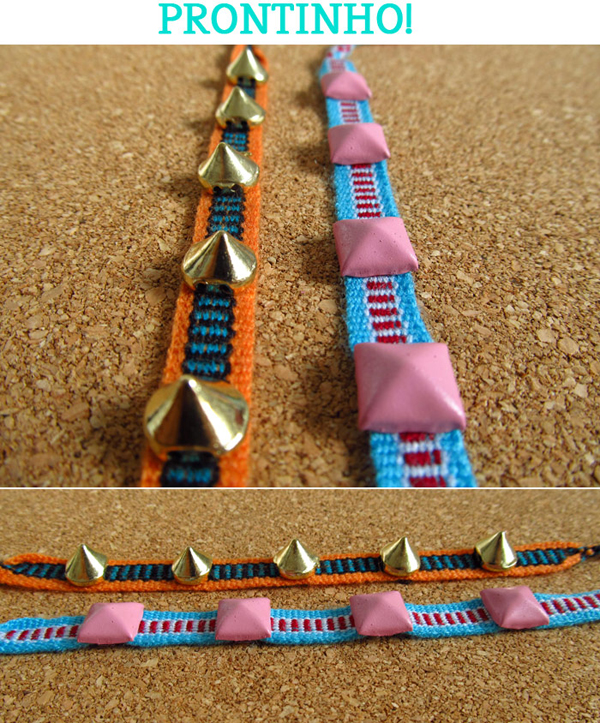 For this particular arm party DIY idea, you will be needing a store-bought friendship bracelet. Choose something with trendy colors. To give it your DIY twist, you will simply be adding studs to these bracelets. And that's it; wear your simple DIY with pride.
---
3

Hex Nut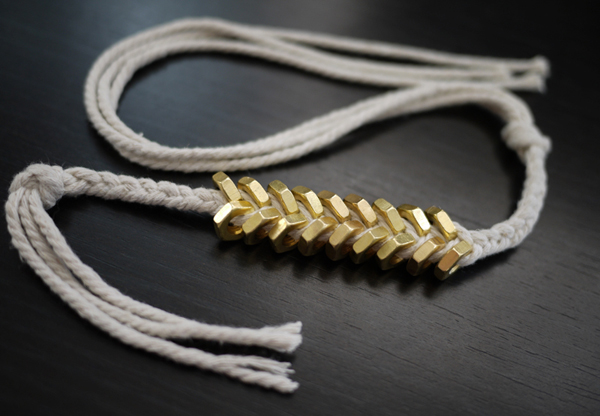 Not only does this DIY bracelet showcase the trendy chevron pattern, it is also a very easy handmade project. To make this, you will be braiding three strands of cotton twine and inserting small brass hex nuts along the way. You can choose to embellish only the middle section of your bracelet with the hex nuts or do the whole thing.
---
4

Macrame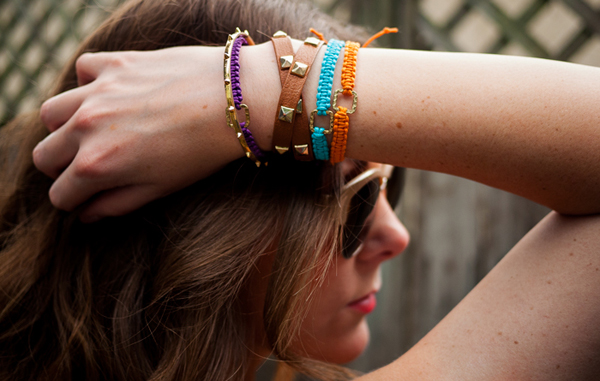 Does this not remind you of the friendship bracelets you used to make when you were young? This comes with a grown-up and stylish vibe, though, because of the lovely hardware. To make this, you will knot a cord (in a macrame fashion) to each side of a connector charm. If you have forgotten how to make a macrame knot, this video should help.
---
5

Leather Cross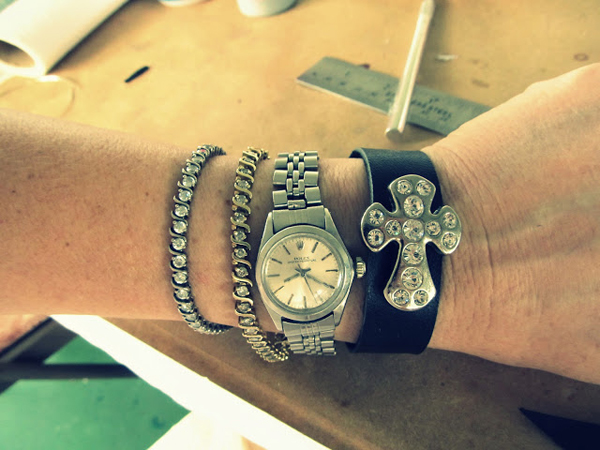 A good arm party should have one or two leather "guests." To make one for yourself, you will simply attach a rhinestone silver charm to a strip of leather. For closure, add another rhinestone stud to one end of the leather strip and slit the other end for this stud to go through. A button will work, too.
---
6

Ribbon and Spikes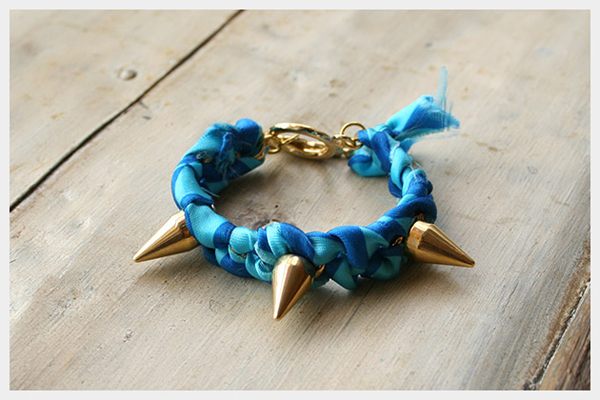 This DIY bracelet showcases a lovely combination of edgy and sweet. This was made by braiding ribbon through a chain and adding spike studs after. Easy, right?
---
7

Two-Tone Leather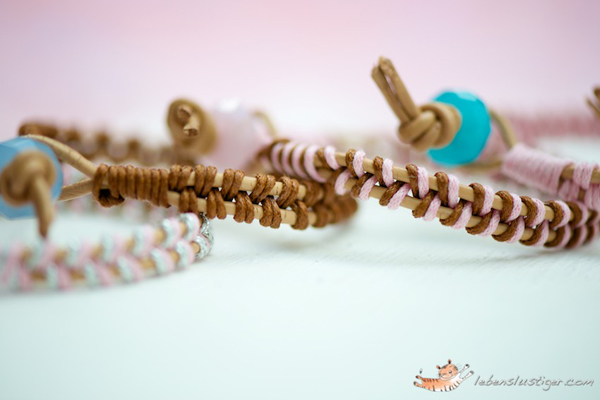 These are sure to be worthy additions to your DIY arm party. To make this, you will need leather cord, colored strings, and a bead or button. To assemble, you fold the leather cord in half. This will give you two leather cords to cover with the colorful strings (in a figure 8 manner, I should add). Close with a bead or button.
---
8

Golden Rope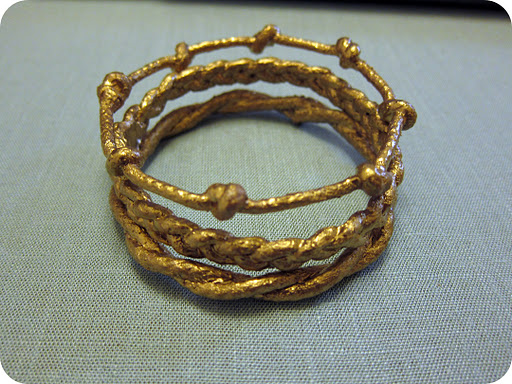 This craft idea is lovely and all sorts of clever. These golden DIY bracelets were made by braiding or knotting rope, covering them with fabric stiffener, and then painting with gold paint.
---
9

Knotted Chain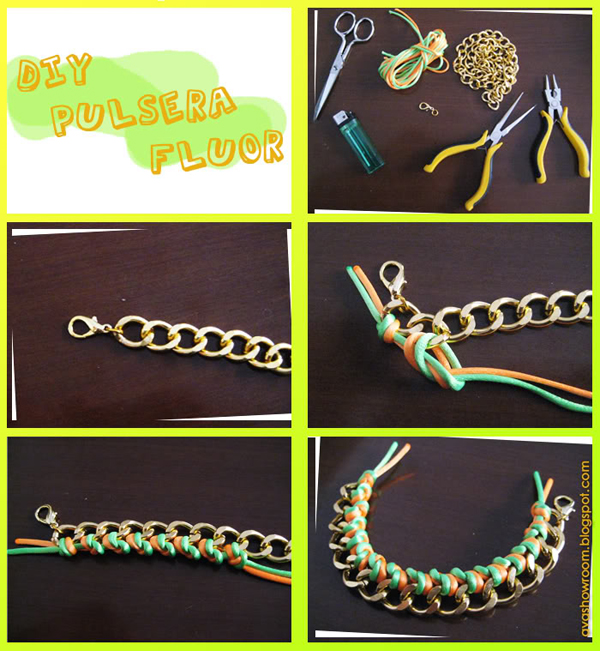 This is another DIY bracelet that you see in a lot of arm parties. As you can see from the photo, making one is as simple as tying knots. To let your own personality show, you choose string colors that speak volumes of your style.
I hope you find craft inspiration from these DIY bracelet ideas. Make one, three, or all for a fashionable arm party. Make some for you and some to give away to your stylish friends. Let us know about your own bracelet projects too.
Sources: thecentsiblelife.com, ricotanaoderrete.com, honestlywtf.com, cieradesign.com, wobisobi.blogspot.com, trinketsinbloom.com, lebenslustiger.com, thecraftsdept.marthastewart.com, avashowroom.blogspot.com.es
More
Comments
Popular
Recent