If you're looking for a way to personalize a present, we give you this easy and simple DIY cut-out gift tag idea. This is a fun craft project for those who like to create with paper and give fun gifts to family and friends. I made this DIY cut-out gift tag for a gift for a little boy. He's turning one. If you want to make something similar, here are the steps.
1

Gather Materials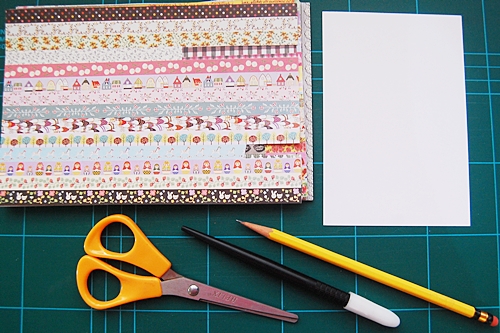 To make a handmade DIY cut-out gift tag, you will need white card stock, a craft knife or an X-acto knife, stickers or washi tapes, scissors, a pencil, and a sewing machine. Optional: craft punch for making tags and numbers.
2

Cut Tags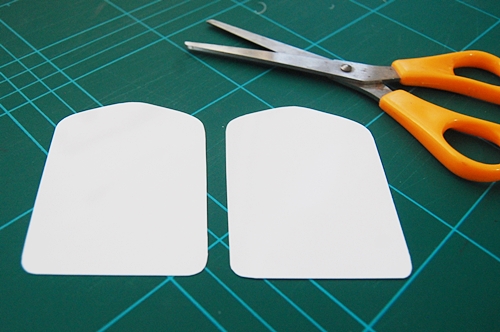 Cut two tag pieces. These can be simple rectangular pieces measuring 1.5 x 3 inches. Mine were a bit pointed on one end and had curved corners. If you have those nifty punchers, you can use them at this point.
3

Cut out Number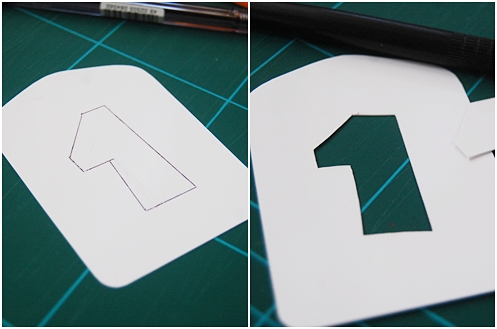 For this part, you can use a craft punch, too. I decided to do a bit of freehand drawing with my number. Using a craft knife or an X-acto knife, cut out the number. Do this on only one of the card stock tags. If you're not happy with the shape of your number, you can clean it up using your scissors.
4

Trace Cut-out Number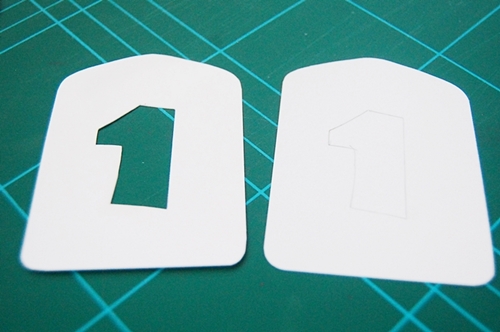 Once you have made the cut-out number, layer and trace the number onto the second card stock tag.
5

Prepare Stickers
Now we prepare for the colorful bits of your DIY cut-out gift tag. Cut strips of stickers or washi tape. These should not be less than 1.25 inches long. Use stickers with prints that are somehow related to the reason for the gift. My gift was for a little boy so I chose baby-like prints.
6

Stick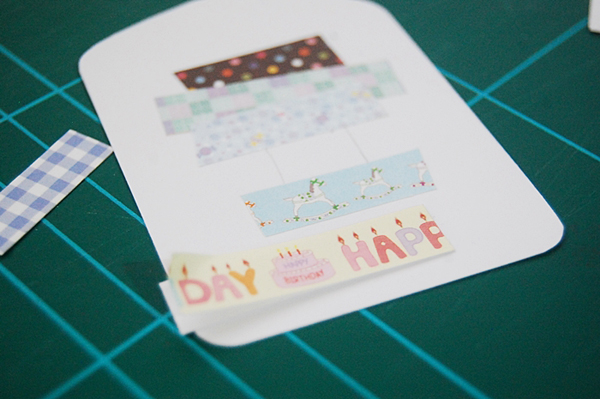 At this point of making your handmade gift tag, you will stick the stickers onto the tag WITHOUT the cut-out number. Use the number you traced as a guide. I laid down my sticker strips horizontally, with a bit of overlapping here and there.
7

Sew the Card Stock Tags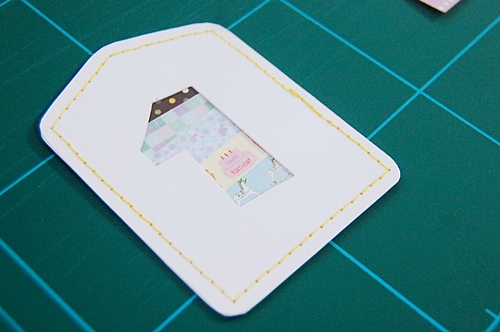 Once you finish covering the traced number with the sticker strips, we move on to the final gift tag assembly. We do this by sewing around the two gift tag pieces. I suggest using a thread that beautifully complements the colors of your stickers. Most of my stickers were blue so I used yellow. After sewing your tag, make sure that you replace your machine needle before taking on another project. The needle will be blunt and will affect your stitching.
8

Go for Variation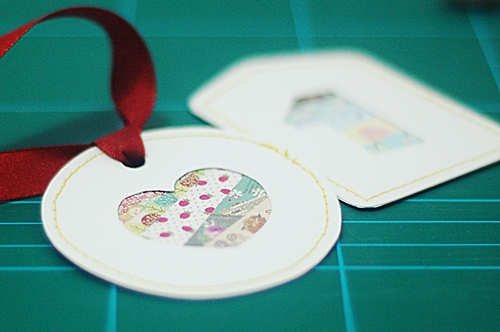 What if you're not making a handmade gift tag for a little boy? Modifying this tutorial is actually quite easy. You simply change the cut-out detailing or use different types of stickers. For Valentine's Day, use a heart cut-out gift tag. For birthdays of friends, make a cut-out in the fashion of the initial of their names. After sewing, make a single punch near the top of your tag and attach to the ribbon that wraps around your gift. You can also skip the "punching a hole" step and simply tape this tag onto the gift.
Wasn't that easy? Give this cut-out gift tag DIY a try for a more personalized gift-giving experience. On the other side, write your message. And if you don't have anyone to give a gift to but you want to do something crafty with paper this weekend, make about a dozen of these and hang like a garland.