If you love furniture DIYs as much as we do, I hope that you get plenty of inspiration from these crafty Dresser Makeovers. Most of the** DIY dresser makeovers** below are very simple to do. And yes, they are also easy on the pockets. From using paper to fabric to always-reliable paint, these dresser makeovers are utterly delightful. Enjoy!
---
1

Paper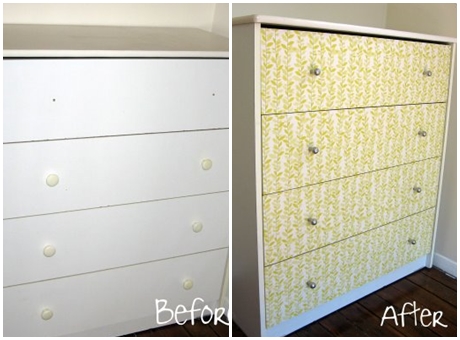 Got Mod Podge and pretty paper? Then worry no more because you can give that ugly dresser in your garage a much-needed makeover. I love this idea because it offers you so many possibilities. Aside from wrapping paper, you can also use maps, book or magazine pages, and other materials that work well with Mod Podge.
---
2

Fabric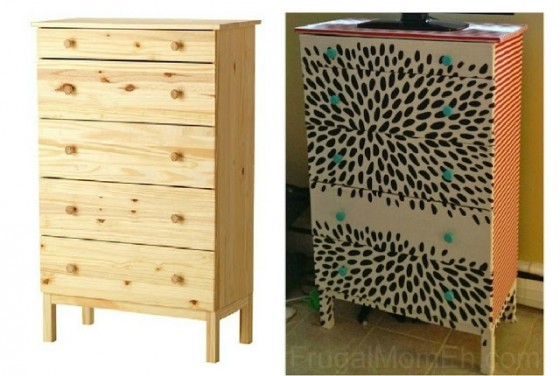 Wow, what a transformation! The pattern you see on the new dresser is courtesy of lovely fabric. What Sarah did was staple fabric onto the dresser pieces before she assembled the whole thing. Of course, Mod Podge will work here, too.
---
3

Mirror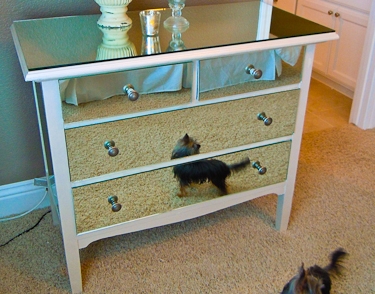 Looking for a dresser makeover idea in the shiny department? Mirror is your best friend. Making this "new" dresser is actually pretty simple. You have your glass man cut the mirror according to the size of your dresser pieces and then adhere them using nail glue. Easy!
---
4

Lace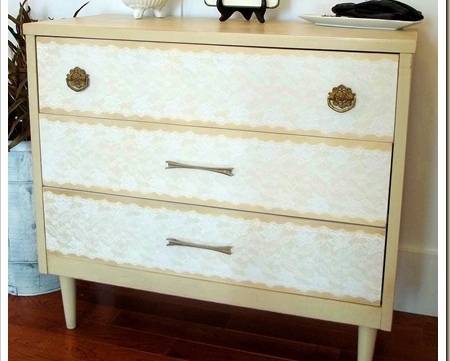 This is all sorts of divine. And the whole process looks easy and fun, too. Using lace as stencil and some spray paint, you can transform a plain dresser into something girly and whimsical.
---
5

Corner Brackets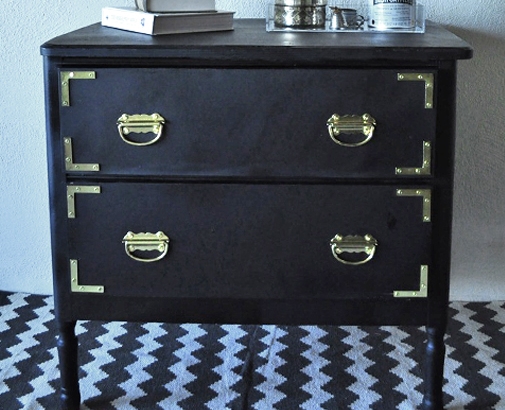 This** dresser makeover** could not be easier. In fact, you only have to attach the corner brackets to the drawers and you will immediately see the chic factor that they provide. Take note, though, that they will have impact only if your dresser is of a dark color.
---
6

Paint Marker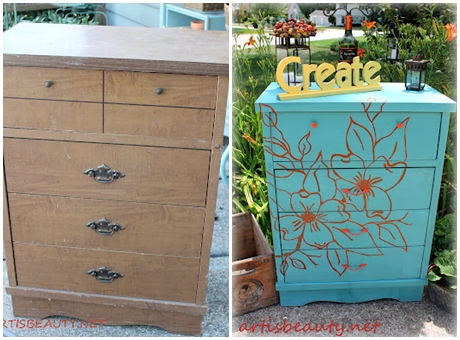 How pretty! Not only do I love the color, I am also quite enamored with the floral design. You can achieve this type of makeover by painting the pattern but you can utilize a better method: use Krink paint markers. They're like paints but in a Sharpie-like form. They're easy to use and makes furniture re-dos more fun.
7

Chevron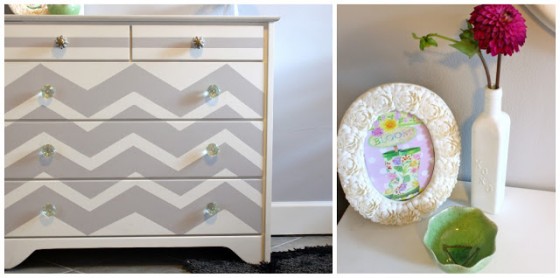 Yes, okay, chevron is probably no longer trendy and chic. I had to include this here, though, because the tutorial has fantastic tips for painting dressers without taking them apart first.
---
8

Chain Link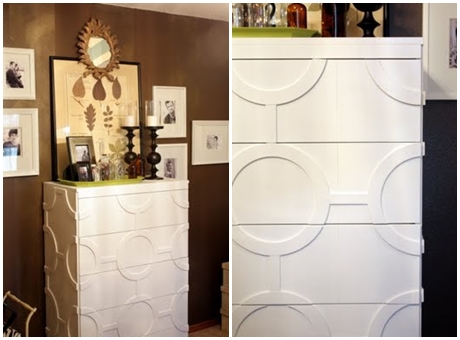 The raised detailing on this dresser look beautiful. Can you believe that they are only wreath forms made of composite wood? What Michelle did was glue the wreath forms onto the dresser, add wood pieces to connect them, and then paint over everything.
---
9

Reverse Stencil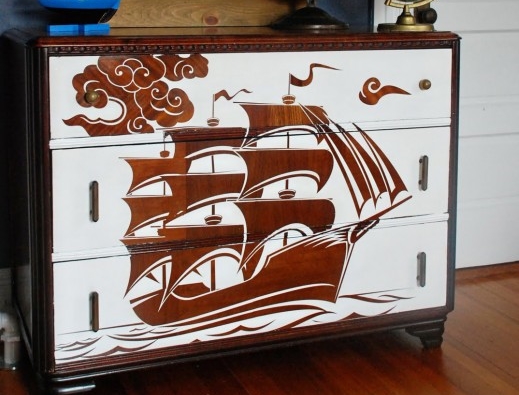 This particular DIY dresser makeover is a bit time-consuming but it looks positively fun to do. This was done by applying decal onto the front of a dresser, painting over the whole thing, and then removing the decal after to reveal the wood grain. Using smaller decals for this method is advisable if you're not up for a design as ambitious as the one above.
---
10

Dorothy Draper-Inspired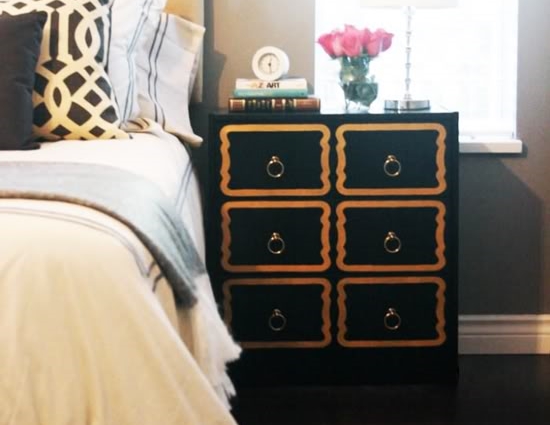 This dresser design is pretty popular. They are very expensive, though. So what do you do? You go the DIY route, of course! Armed with paint and ring pulls, you can easily make your own Dorothy Draper dresser on the cheap.
I hope you enjoyed this list of DIY dresser makeovers. If you can think of more ideas, let's hear 'em! Who knows, we might just features your crafty dresser makeover here one of these days.
---
Comments
Popular
Related
Recent