If you have a board full of amazing yet complicated DIY ideas on Pinterest but you still haven't attempted them yet, try one of these simple DIY projects on for size! DIY projects don't have to be difficult in order for them to be attractive, useful or worthy of admiration! There are plenty of easy DIY projects for newbies, so if you want to start off slow and easy on the DIY bandwagon, keep scrolling for some great ideas!
---
1

His + Her Sharpie Mugs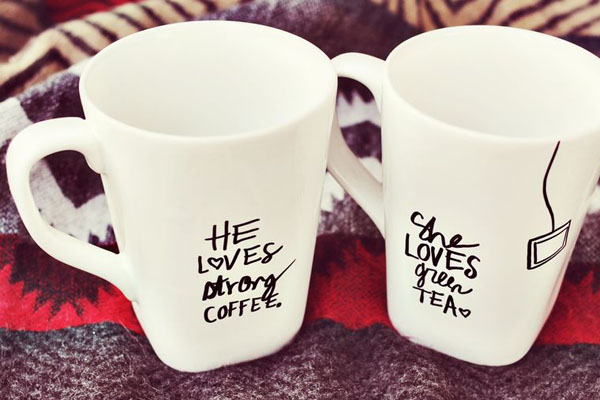 Simple DIY projects don't get better than this! All you need are two white mugs and Sharpie markers in any color. The ladies at A Beautiful Mess who made this DIY said that some people find that Sharpie markers washed off but Pebeo markers are a sure thing. These mugs are great as a gift or just a nice little surprise for a friend or loved one.
Supplies:
2 white mugs
Sharpie markers of your choice
Directions:
Write a cute message or draw something on the mugs, bake it for 30 minutes at 350 degrees Fahrenheit and you're good to go!
**Source: **abeautifulmess.typepad.com
---
2

Knot Chain Bracelet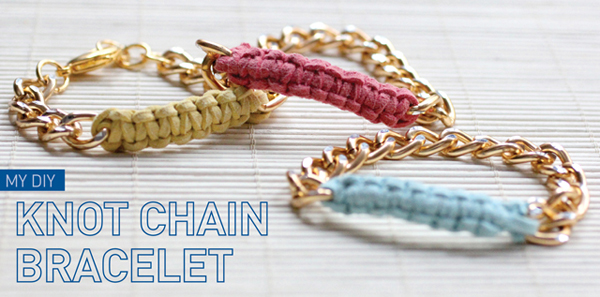 A DIY project that I personally intend to try in the future when I can hunt down all the supplies is this chic knot chain bracelet. You can find similar bracelets in stores and online and they aren't so affordable if you want to get your arm party on. Why drop cash on a bracelet that tons of other people have when you can make your very own!
Supplies:
2 pieces of 3 inch chain
1 yard of suede
Jewelry pliers
Jump Rings
Lobster Clasp
Directions:
Cut rope in half and thread both pieces through the bottom link of the chain. Next, set up your workspace by taping the top of your chain, and bottom of one of the pieces of suede rope. Cross the rope on the right over the middle two pieces. Cross the left rope over the right one. Tricky step: Take the left piece and cross under the two middle pieces, and through the loop on the right side. Put the left and right side and create your first knot.
Next repeat the process starting on the left side, crossing the left side over the two middle pieces, cross the right rope over the left rope. Take the right piece and cross under the two middle pieces, and through the loop on the left side. Pull tight, continue the process for 2 inches. Thread the two middle pieces through your second piece of chain. Knot your rope to secure to the chain. Dab a bit of super glue on the knot to hold. Using your pliers connect the chain to the lobster clasp with your jump ring. Add 3 jump rings to the other end. Be sure to check out the site for step-by-step pics!
**Source: **ispydiy.com
---
3

Colorblock Blouse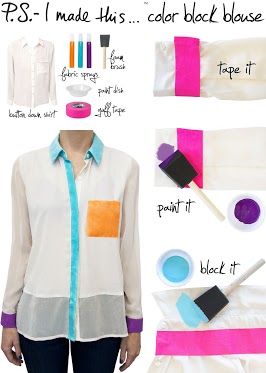 Calling all fashionistas! This next DIY project for beginners shows you how to create your very own colorblock blouse that's perfect for the spring and summer! If you don't have a lot of extra cash to spend on new pieces for your wardrobe, make it! Create whatever color combination you like and dress this light and breezy top up or down and make it one of your go-to pieces this season!
Supplies:
Button-down shirt
Fabric Sprays in colors of your choice
Foam Brush
Paint Dish
Gaff Tape
Directions:
Use gaff tape to section off the cuffs, collar, pocket and button line of your button down shirt. Pour a small amount of fabric spray into a paint dish, then use a foam brush to apply a thin layer to the cuffs of your shirt. Choose two other colors, then repeat the process on the rest of the blocked off sections. Once dry, remove the tape and join the color-block trend!
**Source: **psimadethis.com
---
4

Glitter Note Cards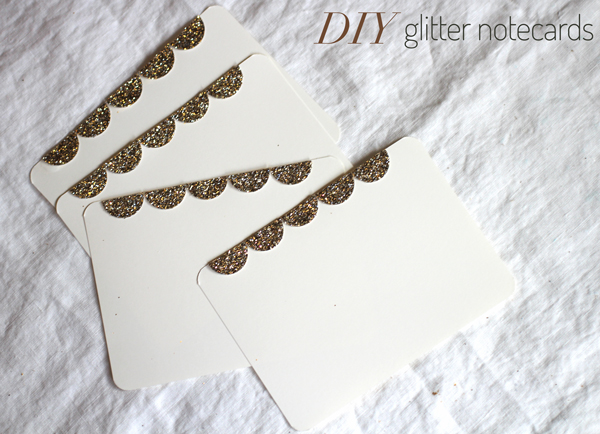 These glitter note cards are the perfect excuse to let someone you know you're thinking about them or send a note to say thanks! I think adding a little glitter makes just about anything more glamorous, girly and just plain fun! This is a great weekend project that'll definitely bring out your creative side. In just a few steps your stationary goes from ordinary to extraordinary!
Supplies:
Glitter or other paper with an adhesive backing
EKSuccess Tools Scissors
EKSuccess Tools Medium Circle Punch
Blank Note Cards
Directions:
Using the circle punch, punch the glitter card stock. Cut the circle in half so you have half-circles and arrange them on the edge of the cardstock for a scalloped design.
**Source: **stripesandsequins.com
---
5

Jeweled Clutch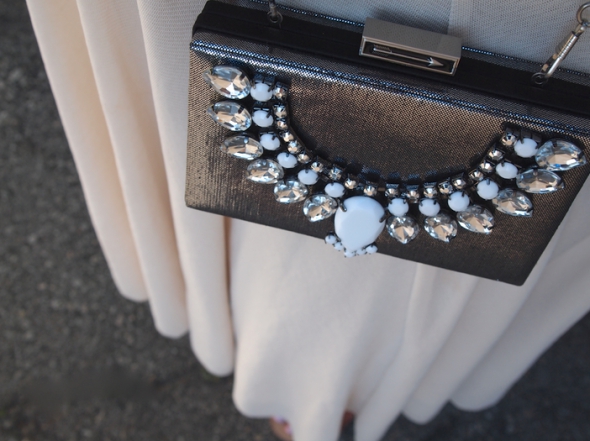 If you have a clutch at home that you no longer use or is in need of some updating, you have to do this DIY project! Instead of getting rid of that old clutch, breathe some new life into it by adding some classy embellishments and dressing it up. I think you'll fall back in love with your clutch and it's super easy to do!
Supplies:
Clutch
A Necklace (or other statement jewelry pieces)
Glue
Directions:
Use a pair of pliers to remove any access chain or findings from your jewelry. Glue your jewelry pieces directly to your clutch and allow a little time to dry. You're done!
**Source: **glitternglue.com
---
6

Shoe Clips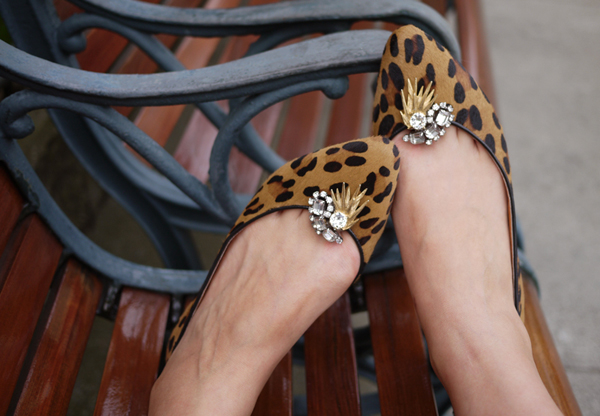 This is another DIY project that'll make good use of your old jewelry, especially if you have some older costume jewelry that you don't wear, like clip-on earrings! Shoe clips are an easy way to jazz up some shoes that you've grown tired of or if you just want to dress up an otherwise plain pair of flasts!
Supplies:
Pair of vintage costume earrings
Pair of blank shoe clips
E6000
Pliers
Toothpicks
Directions:
Start using the pliers to wiggle the ear clip hinge back and forth from the base. It will eventually snap off entirely. Open the blank shoe clip and apply a good amount of glue on the outer flat surface. Press it against the backside of the earring.
Make sure the area the shoe clip is being adhered to is larger than the shoe clip. Repeat on the other earring and allow to dry for at least a few hours. Shoe clips have 2 small metal prongs, which attach to the underside of the shoes that keep the clip fastened securely. The top is smooth so that it doesn't do any damage to the shoes. If smaller earrings aren't sizable enough, they can be combined into one. Apply E6000 along the side of a earring.
Press another earring against it and reinforce the area with more glue from the backside. Allow to dry for at least a few hours. Apply a good amount of glue to the blank area of the shoe clip and press it against the backside of the earring. Repeat and allow to dry, clip them onto your favorite pair of flats!
**Source: **honestlywtf.com
---
7

Floral Jeans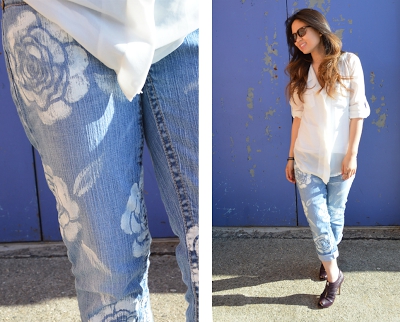 Do you have an old pair of jeans that you just don't wear anymore or maybe you're just tired of buying jeans that all look identical? Either way, this DIY to spice up an old pair of jeans lets you doodle on your duds while creating a unique piece of clothing that no one else will have. Floral jeans are a fun way to express your creativity and originality!
Supplies:
Large flower/rose stencil (I bought mine at Michael's)
- Jeans
- White fabric paint
- Flat sponge brush
- Masking tape & thin paintbrush
Directions:
Tape the stencil onto the jeans. Apply paint with the brush. Don't add too much! Having a fairly light hand might be more ideal for this project. Missing some spots here and there will give it a more rugged, worn in look. Obviously it depends what you're going for, but don't worry if each flower isn't perfect. Let dry, and repeat on random areas on the jeans. Try adding flowers on the sides, overlapping the seam. Before you start the back side, make sure the front is completely dry. If you would like, take a paintbrush and draw pointed ovals - also known as leaves! - in between the flowers.
**Source: **studs-and-pearls.com
These DIY projects for beginners are a fun way to make customized pieces of jewelry or clothes without breaking the bank. Even if the project doesn't come out perfect, you'll have fun making it and you'll be even better the next time you attempt it. Have you tried any DIY projects before? What did you make?
More
Comments
Popular
Recent