Have you ever considered trying out your own homemade lip balm recipes? Store bought lip balms or lipsticks always appear to be the more convenient route to take. However, creating your very own concoctions will teach you how to be money-conscious–especially if you're thinking about saving an extra few dollars here and there. You'll rarely run out of supplies and you'll learn how much fun is to make DIY lip balms. Plus, homemade lip balms tend to have natural properties, which will be very beneficial to the health of your lips. Check out a few of these inspired spinoff homemade lip balm recipes.
---
1

Coconut Rose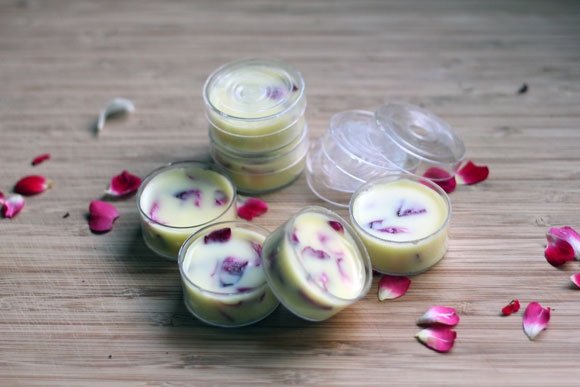 First on our list of homemade lip balm recipes is the coconut rose by My Baking Addiction. What's so creative about the coconut rose lip balm is that it has rose petals in it! This lip balm comes in a cream and purple two-tone color-almost similar to a swirl. This mix is just so pretty and looks delicious at that. You can also find coconut, sweet almond oil, beeswax, and shea Butter in this lip balm.
Ingredients:
1/4 cup beeswax pellets/pearls
4 tbsp. coconut oil
4 tbsp. shea butter
1 tsp. coconut extract
1 tsp. sweet almond oil
1/4 cup fresh or dried rose petals
Directions:
Melt everything together into a small saucepan on low heat. Once it's cooled enough to handle, mix in the rose petals. Pour the mixture into your little tubes and patiently wait until it hardens.
Source: mybakingaddiction.com
---
2

Peppermint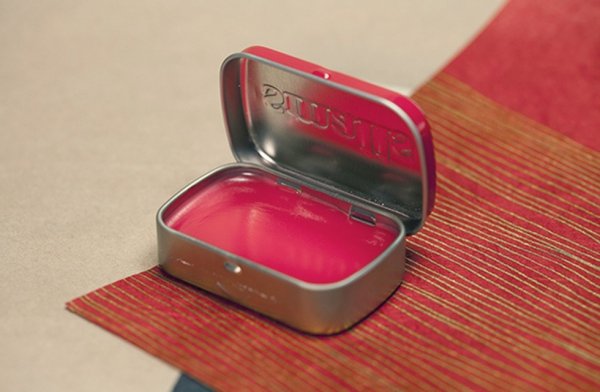 Who doesn't like the taste and smell of peppermint? The great thing about peppermint is that it is so cooling to the skin and makes for a great aromatherapy. This recipe by Beautylish is quite simple. All that's needed is peppermint oil (of course), a carrier oil of choice, beeswax pellets, and lipstick shavings (for color). An Altoids mint box can be used to place the mix in. Your friends will definitely be shocked when they expect mints to be in your tin, but instead find this delicious peppermint lip balm.
Ingredients:
1 tbsp. beeswax pellets/pearls
6 to 8 squirts of peppermint oil (or according to preference)
2 tbsp. of a carrier oil for dilution
Shaved red lipstick pieces for tint
Directions:
Mix the ingredients in a bowl or jar and heat the mixture in the microwave or over the stove. You can add the lipstick shavings after removing it from the heat. Finally, pour it in a little container of choice and wait for it to solidify.
Source: beautylish.com
---
3

Birthday Cake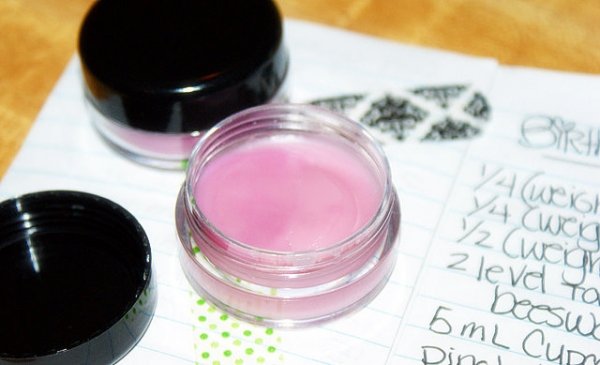 The birthday cake lip balm by Soap Deli News Blog definitely sounds yummy. Shea butter, mango butter, and cocoa butter are just a few ingredients that make this lip balm moisturizing. However, the Buttercream cupcake flavor oil is what makes it so mouth-watering! Your lips will definitely be begging for more of this DIY lip balm.
Ingredients:
2 tbsp. beeswax pellets/pearls
1/2 tbsp. mango butter
1/2 tbsp. shea butter
1/2 tbsp. cocoa butter
2 teaspoons of virgin coconut oil
1 tsp Buttercream Cupcake flavor oil
Directions:
Melt your butters and beeswax in a bowl (preferably in the microwave). Secondly, add the oils and stir. Transfer the mixture into a lip balm tin or tube and let it sit. If you would like to add in a little fun color, I suggest you blend in some lipstick shavings.
Source: soapdelinews.com
---
4

Minty Chocolate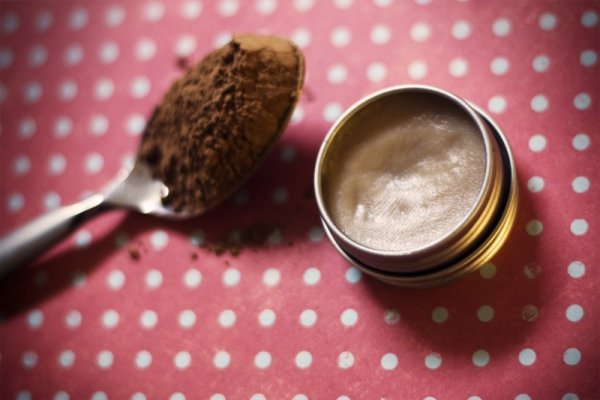 Cocoa powder is, of course, one of the many ingredients you can find in this lip balm. According to the Crunchy Betty blog, this lip balm is "peppermint-chocolaty goodness." One thing that makes this recipe very healthy is the Vitamin E oil. Not only will the peppermint oil be cooling and moisturizing to your lips, but the Vitamin E will help to heal any scars or skin cell damage. During the summertime, Vitamin E oil also acts as a sunscreen, protecting your lips against ultraviolet rays.
Ingredients:
1 tbsp. beeswax pellets/pearls
1/2 tbsp. shea butter
1/2 tbsp. cocoa butter
2 tbsp. coconut oil
1 tsp cocoa powder
6 to 8 drops peppermint oil
1/8 tsp vitamin E oil
Directions:
Combine beeswax, all butters, and coconut oil in a saucepan or microwave safe bowl. Next, melt the mixture on low heat or in the microwave. Finally, add in the rest of the ingredients and place in a container for cooling.
Source: crunchybetty.com
---
5

Kool-Aid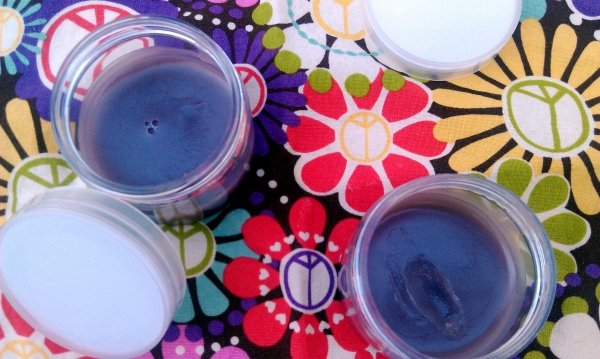 How exciting it is to know that Kool-Aid cannot only be used for hair coloring, but also as a color additive in lip balms?! This recipe includes beeswax, nourishing coconut oil, and petroleum jelly. Little Willow Tree recommends that you heat everything but the Kool-Aid in a microwavable safe bowl first. After letting it cool, it appears to be pretty moisturizing and colorful.
Ingredients:
1 tbsp. beeswax pellets/pearls
4 tbsp. coconut oil
4 tbsp. petroleum jelly or Vaseline
1 pack of Kool-Aid (any color)
Directions:
Heat beeswax, jelly, and oil in the microwave. Lastly, mix in your favorite Kool-Aid pack and let it sit. It should be ready to use after it completely hardens.
Source: littlewillowtree.wordpress.com
---
6

Lip Stain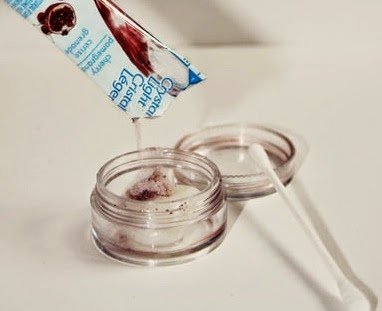 How about a lip balm that acts as a lip stain? Like the Kool-Aid lip balm concoction, How Does She's recipe also uses a flavored, powdered drink mix. Instead of Kool-Aid, Crystal Light packages are used to give your lips a tint. Add in some multi-purpose jelly or petroleum jelly and just stir. It's pretty simple and sweet. Although the lip balm makes for a great colorful gloss, you may just be tempted to lick your lips every now and then. I know I would!
Ingredients:
3 oz. of Vaseline or petroleum jelly
1 pack of Crystal Light
1 small flat round container
Directions:
Pour the jelly in the container until it fills up. Pour in your favorite pack of Crystal Light and stir. Your moisturizing lip stain should be ready to use.
Source: howdoesshe.com
---
7

Hemp and Honey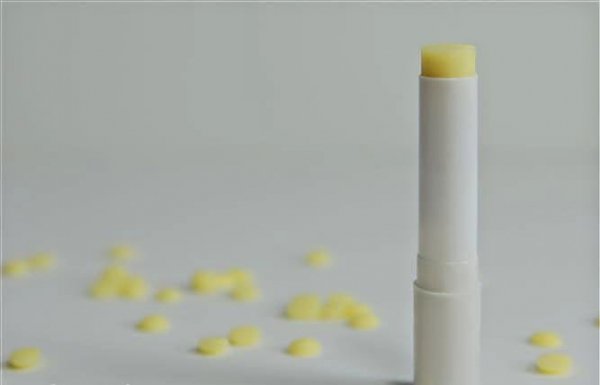 Finally, the hemp and honey lip balm will leave your lips silky. One thing that I admire about this recipe is that honey is one of its most important ingredients. Honey is well known for its antibacterial, anti-fungal, and anti-microbial healing properties. Honey can help with scars, inflammation, or cold sores. Therefore, this DIY lip balm courtesy of Garden Therapy will always leave your lips in the best condition.
Ingredients:
1 tbsp. beeswax pellets/pearls
1/4 tsp. carnauba wax
1/2 tbsp. shea butter
1/2 tbsp. cocoa butter
1 tbsp. almond oil
1 tsp. hemp oil
2 tsp. manuka honey
Directions:
Heat all wax, butters, and the almond oil on low heat. Remove from heat and add the rest of the ingredients. Pour into tubes or containers and wait for it to solidify or place it in your refrigerator for quicker cooling.
Source: gardentherapy.ca
The great thing about making homemade lip balms is that you can combine any of these ingredients or those of your choice and make your very own original lip balm. Also, some of the same ingredients can be used to make DIY lipsticks or lip glosses. Just make sure to always sanitize your lip balm containers before using them. Would you like to try some of these fun recipes at home? What are some other homemade lip balms that you know of?
More
Comments
Popular
Recent