I love books. Reading is my favorite thing. It's an escape. Books are magical. They let you experience worlds and cultures and adventures you never even imagined. As much as I hate sacrificing books, even when they're old and dog-eared, I love them so much that I adore decorating with them, too. Being surrounded by books, by words and sentences and prose … it makes me feel peaceful, protected, and at ease. Maybe these projects will make you feel the same way.
Table of contents:
1

Book Page Flowers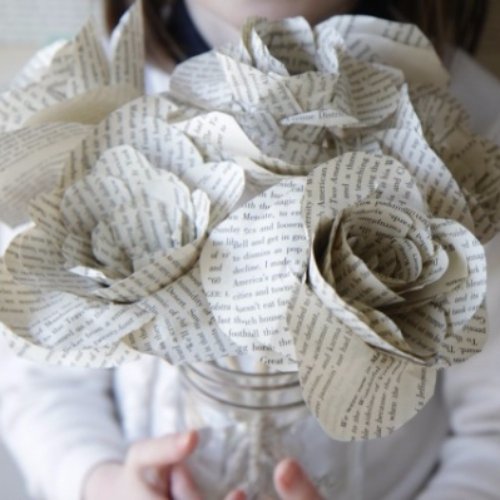 How to do it: oncarstyles.com
These are lovely! You could make such a wonderful little book nook or accent piece. Best advice? Use damaged books. I have a bunch that I've either dropped in the bathtub or left within the reach of a dog.
2

Book Purse DIY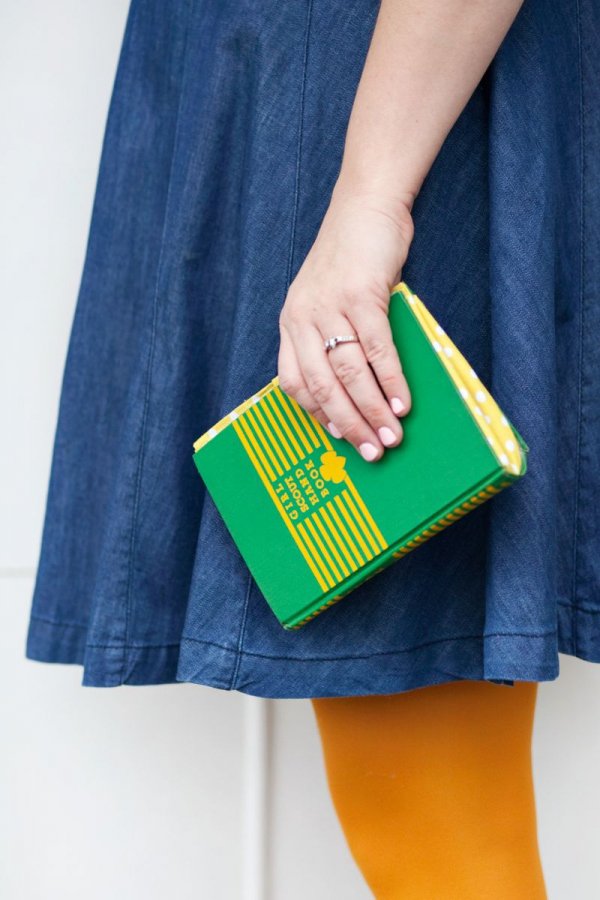 How to do it: abeautifulmess.com
Book purses are adorable, but they're pricey, even on Etsy. Sooo … why not make one yourself? And okay, so this isn't decor, but what can I say? I love book purses.
3

A Hollowed-out Hiding Place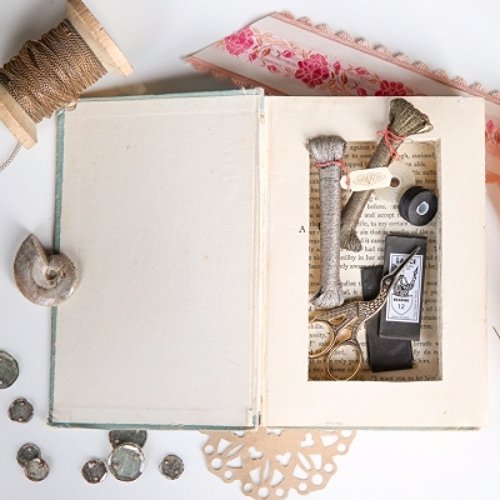 How to do it: forthemakers.com
The thought of sacrificing a book to this project makes me sad, but at the same time, I love the idea. This is exactly the kind of book-box Heather used when she proposed!
4

Paper Book Ghosts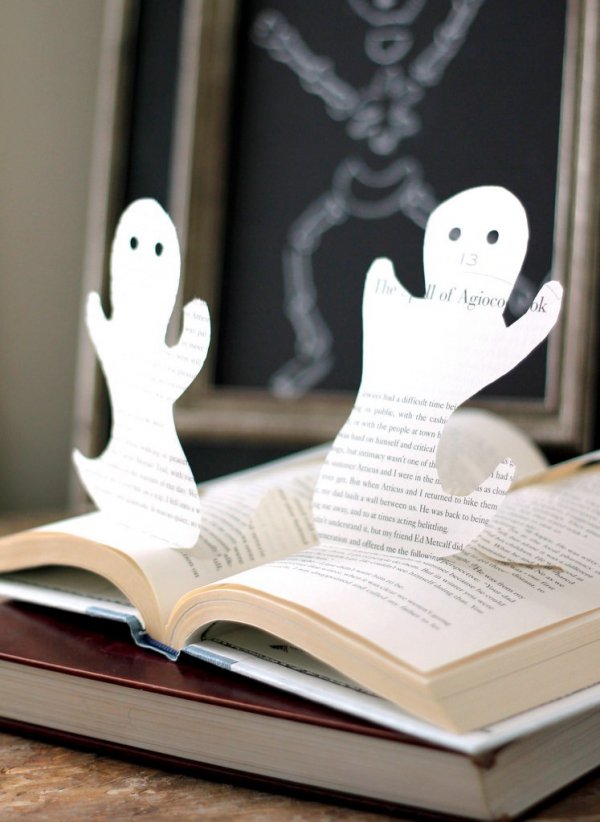 How to do it: allthingsusblog.com
Why not make Halloween a little more literary this year?
5

Vintage-Inspired "Grape Vine" Wreath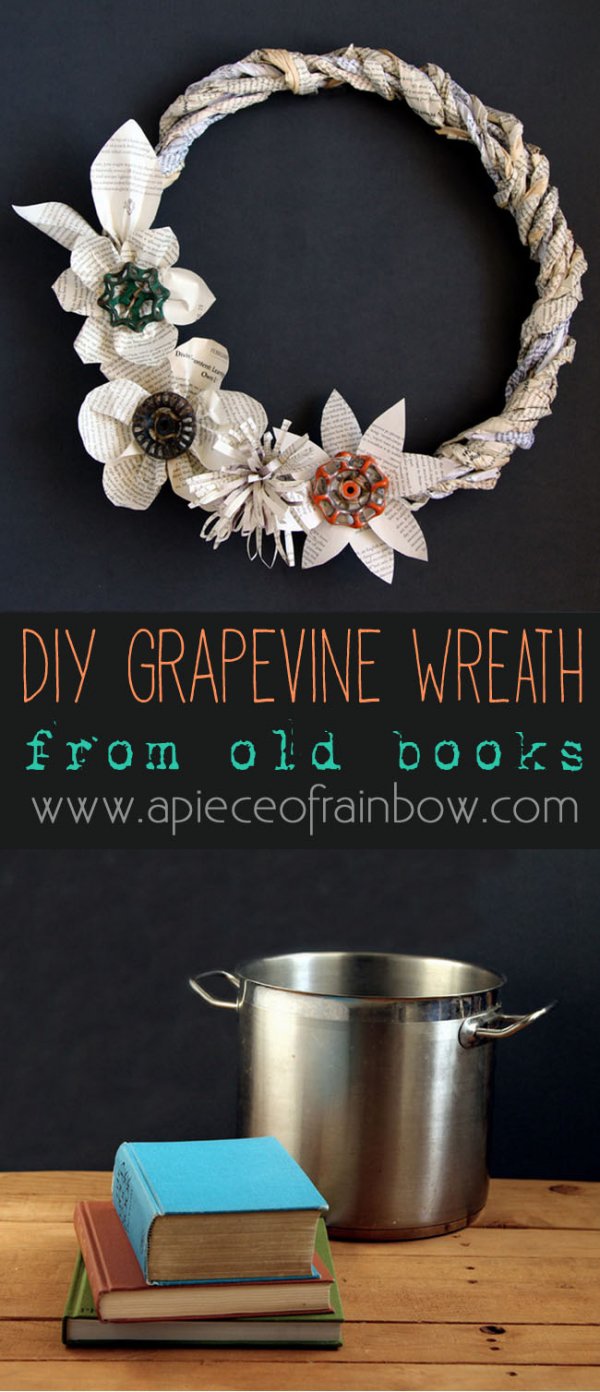 How to do it: apieceofrainbow.com
This is the kind of wreath you can keep up all year long!
6

Or Something a Little More Three-dimensional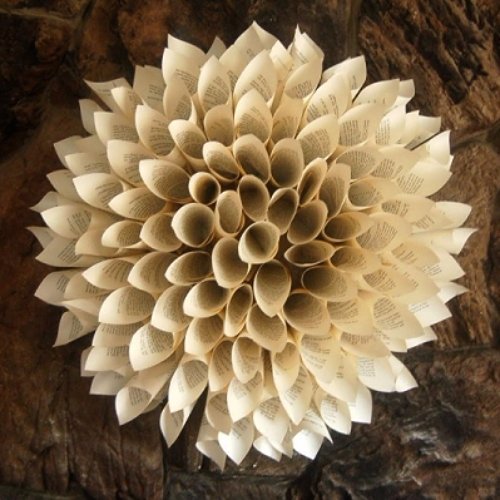 How to do it: goingreno.com
I kind of prefer this one. The pages look like calla lilies.
7

Book Page Garland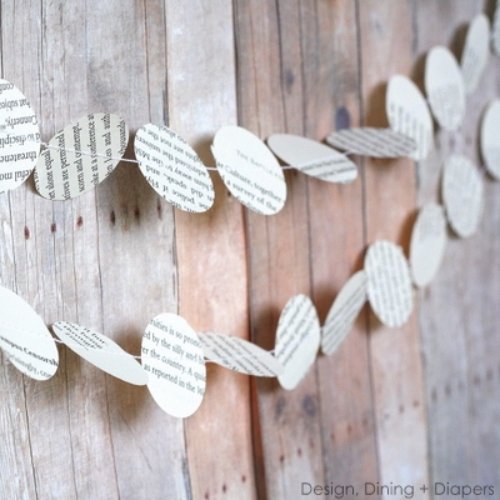 How to do it: designdininganddiapers.com
This is lovely! Another great project for a book you can't salvage.
8

Book Page Spheres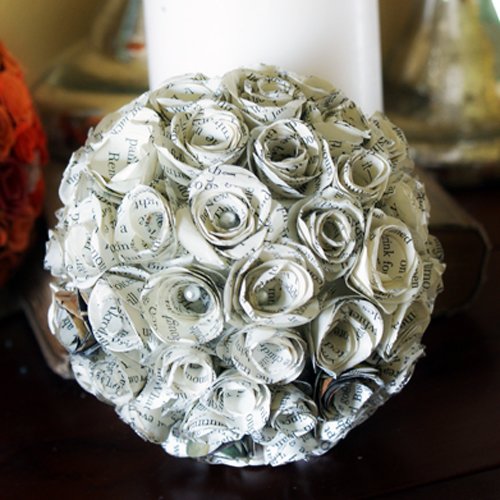 How to do it: savedbylovecreations.com
Aw, they look like little roses. Love the pearls in the centers!
9

Book Page Pumpkin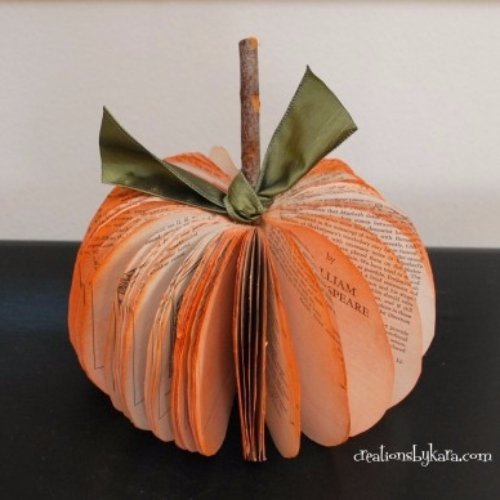 How to do it: creationsbykara.com
See? Tell me a book-themed Halloween isn't a hauntingly adorable idea!
10

Book Page Ribbons for Gifts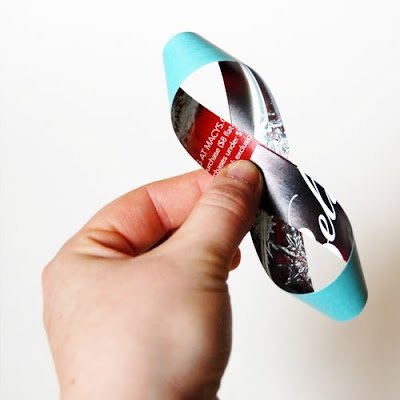 How to do it: craftinomicon.blogspot.com
More apt: use the dust covers from your hardbacks.
11

Book Page Candles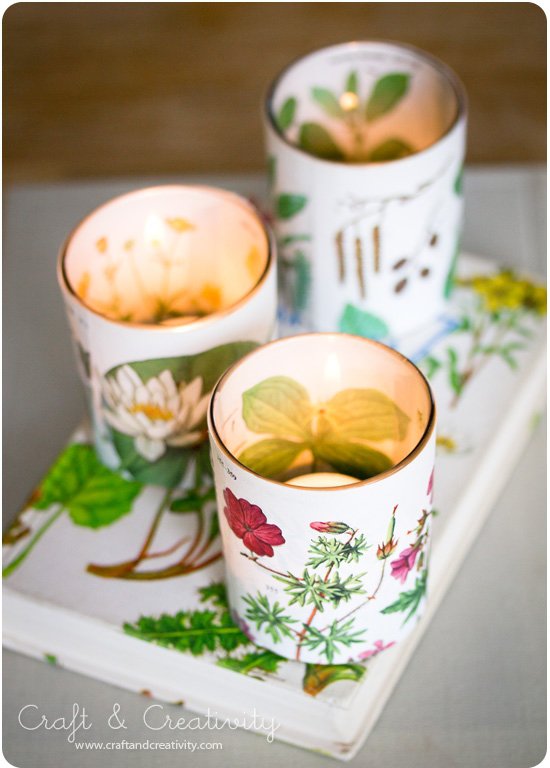 How to do it: craftandcreativity.com
This is especially lovely if you do it with illustrated pages. You'll end up with one-of-a-kind candles!
12

Book Page Heart Art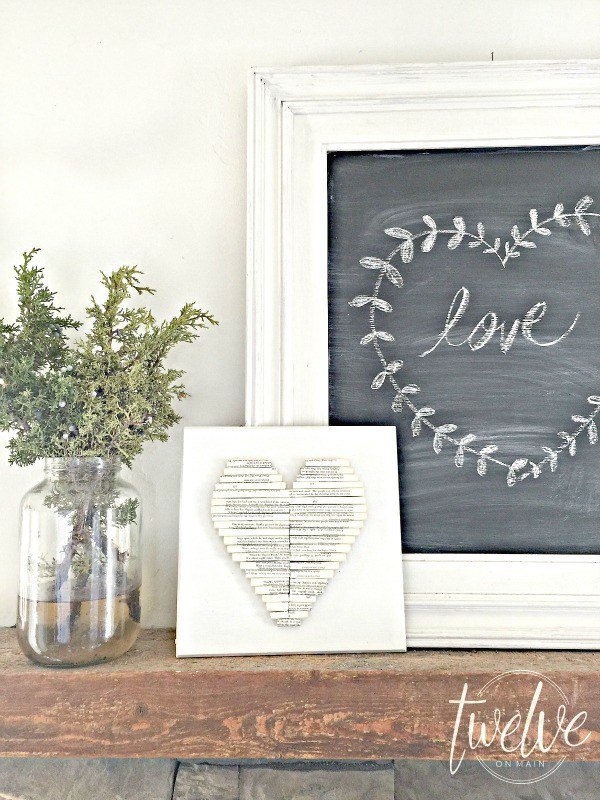 How to do it: twelveonmain.com
All you have to do is roll up the pages and arrange them into a heart shape. Easy!
13

The Perfect Envelope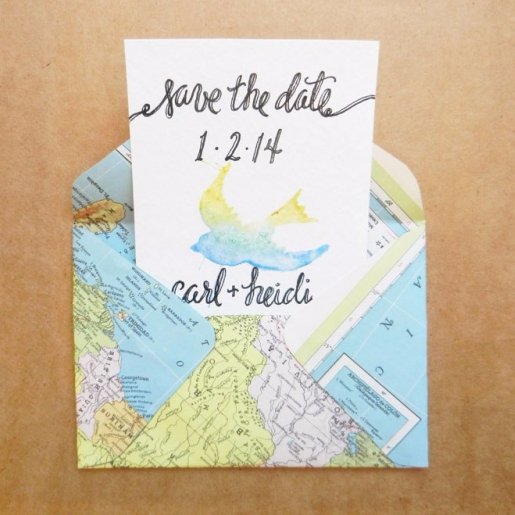 How to do it: thepostmansknock.com
Actually, you can use any kind of paper-based material – maps, book pages, posters.
14

Gorgeous Gift Bags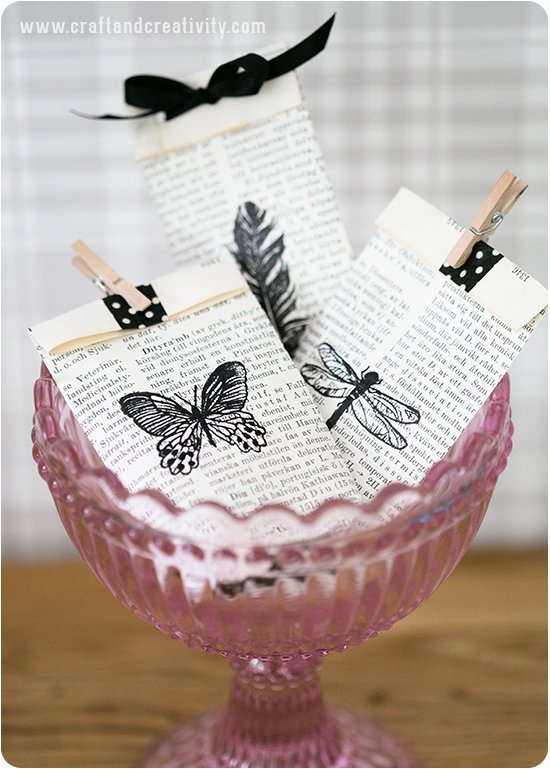 How to do it: craftandcreativity.com
If you're having a book-themed birthday party, shower, or wedding, this is an easy, inexpensive idea for guests' gift bags!
15

Decoupage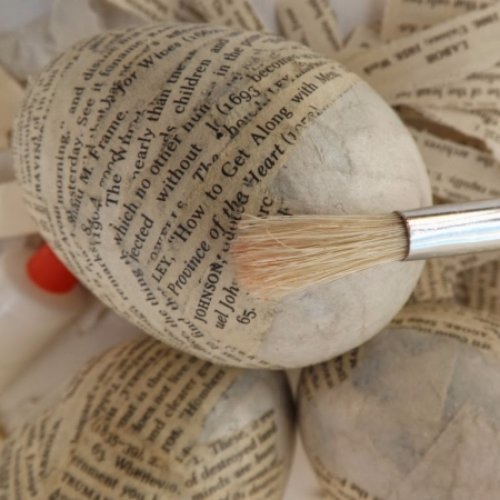 How to do it: sewforsoul.blogspot.co.uk
This is for Easter eggs, but you decoupage ornaments of all kinds. Ditto table tops, shelves, and just about anything else.
16

Book-based Birdhouses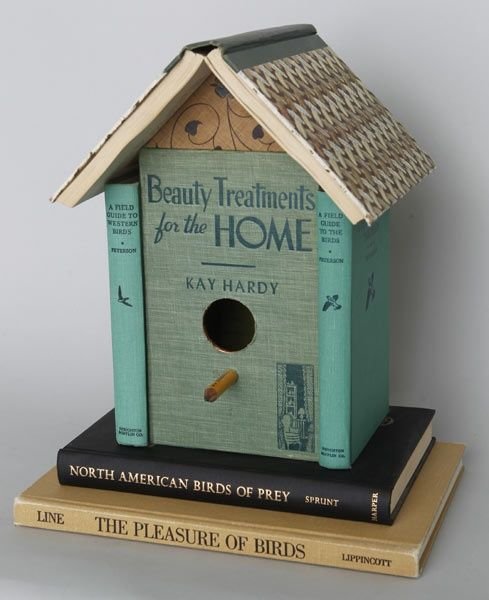 How to do it: thisintothat.com
What bird wouldn't want to live in a house of books? However, you can also save this for yourself. Keep it inside. Just display it.
17

Encyclopedia Page Silhouettes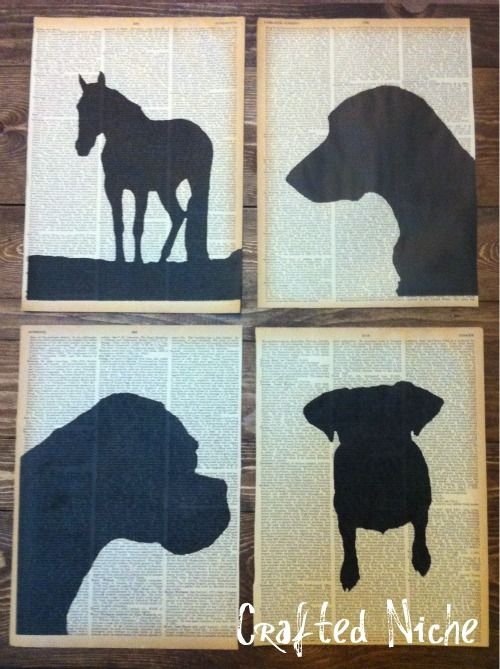 How to do it: craftedniche.com
Oh, these are adorable. I need to copy this idea!
Do you decorate with books?
Please rate this article