DIY wall decorations can be so much fun! Your dorm room is your home away from home at school, so it is important to find the best wall decorations for a dorm room. Your room is a representation of your personality and it should say a lot about who you are. DIY projects are a great way to decorate because your wall has become your own creation. You can choose the colors, designs, and sayings when you DIY. Here are some of my top DIY wall decorations for a dorm room create a personalized and cute space.
---
1

Monogrammed Sign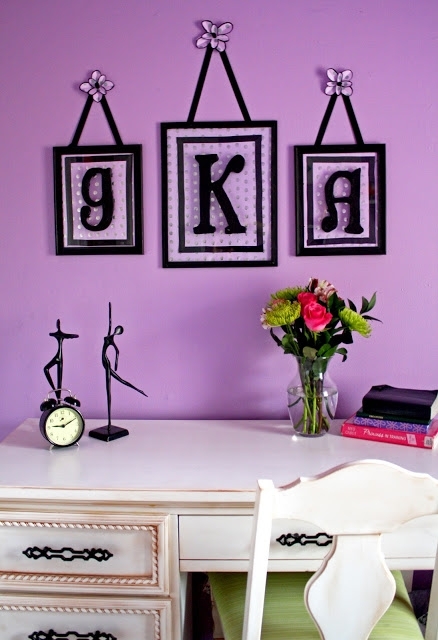 Of all of the DIY wall decorations for a dorm room, this one is the easiest to make and adds the perfect personalized touch to any wall. Go to any local arts and crafts store and pick out your favorite design of scrapbook paper, some cute wooden letters for your initials, and a piece of canvas or wood to glue everything onto. Glue the scrapbook paper across the canvas and smooth it out so there are no bumps. While that is drying, paint the letters in any color that complements both your room and the scrapbook paper. Once the letters have dried, glue the letters onto the canvas and pay special attention to make sure they are not crooked. Let it all dry and you are ready to hang up your new personalized monogrammed sign.
---
2

String Art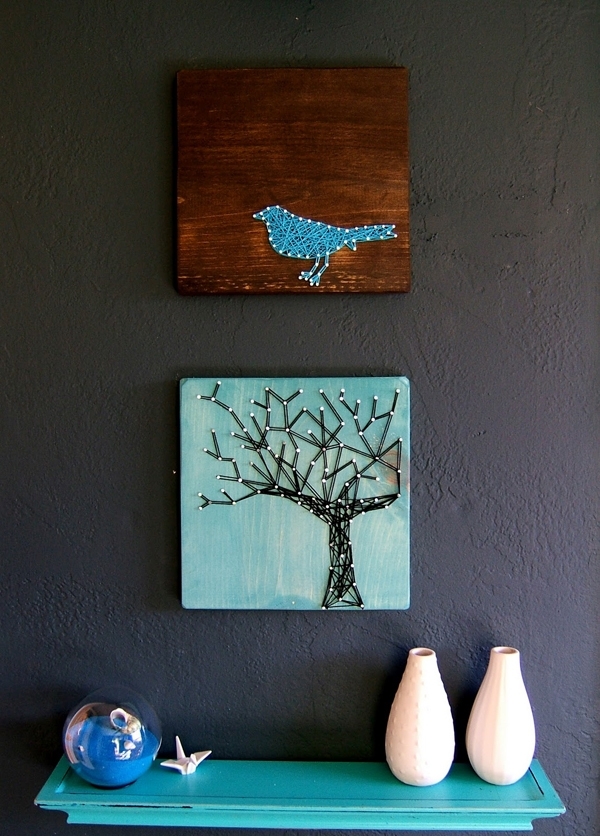 Like the last DIY, this project starts out with a wooden board. Make a trace on the board of the design you want and fill in the lines with nails, leaving about 1½ inches of room between each nail. Spray paint the board whatever color you want and when that is dry, string around the nails with a fun color of string. Feel free to have fun with this step and go crazy with how much string you use. The more hectic the string, the better the outcome.
3

Dip Dye Canvas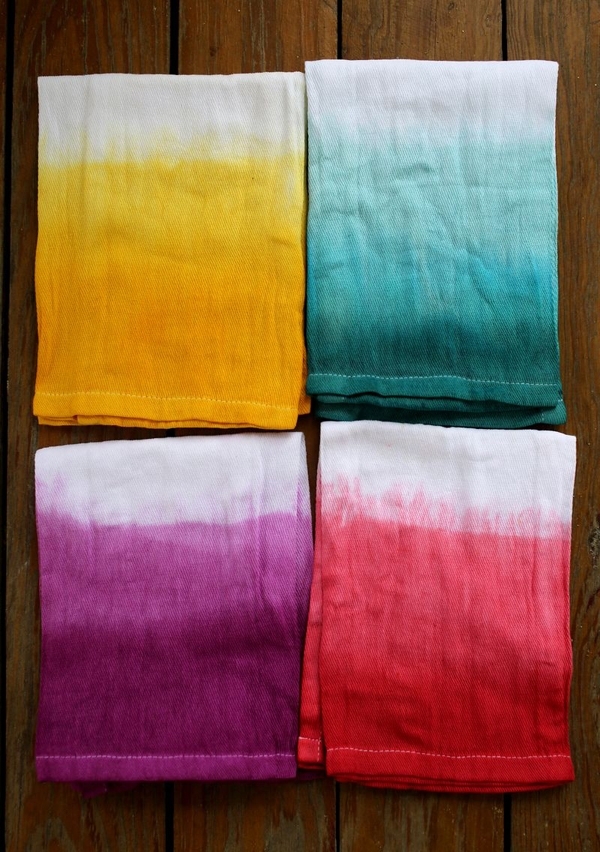 Similar to most DIY wall decorations for a dorm room, you can make this project as big or as small as you want. It all depends on the size canvas you use. You can go as big as covering a whole wall, or do a bunch of tiny little dip dyed canvases to add more color. Dip dyeing is pretty simple, all you have to do is fill a large bucket with dye (don't forget to wear gloves) and dip a large canvas in it. The bolder you want the color, the longer you hold the canvas in the dye. If you want an ombre-like look, leave the bottom ¼ of the canvas in for 30 seconds, the next ¼ of the canvas in for 15 seconds, and the next ¼ of the canvas in for 5 seconds. It will create a gradual fading of the color across the canvas. This DIY can be kind of messy so make sure you put down a lot of newspaper and wear clothes you don't mind ruining.
---
4

String Lights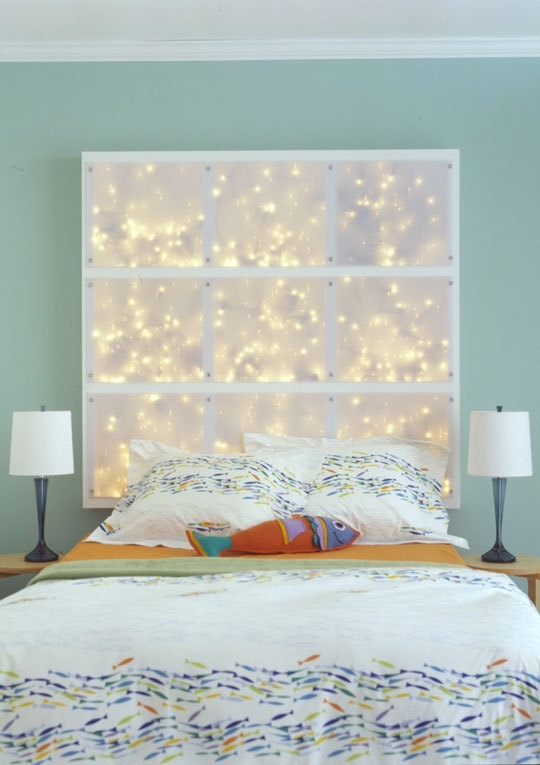 You might think string lights are overdone and a boring way to decorate your dorm, but there are so many more uses for string lights than just throwing them on a wall. There is a wide range of colors that string lights come in, so you can add a personal touch with the colors you pick. You can hang your lights to spell our your name, an inspirational word, or even a symbol that means a lot to you. You can even take this a step further and have string lights be a theme in your dorm room or apartment. Have the world "eat" in the kitchen, "bath" in the bathroom, and "sleep" in your bedroom. It will illuminate your walls while making your dorm your own.
---
5

Shopping Bag Frames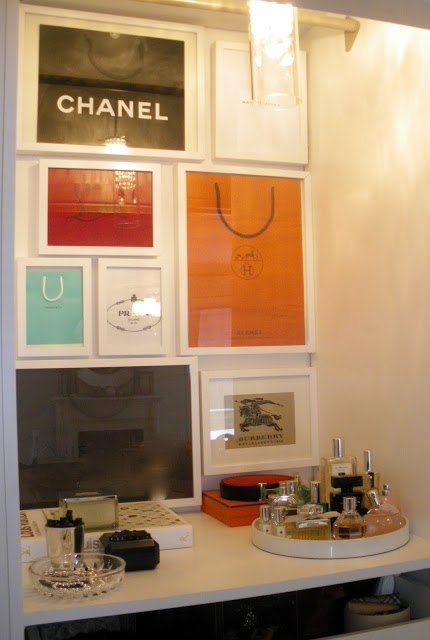 If you are a shopaholic like me, you want more than just your closet to show off you excellent taste. One of the easiest DIY wall projects is just framing shopping bags from some of your favorite stores. They come in all different shapes and sizes, and create a classy yet fun way to decorate your walls. All you need to do is collect shopping bags, measure them and purchase the appropriate sized frames. Then you are done and ready to admire your new shopaholic wall.
---
6

Bloomington Monogram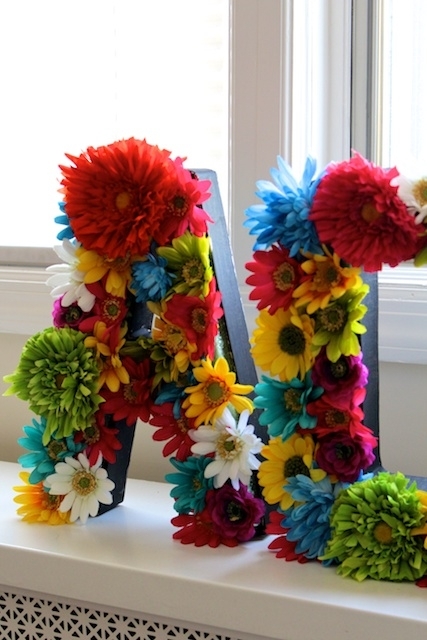 When I saw this DIY, I was absolutely blown away. Letters filled with fake flowers to create a bright and one-of-a-kind wall decoration, it was too good to be true. Start with some cardboard letters and cut the top off to have the hollow inside showing. Measure and cut your flower foam so that it will fit inside the letters and glue the foam into the letters. Cut fake flowers down to the proper size and arrange them in the foam. This is the fun part because you can use a variety of flowers and arrange them in any way you want. Once you are done arranging, you can then sit back and enjoy your beautiful floral wall decorations.
---
7

Chalkboard Paint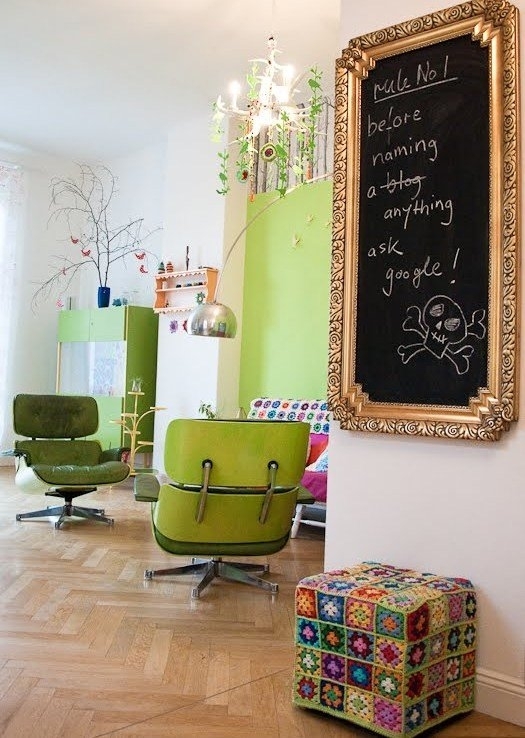 The best thing about using chalkboard paint as a DIY wall decoration is that you can switch up what your decoration says as often as you want. Chalkboard paint is super easy to make. All you have to do is mix latex paint of any color with non-sanded tile grout. For every cup of latex paint, use 1 tablespoon of grout. If you really want a lot of color on your walls, try doing this with a bunch of your favorite colors, rather than just one. Make sure the wooden block you are painting on is free of dirt and start applying the paint. Make sure you paint at least 2 coats in separate directions to get the best color. Once it is dry, cover the entire board in chalk and wipe it off, and then you are ready to start enjoying your new chalkboard blocks.
---
8

Postcard Wall Art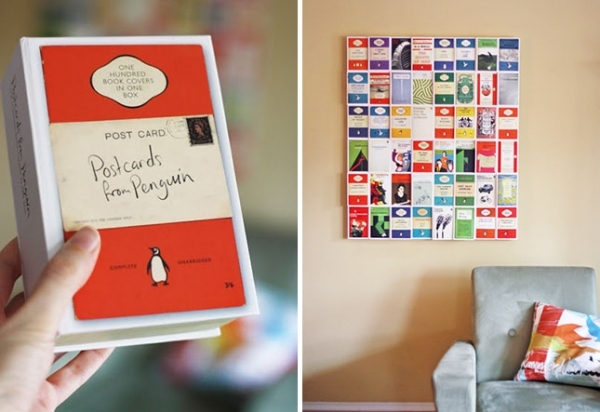 This is so cute and very cool! It will take some time to make, but it's worth it. You need some postcards, which you can buy online in big packs, a foam board, a wooden frame to keep the board stiff, and some double sided tape. Attach the post cards to the large foam board and then put the wooden frame on the back of the board to keep it sturdy. When you're done, hang it up!
---
9

Thumbtack Art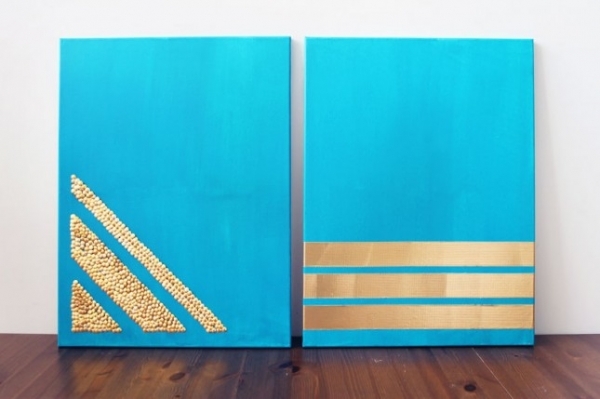 I think this is my personal favorite! Here you'll need canvas, paint gold thumbtacks, painter's tape, and gold duct tape. The first step is to pain the canvas. After it dries make your design with the painter's tape and then fill it with the thumbtacks. Once that's done you can take the painter's tape off and enjoy your design. For the duct tape one you still need to paint the canvas, but then all you need to do is design it with duct tape! Make sure that if it goes over the edge of the canvas, wrap it around to make it look seamless.
---
10

Coasters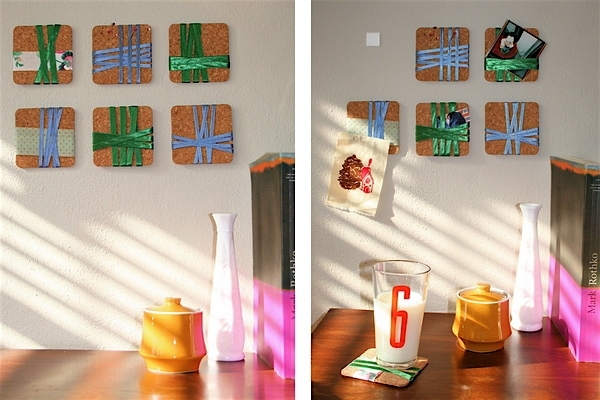 For this cute coaster wall art you'll need cork board or cork coasters, ribbon or fabric, scissors, Velcro, and some heavy duty glue. If you decided to by cork board instead of coasters, the first step will be to cut the board to the desired size. Next take the ribbon or fabric and wrap it tightly around the cork until you're happy with the way it looks. Secure the ends of the ribbon/fabric in the back of the cork with your heavy duty glue. The Velcro is used to attach the cork to your wall. Now you have a really cute, simple, and custom cork board that you can use just like any other cork board you can buy in the store.
---
11

Framed Glitter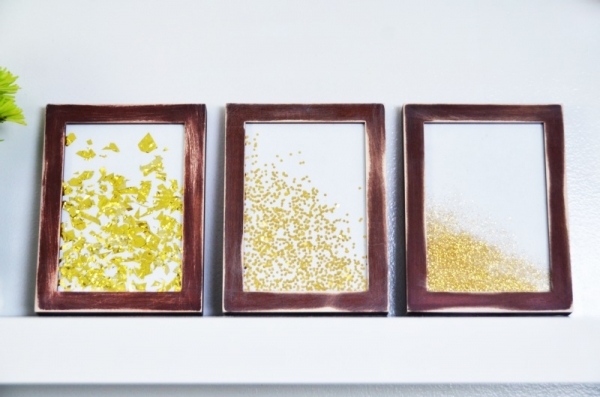 For this adorable look you'll need frames, adhesive spray, paper, and glitter. Spray the paper with the adhesive and after 15 seconds, sprinkle the glitter on the paper however you'd like and then wait for it to dry. When it dries, put the paper in the frame and then hang them up! This is a really simple and cute way to decorate your room.
There are so many DIY wall decorations for your dorm room that the options to personalize your room are endless. Make sure that you are picking decorations that truly represent you. There is not much space in your dorm room so it is important that you make the most of your wall decorations. What did you think of these DIY wall decorations? What other DIY decorations have you used in your dorm room? Do you prefer to DIY or purchase wall decoration?
This article was written in collaboration with editor Lydia Sheehan.
Sources: babble.com, thecollegejuice.com, blog.dormify.com, lifehack.org
More
---
Comments
Popular
Recent