23 Lovely DIY Valentine's Day Wreaths ...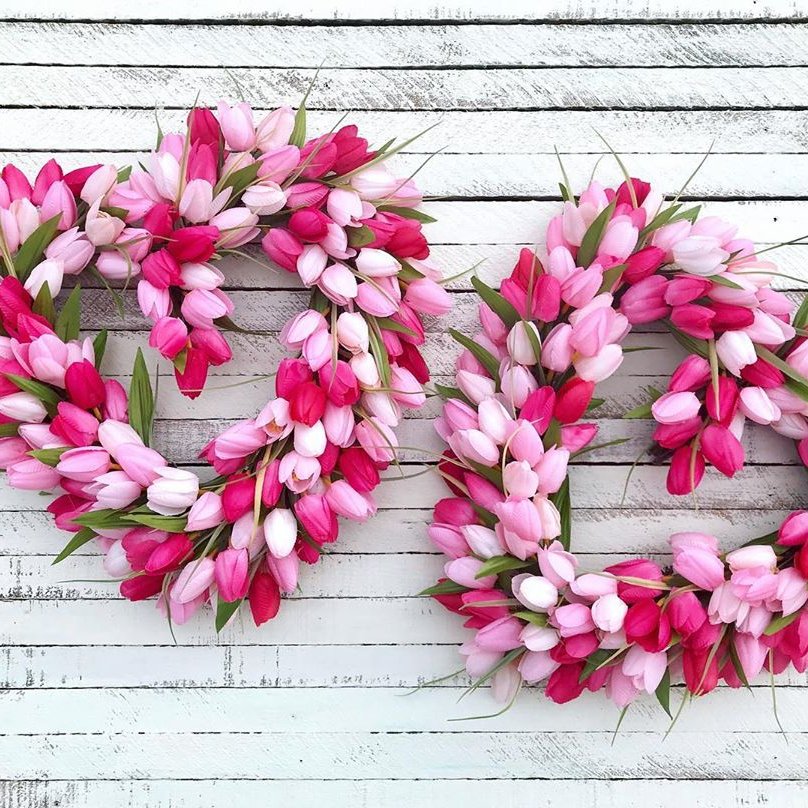 We have another post filled to the brim with V-Day crafts; this time, we tackle DIY Valentine's Day Wreaths. If the banners are helpful for making your mantel (or any wall in your home, for that matter) more season-appropriate, these DIY Valentine wreaths will take care of your door. Let's check out these fun DIYs, shall we?
1.

Mini Heart Banner and Yarn
This is an easy-to-make DIY Valentine's Day wreath that will require a wreath form, yarn, scissors, felt, hot glue, buttons, ribbon, and scrapbook paper. For the yarn, you will need two colors for a wonderful stripe-inspired look.
This is a wreath idea that you have probably seen in other variations. Basically, to make this, you will wrap a wreath form with burlap and embellish with roses made of felt. Easy but pretty!
If preppy is more your style, then you will absolutely love this argyle motif V-Day wreath. The materials that you will need to make one for your door are a wreath form, gray yarn, felt (in red and white), hot glue, and scissors. Check out the link below for the assembly steps.
4.

Pom Poms and Yarn Balls
How cute! I love this because it's incredibly colorful and also because it looks like the perfect wreath for a craft room door.
5.

Stenciled Wooden Hearts
As far as DIY Valentine's Day wreaths go, this is something that your kids might want to help you with. They can paint the wooden hearts while you wrap the wreath form. They can also help you stencil the doily pattern.
What's a Valentine's Day decor without alluding to hugs and kisses, right? So here we are with a lovely wreath that says XOXO. Hopefully, everyone who sees this ends up giving you a hug and a kiss.
Can you believe that this is made of tissue paper? It looks rich and fabulous, doesn't it? Check out the DIY below to see how Rebekah made this gorgeous door decor.
According to the post, "this wreath is a lot easier to make than it looks." If you're not convinced, check out the link below and make one for your home for Valentine's Day.
This is a lovely DIY Valentine's Day wreath, too. The process for making this lovely decor is similar to the tissue paper project. It looks complicated but really, it's basically a cut and glue project.
Isn't this creative? This is the most time-consuming among this list of handmade wreaths but, as you can see, it will be well worth the effort.
Doesn't this look gorgeous? Not only is this wreath beautiful, it's affordable to make, too. In fact, the materials that you need to make one are only foam, tissue paper, scissors, and hot glue.
The lovely curly grosgrain ribbon used on this wreath were baked. Yes, baked. You have to check out Nikki's blog to find out how to make these perfectly curled ribbons. The trick is clever and I think I will try it one of these days.
13.

Sweet Valentine's Day Wreath
You don't need much in order to create this cute little wreath. As long as you have glitter, foam, and a paper bag on hand, you should be good to go. It's that easy!
Tutorial
Head to the crafts store to buy a heart-shaped foam wreath and a whole bunch of felt and straight pins. Make sure you choose the perfect color of felt, because you're going to be looking at it for a while. This wreath isn't quick to create.
Tutorial
You need to buy a pack of paper, mini glue dots, a paper trimmer, and some coordinating ribbon. Once you have all that, you're good to go. You can create this keepsake and keep it for years, as long as you don't bend it.
Tutorial
This one takes quite a bit of work, which shouldn't be surprising, considering how adorable the final product is. You need to get some paint, twine, glue, a wooden rod, and a stylus. Don't worry, because all the work will pay off once you hang something up that your neighbors will brag about.
Tutorial
All you need for this gorgeous wreath is a paper plate, some tissue paper, and rose petals. It's as simple as can be.
Tutorial
Do you have tons of extra yarn laying around the house? Well, then you might as well give it a purpose by making this adorable wreath. Everyone will love it!
Tutorial
Even though Christmas is over, you don't have to put away your ornaments. Use them to create this adorable little wreath to hang in your home. It's a crafty way to recycle!
Tutorial
20.

Valentine Book Wreath
This isn't as complicated as it looks. All you need is a heart-shaped hole puncher. Glue the pieces you punch out onto a Styrofoam wreath and you're already done.
Tutorial
21.

Kitschy Valentine Wreath
You can spice this wreath up in whatever way you'd like. You could use candy, ribbons, cupcake liners, or even leftover Christmas decorations. It's all up to you.
Tutorial
22.

Multiple Heart Wreath
This wreath looks fancy, but it's actually made out of paper towel tubes! If you have a few of them laying around the house, then all you need to do is cut them up, bend them a bit, and paint them.
Tutorial
This wreath is made out of a straw heart. All you have to do is wrap it with yarn, put a rod through it, and add the details with felt!
Tutorial
I hope that you enjoyed these 23 DIY Valentine's Day wreaths. Happy crafting!
This article was written in collaboration with editor Holly Riordan.
{{#comments_count}} Show Commnents ({{comments_count}}) {{/comments_count}}