Weddings are incredibly expensive; making DIY wedding centerpieces is one of the quickest ways to cut costs. You may think that renting or buying already put together decor will save you time and be less expensive than buying each individual piece and putting them together yourself, but in most cases that is incorrect. While putting together my DIY wedding centerpieces, I attempted to rent glass vases from a rental company near me. I had 25 tables and the thought of having to buy 25 vases seemed ridiculous and pricey. By chance, my mom and I happened to stop into Hobby Lobby and found that their glass vases were each $1.50 cheaper to buy than it would have been to rent them from the company I had been looking into. If you have help (bridesmaids, friends, family) it takes a surprisingly little amount of time to throw these centerpieces together.
---
1

Photo Bouquet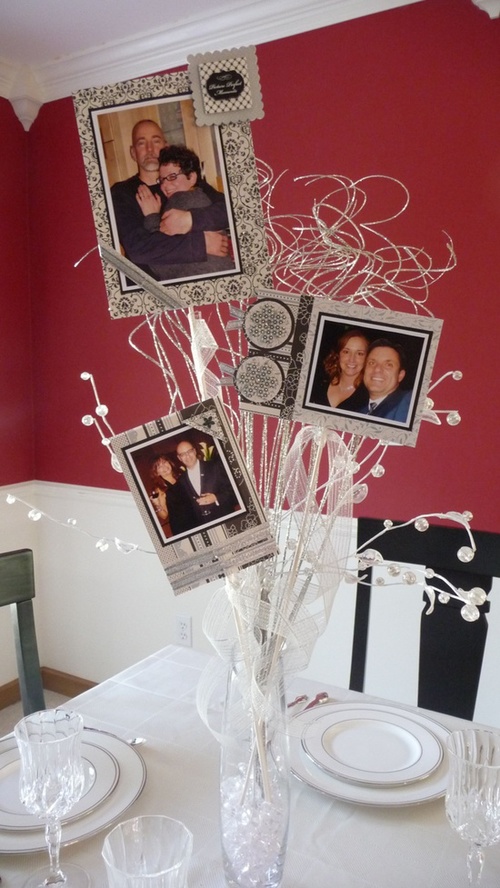 The best part about DIY wedding centerpieces is that you get to design something that shows off who you are. This is an extremely personal centerpiece and everyone will have fun looking at it and flocking to other tables to see what other pictures they can find. Attach photos to wooden skewers, cut to varying heights, and secure them inside a vase or other decorative holder. Use any accents you would like to make it seem more festive. I would strongly recommend using black and white or sepia colored photographs. If you have photos on a disk or flash drive, you can get them printed at stores, such as Walmart, for as little as 20 cents per photo. The dollar store sells several sizes of glass vases and if you talk to the manager about buying in bulk, they usually give you a great deal.
---
2

Fruit Filled Vase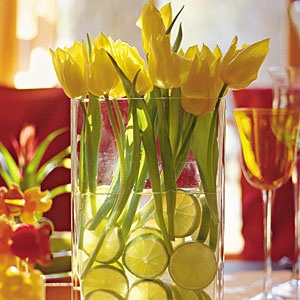 This is one I would never have thought of on my own, but saw recently at a friend's wedding. Instead of using those little marbles or stones to fill your vases, use fresh fruit! If you are having a spring or summer wedding, this is such a fantastic idea! You can find a fruit for virtually every color scheme. If you chose to use citrus fruit, slice the fruit and leave them peeking nicely out of a glass vase. If you choose to use apples, grapes, cranberries or other berries, simply leave them whole and allow them to float within your water filled vase. Have a few flowers with complementing colors sticking out of the top, and if you'd like to add a little more character, invest in a few submersible LED lights and let the light shine through the spaces between the fruit. It looks gorgeous!
3

Floating Flora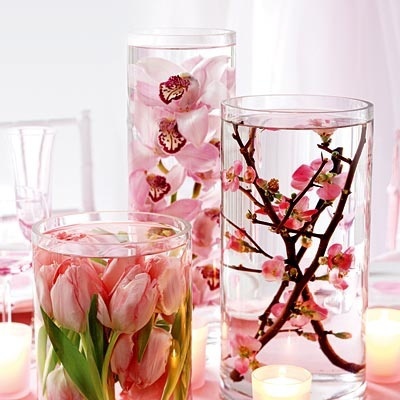 Silk flowers, submerged in water look incredibly lovely. The best part about them is they are quite reasonably priced and you can find them in any shade you might need. Find various sized glass vases and place your flowers to your liking, then fill it up. If you want to add more flare, a floating candle on top gives it a perfectly charming touch. This centerpiece is quick, easy, and very cost effective.
---
4

Ornamental Beauty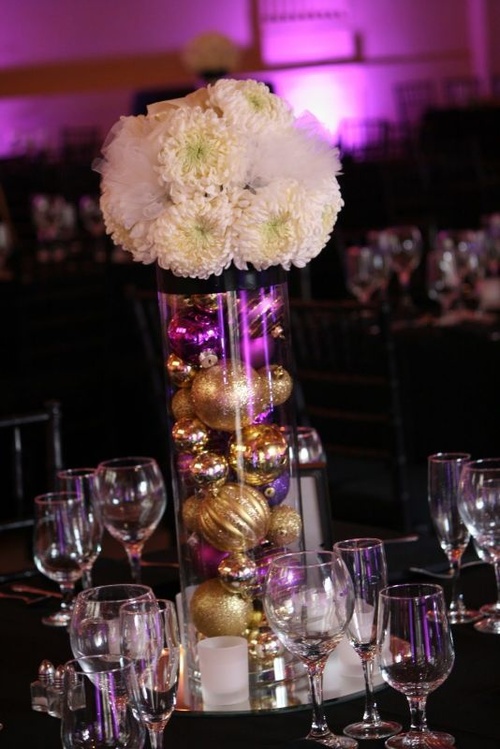 Ornaments are not just for Christmas, they come in such a variety of colors and styles that it makes finding what you need very easy. If you are having a winter wedding, or one of your colors are silver or gold, this is absolutely ideal for you, but even if it is a spring time wedding with pinks and greens, you can use this great idea to create some fantastic DIY wedding centerpieces! They look best in a tall, wide container and I recommend topping them with real or artificial flowers or some other decoration. If you have the ability, the best time to buy the ornaments you need is the week or two after Christmas when they are on sale from 50-90% off at retailers.
---
5

Pumpkin Patch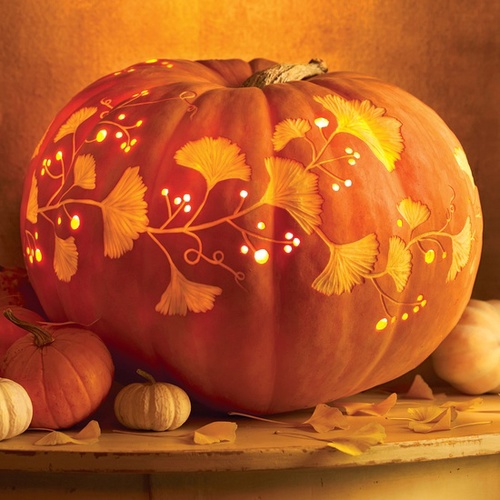 If you are having an autumn wedding, pumpkins are the way to go. Cut off the bottom, scrape out the guts and carve your own beautiful centerpiece! The design doesn't have to be as elaborate as the photo above, use a knife to cut slits, or a sharp implement to poke holes in zigzag formations or swirls. This is a messy and fun project to do with your friends and the results are gorgeous. Put an LED candle inside of each pumpkin and in the dim lighting, the glow will be stunning. Don't be afraid to spray paint the pumpkins any color you need to match your chosen colors, and use a cloth to rub bleach around the inside of the pumpkin, this keeps it from rotting far longer than leaving it natural.
---
6

Mirrored Tiers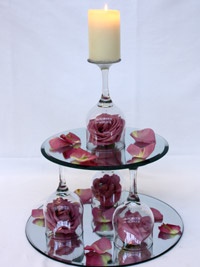 You can buy everything you need to make this centerpiece at most dollar stores and certainly at every craft store. You need one large mirror for the bottom tier, then flip over 3 wine glasses, with flowers inside and lay a slightly smaller mirror on the top. Turn one more flower filled wine goblet upside down on the new tier and top with a pillar candle (or flower). This is so very simple to create and it looks outstandingly elegant. Place accents around the base, if you choose, to add a little more dazzle.
---
7

Carved Creativity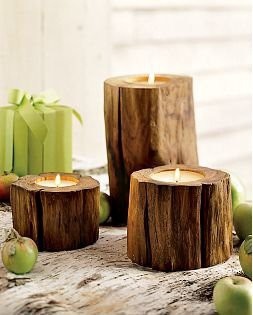 If you are looking for a more rustic feel, or are trying to cut costs to a bare minimum, this is an attractive, simplistic idea. All you need are logs, which most people can get for free, some candles (Dollar Store) and a little wood carving know-how. Carve out a section at the top of each log large enough to accommodate you candle choice. Stagger the sizes of the logs so that they are not all the same height. Make sure the logs are as clean as can be as you don't want dirt lurking around your guests' food as they eat.
All of these DIY wedding centerpieces are designed to be easy to make and relatively inexpensive while looking chic and stylish. Rally your friends to help you out so you don't feel overwhelmed trying to accomplish everything on your own. Whatever you choose to do for your centerpieces, make them fun and allow your personality and shine through! What are the best centerpieces you have seen?
---
Comments
Popular
Related
Recent