There are so many creative ways to use magnets; they are definitely more versatile than most people give them credit for. I am, admittedly, a bit of a magnet freak. I own a fairly substantial amount of self adhesive magnets that I use on a regular basis to organize and tidy up, especially in the kitchen and bathroom. Try some of these resourceful ways to use magnets, and I'm sure you will find them just as useful as I do!
---
1

Magnetic Makeup Board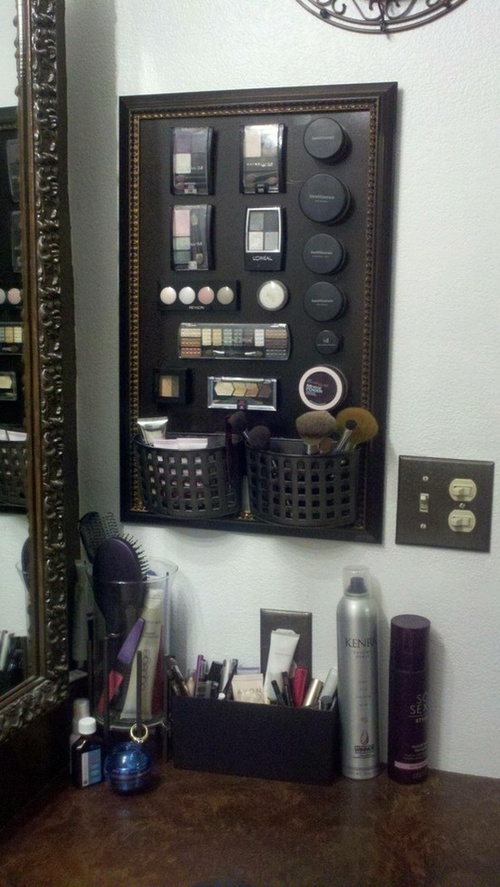 While I utilize several of these ways to use magnets, this one is my favorite. If you have an abundance of makeup cluttering up your bathroom counter, this is a really ingenious idea you should take advantage of. You only need to attach magnets to your makeup containers and buy some sheet metal (Home Depot or Lowes). You can make it simple by just hanging the bare metal on the wall, or you can class it up by painting it or applying fabric to it using Mod Podge and framing it. No matter how you decorate it, the effect is the same; all of your makeup will be easily visible, well organized and best of all, off of your counter top!
---
2

Refrigerator Seasoning Rack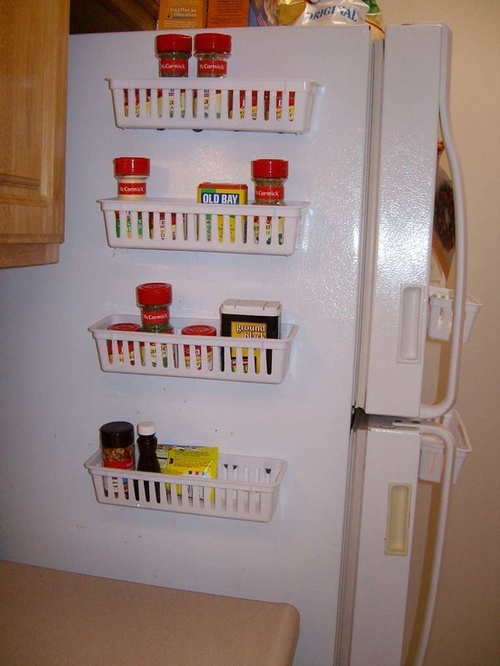 I am sure you have seen the new, gorgeous magnetic seasoning racks. They are so useful and great for keeping your seasonings within easy reach, yet out of the way, the only problem is that they can be fairly expensive. An easy, incredibly cheap solution is to attach magnets to the seasoning containers you are already using, and stick them to the side of your fridge! I did this and it cleared out the entire bottom shelf of my cabinet which I can now put to use, plus I don't have to take out every spice I own to find the one I'm looking for anymore. I just glance at the fridge and they are all lined up, ready to use. If you want to simplify this even more, attach magnets to cheap baskets large enough to hold your spices and attach them to the fridge and store you containers in the baskets!
3

Magnetic Knife Rack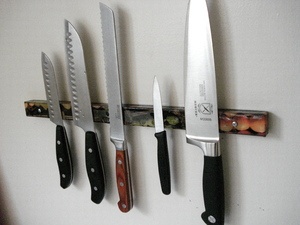 Another way to de-clutter your kitchen is to get rid of your knife block to make more counter space. You could always buy a magnetic knife rack from places like IKEA, but why spend more money than you need to? Buy some strong magnetic strips (they usually come in rolls) and use super glue or hot glue to apply them to your desired length of wood or plastic. To keep your knives safe from scratches, affix fabric to your newly made strip. Hang it on the wall in your kitchen and you have yourself a new space saving knife rack!
---
4

Magnetic Scrabble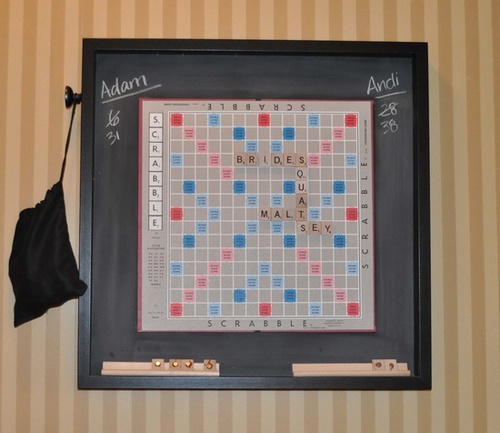 This is great for a real life "Words with Friends" style game where each person just plays whenever they get around to it. It is also great for long car trips; the magnets keep the letters in place on the board. You need to attach the game board to sheet metal and glue small but powerful magnets to each letter tile. If you want yours to look like the one in the photo, get sheet metal cut a larger size than your game board and paint it with chalkboard paint. My mom loves Scrabble, but no one ever wants to play with her because she always wins. I'm thinking about making this for her and the whole family can play against her whenever we happen to be visiting.
---
5

Bobby Pin Collector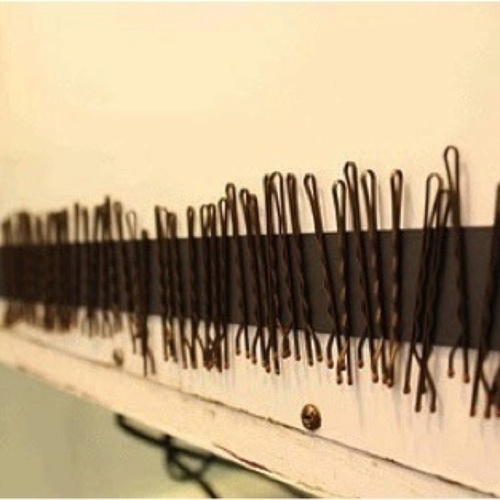 As previously mentioned, my stuff takes up a lot of counter space in the bathroom, which drives my husband bonkers. He's always complaining that he's stepping on bobby pins, so I took a self adhesive magnet strip and stuck it above the bathroom sink, this allows me to just plop them onto the magnet when not in use. It is great because they are out of my husband's way and I spend less money replacing the lost ones all the time. If you want to get fancy, you can cover your magnet with fabric to match your bathroom's color scheme.
---
6

Message Board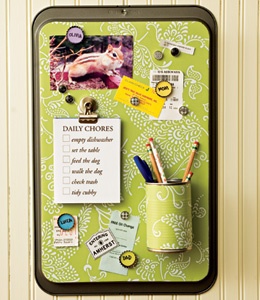 This magnetic message boards is incredibly easy to make and one of the best ways to use magnets I have seen. You can use sheet metal, but if you have an old cookie sheet (or want to buy one from the dollar store) they work just as well. Cover it with contact paper or fabric and decorate it however you wish, hang it on the wall and adorn it with pretty magnets. That's it! It's so simple and easy and the finished product is pretty and personalized.
---
7

Tool Helper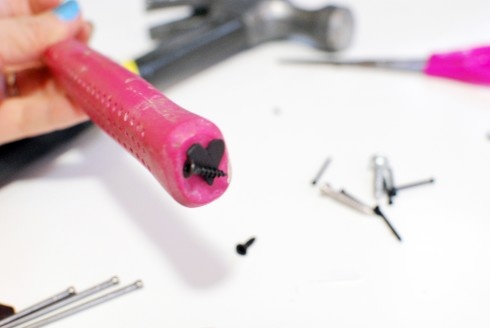 All hardware stores sell magnetized hammers now, but if you have a fairly old hammer, why replace it with a new one when you can simply upgrade it yourself in the easiest way possible? All you need to do is attach a magnet to the bottom of the handle! This keeps your nails or screws handy for you while you're working on your project. It is such an easy and simple solution, but is often never thought about. It really does make life easier too; I can't count the number of times I have been up on a ladder and dropped the nail I was using and was forced to climb back down to get it. This solves so many problems!
These are only a few ways to use magnets, they really are an under utilized item. Next time you find yourself in a hardware or craft store, pick up some self adhesive magnets or magnetic strips, you never know what innovative ideas you will come up with! What ways do you use magnets to make your life easier?
More
---
Comments
Popular
Recent