Show the world how much you and your family love autumn by making one of these DIY Fall Wreaths. We have here a collection that is sure to warm your cold-weather-loving heart. And of course, it goes without saying that these DIY autumn wreaths will make you one happy crafter, too. Enjoy!
---
1

Yarns and Twigs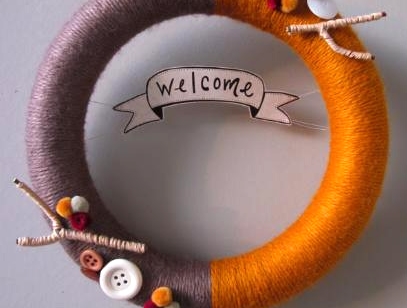 Love to crochet? If you do, you can use some of your yarn for making this lovely DIY fall wreath. Use yarns in fall colors, such as orange, red, brown, and yellow. As for the embellishments, use cute items from your craft supply stash.
---
2

Fabric Scraps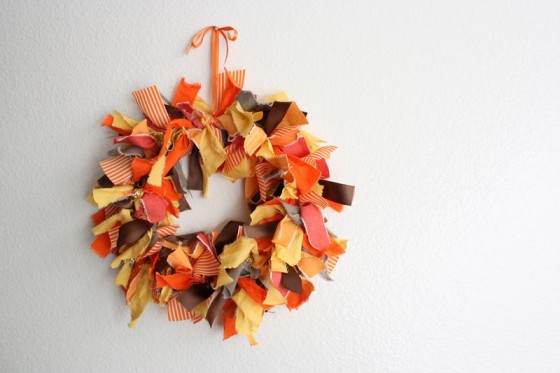 Take a wire hanger and shape it into a circle. This will be your wreath base. Then take fabric scraps (in fall colors) and then tie them around the hanger. Continue until you have covered all sections of the wreath. Congratulations, you just made a cute** DIY autumn decor**!
3

3d Mod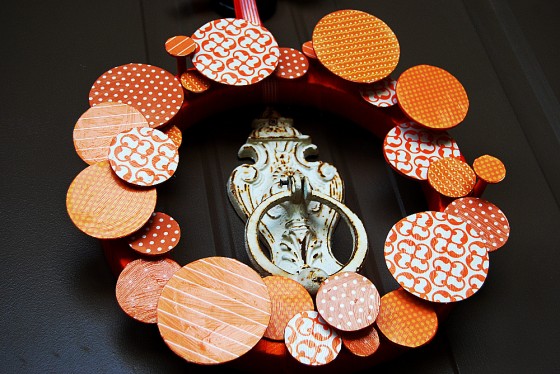 How cool and unique is this DIY wreath? This tutorial is brought to us by Jen of Tater Tots and Jello. If you want to copy this idea, you will need round wooden pieces in several sizes, beads and dowels, a foam wreath base, an orange ribbon, pretty pattern paper, and of course, Mod Podge.
---
4

Feathered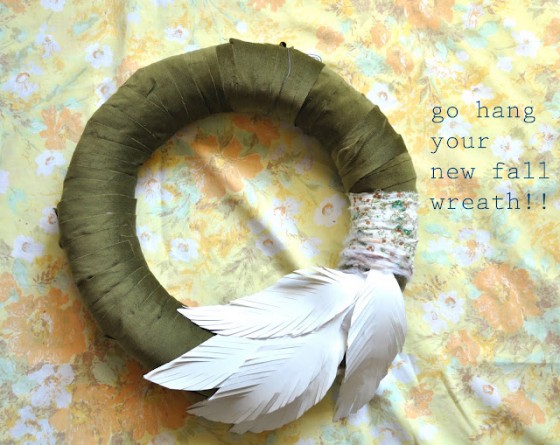 If you're looking for a wreath that has a bit of a delicate look, you may want to include feathers in your project. What Melissa did with this particular DIY was cover a wreath base with fabric and then add feather and yarn details on one section. Simple and cute.
---
5

Mini Leaves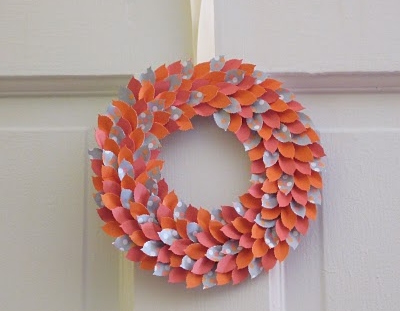 I know, I know, this wreath tutorial says spring but methinks the colors of the leaves also make it quite perfect for fall. I also had to include this here because it's incredibly easy and fun. Basically, what you do is punch a gazillion leaf shapes and then glue them to a cardboard wreath base.
---
6

Felt Rosettes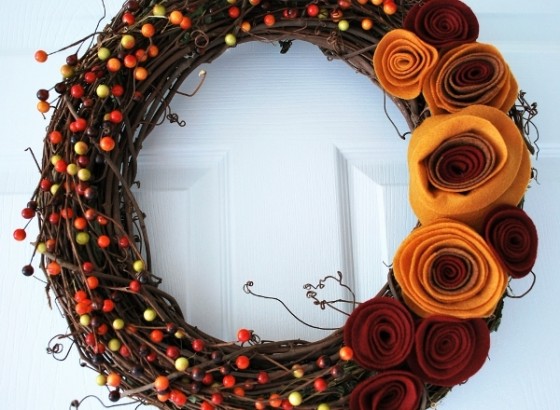 This is one of my favorites from this list of DIY fall wreaths. Why? Because it's wonderfully done and the felt rosettes are calling out to me. The addition of the fall berry twigs is a touch of genius, too.
---
7

Mesh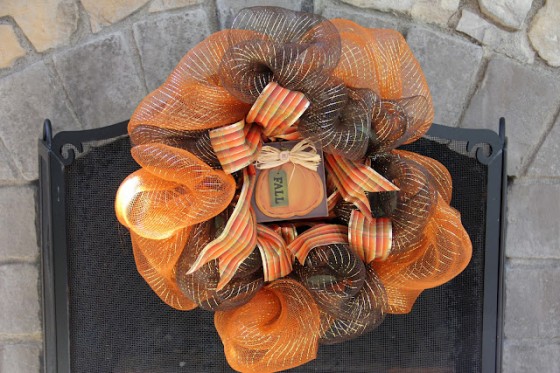 If you like a full wreath, I recommend using mesh ribbon for your project. Aside from the fullness, this material is fantastic because they often have glittery weaves. And they come in fun colors!
---
8

Mini Pumpkins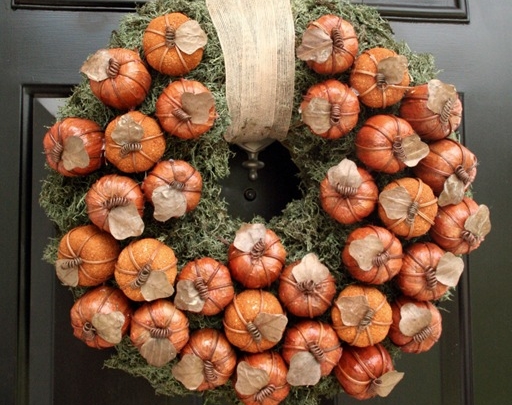 This fun DIY fall decor is inspired by a Williams Sonoma wreath. Theirs were sold for $100, though, and I know you'll agree that that's just insane for something that you can do yourself. So get a wreath form, moss, and mini pumpkins from the craft store and make your DIY version.
---
9

Felt Ruffles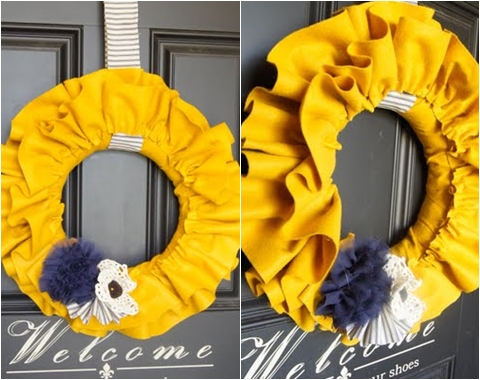 How cheerful is this DIY fall wreath? This is one of the tutorials here that will require hand sewing. Basically, you'll turn felt strips into circular ruffled wreath parts, glue to a base, and then embellish any way you want. Easy!
---
10

Coffee Filter Roses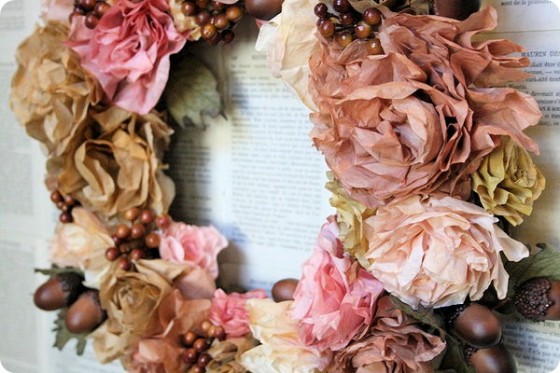 This is another favorite from these autumn handmade wreaths. The materials needed for this project are coffee filters, paint (in fabulous fall colors), water, and and a grapevine wreath. You can also use a plain foam wreath base and then add other season-specific embellishments.
---
11

Flannel Shirts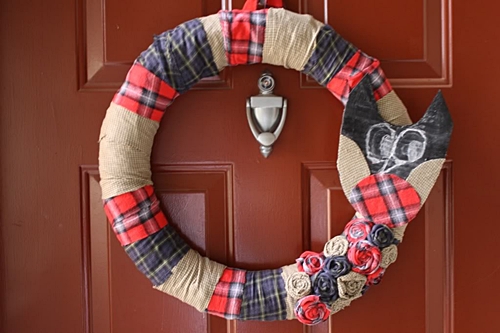 Nothing says cold weather than flannel shirts, I think. You can incorporate this autumn staple into your wreath project quite easily. Cut strips of flannel fabric, wrap around a wreath form, and then add rosettes. That's it.
So there you have fabulously creative** DIY fall wreaths**. Got other** autumn wreath tutorials** to share? Let's hear 'em! We'd love to know what's keeping you busy in the DIY department these days.
More
---
Popular
Recent