Christmas is just around the corner, and before you know it, you will be slurring Christmas carols, waking up swearing off rum and egg nog, and making countless cute Christmas DIY projects. I have come up with 18 Christmas DIY projects that will have you so inspired this holiday season, some may even mistake you for the jolly man's better half. Holiday DIYs are my absolute favorite, there is really nothing better in my mind. I hope you love them as much as I do.
Table of contents:
1

Cinnamon Stick Coaster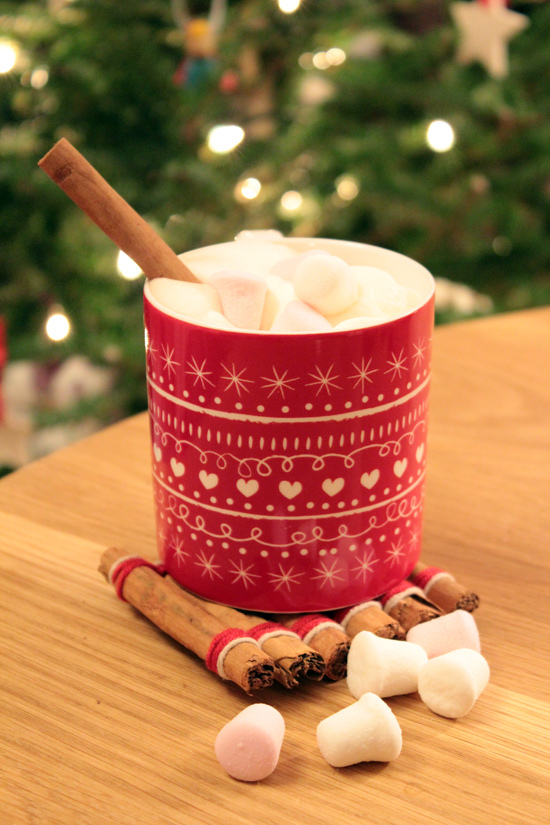 Have your guests sipping in style not only when they have their lips to the rim but when they put the stems down on these cinnamon stick coasters. Filling the air with a fabulous spicy holiday aroma all while keeping your coffee tables clean and party looking chic. It's a win win for everyone. This is by far one of my favorite Christmas DIY projects.
Tutorial: cookquiltmakeandbake.wordpress.com
2

Flamingo Stockings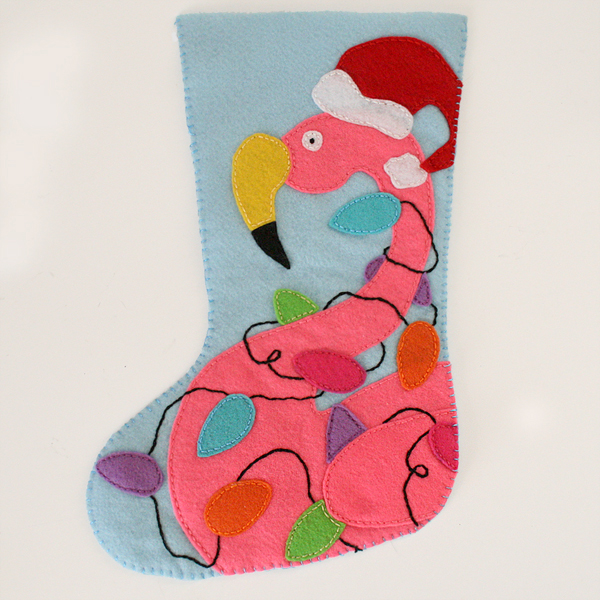 How do you bring a light-hearted fun to your holiday decor this season? How about these pink flamingo stockings? Not only will your kids giggle when they see these hanging above the fire, but you will be beyond proud to say you made them from scratch. This tutorial offers an easy pattern that will have each and every stocking precise and looking store bought.
Tutorial: dreamalittlebigger.com
3

Cupcake Liner Christmas Trees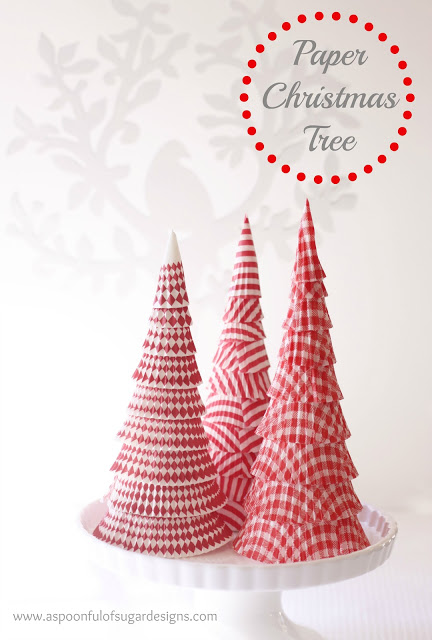 A quick holiday DIY that I am sure you can all whip up last minute with stuff that you already have on hand. These sweet little cupcake liner trees will have your Christmas guests impressed that you came up with such an ingenious idea. Your secret's safe with me, tell them the idea was yours, and you just thought of it. Take that, Martha Stewart.
Tutorial: aspoonfulofsugardesigns.com
4

Rhinestone Ornaments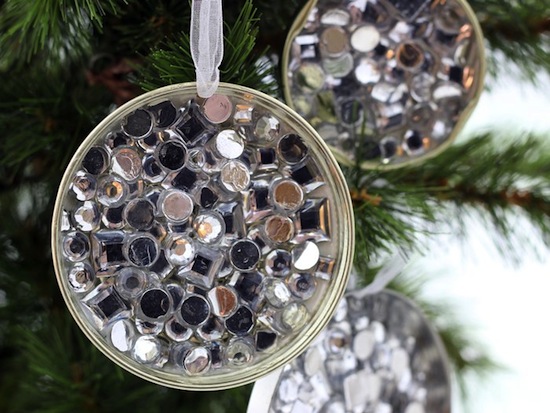 Needing to fill some void on your Christmas tree this year? Enlist in some sweet little helpers when you make these Christmas ornaments. So easy and super fun, whether you are crafting with kids or just a kid at heart, you will no doubt have a blast making these this holiday.
Tutorial: modpodgerocksblog.com
5

Robot Advent Calendar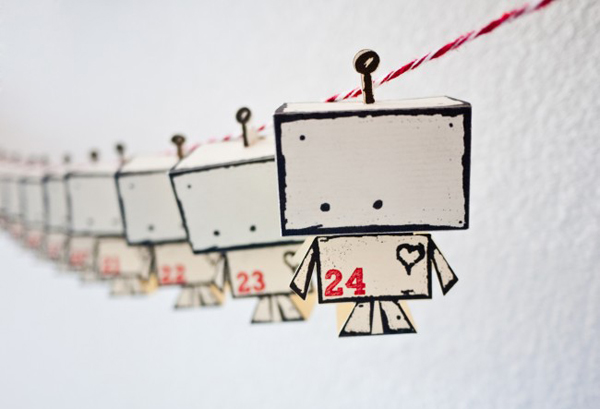 Growing up, my fondest memories of the holidays were those mornings I woke and opened up a surprise from my Advent Calendar. My mother made ours every single year and I can't thank her enough for making the countdown to the big day so exciting. This Robot Advent Calendar will be sure to please the little man in your lives. One of those perfect Christmas DIY projects that will be useful for years and years to come.
Tutorial: nexttonicx.com
6

Candycane Necklace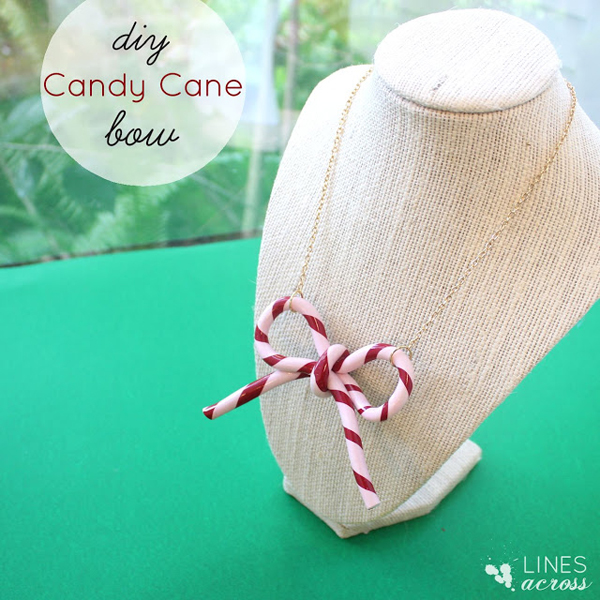 For the fashionistas out there looking to include some holiday love into your wardrobes, look no further. This holiday DIY will have you looking sweet while walking with a jingle. I also think this would be a much appreciated gift all your girlfriends would love to also own. A gift that will keep on giving, as they will be sure to pull it out each and every year.
Tutorial: linesacross.com
7

DIY Christmas Crackers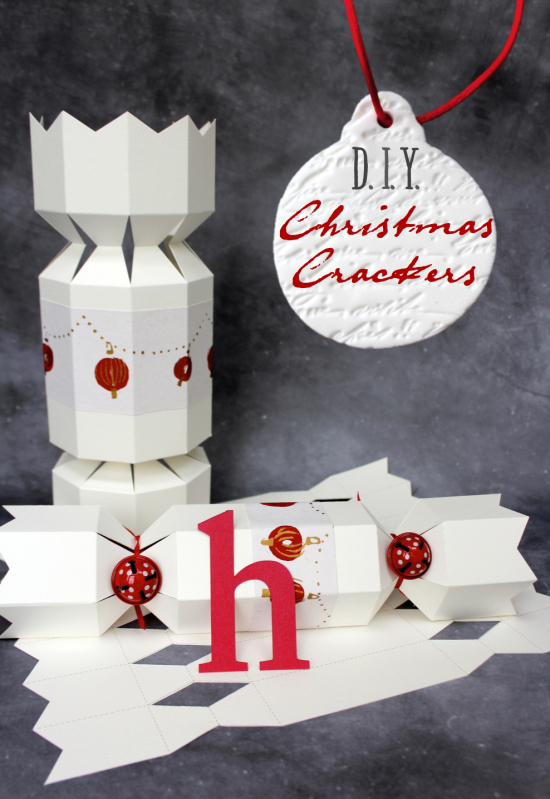 A tradition that has been adopted by many, this Christmas craft is beyond fabulous as it allows you to customize your crackers to those who will be around your table this holiday season. A fun and affordable way to make turkey dinner even more magical. Also allows you to take your own spin on the holiday jokes that will be put inside, and kibosh the dreaded paper hats.
Tutorial: katescreativespace.com
8

Burlap Candle Covers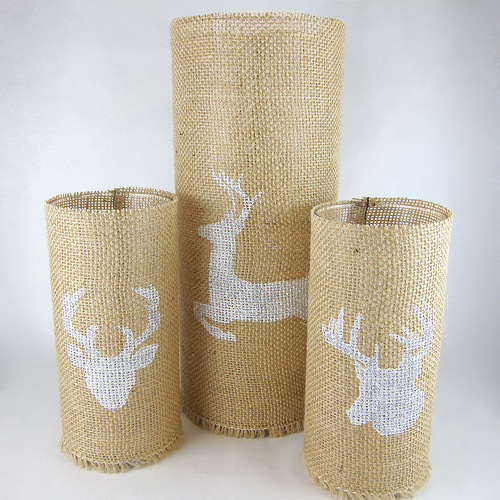 These brilliant burlap candle holders are, in my mind, ingenious. Looking oh-so-chic, your guests will be sure to ask you what arm and leg you gave when purchasing these from Pottery Barn. Love this idea and will no doubt be making these for my home this holiday season.
Tutorial: justcraftyenough.com
9

Pine Cone Fire Starters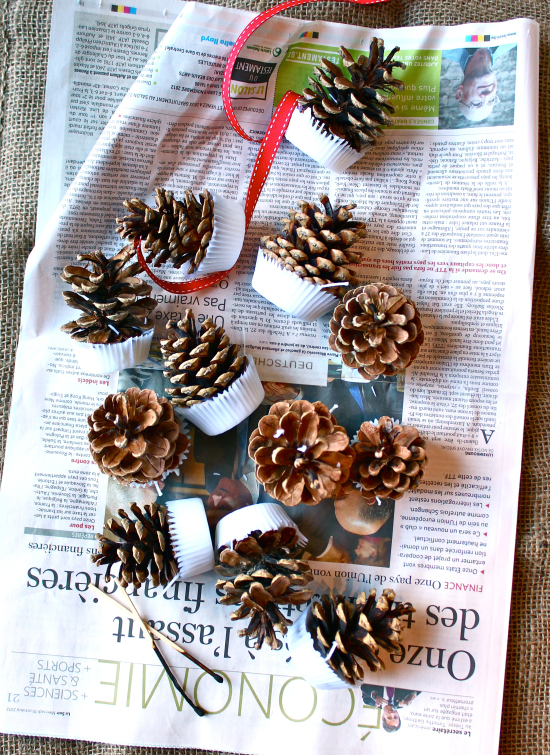 For those that have a wood burning fireplace, these little fire starters are just fabulous. No more failed attempts at lighting the fire, with these chic pine cone starters you are bound to warm the house on your first try. Makes me wish I had a wood burning fireplace at my house, just so I could make these babies. Love this Christmas DIY project, no doubt one of my favorites.
Tutorial: katescreativespace.com
10

Golden Infinity Scarf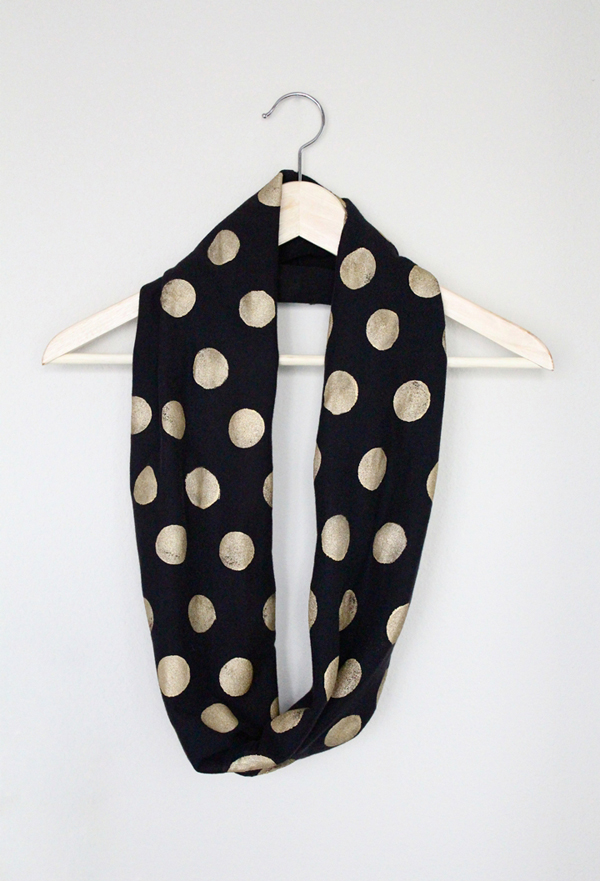 If you need me, I'll be painting my next scarf! This holiday DIY is fabulous. Who doesn't wear a scarf during this time of year and, better yet, who doesn't have an old tee kicking around that needs re-purposing? This is by far one of my favorite Christmas projects.
Tutorial: sugarandcloth.com
11

Deer Head Advent Calendar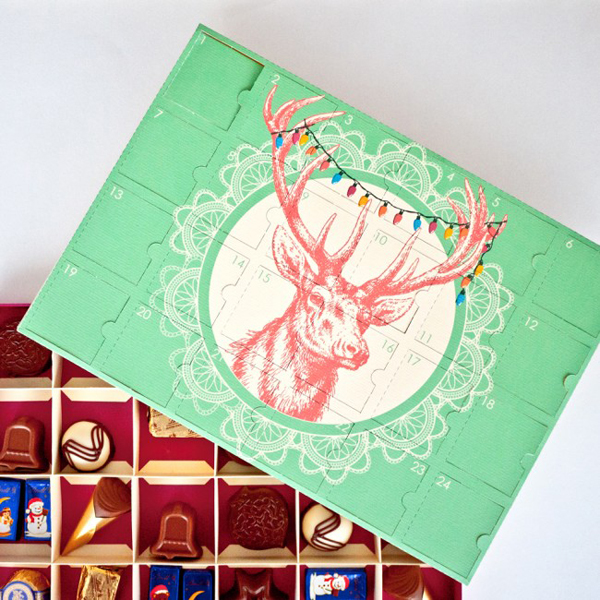 A stepped up version of the traditional Advent Calendar, these not only are uber chic but they give you far more space to fill than a wee little chocolate. A darling piece that not only will act as a fun tradition with your children, but also a great piece of holiday decor to have sitting around the home.
Tutorial: nexttonicx.com
12

Golden Dipped Glassware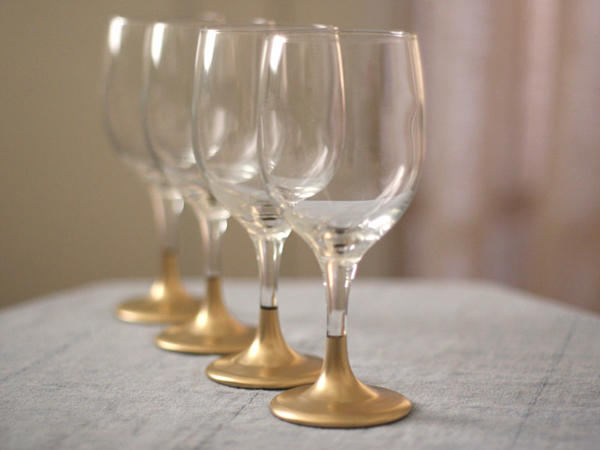 The perfect accompaniment to my first Christmas DIY project, cinnamon stick coasters, these golden dipped wine stems will have your guests feeling like royalty. Beyond easy, but ridiculously fabulous, don't miss out on making these to sip out of this holiday season.
Tutorial: momtastic.com
13

Light Bulb Ornament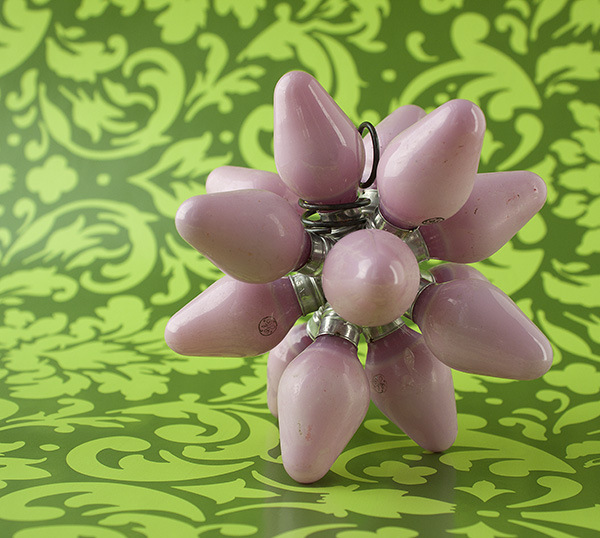 I know you have a stash of these old school light bulbs kicking around. Now that most everyone and their aunt's dog has changed over to LED, we are all left stumped on what to do with them. Look no further, make your home one of these lovely light bulb stars. I could see a ton of these hanging from the ceiling with fishing line around the Christmas tree. I think this Christmas DIY project is beautiful and a fabulous way to re-purpose what we would normally throw out.
Tutorial: thecraftysisters.com
14

Mason Jar Snow Globes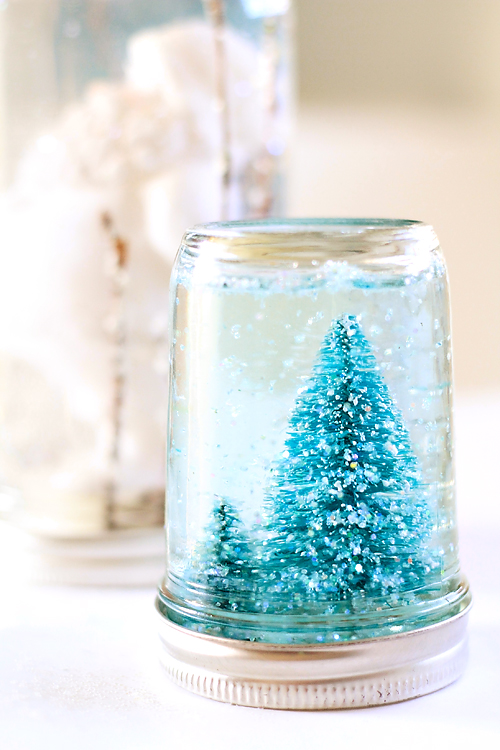 Not anything new, but still uber fun. Snow globes were one of those things that, as a child, I could stare at for hours. Such a sweet holiday DIY that I know your kids will love to help with. Finding and choosing their favorite Christmas figurine will be just as fun as making them. What are you waiting for... go make one!
Tutorial: julieannart.com
15

Hardware Snowflake Necklace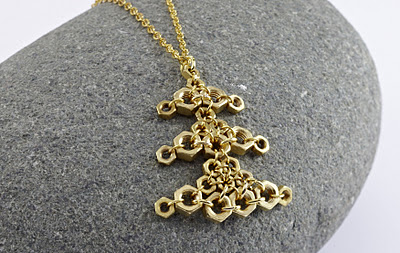 I love a good hardware store accessory as much as the next, but these sweet snowflake pendants made from nuts and bolts will have your friends wishing on a metal star this holiday season. Another fun Christmas project that will be sure to please any fashionista.
Tutorial: letandas.blogspot.ca
16

Memory Drawers Scents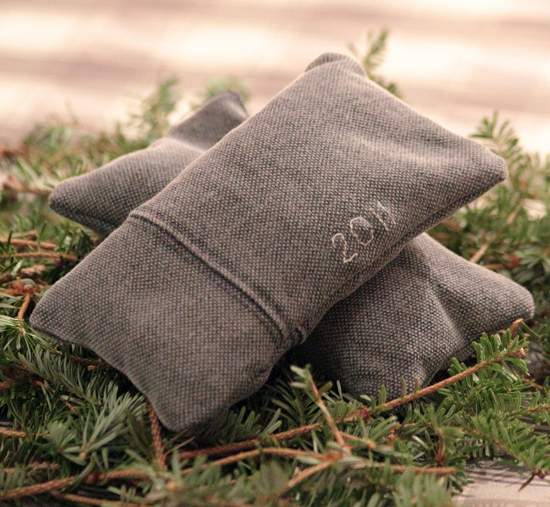 One of my absolute favorite things during the holiday season, next to gingerbread, is the smell of a Christmas tree. My husband and I vowed to always buy a fresh tree for this exact reason. Thanks to this little tutorial you can now enjoy the smell all year round with these sweet sachets. Stash them in your drawers and be reminded each and every time you get ready in the morning that Christmas will be around again before you know it.
Tutorial: cookquiltmakeandbake.wordpress.com
17

Gingerbread Mug Buddy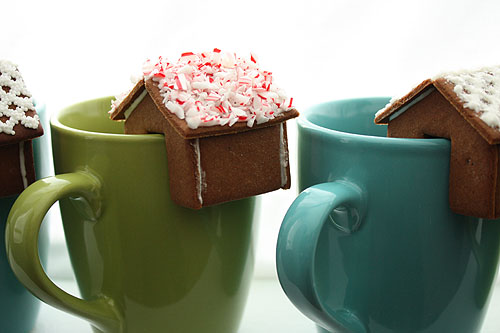 Ending your holiday parties serving warm beverage seems like the right thing to do. However, end the night by serving your guests coffee with this gingerbread treat and I know your guests will leave happy. I absolutely love this holiday DIY, and think if I was served this wee little house alongside of cup of tea, I might just die a little. Loving this Christmas DIY.
Tutorial: notmartha.org
18

Paper Cube Garland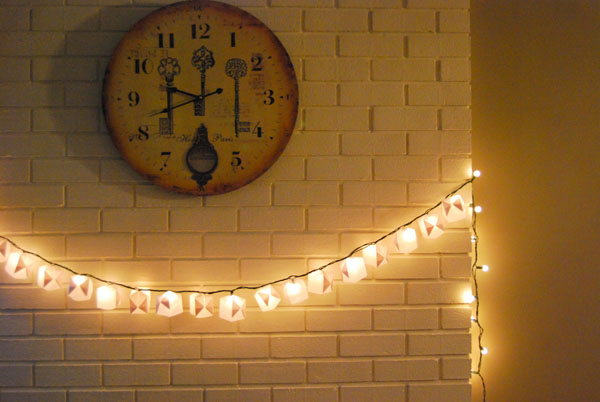 Looking for a simple, affordable yet magical holiday decor DIY? Look no further, drape this paper cube garland on your fireplace mantel, headboard or even doorways. This glowing garland will light up your life, like it has mine. Included is a video tutorial that I know will be very helpful when learning how to fold the cubes just perfectly. Another lovely Christmas holiday DIY.
Tutorial: littlemissmama.com
Sometimes Christmas DIY projects can be time consuming and frustrating. I believe I have chosen 18 fun crafts that will keep you humming "Deck the Halls" the whole way through. Tell me, have I missed any fabulous Christmas DIY projects that you have done or seen online? Please share!
Top Image Source: theberry.com
Please rate this article