DIY Holiday Candle Projects are perfect little details to add to your home this season. They are wonderful for setting a cozy ambiance. Whether you want to enjoy a cold drink by yourself or you want your party table to look extra special, these DIY holiday candle crafts are great for setting the mood. Hope you love them!
---
1

Junk Mail Snowflakes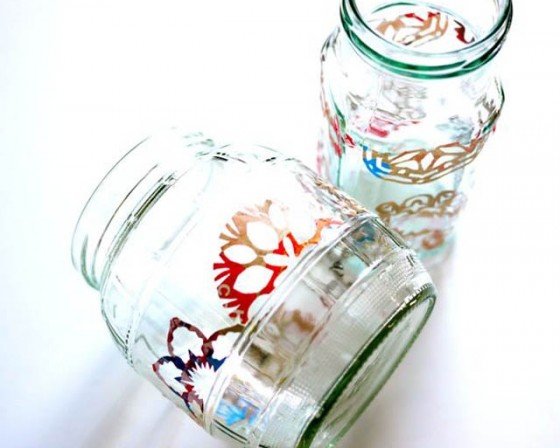 I start with a DIY holiday candle idea that also happens to be a recycling project. To make this, you will need junk mail, scissors, glass jars, and watered down Mod Podge.
---
2

Hanging Shakers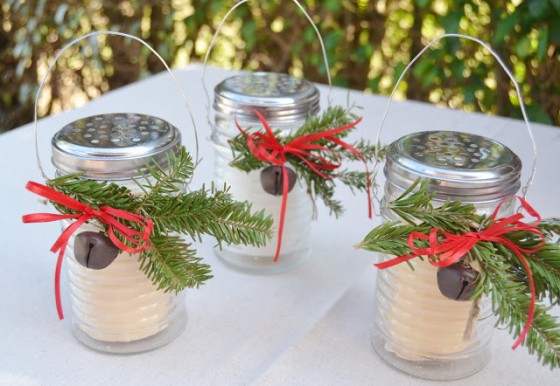 Aren't these pretty? The containers used here are Parmesan cheese shakers. What Lesley did was fashion a wire hanger and add Christmas greens, bells, and ribbon for embellishments. The result: holiday-perfect hanging luminaries!
---
3

Tin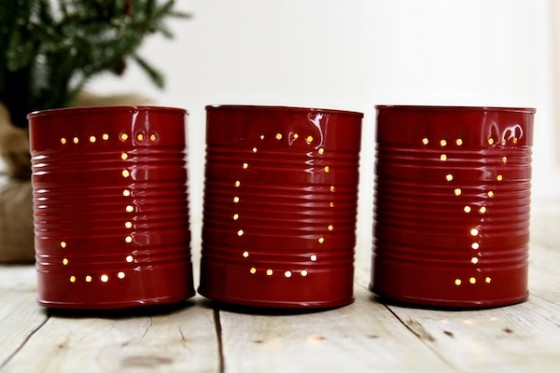 This is another recycling project that will give you pretty luminaries or candle holders this season. To make these, you will need to fill empty and clean cans with water and freeze for up to 12 hours. Once the water has turned to hard ice, you can then nail holes along the sides of the cans to spell out J-O-Y.
---
4

Crocheted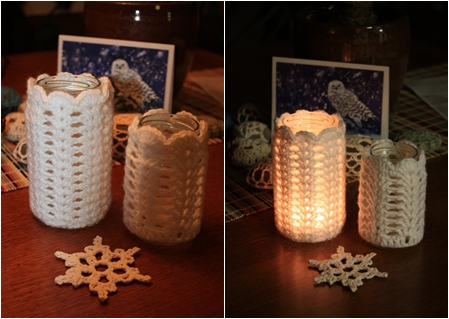 How cute! For these DIY holiday candle projects, you will be making cozies for glass votive or candlestick holders. Check out the link for the wonderful pattern.
---
5

Mantelscape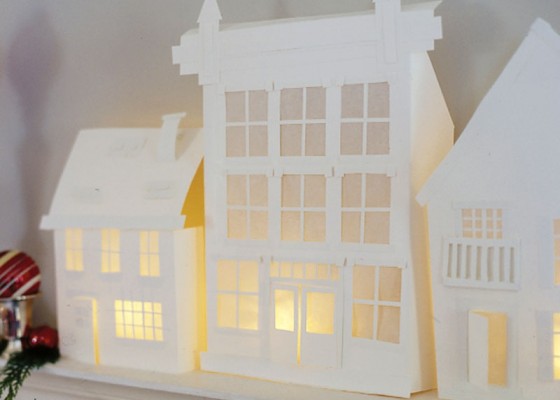 I am in love with this idea. In fact, I may just utilize the templates provided for making my very own year-round paper houses. There is no proper tutorial for these but as mentioned, you can download templates. Use card stock for the structures and waxed paper for the windows/doors.
---
6

Cinnamon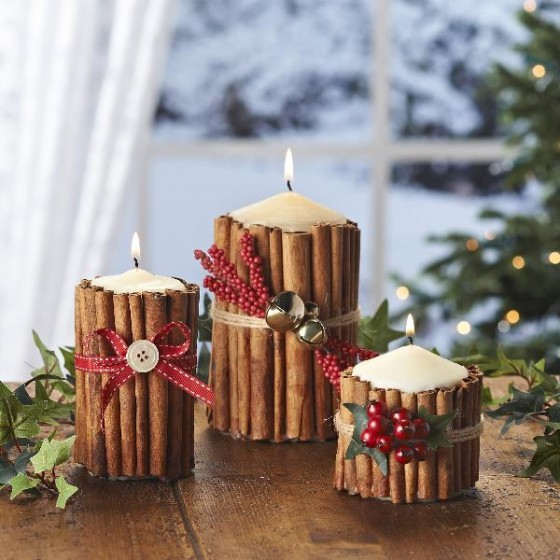 If you want your candle centerpiece to smell amazing, we suggest choosing this cinnamon idea. To make these, you will need cinnamon sticks, elastic bands, string, dried fruit and trims, and a microwave. You will need the latter to adhere the sticks to the candles.
---
7

Evergreen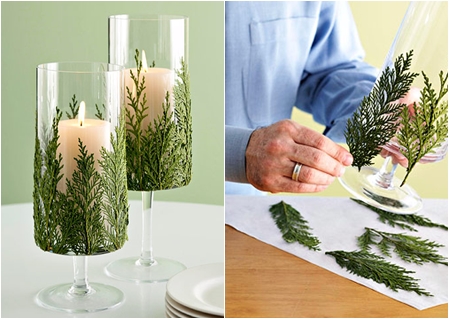 Here is another easy DIY holiday candle project. You simply spray adhesive to flat evergreen pieces, attach said evergreens to the glass candle holder, trim the bottom, and you're done.
---
8

Floating Berries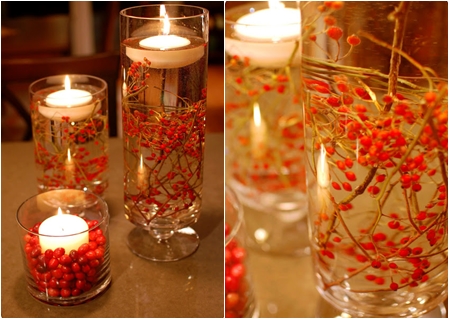 These are utterly gorgeous. And so easy to make! What you do is trim the berry branches and put in tall glass containers. You then fill the jars with water and then add tea light candles. So easy but the result is beyond beautiful.
---
9

Glittery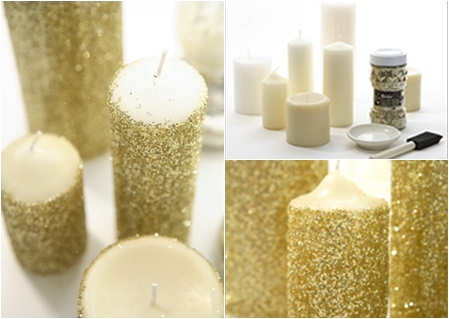 I love these because these are basically a year-round candle makeover idea. Replace the gold glitter with red and you get Valentine's Day dinner table decor. Use black instead and you get Halloween candles.
---
10

Tissue Paper, Striped Glitter, Ice Encrusted
The link below gives us 3 fun and easy DIY holiday candle projects. My favorite is probably the striped glitter one. It's basically similar to the previous DIY but instead of using messy glue, you will be using double-sided tape. Clever!
Aren't these DIY holiday candle projects delightful? They're so fun, I say you should make several of these DIY holiday candle crafts. You can also make a few of these for giving away.
More
---
Comments
Popular
Recent