Glitter DIY projects are a fun and easy way to add some spark into your everyday items and surroundings! You can easily add some oomph to your jewelry or shoes and of course you can create your very own one-of-a-kind glitter craft that shows off your personal style and skills! Try out some of these glitter DIY projects to make your belongings stand out and shine!
---
1

Cardboard Glitter Mustache Necklace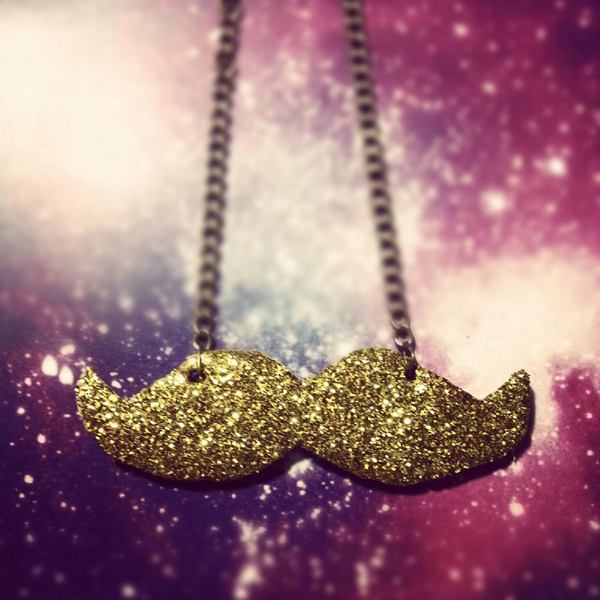 One of the most loved glitter DIY projects is making your very own sparkly jewelry. And what makes this necklace stand out from other DIY jewelry tutorials is that you can create a lovely necklace out of cardboard! You can easily get your hands on some cardboard and you'll just need glitter, a chain, mod podge and hairspray. If you're over mustaches, you can make any shape of necklace you want you're truly only limited by your own imagination!
Tutorial: ihaveadeer.blogspot.com
2

Chocolate Bling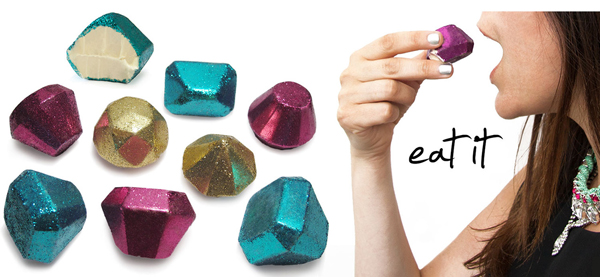 You have to see this next DIY glitter project to believe it! DIY genius Erica Domesek of P.S. I Made This created what is perhaps the most beautiful dessert ever with her Chocolate Bling. Is there anything more glam than eating blinged out chocolate?! I didn't think so and now you can make your very own sparkly, jewel-like chocolates that are great to gift or keep. Spice up your holiday season with these unique gems!
Tutorial: psimadethis.com
---
3

Glitter Nail Polish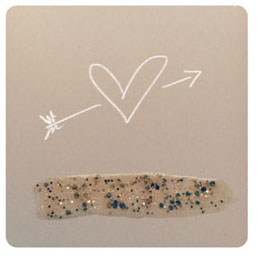 This holiday season add some sparkle to your look by making your own signature glitter nail polish! If commercial glitter polishes are too tame for your taste, create the chunky glitter polish you've always dreamed of and drench your talons in sparkle! The Beauty Department created this simple yet gorgeous nail polish that's perfect for budget friendly babes!
Tutorial: thebeautydepartment.com
---
4

Glitter Sneakers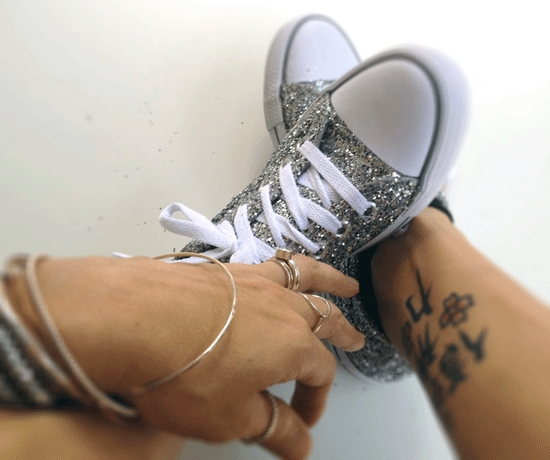 DIY projects are a great way to spruce up your gently used belongings or even boring new shoes and this next tutorial will show you how to make your toes twinkle with glitter sneakers! Glitter shoes are a fun way to dress up a causal outfit and turn your plain sneakers up a notch. Get ready to make a lasting impression wherever you go with these bad boys on!
Tutorial: poppytalk.blogspot.com
---
5

Glitter Shower Hooks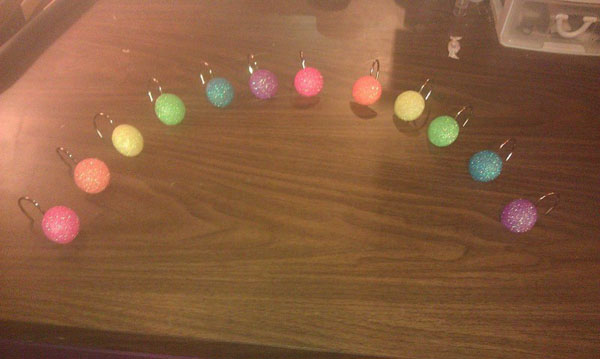 If you like to surround yourself with glitter, this is the perfect DIY project for you! Turn your ordinary shower hooks into little glittery accents that are sure to make you smile every time you step into your bathroom! This is a great way to add your personal touch to an apartment or any place that needs a girly touch. All you need are 4 items and less than 2 hours to shower in glitter!
Tutorial: cutoutandkeep.net
---
6

Glitter Clothespins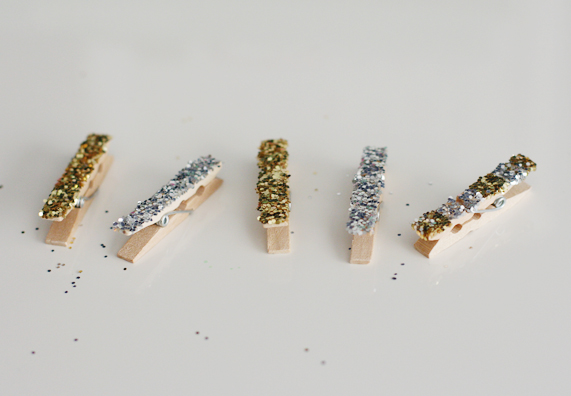 You might not think you need any clothespins in your life but if they were covered in glitter, I bet you'd find plenty of uses for them! You can use glitter clothespins to hold pictures or recipes, as kitchen clips to close up bags or even to hang up clothes on a clothesline! Glitter clothespins would also make fabulous name card holders at your next dinner party too!
Tutorial: theglitterguide.com
---
7

Glitter Ring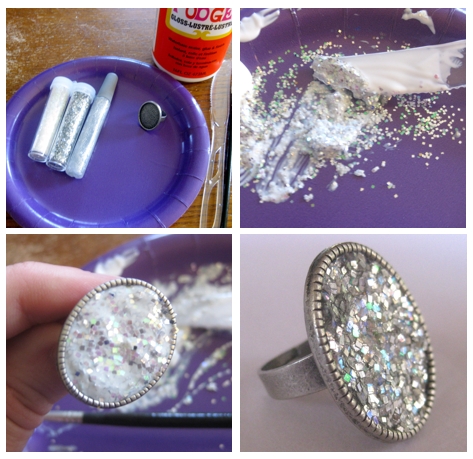 Another one of the awesome jewelry glitter DIY projects is this number by Thanks, I Made It. Make a blingy ring to go with your glitzy girls night out ensemble or wear it when you want to glam out your casual weekend outfit while you're out running errands! This ring is simple and easy to make without looking like a dollar store find!
Tutorial: thanksimadeitblog.com
---
8

Glam Champagne Glasses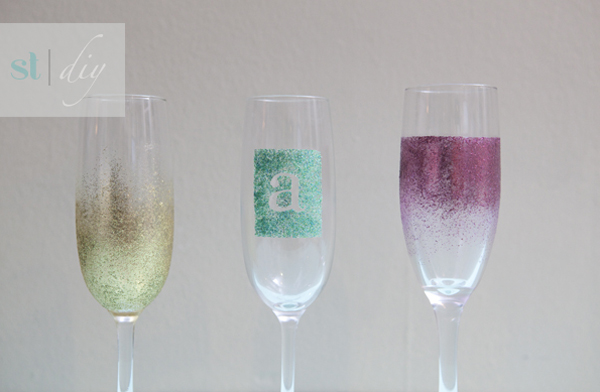 Champagne has never looked as glam as they will in these glittery glam champagne glasses. Deck your champagne flutes with super colorful and chic glitter craft paint and amaze your friends with your craftiness! You can do a gradient effect, stencil an initial or just add color to an otherwise plain glass! These would be perfect for a gathering and you can give them to your guests after the party is over!
Tutorial: somethingturquoise.com
---
9

Glitter Ribbon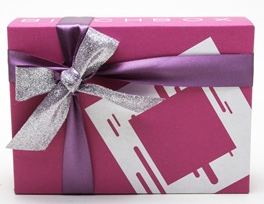 Try out this easy DIY glitter project the next time you're wrapping presents! I mean, who wouldn't want to open a gift wrapped with a sparkly, shiny glitter ribbon?! The ladies at Birchbox came up with this easy 6-step process to instantly add some glamour to gifts or anything you like! Use it to add some glitz to your ponytail, use it as a fancy bookmark, to tie on homemade gift tags or use thin ribbon and use as them shoelaces!
Tutorial: blog.birchbox.com
---
10

Glitter Cookies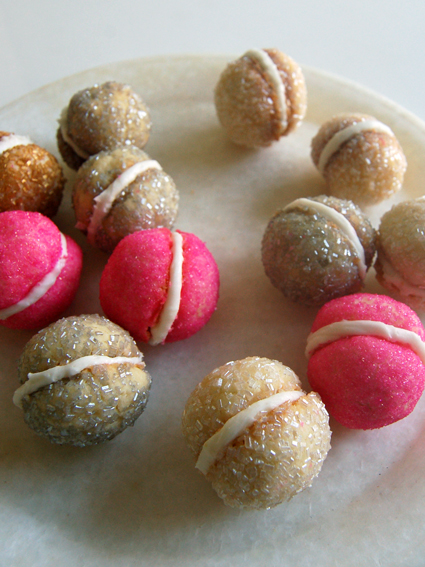 Eating glitter is normally something to be concerned about but if you're talking about eating these glitter cookies, it's perfectly fine! Do you have a cookie exchange coming up or need something sparkly and sweet to give as gifts for the holiday season? Either reason is a great excuse to make these yummy and swanky cookies and save a few for yourself!
Tutorial: purlbee.com
Are you ready to start making some of these glitzy craft projects and add some much needed glamour to your life?! The majority of these tutorials are quite simple and you can easily get the items together for a rainy day project. I hope these tutorials inspired you to create or glitterize your very own crafts! Have you made any DIY glitter projects before?
---
Popular
Related
Recent