If you love creative organization, you will enjoy these DIY Coat Racks. The DIY coat racks we have here have clever and fun designs. They're perfect for any part of your home, from the entry way to the boys' room. Most of these DIY coat rack ideas are very easy to do, too. Let's check them out!
---
1

Block-Printed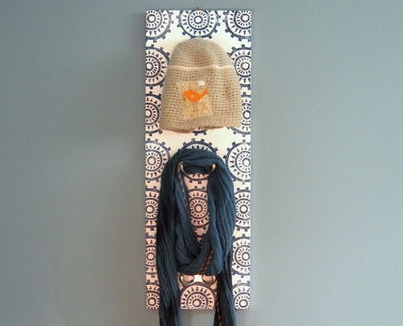 The creative part of this DIY coat rack is the block printing. Basically, the bits that can be used for hanging are made using hooks and a piece of wood. And designing this piece of wood is the fun part. Take a look at the tutorial below for block printing tips.
2

Branch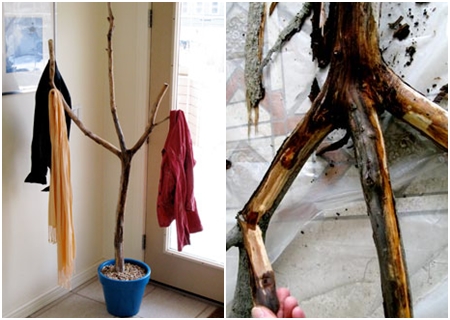 Have you seen a coat rack made of real branches? Making one is actually quite easy. The only tricky part is to make a base that is sturdy enough to support the branch and its added "coat weight." But with the use of rocks and Plaster of Paris, you'll have a good base in no time.
---
3

Wood Scraps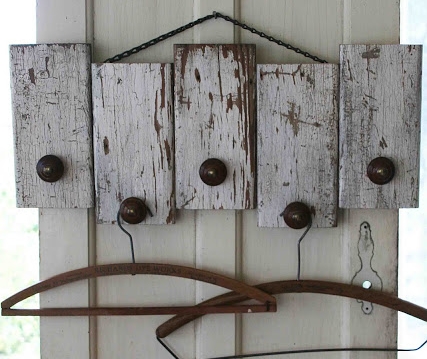 I love this recycling idea. If you happen to have wood scraps, you can use them to make a rustic chic DIY coat rack. Jane used knobs as hooks but you can also go for actual hooks. Vintage ones will look lovely with the distressed wood scraps.
---
4

Hello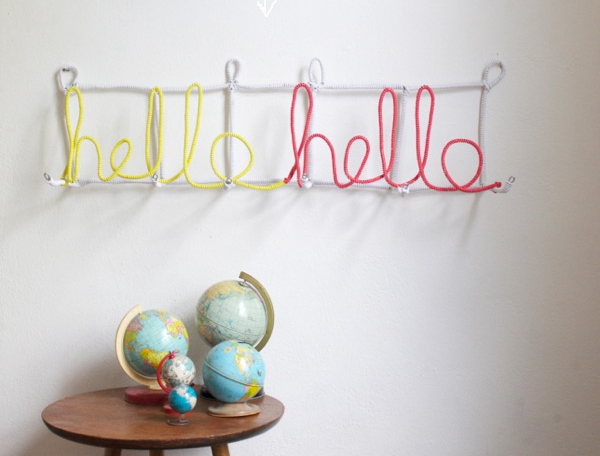 Yes, that is a coat rack. Creative, yes? This is a wonderful DIY tutorial brought to us by Oh Happy Day. The materials needed to make this fun coat rack are heavy metal wire, coated telephone wire, tape, fishing wire, and wire cutters and pliers.
---
5

Animal Toys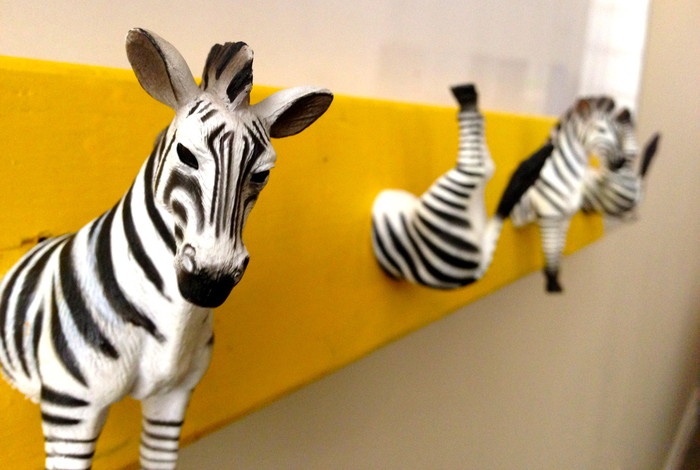 This coat rack idea is popular and you have probably seen a tutorial before. Can't hurt to include it here, though, because it actually is quite creative and fun. This is a great idea for a boy's room.
---
6

Hanger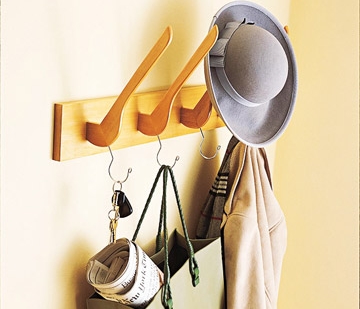 This is genius. And so easy to do! You slice one side of wooden hangers and screw them to a piece of wood from behind. That's it.
---
7

Painted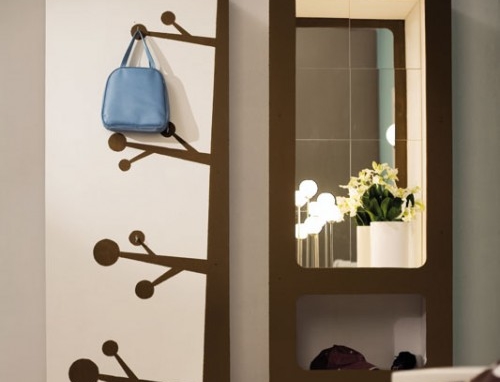 This DIY coat rack idea is positively creative, too. The base for this rack is an MDF board. The size is up to you but one that will lean against the wall in your entry way will work best for a minimalist design like this.
---
8

Mismatched Knobs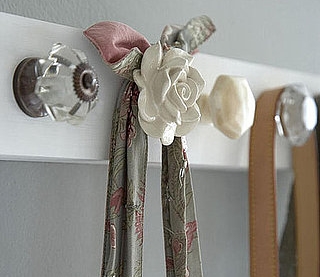 Just like the animal toy idea, this coat rack DIY is pretty popular, too. This is one of my favorites from this list. Not only is it a great excuse to display a collection of pretty vintage knobs, it's also a very simple DIY project.
---
9

Sleek and Simple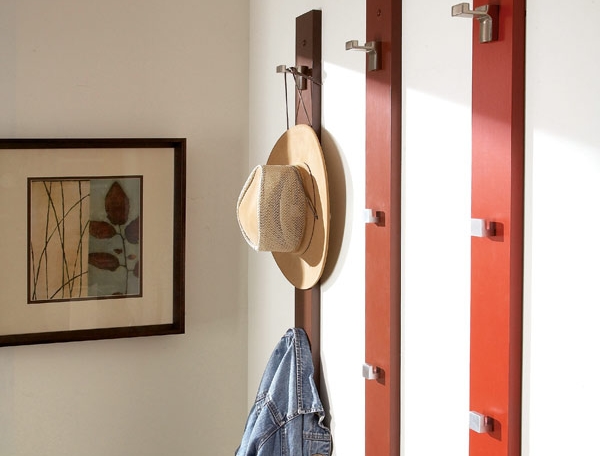 If you have a minimalist style or you're looking to make a coat rack for your husband's office, this sleek idea will be perfect. The base boards here are 1x4 pieces while the hooks are coat hooks and drawer pulls.
---
10

Plank Tree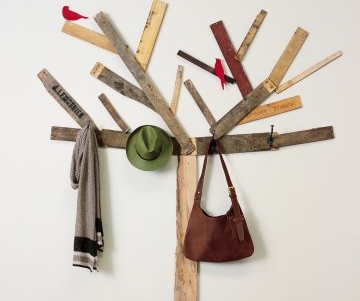 Looking for something unique? This tree coat rack may tickle your fancy. The branches for this tree are made of wood scraps. You simply screw them to your wall and then attach hooks. Fun and simple!
---
11

Floating Pipe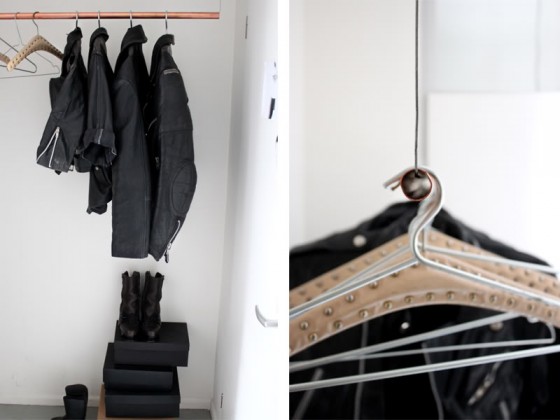 Here we have another simple DIY coat rack project. I love this because not only is it easy to do, it looks industrial chic, too. Methinks it will look great in a loft or in a flat with limited closet space.
---
12

Wooden Poles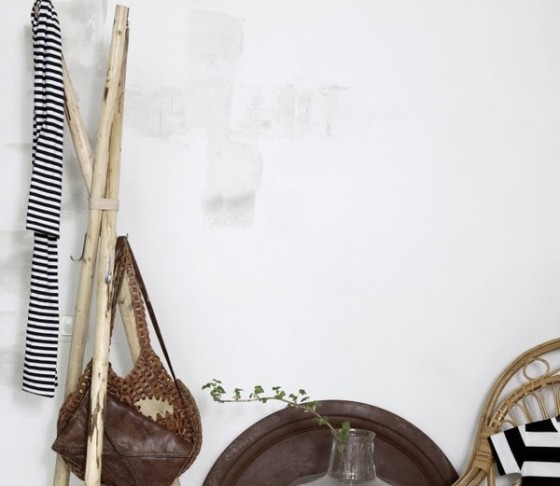 This is another simple DIY coat rack perfect for a rustic style home. Design variation: paint the wooden poles before assembly.
I hope you enjoyed this list of DIY coat racks as much as I loved making it! Tell me, have you tried making your own DIY coat rack? What does yours look like?
---
Comments
Popular
Related
Recent