Wine bottle crafts are surprisingly easy to master and you'll love how they look in your home. A wine bottle is the perfect thing to use to make a variety of cool projects and even if you don't drink wine, you probably know someone who can save you a couple of bottles. The great thing is that you can get a ton of inspiration for your own projects just by looking at others. So, whether you copy these wine bottle crafts exactly, or make them your own, you are going to have some fun.
Table of contents:
1

All Lit up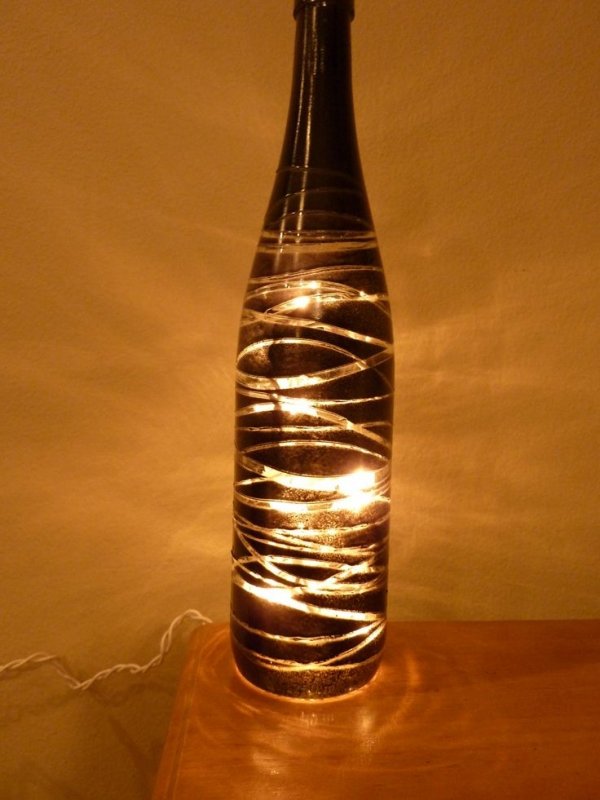 Via Lighted Wine Bottle
Some wine bottle crafts require items you already have lying around. This one uses rubberbands and spray paint to make the design, then a string of lights to make it shine.
2

Holiday Flair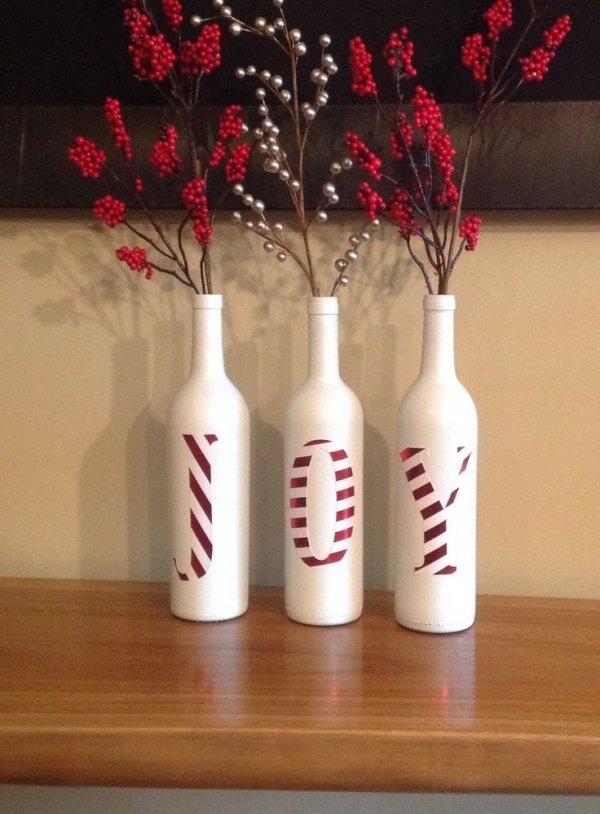 Via HouseHunt Real Estate Blog - ...
You could easily customize these for other holidays or with other words.
3

Candy Holder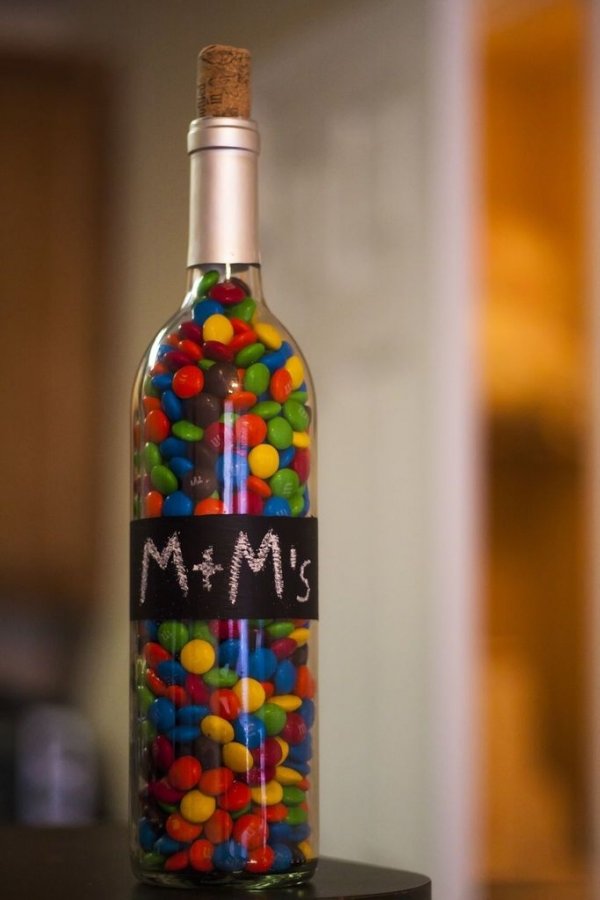 Via Chalkboard Painted Wine Bottle
A tiny strip of chalkboard paint makes this candy bottle one you can change depending on what's inside.
4

Chalkboard Wine Bottles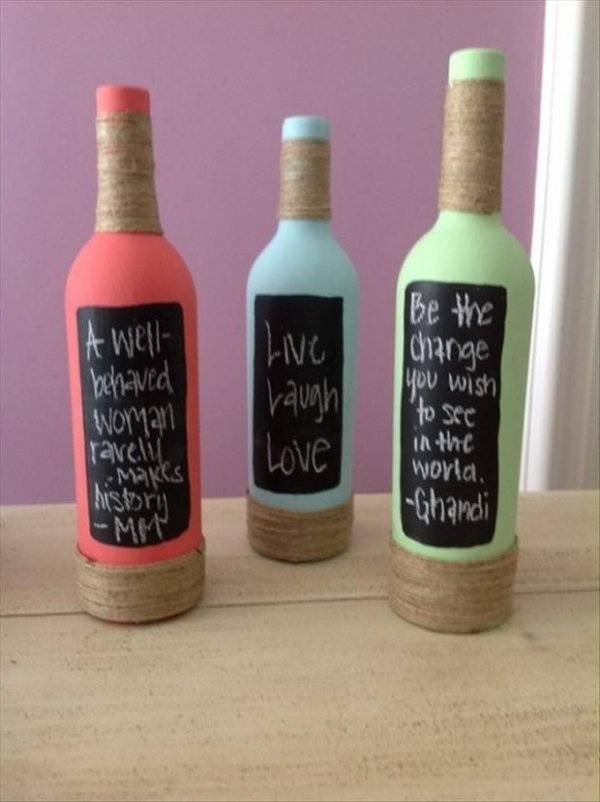 Via DIY Projects
Speaking of chalkboard paint, use it to write fun sayings on your wine bottles to make them different and unique.
5

Candy Corn Bottles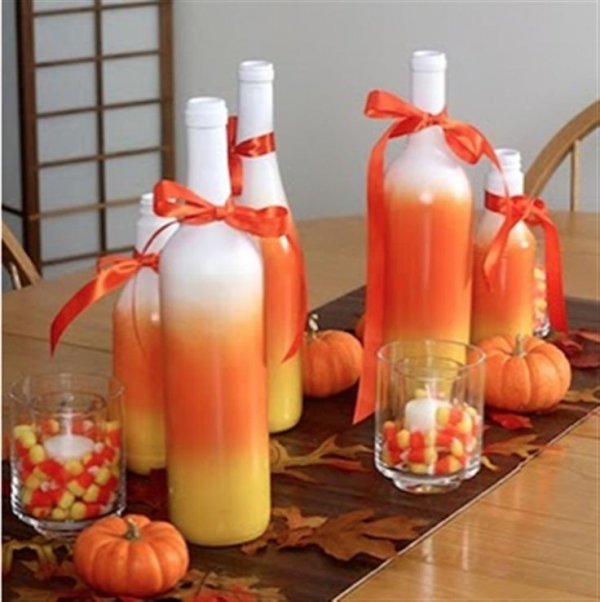 Via Candy Corn Wine Bottles
Paint your bottles to look like candy corn for a fun Halloween display like this one.
6

Santa Clause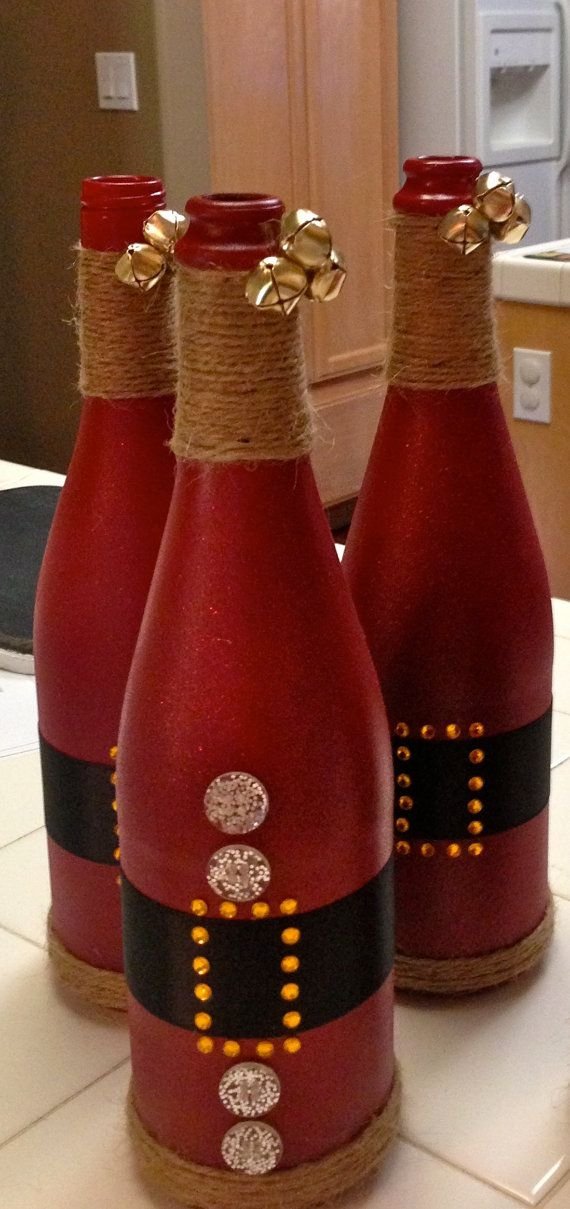 Via Items similar to Santa Clause ...
Bring the jolly guy into your house by making these cute Santa themed bottles.
7

Give Thanks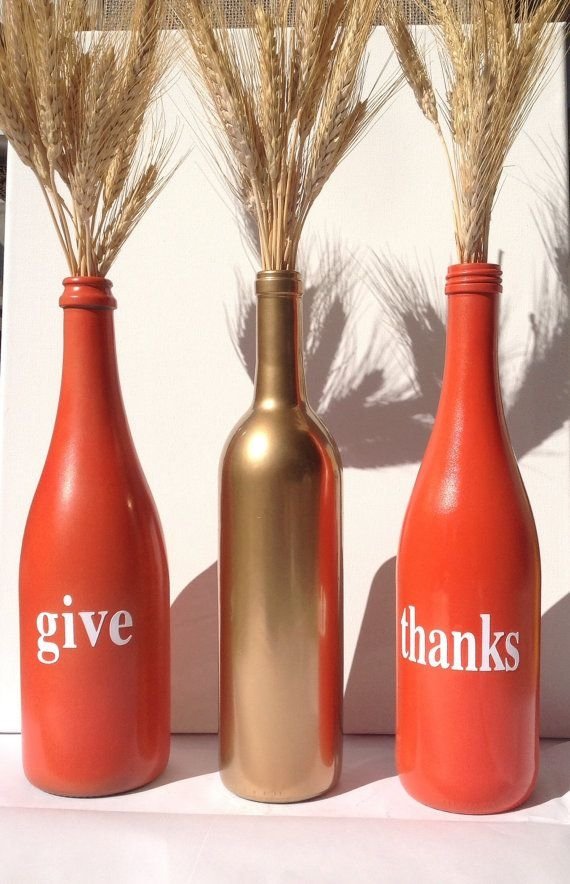 Via Items similar to 3 Halloween ...
Turn your Thanksgiving table into something really special by making these bottles.
8

Spooky
Via thequarrywinegarden.com
Some paint and stickers are pretty much all you need to make these cute decorations.
9

Covered in Twine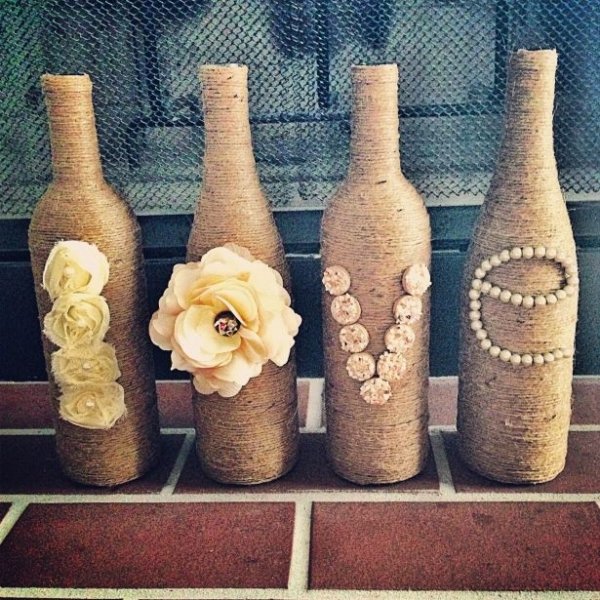 Via Feeling Creative
Glue twine to your wine bottles and embellish them like this for something really fun.
10

Shiny and Silver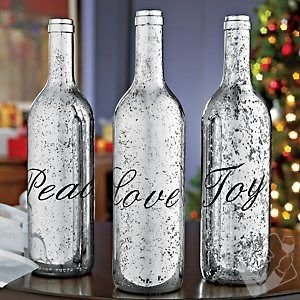 Via Top 10 Favorite Wine Crafts
Silver paint and black letter stickers come together to create these masterpieces.
11

Hand Painted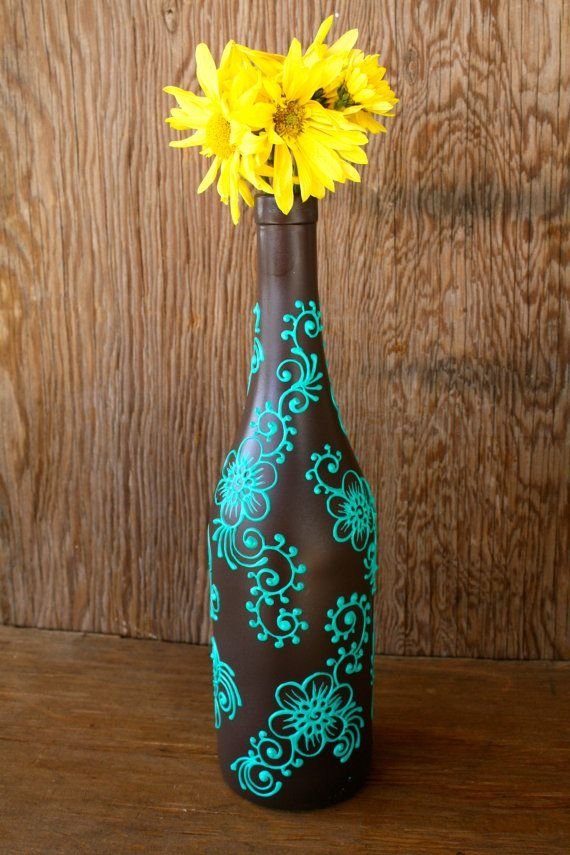 Via SUMMER SALE Hand Painted Wine ...
If painting by hand is one of your talents, make a fantastic vase like this one in your favorite colors.
12

Table Display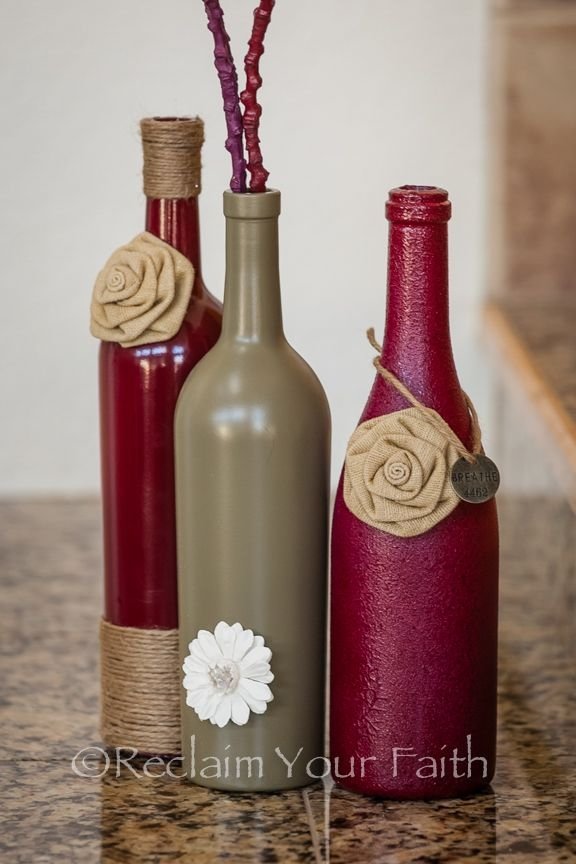 Via etsy.com
The colors and decor on these bottles are perfect for a side table or mantle.
13

Backyard Fountain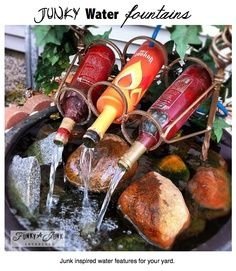 Via I want to make a ...
You might be astonished how easy it is to make a backyard fountain. They guys at any home improvement store can show you just what you need.
14

Burlap and Chevron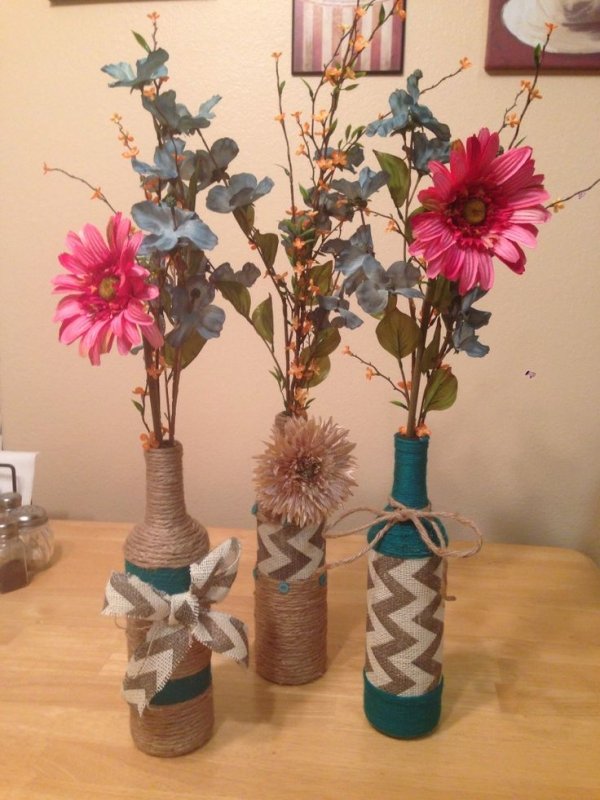 Via Loves
These are such cute vases, don't you think?
15

Hanging Lights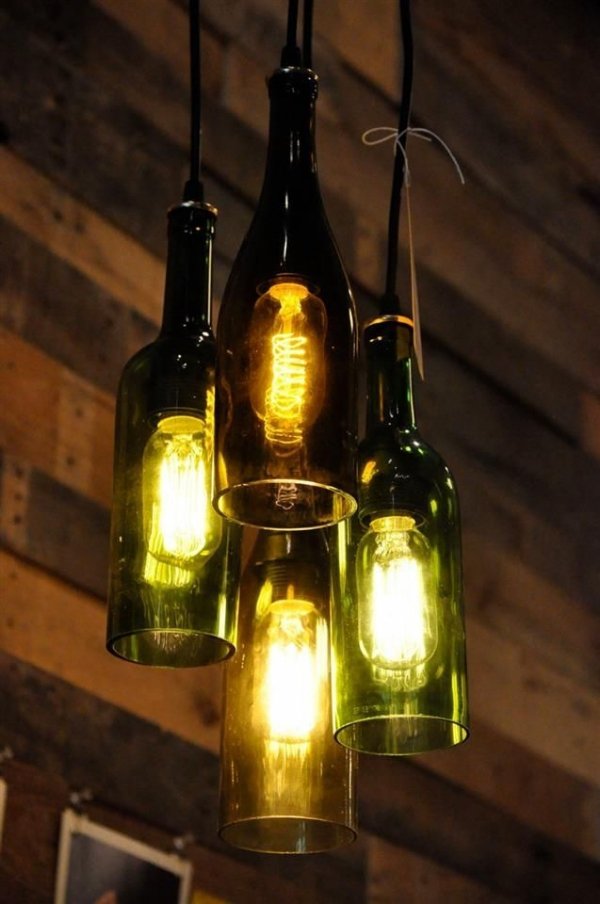 Via 4- Light Chandelier Recycled Wine ...
Wouldn't this look fantastic on a backyard patio?
16

Lighted Patriotic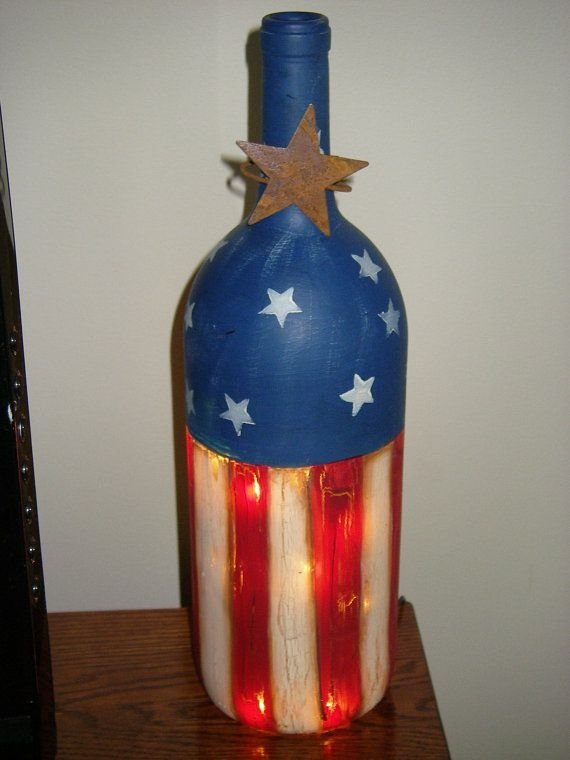 Via Hand Painted Patriotic Bottle
This would be cute on an outdoor side table, but is also outstanding for inside too.
17

Paper Scraps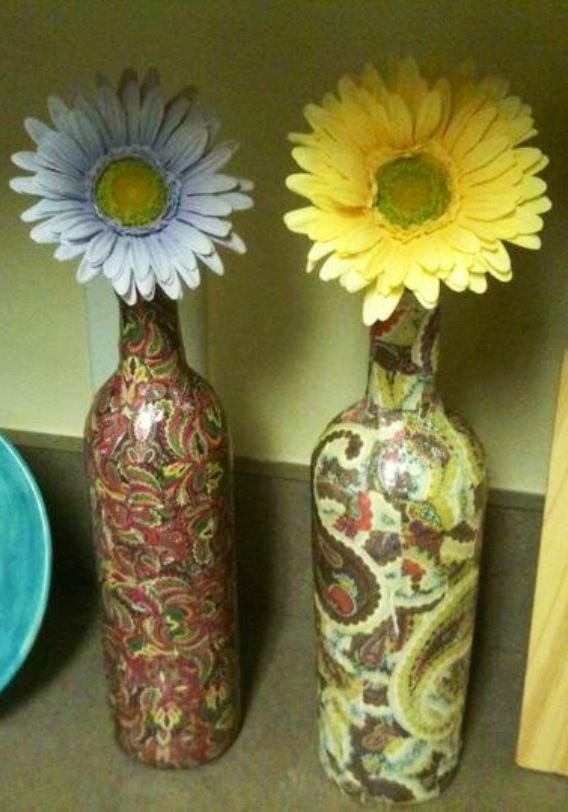 Via CHIC.CLASSY.CHEAP: DIY Tutorial: Scrapbook Paper ...
Some scrap paper and modge podge glue is all you need to make these cute vases.
18

Winter Centerpiece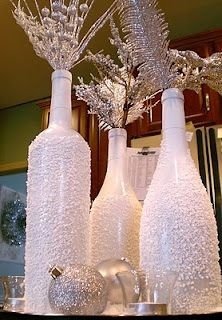 Via Snowball Wine Bottle Vases
Can you imagine how awesome this would look at Christmas time?
19

Wrapped Vases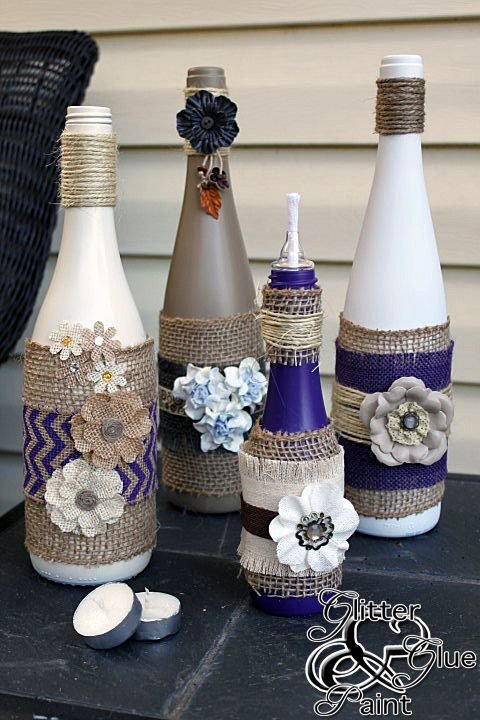 Via glitterglueandpaint.com
Here are some more great vases made by using a bit of paint and some scraps of fabric.
20

Animal Print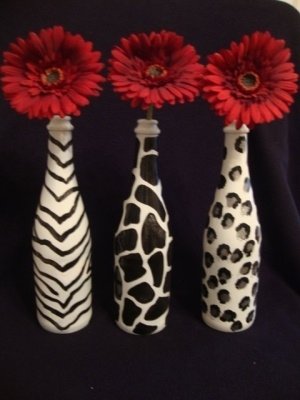 Via Set of 3 hand painted ...
You can't go wrong with animal print. Especially black and white.
21

Wind Chime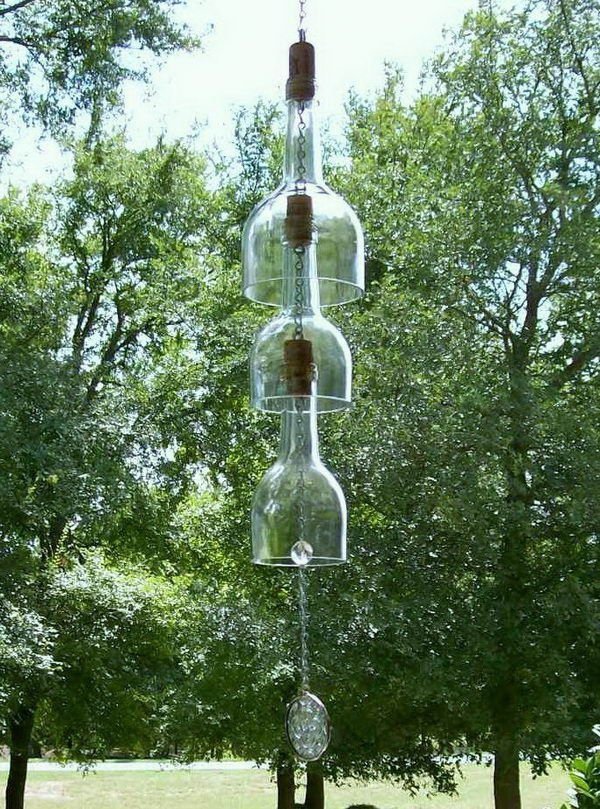 Via 80+ Homemade Wine Bottle Crafts ...
What a fantastic yard decoration! You'd be the envy of the entire neighborhood.
22

Hurricane Lamps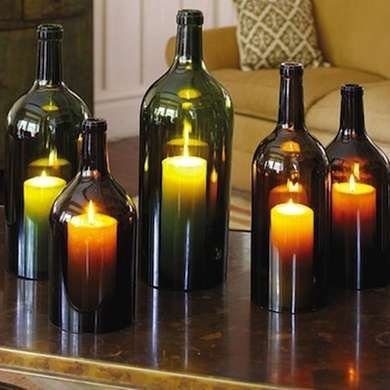 Via 10 Creative New Ways to ...
I want several of these for my coffee table. They would make great gifts too!
Have you ever made anything out of a wine bottle? How did it turn out? Do you have any other great ideas to add?
Please rate this article