If you're looking for interesting home decor ideas which are also practical, vintage storage might be the answer. We always seem to have too much stuff, so having extra storage is a bonus. And vintage storage is not only practical, it is usually unique to you too.
Table of contents:
1

Pantry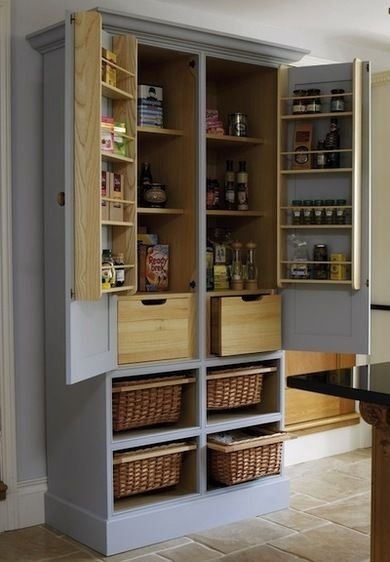 Via 13 Easy Ways to Repurpose ...
I wanted to open with something that showed just how far you could go with vintage storage projects and how they could give something really special to your home. This project takes an old armoire (wardrobe) and converts it to a very useful kitchen pantry. Need good carpentry skills but the result is so worth it.
2

Metal Basket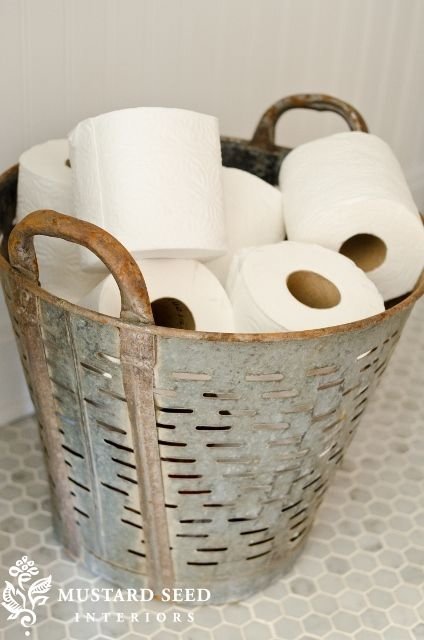 Via Decor Steals MMS Pick of ...
I love the look of this but be sure to completely clean any rust off because you don't want flakes of it getting into delicate areas.
3

Tie Holder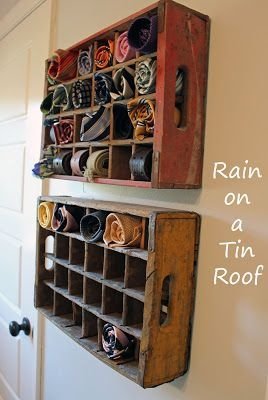 Via Coke Crate Tie Holder
What a great way to repurpose an old coca cola bottle crate. And it has other uses other than ties - belts, socks, hair accessories...
4

Vintage Suitcase Bar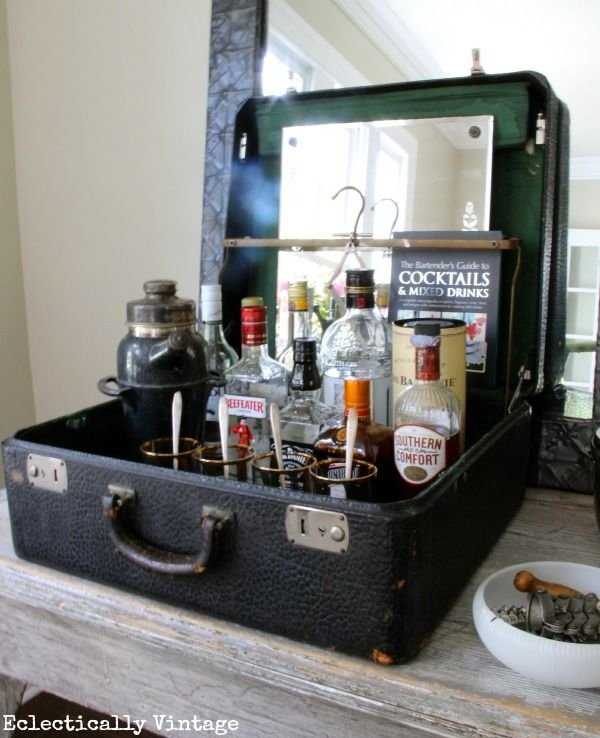 Via Vintage Suitcase Bar - Eclectically ...
An unusual, unexpected but fun use for an old suitcase.
5

Stacked Leather Suitcases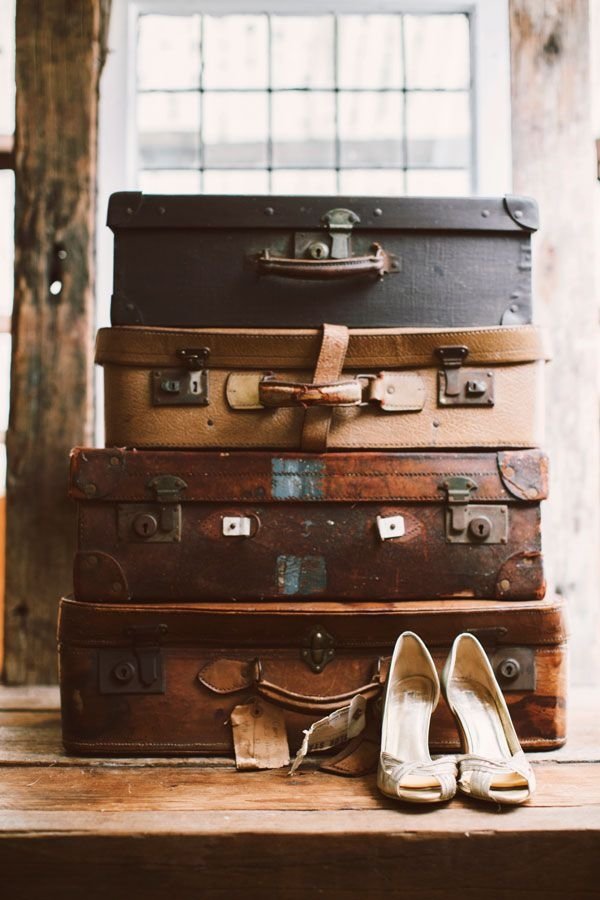 Via Perth Photographer Teneil Kable
They looked great stacked up but think of all that space they have inside - you can store so much in vintage suitcases.
6

Suitcase Shelves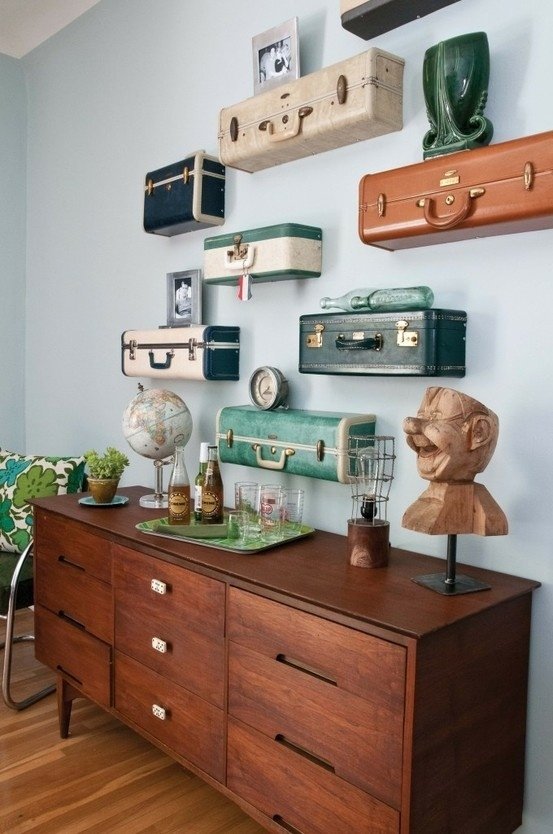 Via BOTB 3.18.12 + Reminder
Shelves made from cut down hard-sided suitcases - genius.
7

Revamp a Dresser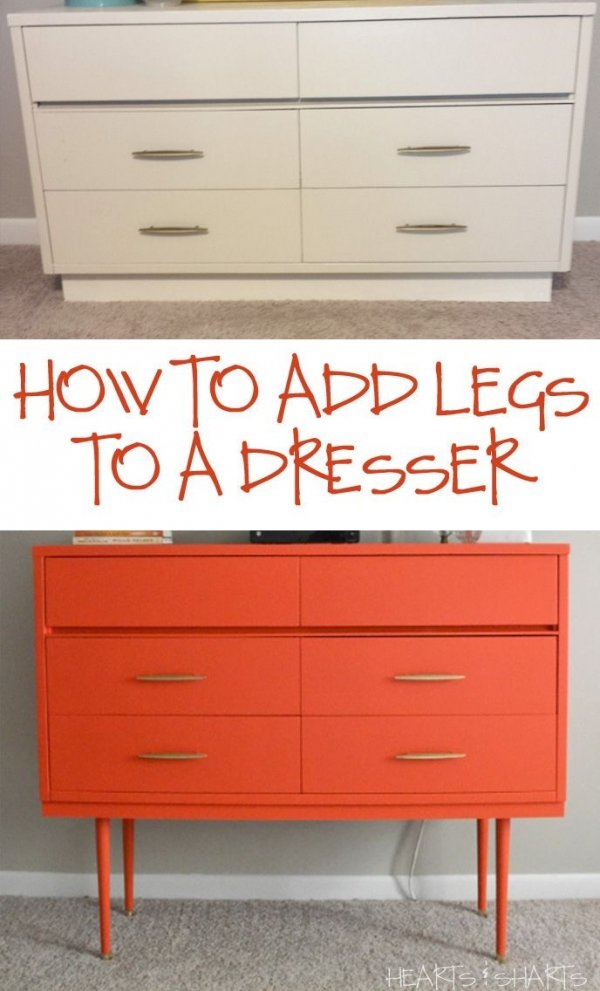 Via Furniture Refurb: Adding Legs to ...
The dresser is not exactly stunning but it can go from drab to fab.
8

Vintage Frame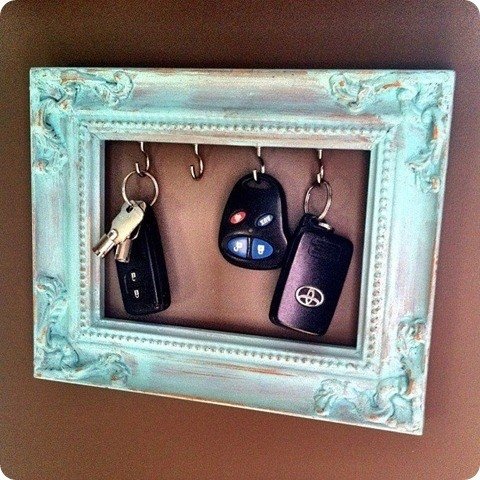 Via DDG DIY : Vintage Key ...
Small storage needs can be met by vintage items too.
9

Old Boxes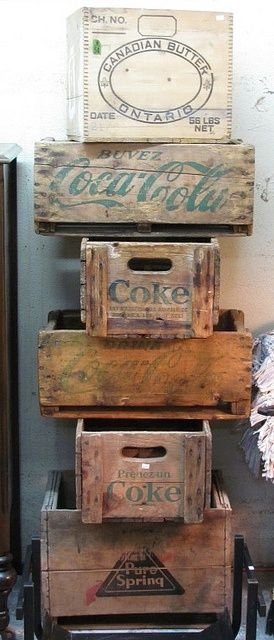 Via Embellished Cottage
Interesting old wooden boxes can be used to hold all sorts of things and it's up to you how you build a structure out of them.
10

Spice Rack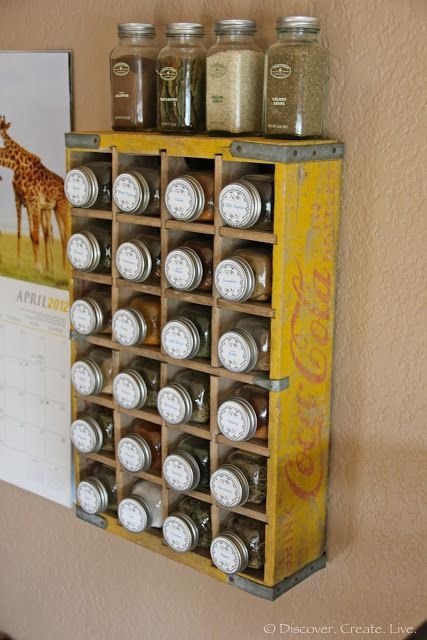 Via Discover. Create. Live.: Vintage Coca-Cola ...
Another great way to use an old wooden Coca Cola crate.
11

Shabby Suitcase Makeover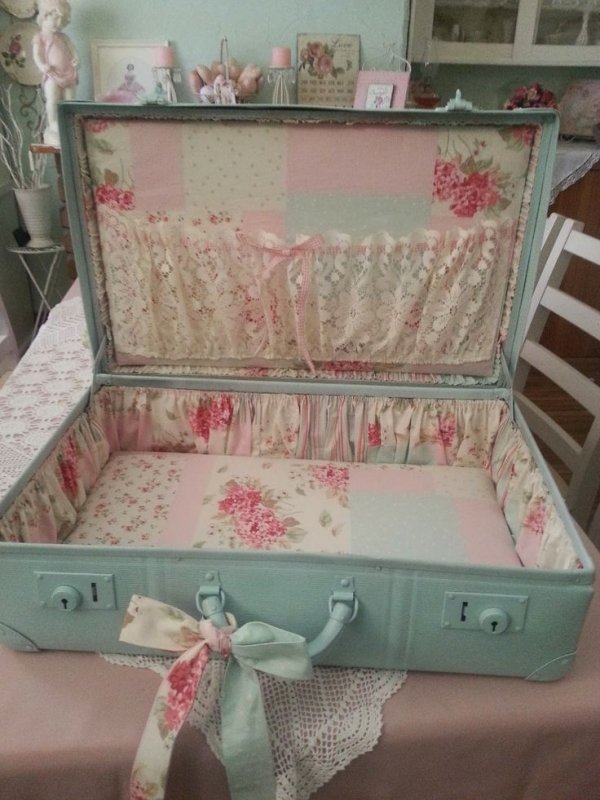 Via ~Shabby Delights~: ~Shabby Suitcase Makeover~
The wonders that can be achieved with pretty paint and fabric.
12

Old Door = New Shelving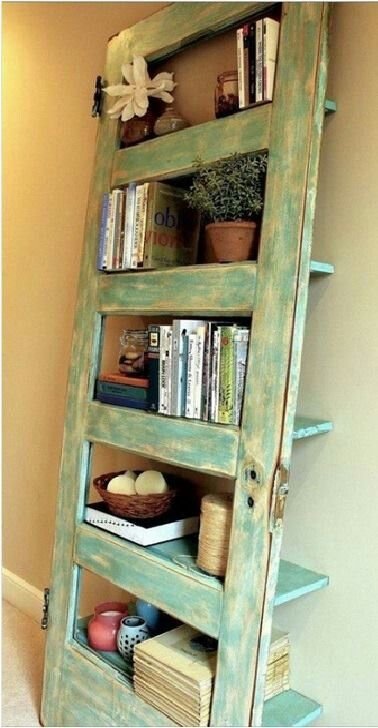 Via House
A brilliant way to repurpose an old door.
13

DIY Crate Boot and Shoe Rack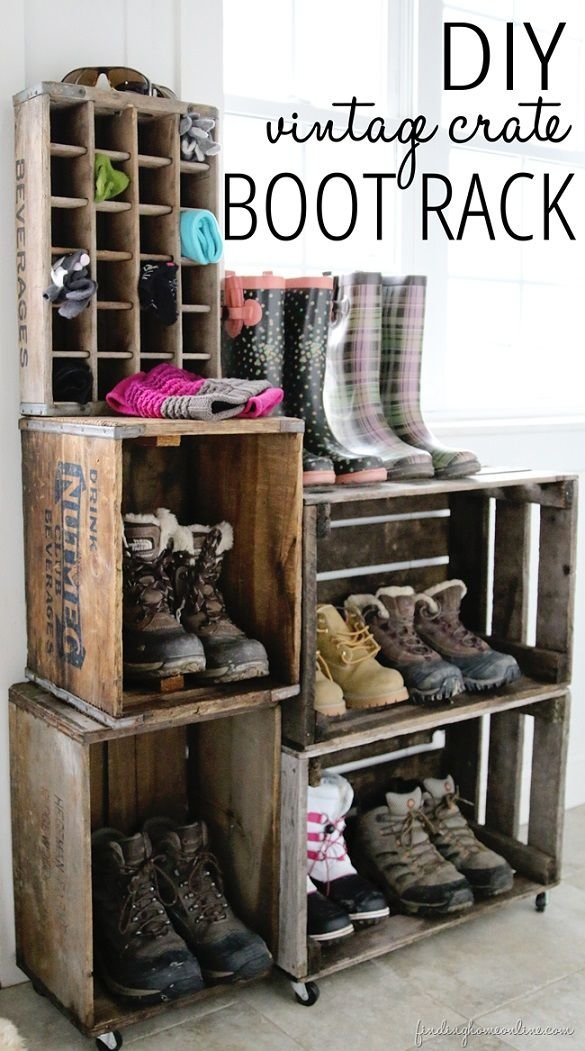 Via Organizing Ideas - Repurposed DIY ...
Fix some crates together, add some wheels and hey presto, shoe and boot storage.
14

DIY Ottoman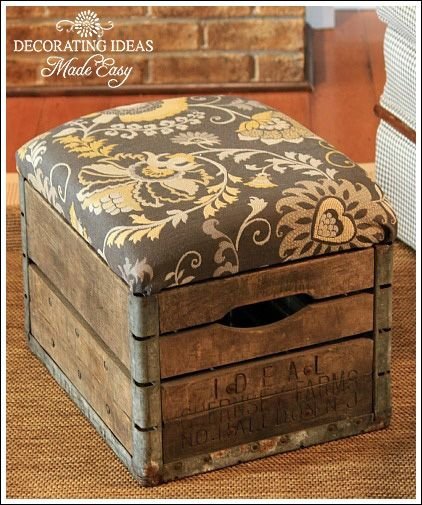 Via Top 25 DIY Projects of ...
Make a seat from an old milk crate. Remove the innards and you get a storage space too.
15

Vintage Pitchers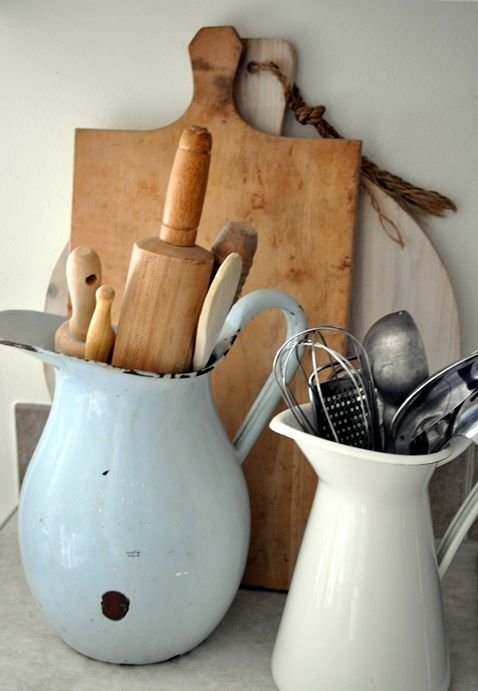 Via Home
Use enamel or crockery pitchers. So many designs, so many possibilities.
16

Painted Suitcases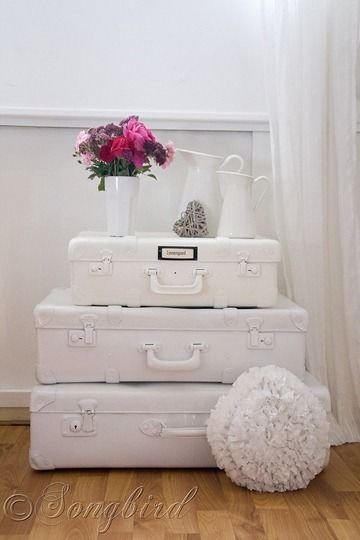 Via Let me tell you how ...
Earlier you saw a pile of suitcases "au naturel" - painting them can be very effective - the source goes to a painting tutorial.
17

Medicine Cabinet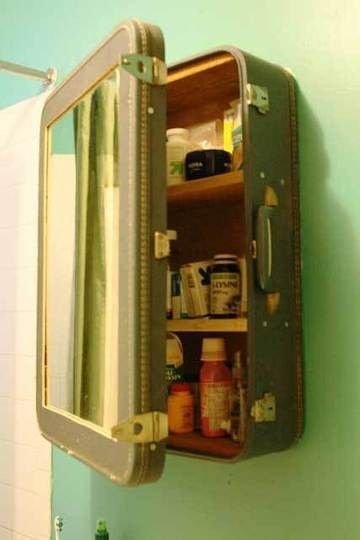 Via Upcycling: New Finds
How clever is this?
18

Rake Head Glass Rack
Via Antique Industrial Rake Head- Vintage ...
I bet you've been wondering for ages what to do with that old rake head?
19

Bathroom/Vanity Storage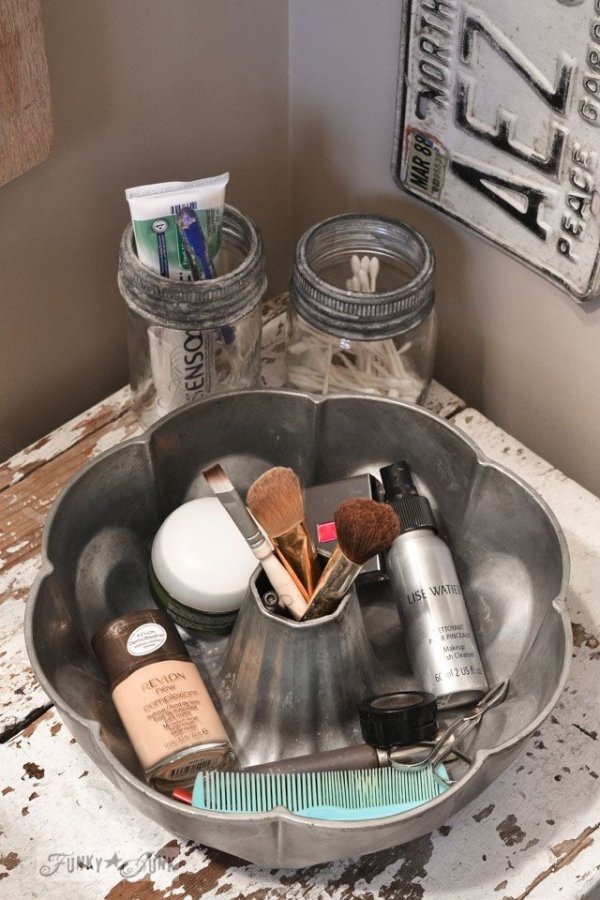 Via A little new old upcycled ...
Sometimes, all it takes is a little imagination to come up with vintage storage ideas.
20

Vintage Enamelware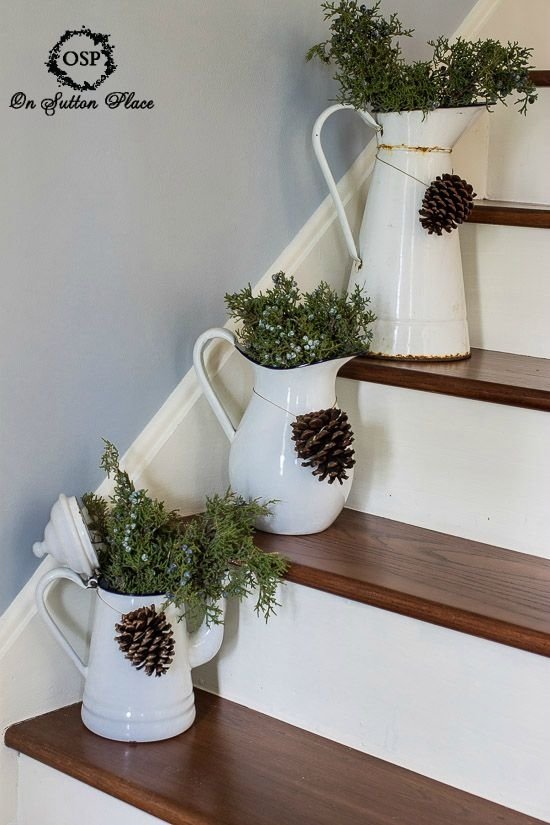 Via Deck The Halls Christmas Entry
More decor than storage but I wanted to show you that old pitchers have all sorts of uses around the home.
21

DIY Vintage Suitcase Table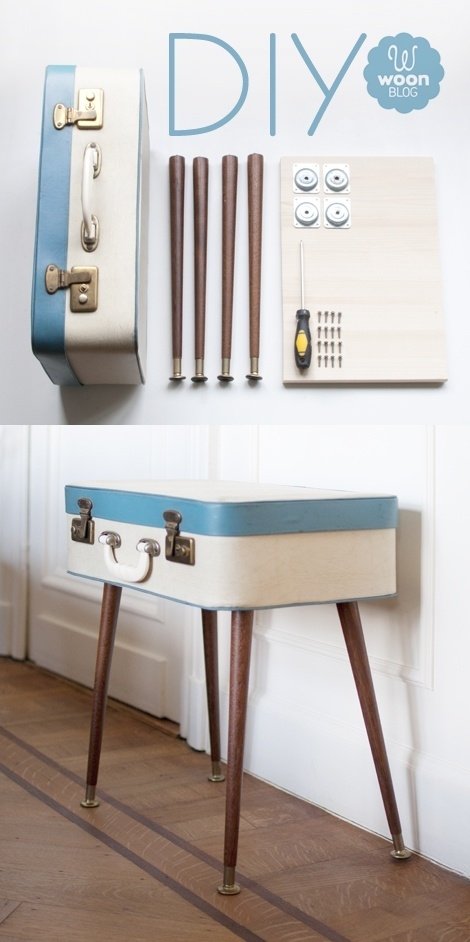 Via Maletas vintage para soñar - ...
Another fabulous idea and no real DIY skills needed.
22

Vintage Trunk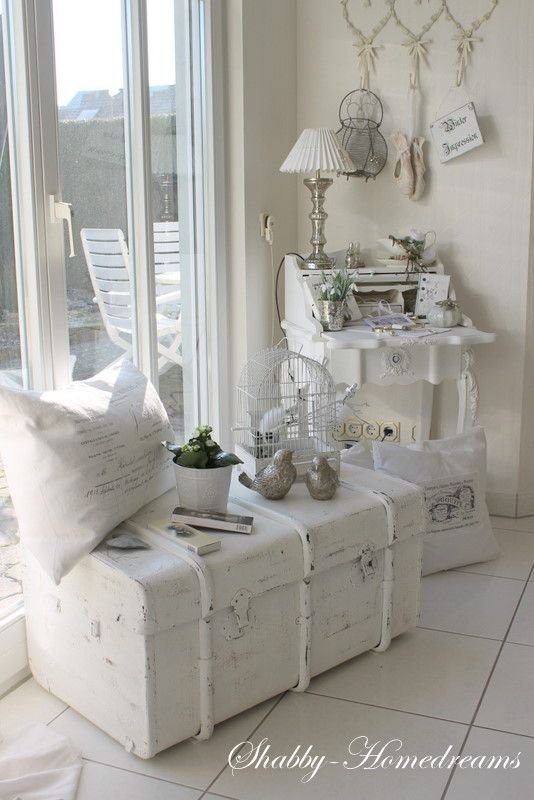 Via Shabby Homedreams: Lichtdurchflutet.....
Like suitcases, vintage trunks can be used in many ways.
23

Cake Stand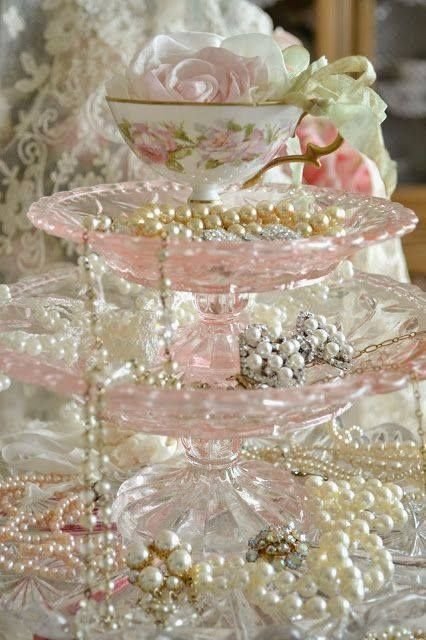 Via ZsaZsa Bellagio – Like No ...
There are so many pretty cake stands to be found in thrift stores and yard sales and they make brilliant jewelry holders.
24

Chest Bench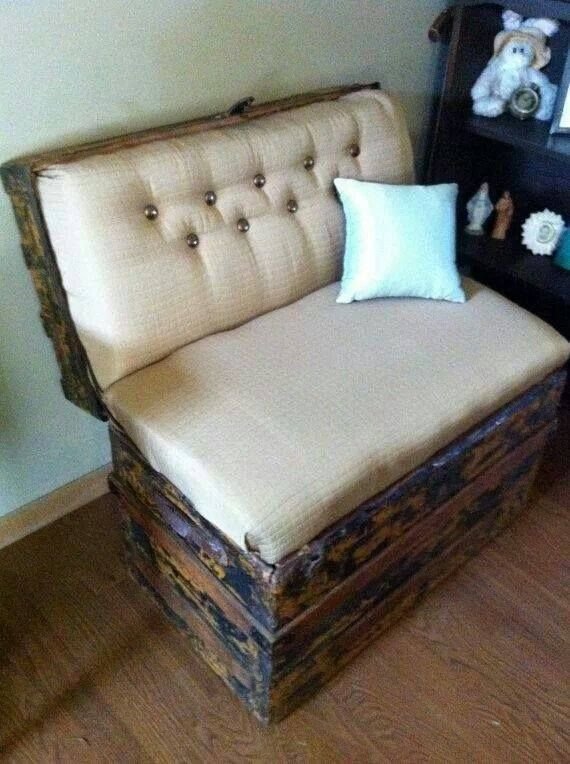 Via amazon.com
Lift the cushions off and there's lots of lovely storage space in the chest.
25

Wooden Crates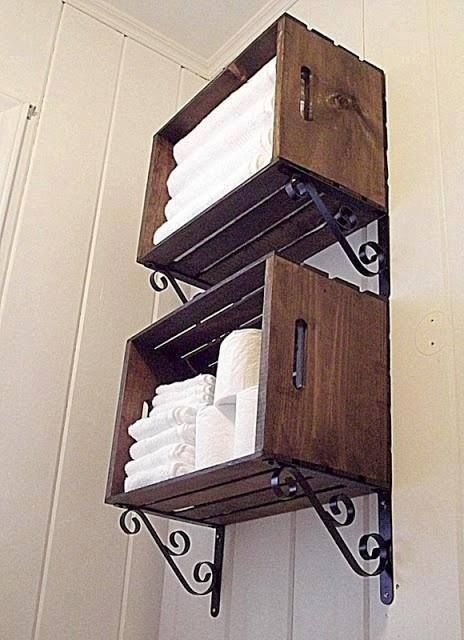 Via 25 Recycling Ideas Turning Clutter ...
Wooden crates have so many uses in all rooms of your home with a bit of imagination and a few extra bits from the DIY/home store.
26

Vintage Dresser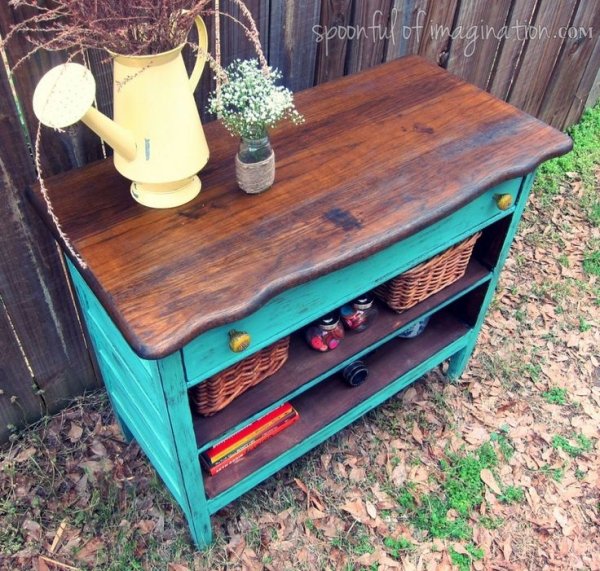 Via You searched for Dresser - ...
Remove bottom drawers, give it a distressed paint job and you've got a useful storage unit. Maybe a TV stand?
27

Vintage Ladder Quilt Rack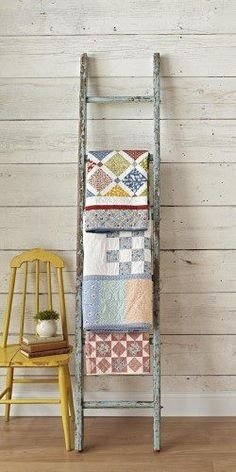 Via How to Decorate with Vintage ...
Use it in the bathroom for towels too.
28

Picture Frame Towel Rack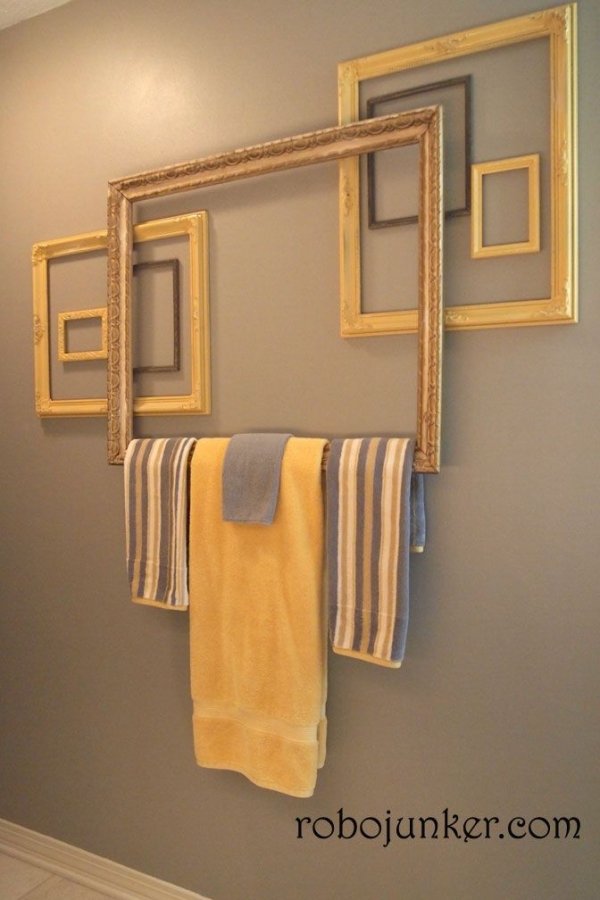 Via DIY Craft Projects using Old ...
You need a pretty big bathroom for this but it's very different and certainly a statement.
29

Suitcase Nightstand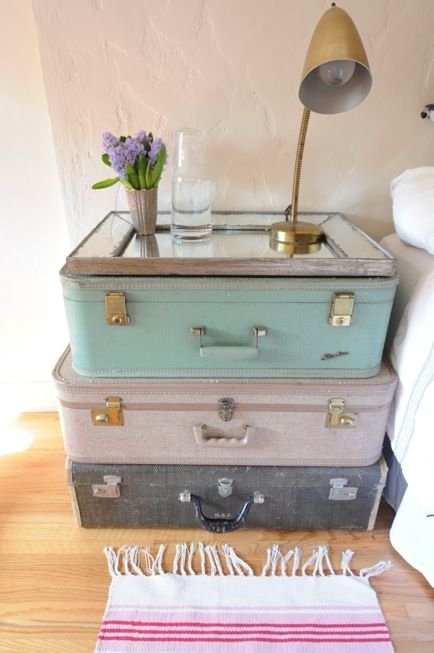 Via 25 Dorm Decor DIY Ideas ...
There are a few directions you could take this as a general idea.
My head is now spinning with all these fantastic ideas for vintage storage. Time for an antique/vintage hunt around the shops I think. Do any of these ideas appeal to you?
Please rate this article