DIY industrial lamps are fabulous projects for those who are not fans of shabby chic. If you like hints of metal, mod, and minimalist lines in your home, you will love these great home illumination projects. Not only will they be in line with your style, these DIY industrial lamps will also only require items that you probably already have. Happy DIY-ing!
---
1

Candlestick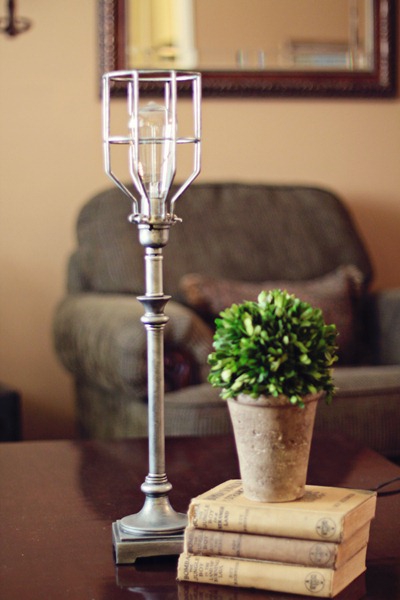 This DIY industrial lamp is pretty and is simple to do. The base used here is a candlestick. You probably already have some in your own home. Using one that is hollow is great because you can hide the wire inside the candlestick.
Tutorial Source: tracys-trinkets-treasures.blogspot.com
---
2

Sparkly Thingies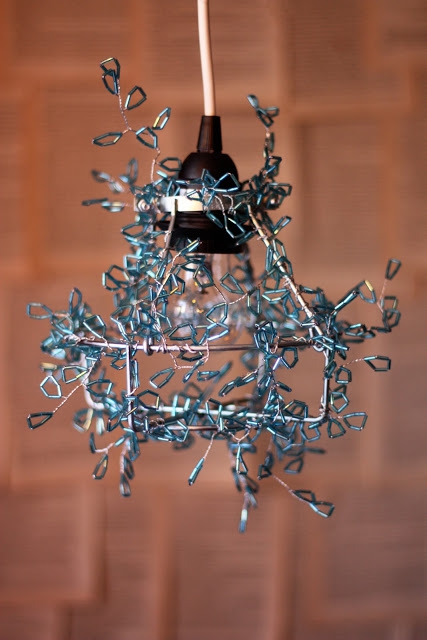 This is amazingly gorgeous. Those things attached to the bulb cage are wire accessories that you can find in flower shops or craft stores. They are also sold around Christmas time. You simply wrap them around the cage and watch them make your lamp look industrial but magical.
Tutorial Source: auntpeaches.com
3

Chicken Wire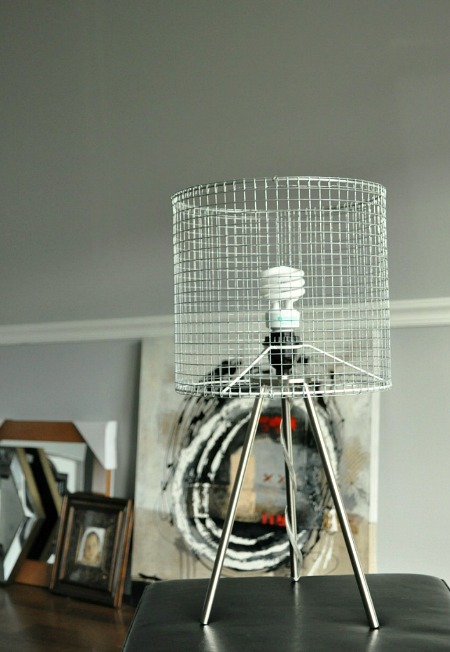 Perfect for a man cave. This one is easy to do, too. You simply remove the shade from a store-bought lamp and then replace with chicken wire. Make sure that the sharp points of the wire are hidden to avoid accidents.
Tutorial Source: peasandcrayons.com
---
4

Gears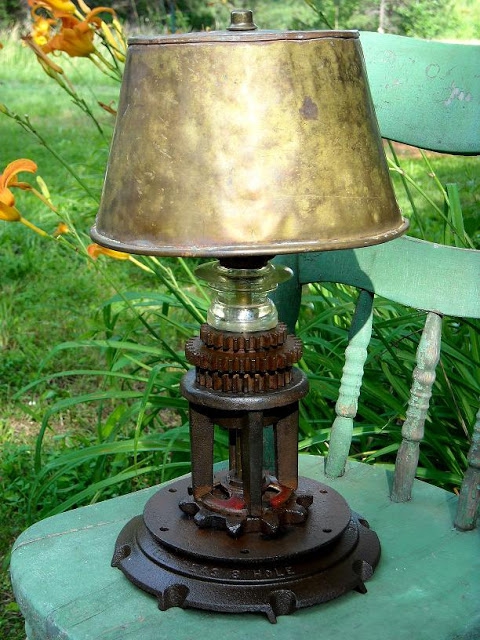 If you're in the mood for industrial with a touch of rustic, this gear and bucket lamp is sure to delight you. The base, as you can see, is made of gears and cogs. They were cleaned first before assembly. The shade is a vintage brass bucket with a hole in the bottom center.
Tutorial Source: thebrambleberrycottage.blogspot.com
---
5

Geometric Pipe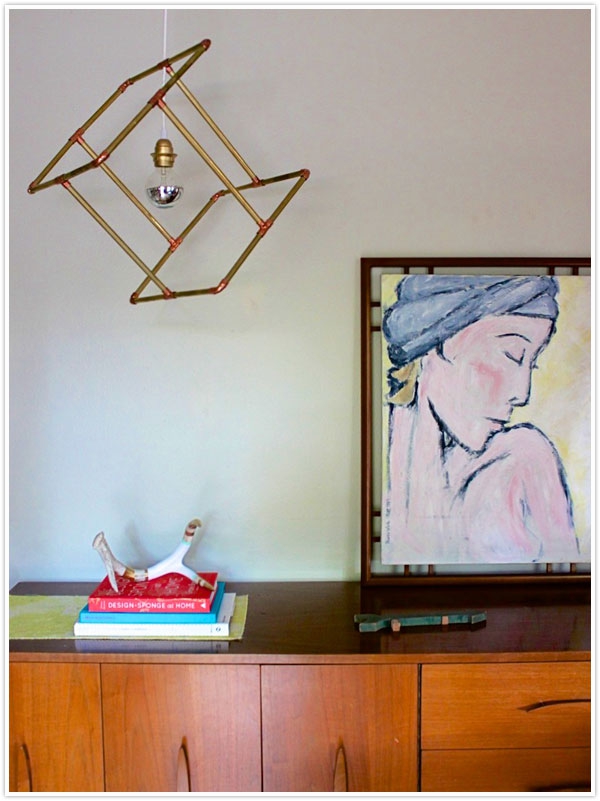 Pipe is always a great material for coming up with a DIY industrial lamp. You can make a bulb cage using this material in many ways; going geometric is highly recommended for a trendier look.
Tutorial Source: camillestyles.com
---
6

Whisk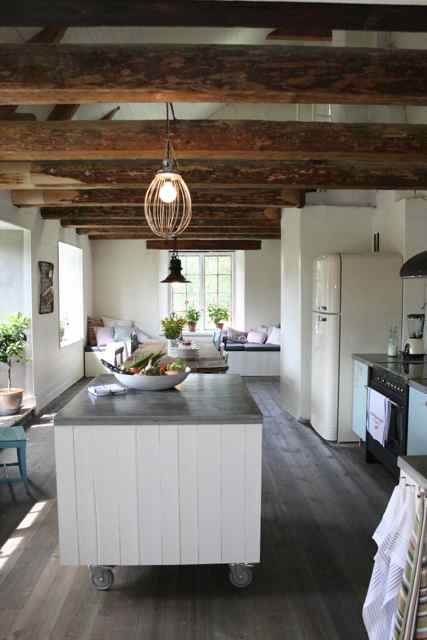 See that lamp? The cage used for the bulb of that lamp was a whisk. Clever, right? To make your own version, you will only be needing a pendant lamp with glass shade, light bulb, and an industrial wire whisk. You may be able to find them in flea markets or vintage stores.
Tutorial Source: apartmenttherapy.com
---
7

Wood, Concrete, and Metal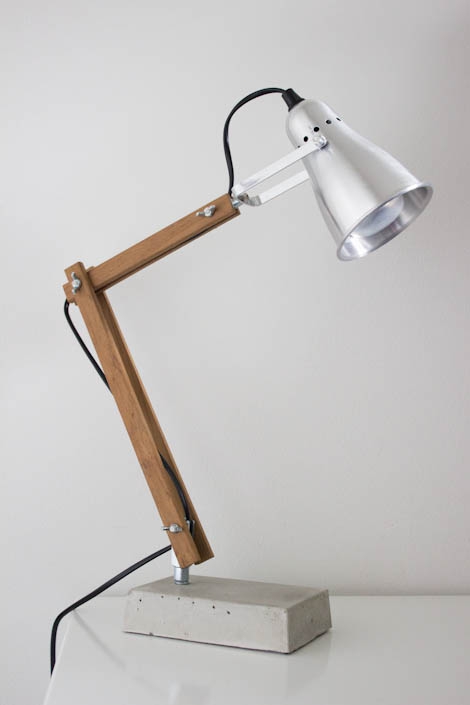 This bedside table lamp is a beautiful knock-off of a Cox & Cox product. The original lamp looked easy enough to recreate so what Minni did was make her own. She used a metal shade from Ikea, various wood pieces, nuts and bolts, and a block of concrete. She also made the latter herself.
Tutorial Source: nimidesign.com
---
8

Pipe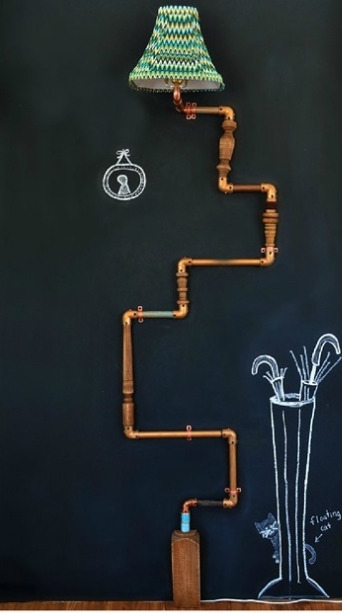 Here is another industrial lamp made of pipes. Unlike the shade version, the pipes here are attached to the walls. Looks brilliant, doesn't it? What's even more brilliant is that this DIY is an Anthro-inspired idea. As you probably already know, the original cost an arm and a leg. Your version, however, will cost less than $90.
Tutorial Source: nelliebellie.com
---
9

Centerpiece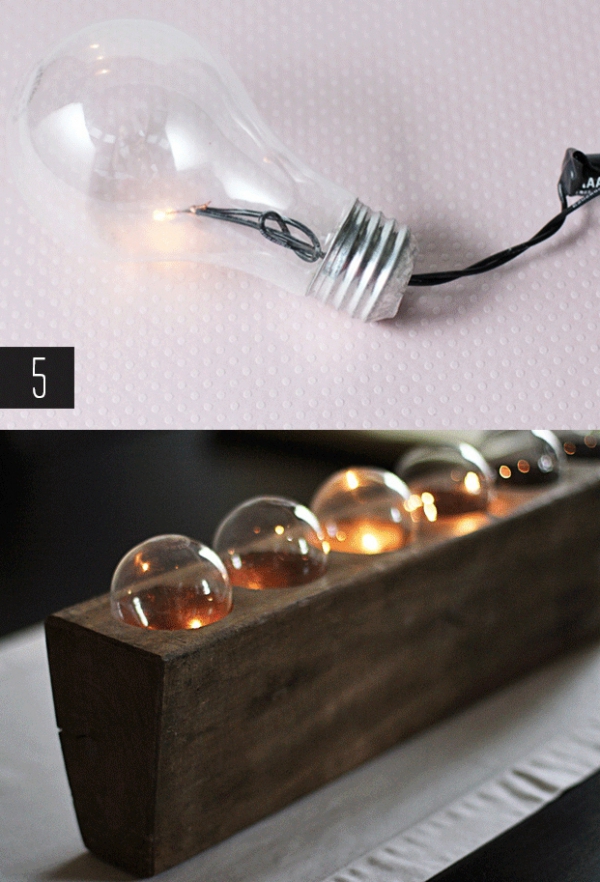 This is another lamp idea that mixes industrial and rustic. Using light bulbs, wire kits, and any container that you like, you can create this fantastic centerpiece. Perfect for an upcoming dinner or garden party, methinks.
Tutorial Source: buzzfeed.com
Hope you found plenty of inspiration from this list of DIY industrial lamps. Got other ideas? Don't hesitate to share them with us!
---
Comments
Popular
Related
Recent