DIY duct tape projects are becoming more and more popular and with the assortment of colors, designs and styles of tape out there now, you are sure to find a few rolls that are just perfect for you! These DIY duct tape projects are some of my absolute favorites; they are all insanely easy to make and you'll have a great feeling of satisfaction with your finished product. Everyone has seen the duct tape wallets, so I've left them off of the list in order to give you a few newer options.
---
1

Drawer Organizer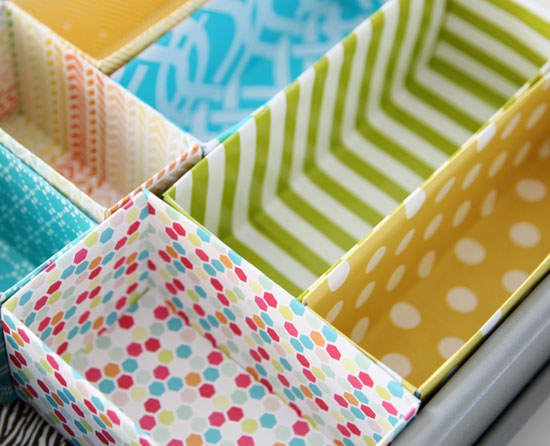 Dump out that junk drawer and make one of these gorgeous drawer organizers, which happen to be one of the easiest DIY duct tape projects around! All you need are a few cereal/pasta boxes in various sizes, cut down to an inch or two tall. Use the duct tape to cover the outside and line the inside of the boxes, then fit them into the drawer so they are snug and organize all of those pens, batteries, makeup products and trinkets you have strewn about!
2

Place Mats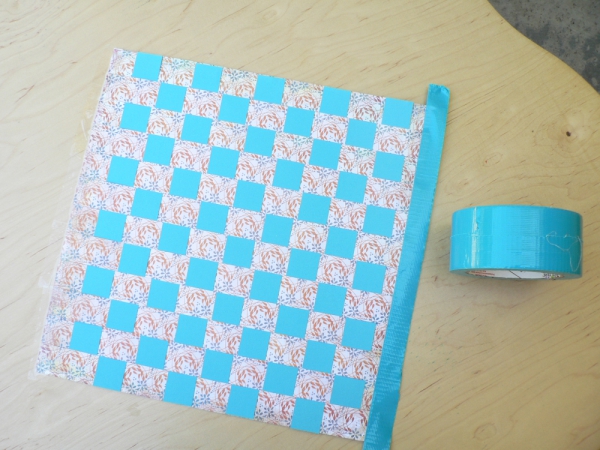 Do you remember making woven construction paper place mats when you were little? Take it to a more grown up and lasting level with duct tape! Choose 2 (or more) colors/patterns of duct tape, cut one color into 18 strips that are 16" in length and 16 strips of the other color that are 18" in length. Fold each strip "in half" lengthwise by folding one side to the middle, then the other side to the middle so that no sticky parts are showing. Once all of your strips are ready, lay the longer strips out and secure them with a piece of tape and then weave the shorter strips through them. If you'd like, you can take this to a larger scale and make table runners as well!
---
3

Belt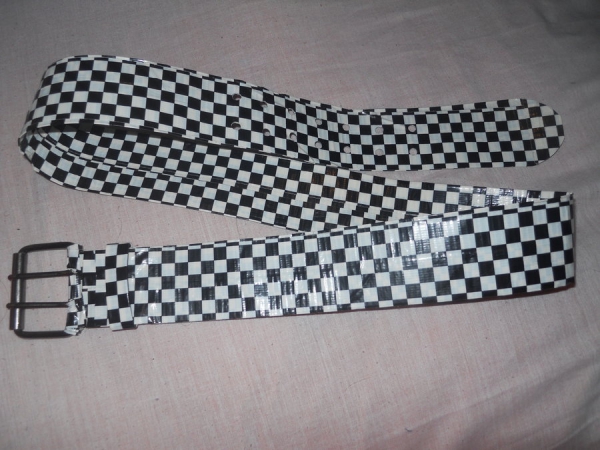 When you can't find a belt to go with your outfit, why not just make one?! This is super duper easy! It takes mere minutes to complete the whole thing and then you can be out the door and on your way. You can buy belt parts at any craft store. There are several types, but I prefer the D rings because they're easier to attach. Measure out how long you'd like your belt to be and then make a strip of duct tape that length. Make a second strip, preferably of a different color, but it can be the same if you'd like. This second strip needs to be 4 inches shorter than the first and you also need to cut it in half lengthwise. Place the shorter, thinner strip on top of the longer strip, sticky side to sticky side, leaving approximately 2 inches at the top and the bottom where the strips don't overlap. Fold the thicker strip over so that the excess sticky showing through is now folded over onto the shorter strip on both sides. Place your belt buckle/clip/rings on the sticky 2" of exposed tape on both ends of the tape. Fold the tape bits over so that they hold your belt hardware in place, then use a small piece of tape to secure the tape in place. And… You're done!
---
4

Artwork/Photo Quilt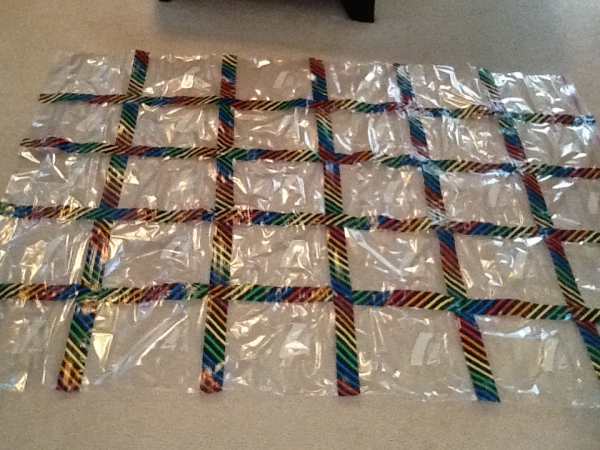 If you need a way to display the copious amounts of beautiful artwork your children create, here is your solution! Take Ziploc bags and tape them together side to side and/or top to bottom using fancy duct tape. Make sure to leave the closures exposed in the back so that you can slip artwork in and out! Display your new artwork quilt on the wall!
---
5

Decorative Spheres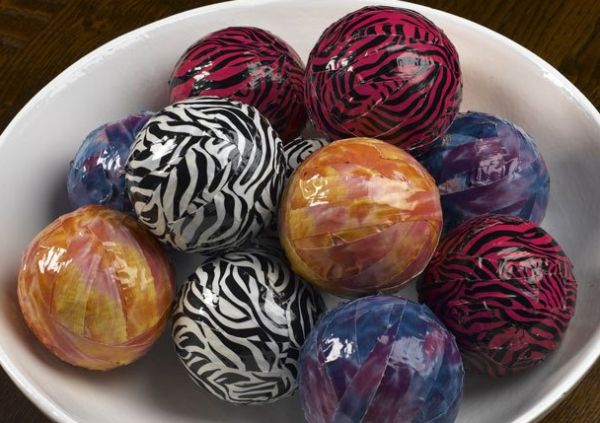 You can make these deco spheres as everyday décor or themed for different holidays or seasons. Buying them at home furnishing stores can be quite pricey, but this DIY duct tape project allows you to make tons of them fast, easy and cheap! Choose your favorite duct tape rolls and cut strips 18" in length. Cut those strips into 3 even strips, lengthwise. Wrap those strips in an uneven pattern around Styrofoam craft balls (found at any craft store) until the entire ball is covered. Once you have all you want, line them up on your mantel, fill a hurricane vase, bowl or basket with your new deco spheres!
---
6

Revamp Furniture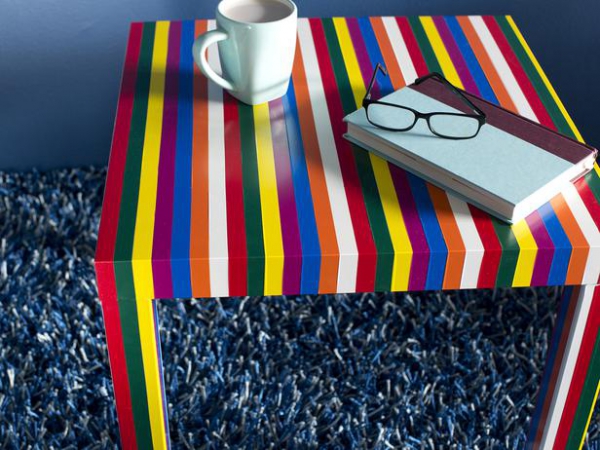 I LOVE hitting up garage sales on the weekends! You can find amazing things, but they usually have scuffs, scratches or other marks on them. Instead of sanding and re-staining, why not try something new? Use duct tape to completely revamp those tables, lamps, chairs, step stools or anything else you can find!
---
7

Hair Accessories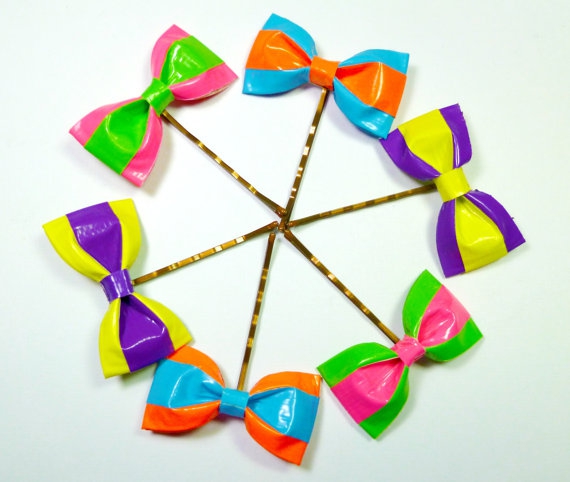 You can make some darling hair accessories with duct tape! Whether you attach duct tape bows or cute little duct tape flowers to barrettes, bobby pins, snap clips or headbands, you're sure to have great results! You can make bows simply by cutting twice the desired length and folding the tape in half, end to end. Lay the tape down flat and fold it in half lengthwise. Now fold each side of the flap down to meet the outside of the fold. Secure it in the middle with a thin strip of tape. For a more detailed tutorial of bow making, check here:
If you'd like to make a duct tape flower, this tutorial will tell you all you need to know:
Duct tape crafts are great for something to do while you watch TV or something productive to do on a rainy day! I hope you try one or two of these, they are so fun! What are your favorite DIY duct tape projects?
Sources:
livingrichwithcoupons.com, gnaana.com, dukesandduchesses.com, classroomdiy.com, craftsncoffee.com, myself, wikihow.com
---
Comments
Popular
Related
Recent