In decorating our new home, Heather and I have been on the lookout for gorgeous pink DIYs. I don't know where or when it happened, but the two of us have recently gone mad for pink, so the color schemes in our bedroom, living room, and master bathroom feature pops of the color, mostly in bright shades. Hot pink is enormously popular, with lots of people incorporating varying hues into their décor. If you're looking to do the same, see how you like these pretty pink DIYs from Pinterest!
---
1

Pink Provincial Chairs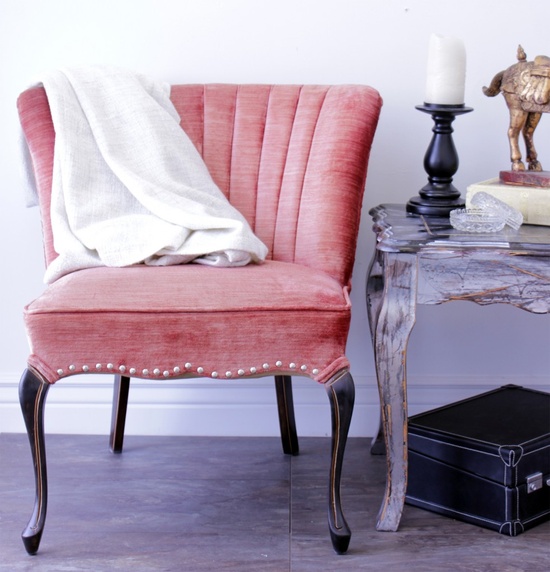 It's not very hard to find an affordable French provincial chair at a junk shop or an antique shop – but finding it in the color you want is a little more difficult. This is one of the more complicated pink DIYs, but that's only because recovering a chair takes a bit of practice. You can do it in any shade of pink (or blue or green or black) you like, but I think this dusty, dusky hue is really lovely.
Source: marcatiyolil.com
---
2

Two-Leg Night Stand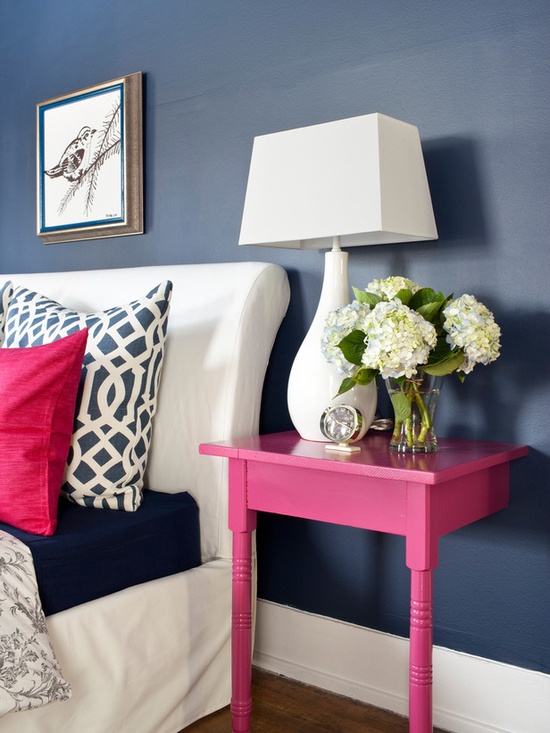 I think this DIY is so inventive, and so pretty! Again, you can use any color that suits your decorating scheme, but I love the shine on this high gloss pink. For a softer look, try a light blush, or go with a dusky rose for a richer, more luxe look. The tutorial is really easy, and you probably already have some old tables.
Source: hgtv.com
3

Pink Ombre Chairs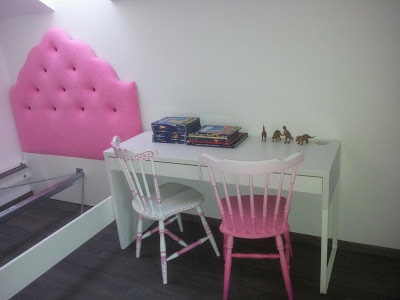 Ombre is a huge trend in hair, nails, and clothing, so why shouldn't it extend to furniture? For this, you'll need high gloss paint, probably some sandpaper, maybe some painters tape, and just about any kind of wooden or plastic kitchen chair you have. Get something on the cheap and, with a little work on the weekend, you can turn it into a stellar, stylish piece!
Source: houseatheart.blogspot.ro
---
4

DIY Pink Vases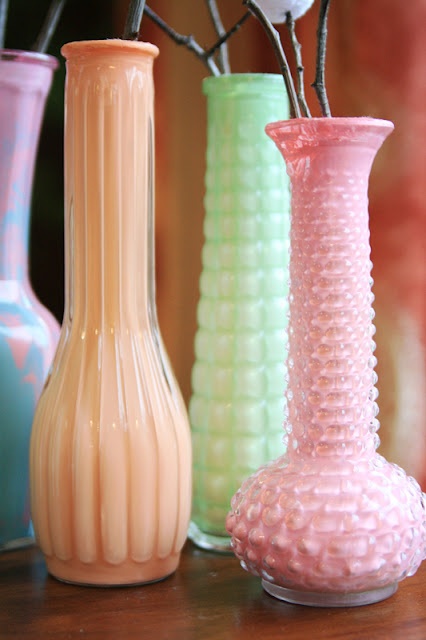 This one's super easy, and if you're like me, I'm sure you have more vases than you'll ever use dotted around the house. I love how a little bit of paint makes every vase look like colorful milk glass – and, as you can see, you can use any color you like. Pink's super pretty but it would be awesome to use a different paint in each room with a different motif.
Source: littlegrayfox.blogspot.co.uk
---
5

Pink Message Door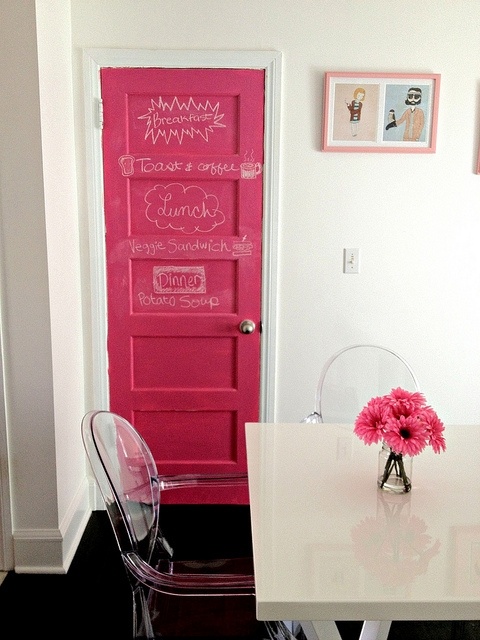 To be honest, there are several ways to do this DIY. If you hate the idea of chalkboard paint, just paint your doors pink for a wonderful pop of color – I especially love how the flower arrangement matches in this DIY. Still, if you need a memo board, this is super handy and definitely cute!
Source: ourcitylights.org
---
6

Pink Vintage Frames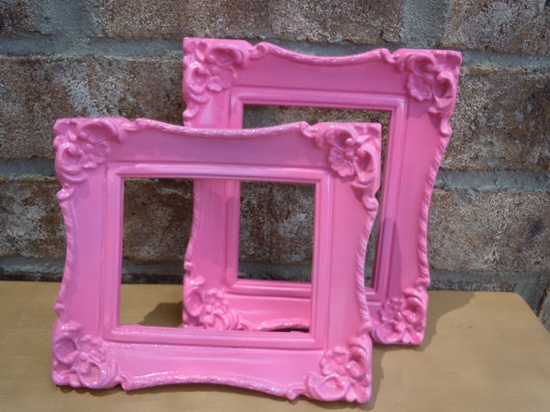 Actually, you can do these with any kind of picture frames or mirror frames – large, small, modern, vintage, retro. It's all up to you, but painting frames is a quick, easy way to add touches of bold color to your décor. I like the look of bright pink on a vintage piece, myself; the mix of modern and antique is really appealing!
Source: wanelo.com
---
7

Antique Vanity in Pink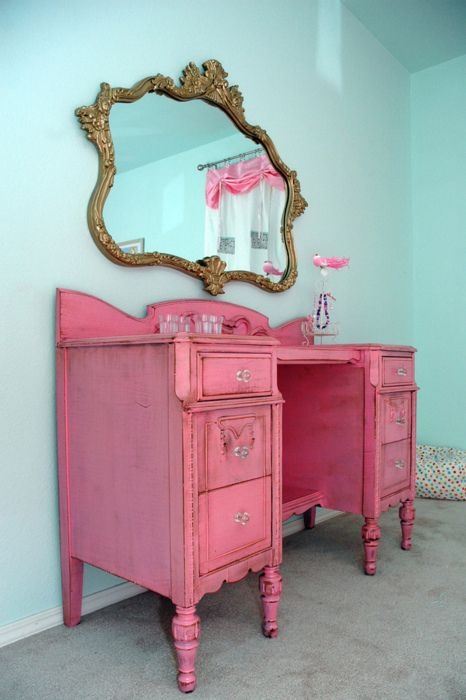 Actually, you could do this with a dresser, a desk, or a vanity, but if you've got an old piece that you don't want to throw away or find a piece that just needs a little work, try this! There are several ways to get that distressed look; the source has some excellent suggestions. For a really easy project, just slap on some paint, scratch it up with some sandpaper, and that's pretty much it!
Source: gillyflower5.blogspot.com
---
8

Spooning for Pink Style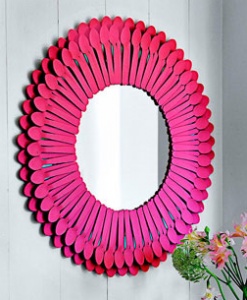 I love this! If you have an old flatware set you don't like anymore, you can easily do this. It would probably look awesome with knives and forks as well – or a combination of the three! It's a funky, eclectic piece that would make a great statement in the living room -- or the kitchen, of course!
Source: blog.purehome.com
---
9

Girly Pink Stripes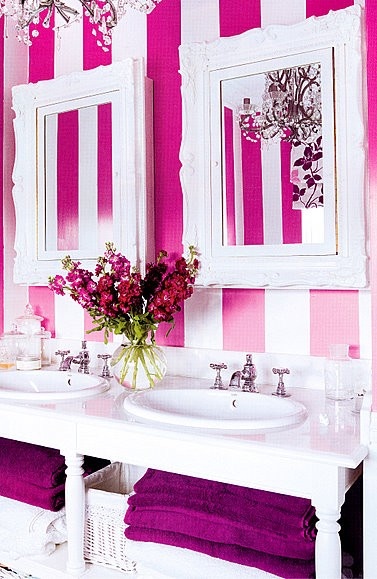 This one's easy, and it works with any color combinations in any room. Stripes are excellent on statement walls; in our old apartment, Heather and I had hot pink and black in the bedroom. My dad created stripes in varying sizes with painters tape, and painting was easy. This is a really lovely, eye-catching look that I recommend firsthand!
Source: nataliegontcharova.com
---
10

The Perfect Pink Desk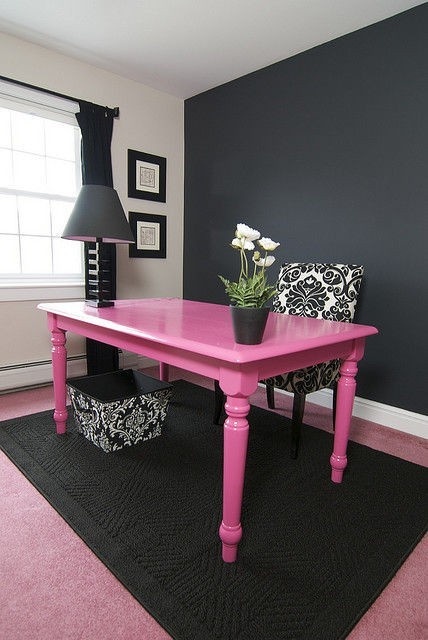 I saved my very favorite pink DIY for last! I'm doing this with an old vintage table we have, although I wish I had something that looked exactly like this desk. It's gorgeous! I love the way pink mixes with damask, so much so that this combo graces several rooms in my house.
Source: blog.highfashionhome.com
Doing DIY in your home is tons of fun, because you get to tailor your décor and furniture to your tastes without putting a huge dent in your budget. Since moving is ridiculously expensive anyway, you can see why DIY projects are so great when you move somewhere new. Do you like any of these pink DIYs or are there any others you're dying to try?
---
Popular
Related
Recent