Planters are an easy way to add some color and jazz to your home. Guest contributor Jessica Snow shares some of her favorite DIY planters. Thanks Jessica!
When you're decorating your home, you'll probably decide to do some DIY projects. These projects are either quick and easy or they're complex. Either way, it's fulfilling to know that you built something and enhanced your home. With just a few hours and some elbow grease, you can create planters to bring beautiful blooms to every room in your home.
---
1

Can Planters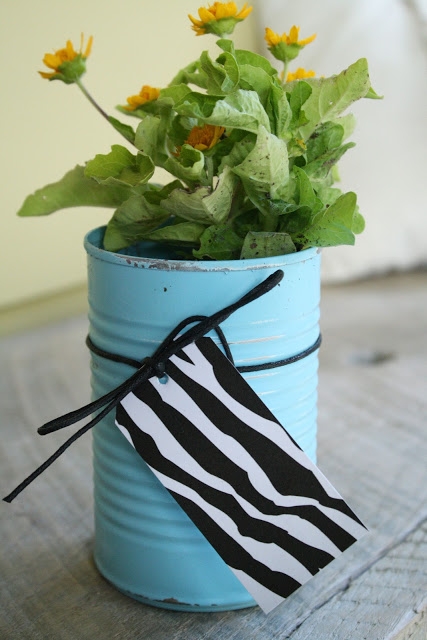 One of the simplest planters you can make is a can planter. These are as large or small as you want. You're only limited by the size of the cans you find. You can spruce up the cans by painting on designs or using Mod Podge to stick decorative paper or pictures onto the can for a unique and beautiful look. Once the Mod Podge is dry, you can plant at your leisure. If you have a cool antique store in your area, try finding a pretty vintage can for this project. Since these are small planters, they work well in bedrooms, living rooms, and kitchens.
---
2

Mini Greenhouse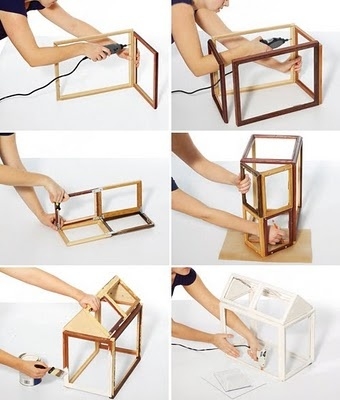 Pick up a few picture frames at a discount store, as well as some screws, hinges, and wood filler. With just these simple pieces you can create a mini greenhouse. This is perfect if you want to grow exotic plants. Apartments for rent in Atlanta generally don't come equipped with a greenhouse, so you'll have to improvise. Take the glass out of the frames, screw them together in the shape of a greenhouse using the hinges, fill the gaps with wood filler, and add the glass back in.
3

Dresser Planters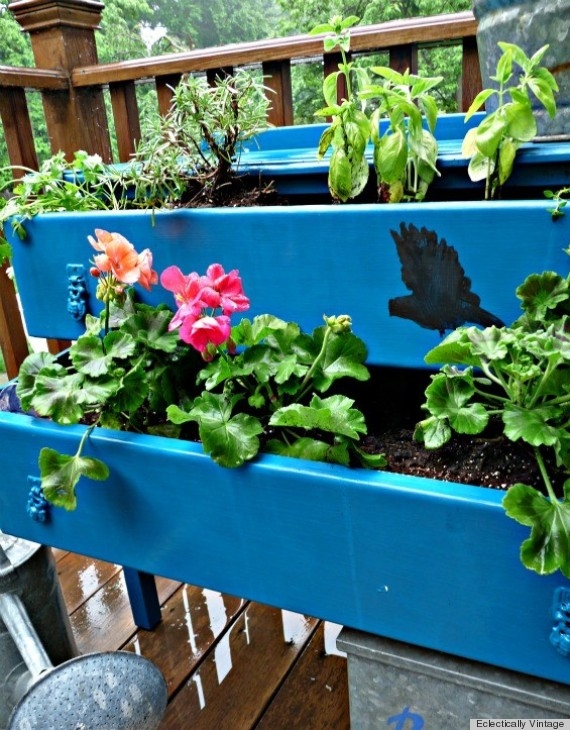 If you have an old dresser sitting around, you can easily make this into a planter. Paint the dresser in your favorite color. You could even add stencils or cover the dresser in wallpaper instead of paint. Add dirt and your favorite plants. The great thing about a dresser planter is that it can have long plants in it. Additionally, it works well either inside or outside.
---
4

Tire Planters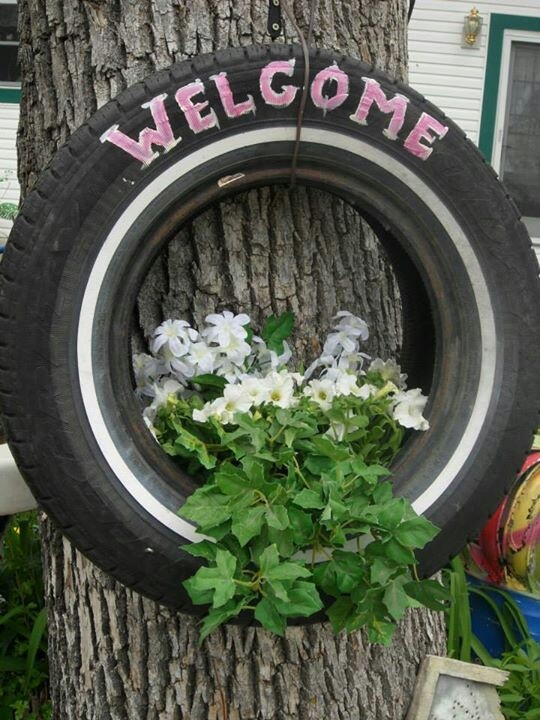 Whether you need to go to the junkyard to pick up some extra-large tires or you have some sitting around, these discarded pieces make amazing planters. Consider using tires for larger planting items, such as trees or bushes. You can paint the tires so that they stand out and match your home. Additionally, you can stack them to make sure that the trees or bushes sit exactly where you want them. The different tread styles offer varying looks.
---
5

Book Planters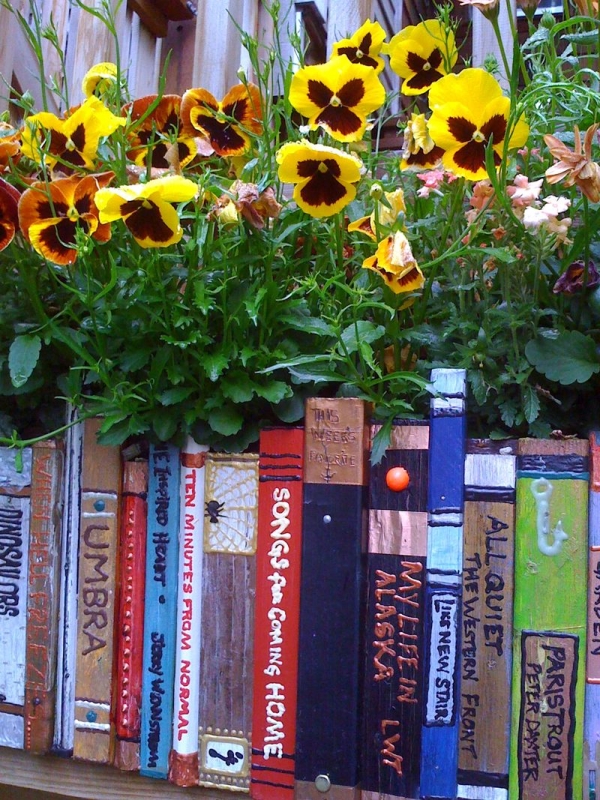 Ok, so you may not want to cut into your favorite book, but if you go to a used bookstore and get an extra copy, you can make this into a small planter. You just cut a square in the center of the pages, line with wax paper, and fill it with dirt. From there, you can plant whatever you like. Books make great inside planters but unless they're treated properly, the water will damage the pages and you'll have to start over. It's best to use something that doesn't require much water like succulents or a cactus for this project.
---
6

Wine Bottle Planters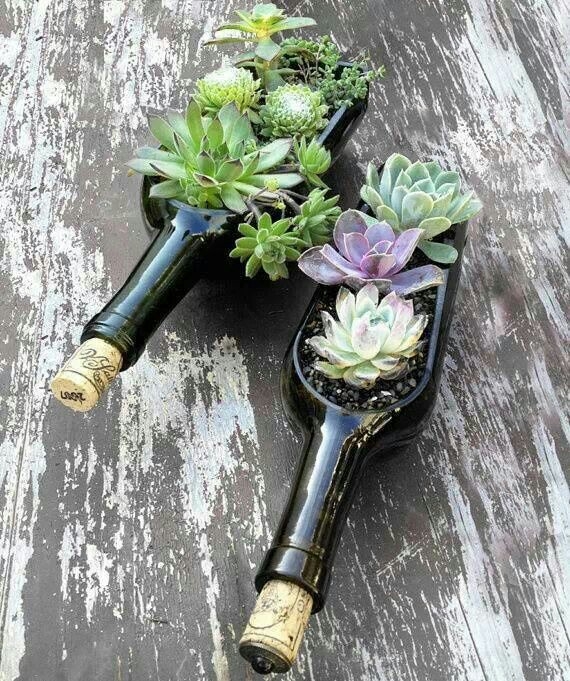 Wine bottle planters are really interesting looking, but a bit more difficult to put together. If you're lucky enough to have a glass cutter, you shouldn't have too much of a problem cutting your bottle in half. If you don't have a cutter, there are tutorials and videos online that show you how to cut your bottle with yarn, nail polish remover, and fire. It's a bit scary, so make sure to use extreme caution if you try this method. The cool thing about this planter though is that it is self-watering. You invert the top half of the bottle into the bottom half, place your dirt and plant inside the top, and then a strip of fabric going through the neck of the bottle into the bottom, which is filled with water. The water will soak up into the dirt as the plant needs it.
---
7

Polymer Clay Planters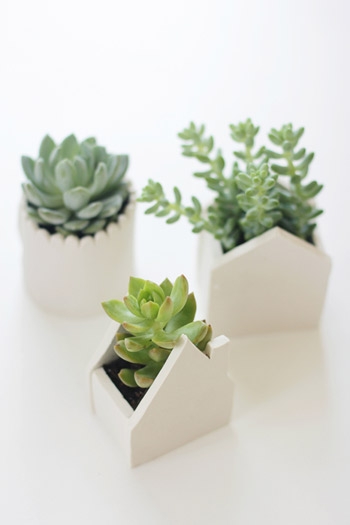 Don't be scared! This project doesn't require any prior ceramics knowledge or any heavy duty equipment. You can find polymer clay at the craft store in a variety of colors, and from there, the options are endless. The simplest way is to just roll it into a ball and scoop out a hole big enough to fit your plant. There isn't a lot of clay per package and it will have to be baked in your oven, so don't go too big. Try making cool geometric patterns by rolling your clay into a ball and then cutting off flat edges. After you bake it, you can paint add glitter or decorate it anyway you want!
All of these planters would look great in your home, give it a try!
More
---
Comments
Popular
Recent