After Piecing Together Fabric Scraps You'll Be Amazed at the Pretty Pouches You Can Make ...
By Meream
Are fabric scraps taking over your sewing room? We offer you a way to tackle the potential fabric scrap monster forming in your home. In fact, we have here 7 ways in the form of 7 perfectly pretty patchwork pouches. Basically, these will help you deal with fabric scraps and will also give you beautifully functional items. Perfect!
---
1

Heart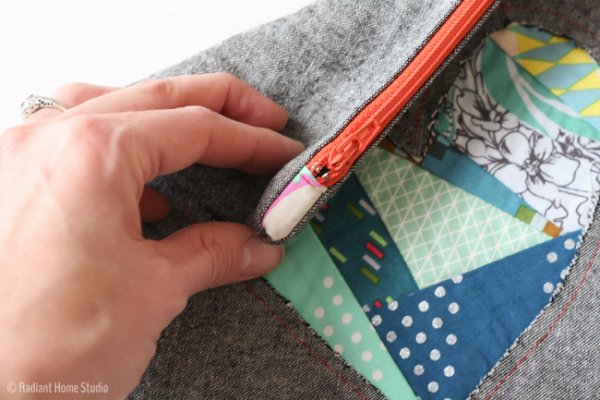 This adorable patchwork pouch tutorial offers you a fun way to use up small fabric pieces. It has a fantastic method for attaching a zipper as well. For those who have never tried sewing pouches with zippers, this is a great place to start. If you're not sold on the heart design, you can make yours with other shapes for the front as well. I think a star or even simple geometric forms will work.
Source: radianthomestudio.com
---
2

Triangle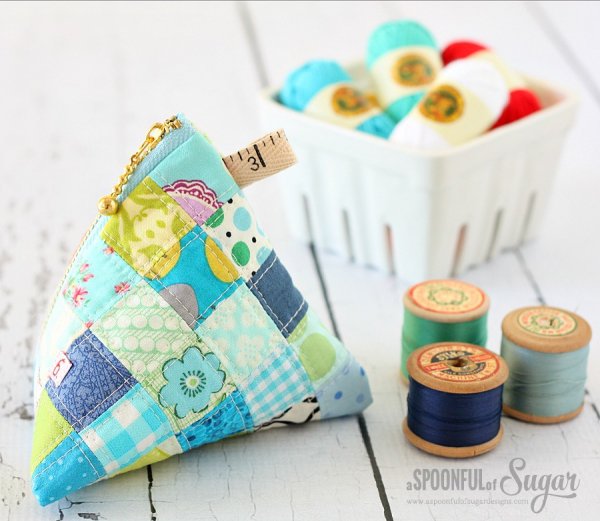 This is so cute! I speak from experience when I say that people love to buy or receive coin purses as gifts. In other words, if you make this incredibly delightful patchwork pouch for your friends, you will become their favorite person ever. And because you will use up only a few bits of scraps for a single purse, you can make up to a dozen in one weekend. They'd be perfect for random gifts or for stocking stuffers during the holidays.
Source: aspoonfulofsugardesigns.com
3

Shark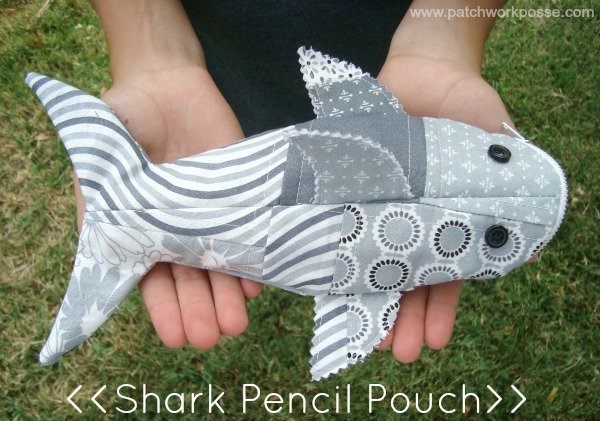 This is one adorable patchwork pouch. I bet you know at least three kids who would love to have this in their schools bags every day. This is a fantastic patchwork project if you happen to have many fabric scraps in the same shade or color. This pouch looks nice in gray but I think it will also work in plain or printed pinks greens, or blues.
Source: patchworkposse.com
---
4

Simple Zipped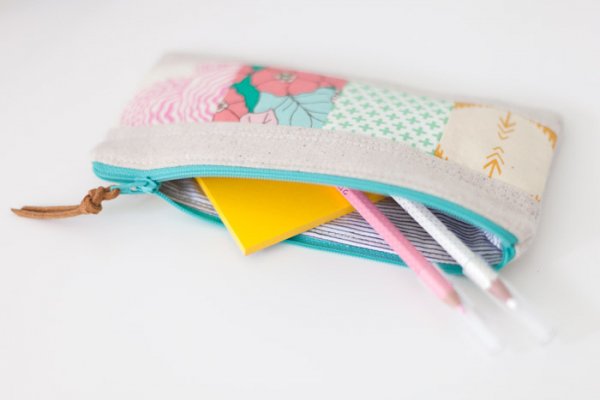 If the triangle or the shark is a bit too complicated for you, this simple zipped patchwork purse is right up your alley. If you use fabric scraps in crazy prints and fun colors, we suggest looking into a complementary neutral color for the rest of the purse. That way, your patchwork pouch will be perfect for an adult but still look quite fun and slightly crazy.
Source: lbg-studio.com
---
5

Wristlet

How delightful are the square patchwork pieces? Just like most of the previous DIYs, this one will require only small pieces of fabric. You can go random or choose fabric scraps with a theme. The lining for this purse can be one whole piece or you can choose a patchwork style as well. Same goes for the strap to the side.

Source: ayumills.blogspot.com
---
6

Boxy

These are patchwork pouches with lots of space. Box pouches are fun to make, trust me. If you add patchwork and basic quilting to the equation, you got yourself one fun sewing project. You can skip the quilting steps here if you are too excited to use your boxy pouch, of course.

Source: pinkxstitches.blogspot.ca
---
7

Flat Pencil Case

Just like the triangle patchwork pouch project, this flat pencil case is easy to make. Its pattern is very similar to a tissue packet holder. But this one comes with a zipper.

Source: aspoonfulofsugardesigns.com

Go ahead and give these patchwork pouches a try. Sew some for you to keep and some to give to friends. You can even make these pouches to start a small handmade business.
---
Comments
Popular
Related
Recent