Use These DIY Ideas to Transform Your Old Heels ...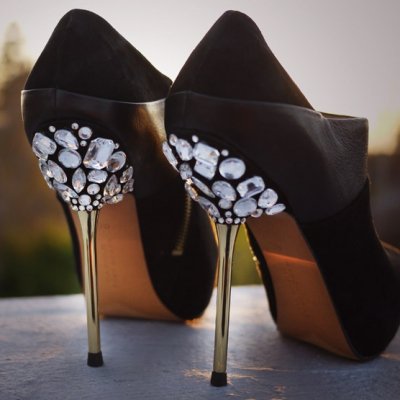 In this post, we combine two things we can't live without: heels and crafts. If you love fashion DIY projects as much as we do, you will find these shoe makeovers fabulous and fantastic. Bonus: these will stop you from buying a new pair of shoes and will, thereby, protect your savings.
How gorgeous! These look like they're designer heels, don't they? And you all know that designer pairs can cost you an arm and a leg. But with only minimal crafty know-how, you can give an old pair of heels a sparkly makeover. This project requires only rhinestones and rhinestone setter.
Source: blog.darice.com
These feathered beauties are inspired by Oscar de la Renta heels. Again, we don't suggest you splurge on the real thing if you have extra crafty energy to spare. Let's just go the DIY route and save money, okay? For this project, you will make the feather using only embroidery floss. Choose colors that are close to your heels. Another variation to this project is using feathers made of leather.
Source: highondiy.com
Ooohhh such drama! Won't these be perfect for your Valentine's Day date? I'm sure you have a pair of pumps that have been wanting to retire for so long. Take them out, add holes along the opening, and lace up some pretty ric-rac ribbon for a heavy dose of fashion flair. If you don't have ric-rac, any type of ribbon would do. Chain will work, too.
Source: lovemaegan.com
This particular heels makeover isn't permanent. Perfect for those who can't exactly commit to a single look or who can't bear to glue items to their precious shoes. For this idea, you will be fashioning a harness made of chain to the heel section of your shoes. This will give you a nice ankle strap-like look. Pretty, right?
Source: thediydiary.com
I sew and I happen to have lots of scrap fabric lying around. If you can relate and you also want to do some footwear DIY, this fun decoupage project is for you. Make sure that you follow this two-fabric idea. Choose a plain variety for the body and a fun patterned fabric for the feels. Mod Podge and let dry before using.
Source: deliacreates.com
These are insanely fabulous. Would you believe that these used to be boring black heels? While we would always have use for black heels in our closet, giving them a whimsical bow flair would never be a bad idea. Not only will these DIY t-strap heels look great with dresses for formal events, they'd be perfect when paired with skinny jeans and shirts for a casual look, too. I'm sure you will get a lot of mileage from these DIY heels.
Source: lovemaegan.com
This shoe DIY is similar to the previous project but with the tiny differences, a huge variation in impact is achieved. Thicker ribbon is used for this DIY project. The t-strap is also skipped, with the focus solely on the ankle area. Gorgeous, right?
Source: yellowgirl.at
We are in love with each and every one of these shoe DIYs. The ribbon ideas are particularly gorgeous. How about you? Any favorites?
{{#comments_count}} Show Commnents ({{comments_count}}) {{/comments_count}}