COMMENT
You may be asking yourself, "What are industrial DIY projects?" Well, an industrial project may be something that looks like it came from an industrial factory. It's raw and it's rustic. Industrial DIY projects may include pipes, wood, metal, or all three combined. You can create tables, benches, shelves, storage units, home decor accessories, and much more from these materials; the possibilities are endless, as I like to say! Here are a few of my favorite ideas, and please be sure to share some of yours with us as well...
1. Industrial Shelves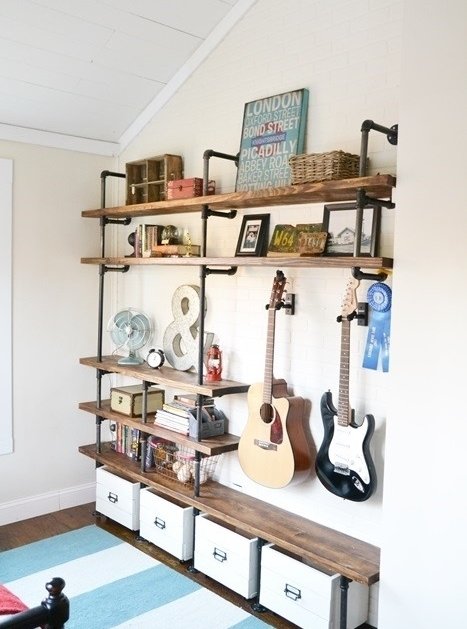 This is one of the most industrial DIY projects trending on Pinterest right now. I have seen so many cool industrial shelf ideas from DIY bloggers. I love this decor idea from beneathmyheart.net, where she left some space open in between the shelving unit to hang her son's guitars. They also make a great idea for built-ins for those spaces you just aren't sure what to do with. If you are thinking that industrial shelves have to have pipes, they don't! The ladies of Knock It Off on the livewellnetwork.com will show you how to build them using wood and metal framing!
2. Industrial Lighting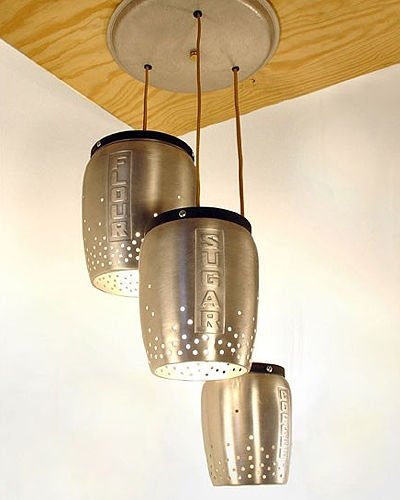 Why pay for expensive, fancy industrial lighting when you can DIY it?! There are so many creative ideas out there! To create the perfect industrial light for your home, you can use a wire basket, a mason jar, or even sugar canisters, like this funky DIY over on au.lifestyle.yahoo.com. Check out this crazy atomic industrial light idea using steel hanger straps, found on designsalononline.com. When you think outside the box, you can create anything!
3. Industrial Table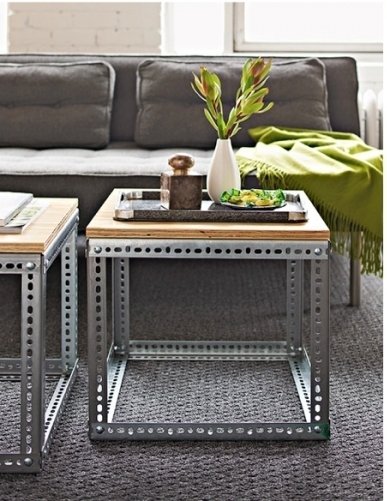 If you can build an industrial shelf then you can build an industrial table or desk. It's the same concept, just a larger scale. You can use pipes and woods like the shelves I posted above, or you can use wood and plated, slotted angles like they did for this side table tutorial over on lowes.com. You may be looking at this and thinking, "This is totally a bachelor pad, man cave type of project," am I correct? But, it doesn't have to be so rough and manly. If you are looking for a more feminine industrial look, just spray paint the legs pink!
4. Industrial Seating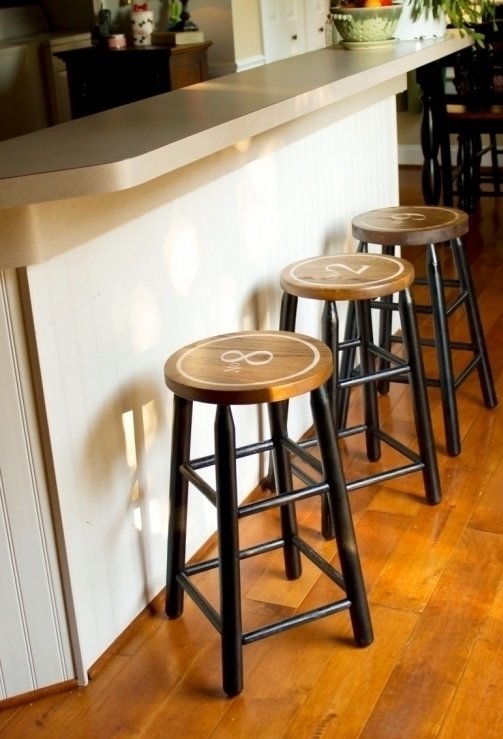 Industrial bar stools seem to be trending on Pinterest. Some bloggers are upgrading stools they already have to give them a more industrial look, as seen on thediyvillage.com. Other home owners are going to scrap and salvage locations to build their own using old vintage truck springs, which you can see on housebeautiful.com. Either way, each design is pretty creative. Which one is your favorite?
5. Industrial Planter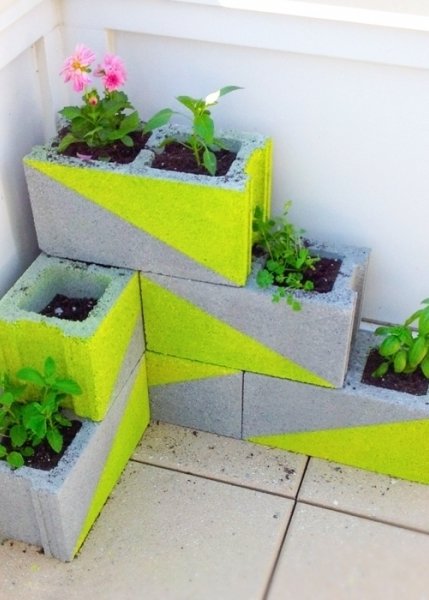 Concrete is another material that is often used for industrial home decor items, like this really cool and modern cinder block planter over on modernlywed.com, which is perfect for small places. I love the neon, geometric lines that were painted on these, it's actually the first time that I've seen the concrete blocks painted when used for planting!
6. Industrial Storage Unit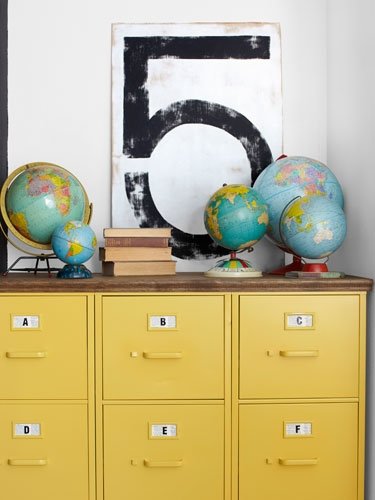 I love the look of old lockers, library card catalogs, and filing cabinets used as storage for bedrooms, playrooms, kitchens, and even bathrooms. Paint them fun and cheerful colors for use in a child's room - like this yellow storage unit from countryliving.com, which is actually three separate filing cabinets put together as one unit. You can also keep them as is if they match the decor and theme you are going for in your kitchen or bathroom, like this gorgeous kitchen over on countryliving.com. Now, don't you just want to go to the thrift store to find these items?!
7. Industrial Bed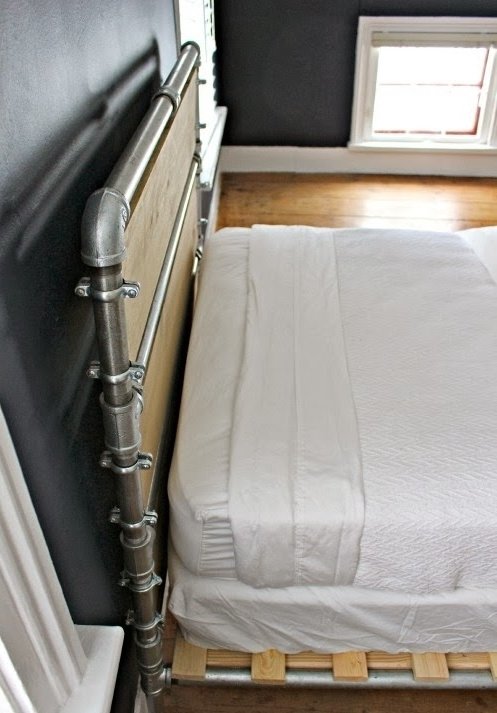 If you really want to be a rockstar mom or dad, then take a lesson from blogger Beckie and her husband, who made industrial wood and pipe hanging beds for their son's room. You can see it on infarrantlycreative.net, Pretty amazing, right?! I mean, they are hanging beds, how cool are those?! You can also make an industrial bed frame for one that sits on the floor with this tutorial from thatsmyletter.blogspot.com. So, which idea do you prefer?
Whether you keep these industrial DIY projects rustic and grungy, or you dress them up with paint, it's a pretty cool decor idea either way. My favorite has to be the industrial lighting, there are just so many unique ideas! Which one is your favorite?
Explore more ...
"7 Awesome Industrial DIY Projects to Try ..." localizations: