It's time to put away the dark, winter colors and decor, and put together some new DIY ideas for spring. Choose paint colors that are bright and cheerful, centerpieces that will bring a smile to any bad day, and plant a garden that will make the neighbors jealous. It's time to stop delaying and get started with these DIY ideas for spring that will give you the fresh start you've been waiting for.
---
1

Potting Bench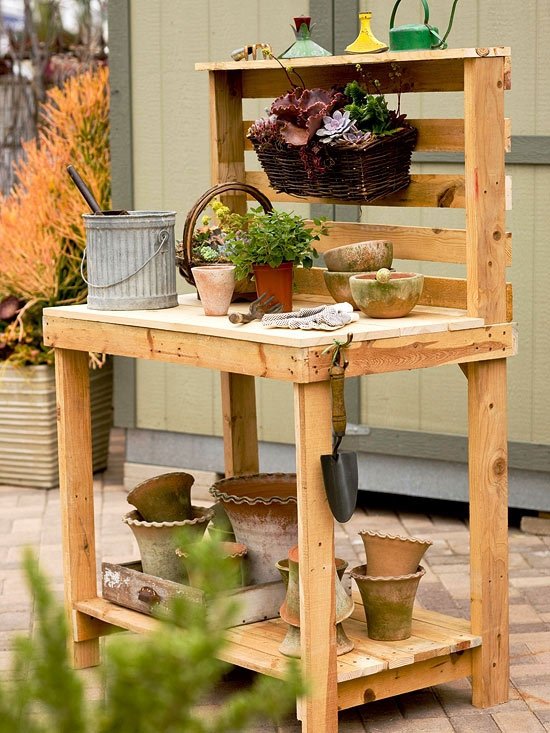 Whether you have a small, city garden, or a large countryside oasis, this DIY idea for spring is great for any space. A DIY potting bench can be any size you need it to be for the space you have available. You can repurpose an old dresser or cabinet as seen in this tutorial over on hgtvgardens.com, or even build your own from pallet wood. This is a great DIY to put together if you are looking to organize your garden materials and don't have a garage or shed to keep them in.
2

Planters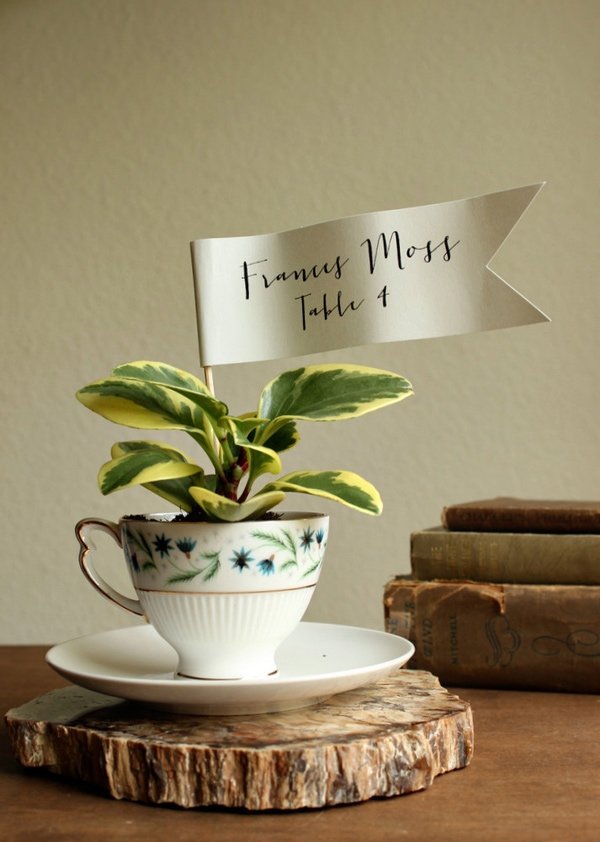 There are so many ways to repurpose stuff you have around the house as planters and they'll all be unique to you! Giving your planters a little glam and sparkle this spring by using Mod Podge and glitter with a cute polka dot stencil is a great idea! Another fun and fresh DIY idea for your planters is reusing tin cans and spray painting them a metallic copper tone like Amy did as shown on homeyohmy.com. Hmm, I wonder if my husband would get suspicious if I start collecting tin cans from our recycling bin!
---
3

Paint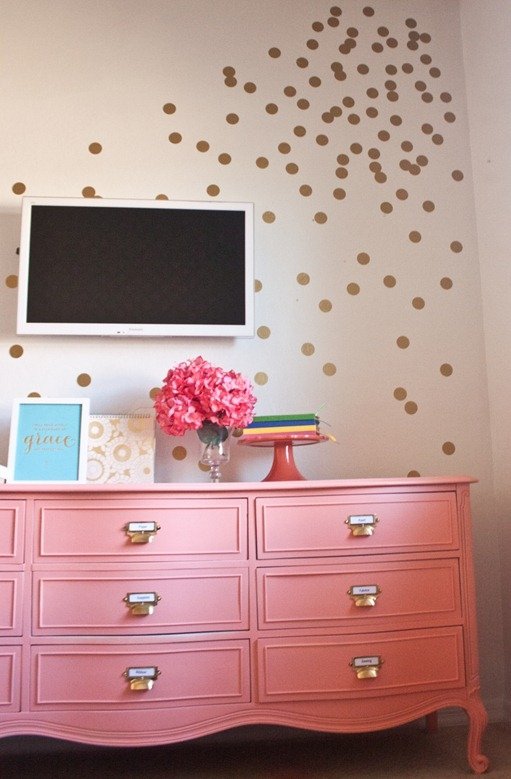 A fresh coat of paint on your walls, furniture, or even on your front door is a great way to bring a new beginning into your home for spring. One of the DIY paint ideas I am obsessed with right now is a stenciled accent wall, like here projectnursery.com. I love that they can work for any room in your home too; in the kitchen, family room, or even a nursery.
---
4

Patio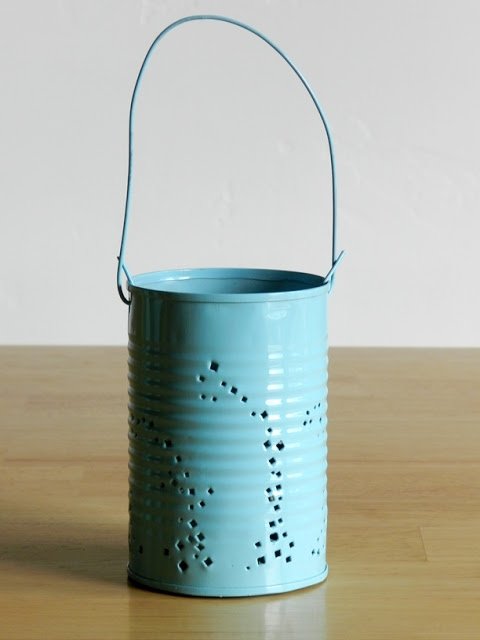 If your spring and summer days are filled with cookouts and relaxing nights on the patio, then this is the perfect DIY for you! Depending on the ambience you are looking for, you could DIY new patio lighting using tin cans, like here on growcreative.blogspot.com, or repurpose wine bottles into a patio torch like these on designsponge.com. There are so many projects to change up your patio whether you want new lighting or furniture. Just browse Pinterest or Google.
---
5

Wreath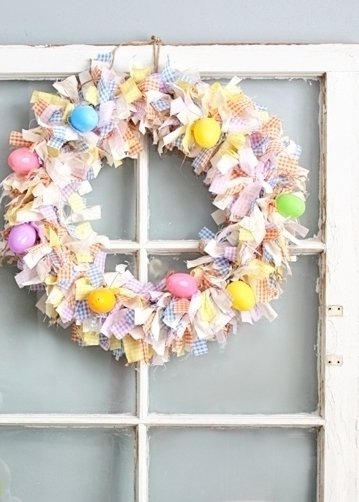 Making a spring wreath is still on my to-do list for this year. I finally gave our boring lamp shade a stencil makeover and now I am hoping to cross this DIY off my list too! One of my new favorite ideas for DIY wreaths is using fabric scraps like blogger Kelly did over on livelaughrowe.com. Adorable isn't it? There are just too many DIY ideas for spring wreaths and I love them all!
---
6

Curtains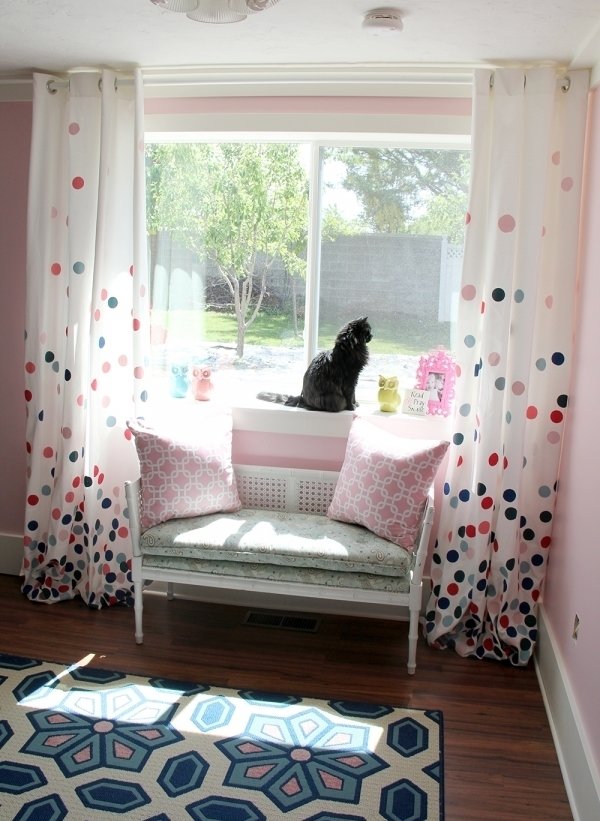 Tired of your old curtains? Give them a new look this spring by painting fun polka dots on them with a tutorial from remodelaholic.com, or use painter's tape to create a chevron pattern. In fact, you could go to town with tape and design your whole own abstract pattern. You can go big and bold with these ideas, or if you want a simple look, just tape off the bottom to add one or two stripes of color.
---
7

Mantel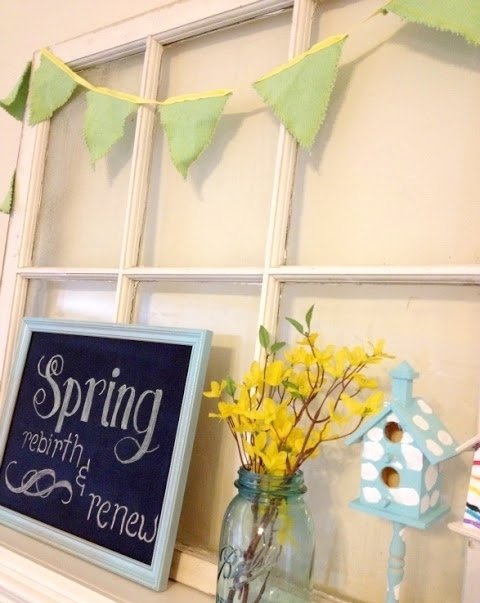 Is your fireplace mantel a main focal point in your home? Make it bright and colorful this spring with fun banners, new DIY artwork, and fresh flowers straight from your garden! I love the window frame and little birdhouses that blogger Kelly placed on her spring mantel last year.If you love this idea to you'll find it at herecomesthesunblog.net.
What are some DIY ideas for spring that you have planned or have already put together?
---
Popular
Related
Recent