I have seen these DIY sharpie mugs all over Pinterest and I can't wait to purchase some white mugs this weekend to get started on some of these fun ideas! They make great gifts for any holiday. When you're in need of something last minute, is the DIY project you want to try! From quirky and cute, to sweet and romantic, you can make one for yourself, a significant other, your kids, or even your boss! Check out these DIY sharpie mug ideas and share with us the one you love most!
---
1

Mr. & Mrs. Sharpie Mug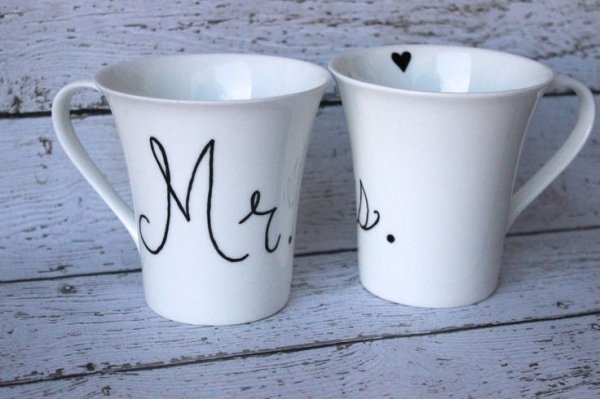 This DIY Sharpie Mug is a great idea for a wedding gift for the newlyweds or even for a couple celebrating an anniversary. I've seen some really cute Mr. & Mrs. quotes that say, "Mr. Right & Mrs. Always Right" or "He Loves Coffee" and "She Loves Tea". I love the ones that have Mr. & Mrs. and also include a mustache and a red pair of lips to go along with the words! Check out these great DIY sharpie mug tips over on craftaholicsanonymous.net, to learn how to make the perfect mug and make the sharpie markings last.
---
2

State or Country Sharpie Mug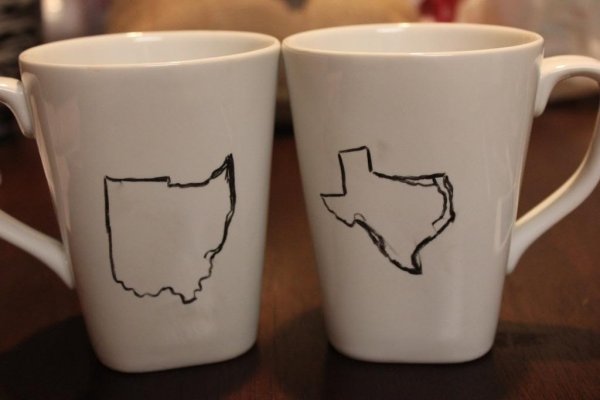 Did you and your significant other grow up in different states or perhaps you have a long distance buddy you're missing? Well, a state or country sharpie mug would be a fun gift for that friend or for your significant other. I just love state and map art, there are many cool ideas you can create. How cute is this state DIY mug that blogger Stephanie made for her long distance best friend who lives in Ohio while she lives in Texas, snhblog.com. Instead of sharing one of those broken best friends forever lockets, they now have best friends forever mugs!
3

Character Sharpie Mug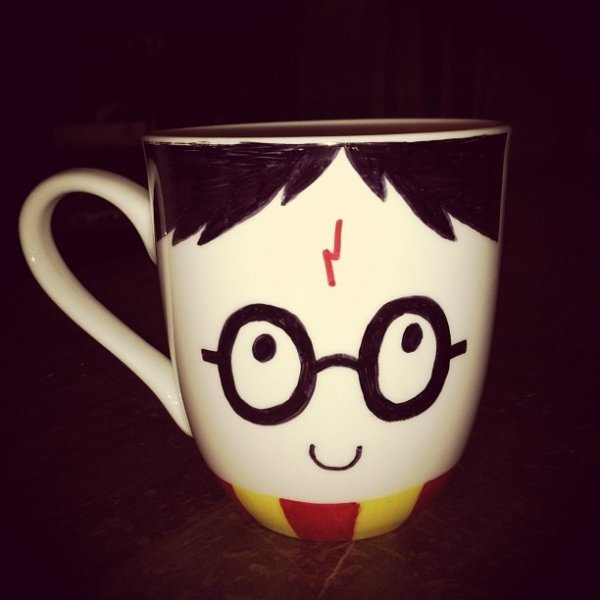 I haven't seen too many character DIY sharpie mugs, mostly funny quotes. However, when I saw this amazing Harry Potter sharpie mug, jipmagip.blogspot.ca, I knew I had to include it in my round up. If you're pretty artistic, why not get creative and surprise the nerd in your life with a mug that has their favorite character on it? Oh how amazing is this Star Wars mug, imgur.com, awesome right? What character would you draw on your mug?
---
4

Animal Sharpie Mug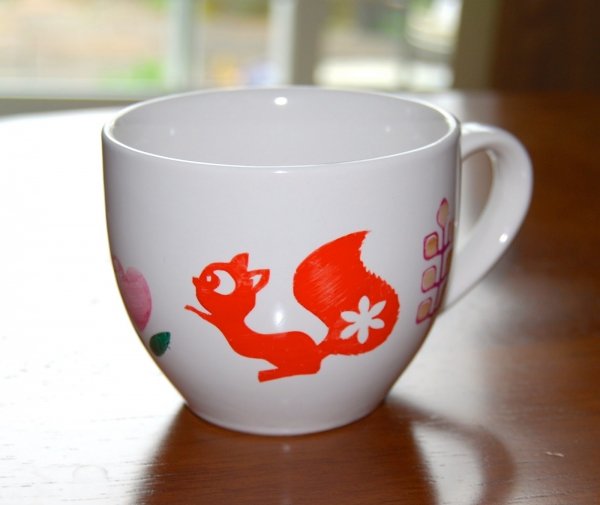 I'm obsessed, no really it's pretty bad, with owls and owl mugs! So, I had to include an animal sharpie mug, though I have to say this goat one is pretty clever with the quote, "Totes my Goats", theombreowl.blogspot.com. I also adore this "Bee Happy" one as well, simpleendeavours.blogspot.com. Honestly, the possibilities are endless for what you want to put on your sharpie mug, however if you'd like to draw an owl mug like this one, prettyelements.blogspot.com, for me...I wouldn't hate it!
---
5

Baby Announcement Sharpie Mug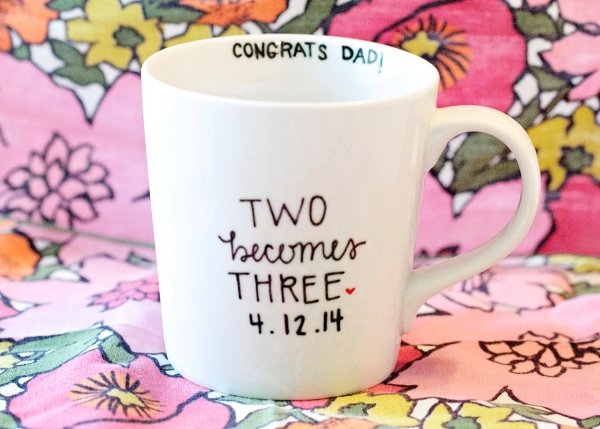 Are you looking for a great way to announce your pregnancy to your family? Well, how about a set of DIY sharpie mugs that say, "Grandma" and "Grandpa" on them with the year and month the baby is due? They will probably think they are just getting a mug, but at closer inspection they will realize they are getting a grandchild as well! Check out this tutorial and her family's reaction to her mugs over on twotwentyone.net It's so sweet!
---
6

Child's Art Work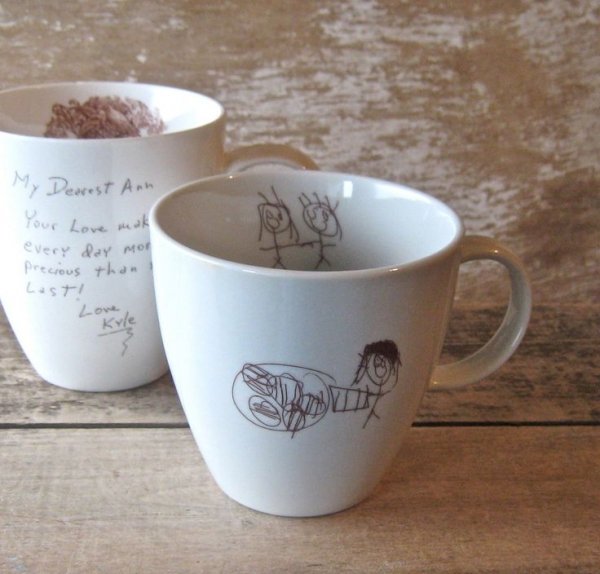 Instead of giving your children a piece of paper to draw on, how about preserving their art work on a mug?! This would make a great gift for grade school teachers, grandparents, and for Mother's Day or Father's Day. They can go crazy and have fun with different shapes, colors, and designs, then watch as mom or dad puts the mug into the oven for the magical part!
---
7

Holiday Sharpie Mug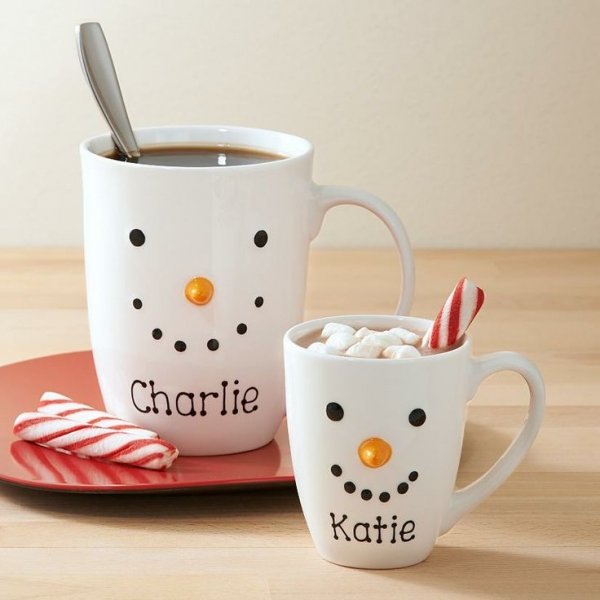 Need a quick and cute gift for the holidays? Well, you're in luck because there are tons of ideas you can put together with one sharpie and a white coffee mug. One of the best and easiest things to draw on a mug for a holiday gift...a snowman! I love this personalized set of snowmen over on happygoluckyblog.com and the quote she put on another mug. Check out this adorable reindeer and Christmas tree over on justagirlblog.com. There's just so many cute ideas for the holidays!
Have you tried this Pinterest trend yet? What would your DIY sharpie mug have on it?
---
Comments
Popular
Related
Recent