Solar System craft projects probably remind you of grade school science. While some of you may want nothing but to leave memories of said school subject behind, others may be in need of similar planet-themed projects today. So, we give you these fun DIY solar system crafts. Most of them are kid-friendly and can be constructed with the little ones' help. A couple, though, can be made for adults who simply love the Earth, the sun, and the other planets around them.
---
1

Hanger Solar System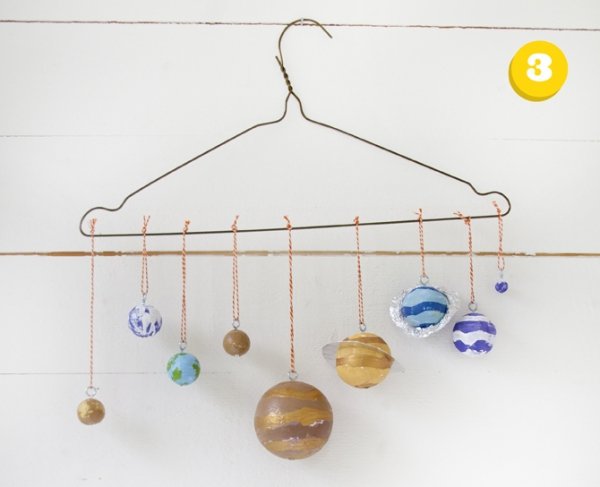 This is an easy Solar System craft project that your kids can help you make. The planets are made of Styrofoam balls and are painted. For Saturn's rings, metallic cardboard was used. To hang, screw rings were used. If you don't have any, you can always skewer the planets like beads and then hang using any string.
Tutorial Source: pysselbolaget.se
2

Push Light Planets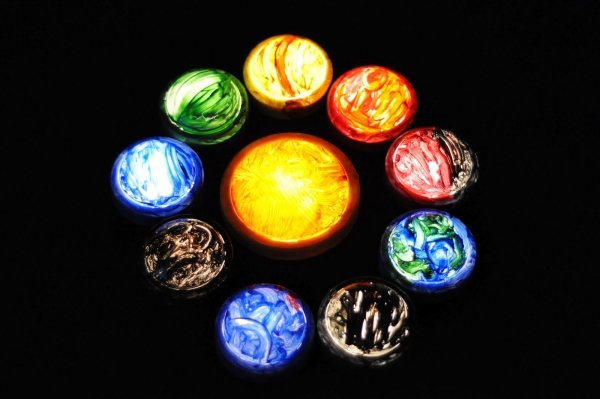 Pretty! You can get push lights at just about any major department store. You can even get some at your local dollar store. To transform them into a fun night light Solar System, you simply paint and let dry. Use astronomy photos as reference for your paint colors, adhere to the wall once dry, and enjoy! Don't forget to add the sun to the center.
Tutorial Source: playathomemomllc.com
---
3

Paper Planets Mobile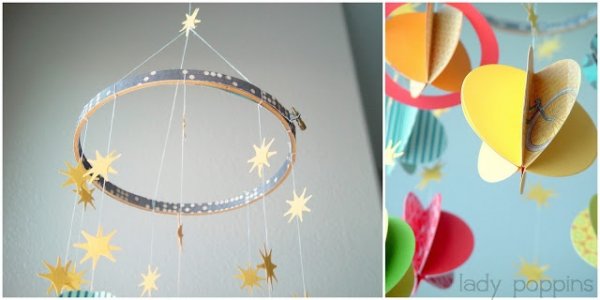 If you are not looking to do a messy Solar System craft project, paper is your friend. There are so many ways to go about making a paper planet mobile. Choose your paper according to the color of each planet. For the "base," an embroidery hoop is always dependable. You can even design said hoop to look like the sun. Other embellishments that you might also like include cute paper stars.
Tutorial Source: ladypoppins.blogspot.com
---
4

Halloween Costume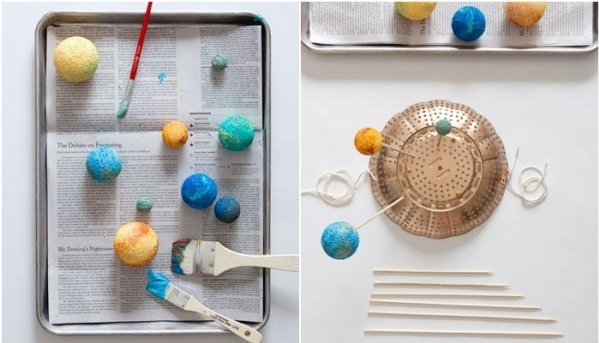 You have probably seen a lot of Solar System Halloween costumes and have been wondering how to make your own. Well this is your lucky day because we have here a cute and fun tutorial. To make this out-of-this-world costume, you will need Styrofoam balls, acrylic paint, a collander, wooden skewers, hot glue, and glow-in-the-dark stars. This particular costume calls for sticking the planets into the collander and wearing it like a headgear. Another option is to glue the planets directly into your dark-colored clothes.
Tutorial Source: allyou.com
---
5

Crocheted Solar System Mobile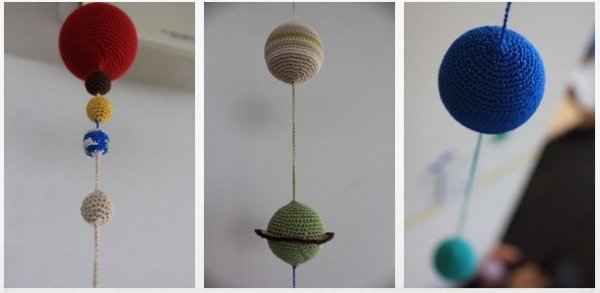 If you know your way around crocheting hooks, you will want to give this particular planets craft project a go. The trick for forming the planets will be to crochet around Styrofoam balls. Take note: crochet Earth in blue and white. You will also want to include Saturn's rings and strip detailing around good old Jupiter.
Tutorial Source: instructables.com
---
6

Solar System in a Box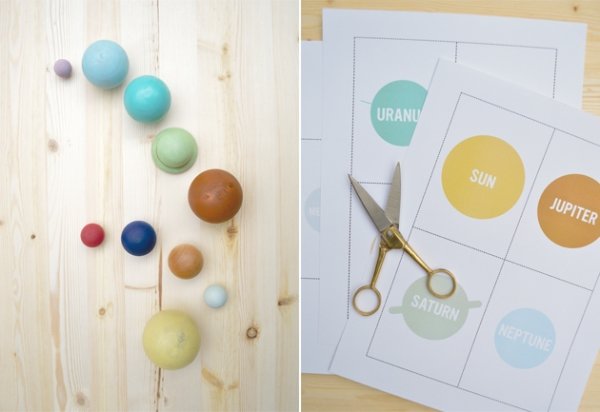 This is an educational toy that also happens to be all sorts of cute. The planets here are made of birch ball knobs. Other materials that you will need are wooden ring (for Saturn, of course), acrylic paint, and the name cards. You can download the latter via the tutorial link below.
Tutorial Source: playfullearning.net
---
7

Necklace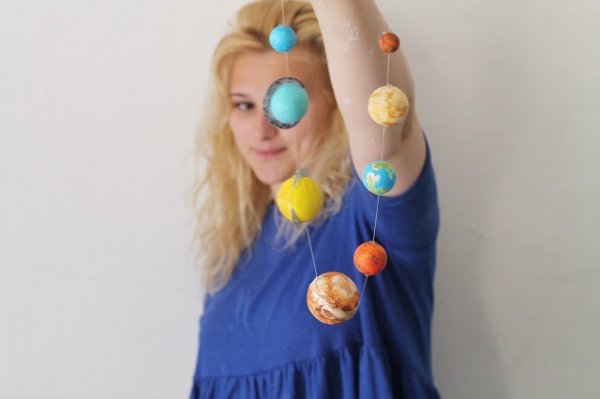 This is one of Solar System craft projects here that you can do for yourself. You will need wooden beads, acrylic paint, invisible thread, and hot glue to make this fun space-themed necklace. If you don't want your planets to look weirdly large, you can always choose smaller wooden beads. You also don't have to paint them if you choose beads that already come in blues, yellows, reds, or oranges.
Tutorial Source: nowthatspretty.blogspot.co.uk
These Solar System craft projects are for space geeks, astronomy lovers, and all-round science fans. They're great for kids of all ages, that's for sure.Going to give any a try?
---
Comments
Popular
Related
Recent