7 Last-Minute DIY Valentine Banners That Are Quick and Easy to Make ...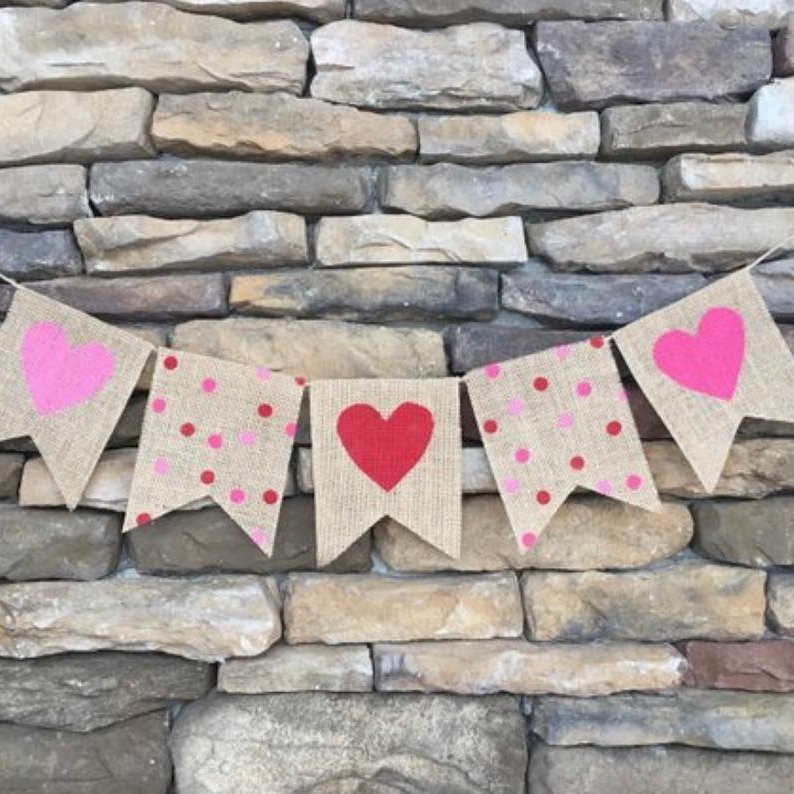 If you're looking for a way to make your room or house look ready for Cupid, these quick and easy DIY Valentine banners are just the ticket. Whether you'll be having your special someone over or you will be celebrating the day with girlfriends, you will want to make one or two (or three!) of these DIY Valentine's Day banners. Enjoy and have a lovely Valentine's Day!
Pink and gray is a color combination that I will never tire of, which explains why this DIY Valentine's banner is one of my favorites. Another reason is the fact that this particular projects is incredibly easy. You will need felt, pinking shears, glue, and twine.
Tutorial Source: theprettybee.com
How adorable! There are ready-made LOVE banners that you can buy from the craft store or even the Dollar Store. If you like the look of the one you find, simply hang using string and you're done. But if you want to go the extra sparkly mile, you can dress up the store-bought banner in glitter. You can go two-toned, as shown above, or choose a different color for each of the letters.
Tutorial Source: aspensummit.co
Got felt in lots of colors? Take them out and make this fun DIY Valentine's Day banner. You will also need twine, batting, a sewing machine, scissors, and a heart template. The general idea is to make miniature stuffed hearts using felt. Assemble into a banner using the twine, hang, and you're done.
Tutorial Source: momtastic.com
This Valentine's Day décor is super cute, too. If you have lots of pretty patterned paper, turn them into a fun mantel banner for your home this February. A banner of XOXO is cute but you can do other words or phrases, too. How about KISS ME? Or if you want straight to the point, I LOVE YOU will work, too.
Tutorial Source: restoredstyle.com
This is a great combination of rustic and whimsical. The hearts of this banner were washi-fied before glueing them to the swallowtail-shaped burlap flags, hang using twine or string, and you're done.
Tutorial Source: craftingintherain.com
Isn't this beautiful? You can download a template for this VIVA LOVE Valentine's Day banner. To make the cut-out details, you will need to use a sharp X-Acto knife. This will take a lot of time but the result, as you can see, will be quite lovely. Design variation: use white card stock instead of the typical colors of Valentine's Day.
Tutorial Source: hifrienddesign.com
There are many playing cards sold in thrift stores. Grab a pack and turn the hearts into a lovely DIY banner for Valentine's Day. Other things that you will need for this craft project includes baker's twine (any string will do, really), puncher, and metallic red scrapbooking paper. The latter will be for the cute hearts between the cards.
Tutorial Source: belleandbeauantiquarian.blogspot.com
Aren't these DIY Valentine's Day banners lovely and cute? The great thing about these is that they are easy to construct for non-Valentine's Day celebrations. You can easily whip up one or two for an anniversary party, a wedding, or even a simple get-together with the people you love.
{{#comments_count}} Show Commnents ({{comments_count}}) {{/comments_count}}