7 Essential Knitting Tutorials for Novices ...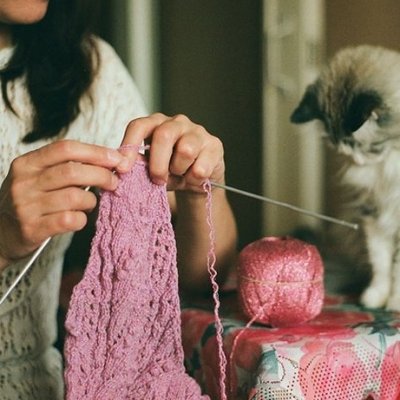 My mother-in-law recently taught me how to knit and I am now obsessed. My home is covered in skeins and needles, and I have been known to bring knitting to salon appointments and waiting rooms. Knitting is soothing and cost efficient, if you love wearing scarves, arm warmers, sweaters, beanies, slippers, and socks while wrapping yourself up in a blanket you made yourself. If your friends and family get tired of hand knitted gifts, you can donate your items to people who need them. Knitting is awesome! But it's such a wide world, so if you're just getting into the game or want to learn, these knitting tutorials have some great techniques for beginners. Pretty soon, you'll be creating your own patterns and seeing knit and purl stitches in your sleep!
1.

How to Knit: Clueless Edition
This is one of the best knitting tutorials I've ever come across. At about 15 minutes long, you have time to take in every step, but it's still incredibly concise. This will teach you the basics of slip knots, casting on, how to hold your needles. One tip from me: ma mere (that's what I call my mother-in-law, see) got me started on big needles – size 13, a 9 mm set – and that helped a lot because my fingers were so clumsy in the beginning. That might help you, too.
{{#comments_count}} Show Commnents ({{comments_count}}) {{/comments_count}}