8 Insanely Adorable DIY Baby Shoes You Have to Make ...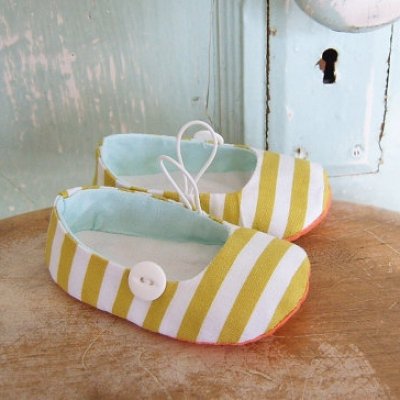 Making DIY baby shoes is probably the most fun that you can have with small pieces of fabric or leather. Not only will you be making something totally adorable, you will also be keeping teeny feet warm. Whether you have a baby yourself or you are making for a friend, the following DIY baby shoe patterns will give you plenty of options. Happy sewing!
These DIY baby shoes are the cutest! To make a pair, you will need printed fabric for the exterior, plain fabric for the lining, fusible fleece, Velcro, and small buttons. Make sure your lining matches or beautifully complements the outer fabric. Some cute buttons will be called for as well.
Source: thecottagemama.com
Not only do these look adorable, they are trendy as well. You will need to purchase the pattern for these cuties but I think it will be a good investment. Just think of the many TOMS-inspired shoes you can make for the little humans in your life.
Source: homemadetoast.com
Similar in style with the first pair of baby shoes but with a knot twist. I like the use of printed lining and plain exterior as well. These are so cute, I will not be surprised if you end up making a pair for every little lady you know in your life.
Source: shwinandshwin.com
Not all DIY baby shoes out there are for little girls. Some are perfect for the little dudes as well. This pair will require leather for the exterior and fleece for the lining. If you want to add laces, you will be needing eyelet grommets as well.
Source: deliacreates.com
If you want baby shoes with extra girly powers, these ruffled ones are what you need. You can match the ruffled section with the rest of the shoes or you can use pretty lace. Plain fabric that matches the outer parts of the shoes will look cute, too.
Source: fleetingthing.com
These would look quite snazzy in dark brown or even black. The great thing about these adorable baby shoes is that they have a unisex style. For the lining, you can use printed cotton fabric but fleece or something similarly soft can work, too.
Source: thediymommy.com
These are not strictly shoes but I had to include them. Why? Because they are goshdarn cute, that's why. Just look at them! These elastic tutu style "sandals" are perfect for a newborn photo shoot. I think they will look gorgeous in pale yellow and white.
Source: createandbabble.com
If you make these DIY baby shoes for your son, he will be the most stylish toddler in the playground. I like the use of black and gray for this pair. For a little lady, you can make a fun pair using shades of red or pink. You can even use printed fabric for the non-leather parts.
Source: shwinandshwin.com
I die of the cuteness! I happen to know a lovely little girl who would look extra adorable wearing one of these DIY baby shoes; I think I'll go ahead and sew several pairs of her. How about you? Which of these DIY baby shoes tickled your fancy? Which of these designs will you and your sewing machine be trying out?
{{#comments_count}} Show Commnents ({{comments_count}}) {{/comments_count}}