Is there anything cuter than DIY baby onesies? Probably a baby wearing a DIY printed onesie, sure. But since we can't exactly tell you how to print ON babies, we will give you fantastic ideas on how to print baby onesie designs. The styles below offer a varied range. You got some cute woodland themes and some in modern shapes and lines. They're great for little dudes and little misses. Let's check them out!
---
1

Bonjour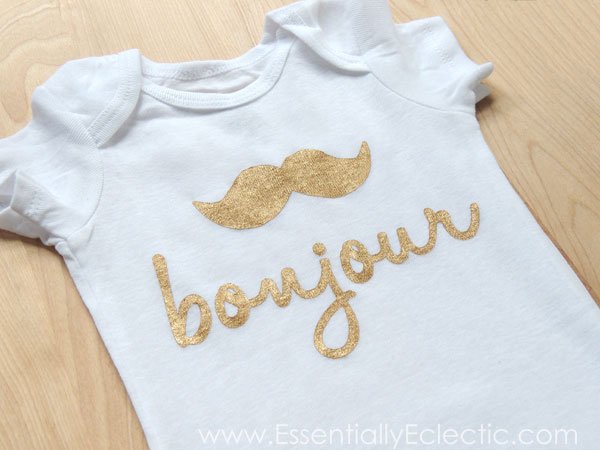 This is one cute DIY printed onesie. Won't this look fantastic for a little girl? I like the use of gold paint for this printed onesie. Gold would look fantastic if the fabric is navy blue or even black, I think. There is no template provided for the mustache and word but you can easily make one using any art software.
Source: essentiallyeclectic.com
2

Football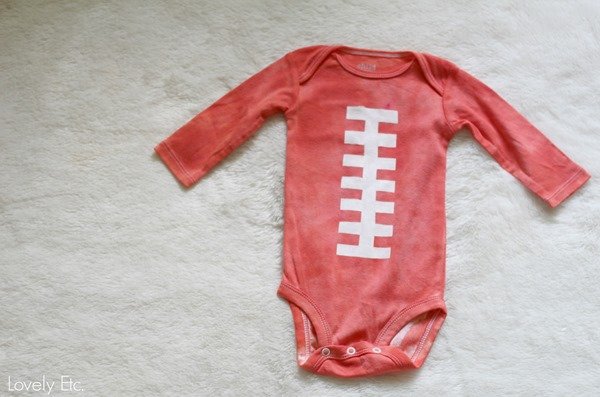 Thinking of raising a little boy who loves football? One way to make sure that he learns about the game early is to make this DIY printed onesie. These lines mimic the seam of a football. If you can't find orange onesies, drying some white ones might work.
Source: domesticsuperhero.com
---
3

Cute Critters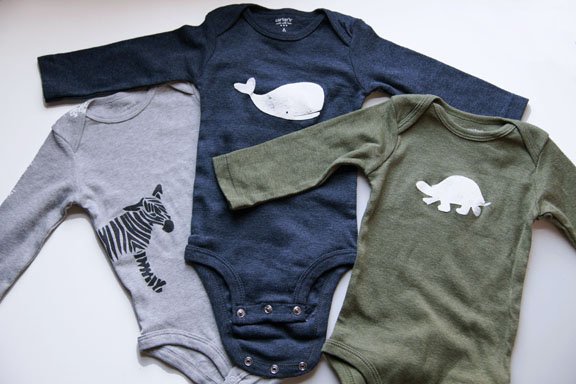 I love the zebra printed to the side of the gray baby onesie. These animal silhouettes were printed and cut using the nifty Silhouette SD. But if you are quite handy with an X-Acto knife, you don't have to rely on a machine to make your onesie stencil. Just remember to cut slowly and carefully.
Source: lavendersbluedesigns.com
---
4

Woodland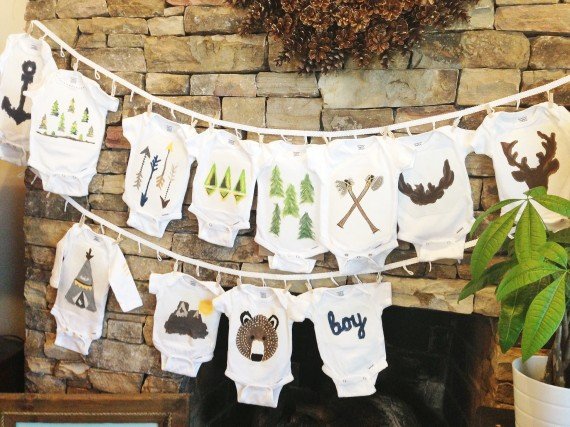 Look at this banner of DIY printed onesies! These designs were stenciled using freezer paper, just like the previous designs mentioned here. The shapes, however, weren't simply filled in with color, as you would with a silhouette design. The details were painted, too. Cute, right?
Source: goinghometoroost.com
---
5

Metallic Lines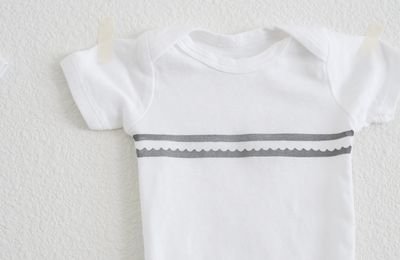 You might think that stenciling on onesies is only possible with the help of freezer paper but you'd be wrong. Look at this fun scallop linear design, for instance. Would you believe that it was painted using masking tape. Said tape was cut using scallop shears, attached to the onesie, and then used as stencil. Fun!
Source: shimandsons.typepad.com
---
6

Neon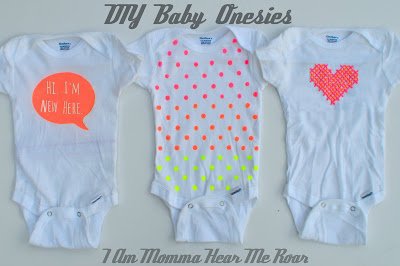 A great idea if you want every eye on your adorable baby. These neon onesies were printed using different methods. The talk balloon was printed using a freezer paper stencil. The polka dot one was achieved with the eraser tip of a pencil. The heart cross stitch style was made using fabric paint printed in X patterns.
Source: ilovetocreateblog.blogspot.com
---
7

Big Boy Working Man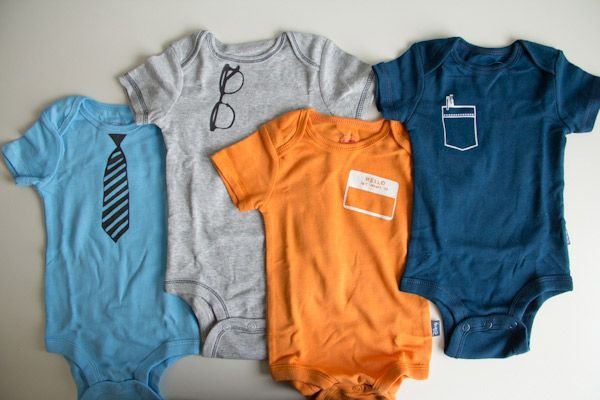 These prints were made using freezer paper stencil. I like the idea of infusing the adult world with onesie designs. The pocket idea alone can have many variations, including some working man accessories (e.g. phone or walkie-talkie) or fun baby things (e.g. baby bottle).
Source: lovelyindeed.com
---
8

Two-Tone Arrow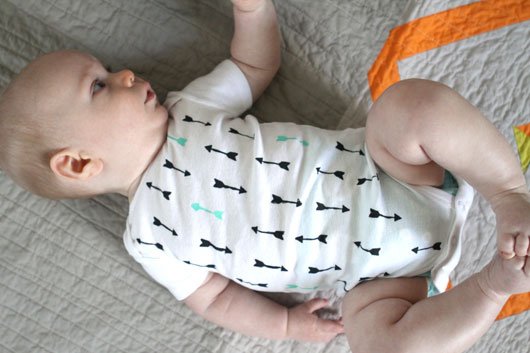 Oh, gosh, look at this cutie and his cute onesie! This arrow design was printed using thick card stock as stencil. This method will give you smudged prints here and there but it shouldn't matter that much. Of course, if you want a cleaner print, you can use freezer paper instead.
Source: fortheloveof.net
Most of these DIY baby onesies will require the use of freezer paper. You can get a roll or two from the supermarket. I got mine from Amazon. It's a wonderful craft supply to have for one-time and easy stenciling projects.
---
Comments
Popular
Related
Recent