DIY rainbow projects might sound like summer ideas to you but I say break the mold. I say add a touch of rainbow goodness to your wardrobe and/or home in order to ward the cold weather blues away. We have here 8 craft projects to help you do just that. Some are obviously kiddie but there are a few of these DIY rainbow projects that even an adult cannot resist. Enjoy!
---
1

Fascinator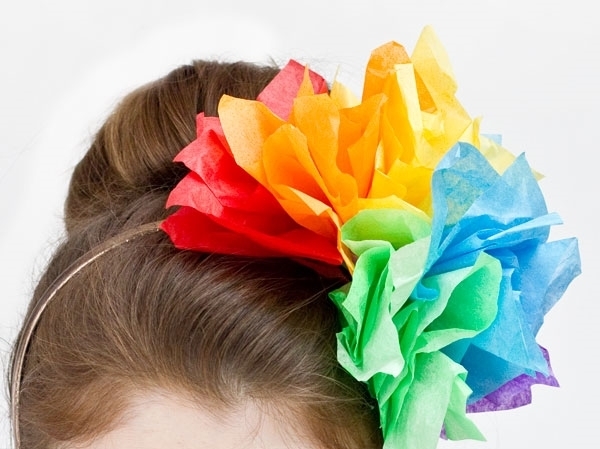 Not only is this a wonderful DIY rainbow project, it can also help you in your Halloween costume. Perhaps you're thinking of going as a unicorn or a Nyan cat? This fascinator is sure to complete your outfit.
Tutorial Source: studiodiy.com
---
2

Zipper Pouch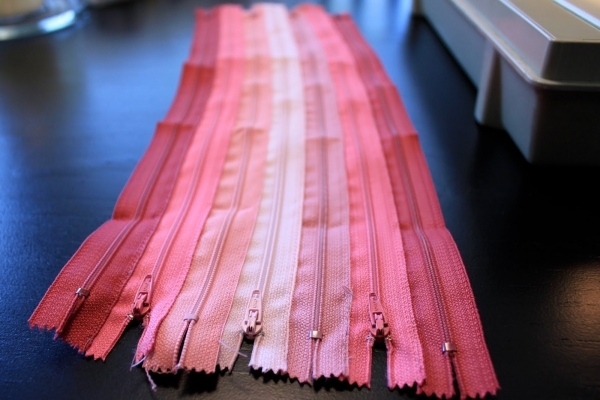 I love to make pouches and this rainbow zipper one is calling out my name. Really, how can you not fall in love with this darling of a pouch? You can make this using zippers in rainbow colors (or shades of your favorite color if a rainbow pouch is much too loud for you). The best part: this project does not require a lining.
Tutorial Source: scatteredthoughtsofacraftymom.com
---
3

Bunting Necklace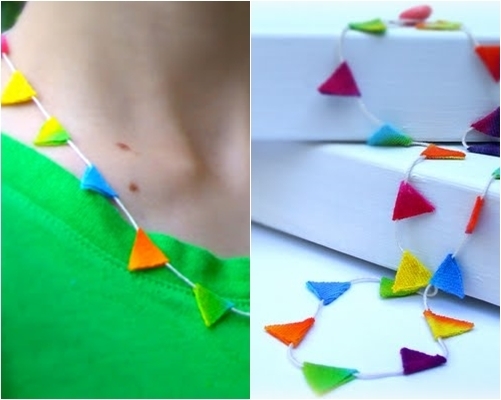 This fun craft project can be accomplished using small pieces of multi-colored felt or fabric. Other materials that you will need are string and glue. If you want a more durable piece of rainbow accessory, you can choose to make this geometric necklace using polymer clay.
Tutorial Source: quietlioncreations.blogspot.com
---
4

Bangle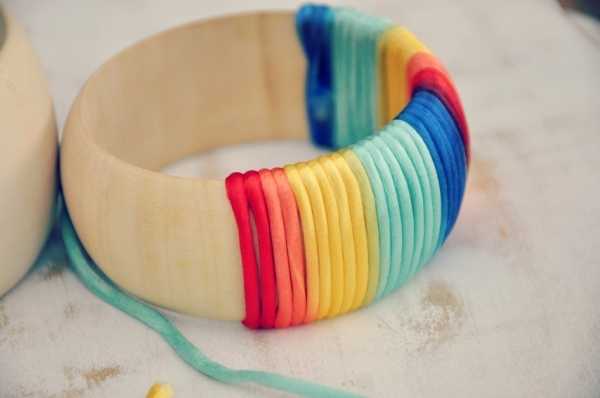 Wooden bangles are affordable and they are great for making personalized jewelry. To make this rainbow-themed arm candy, you will need embroidery thread or rattail trim and fabric glue. Wrap the thread around the bangle and keep in place using the glue. That's it, really.
Tutorial Source: loveumadly.com
---
5

Paint Chip Banner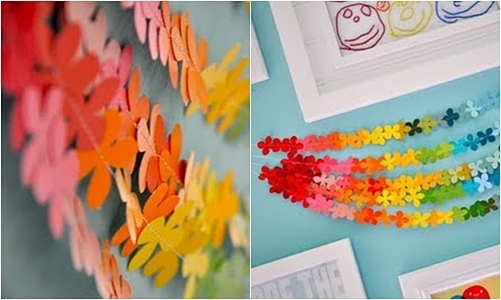 How cute and colorful is this banner? You can recreate it for your home using paint chips, a puncher, and a sewing machine. Punch the paint chips into floral shapes, sew them into a line, and hang. Easy! This multi-layer look is lovely but you can also do only one line. The latter is a great option if you're thinking of hanging the banner in a huge room.
Tutorial Source: littlebitfunky.com
---
6

Glitter Shoes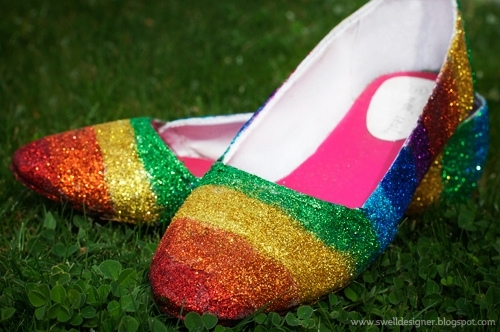 Here is another Halloween costume idea with a rainbow theme. To give a pair of shoes the rainbow treatment, you will need glitter in different colors, painter's tape, and glitter bond. The latter is a type of glue that is ideal for projects that involve glitter.
Tutorial Source: swelldesigner.blogspot.com
---
7

Wreath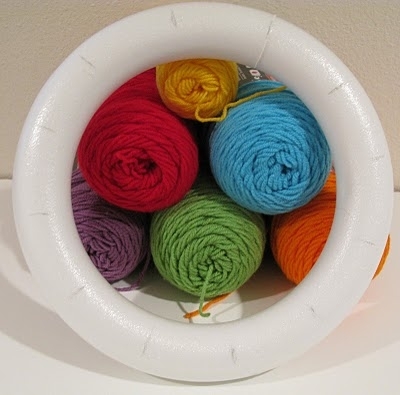 One of the simpler DIY rainbow projects we have here is for creating a wreath. The concept behind this project is similar to the bangle idea. Instead of embroidery thread or cord, you will be needing yarn (in rainbow colors, of course). You will also need foam wreath form and glue gun. Wrap the yarn around the foam form and dab hot glue to keep in place. Embellish with rosettes and hang.
Tutorial Source: 1pureheart.blogspot.com?
---
8

Pom Pom Peter Pan Necklace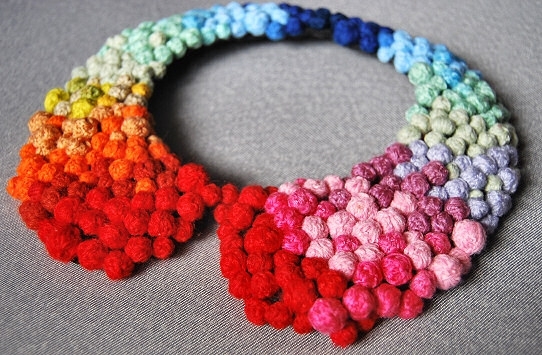 Talk about a statement necklace! The pom poms here were created using yarn. You crumple them into small balls and tie into a knot to secure. After you make a good amount of pom poms, sew them to the Peter Pan collar base. Wear your statement necklace and wow everyone you meet!
Tutorial Source: ragstocouture.com
Hope you loved this list of rainbow-themed DIYs! Will you be making something from these tutorials in the coming days or will you wait until the summer?
More
Comments
Popular
Recent