Looking to add more color to your home? If you don't want to go big, the following DIY rainbow projects are for you. These are not huge painting or building projects. They will not change your home in any permanent way but they will make your living spaces look extra cheerful. Hope you like them!
---
1

Sun Catcher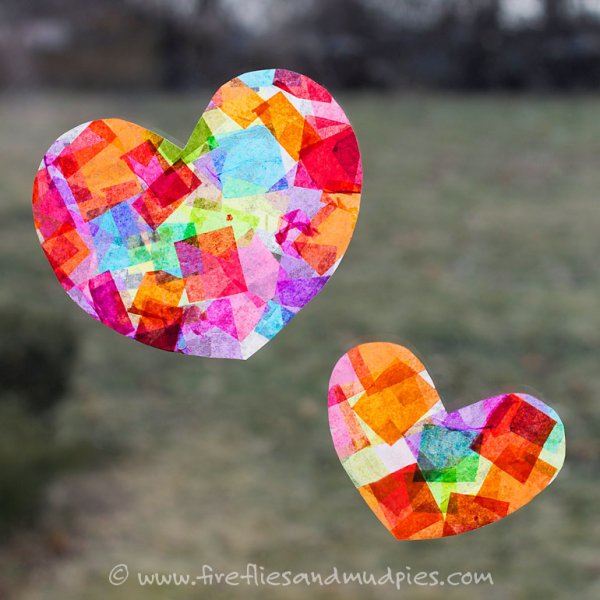 How beautiful! The great thing about this project is that it's a fantastic family activity. For this project, you will be needing tissue paper in all colors of the rainbow, Mod Podge or any decoupage medium, scissors, and clear sheet protectors. After your decoupage glue dries, you will be able to peel the tissue from the sheet protector. You can then adhere your rainbow tissue sun catcher to your window. Fun, right?
Source: firefliesandmudpies.com
---
2

Felt Rainbow Pillow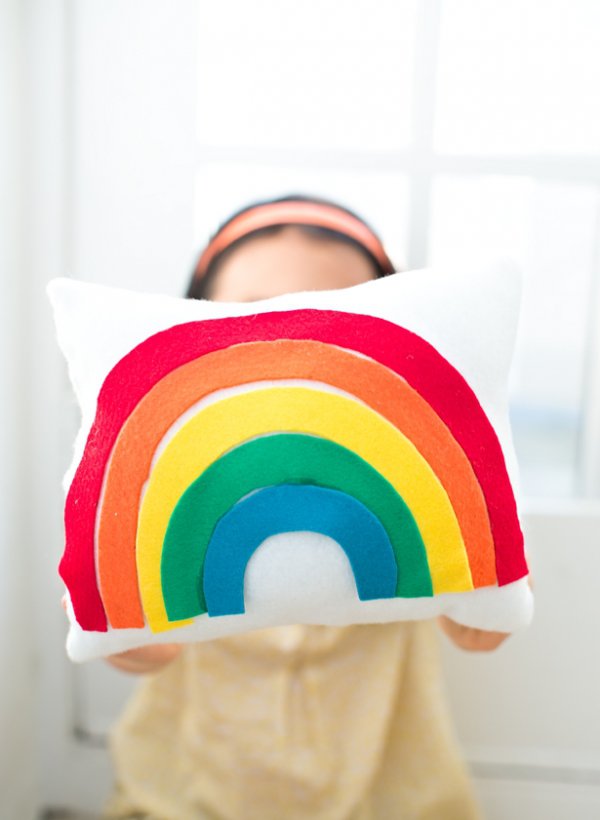 Here we have another rainbow DIY that kids will love. To make your own rainbow pillow, you will be needing felt in different colors. Use white for the pillow part. To attach the rainbow sections, you will need only glue.
Source: hellowonderful.co
3

No-sew Wall Hanging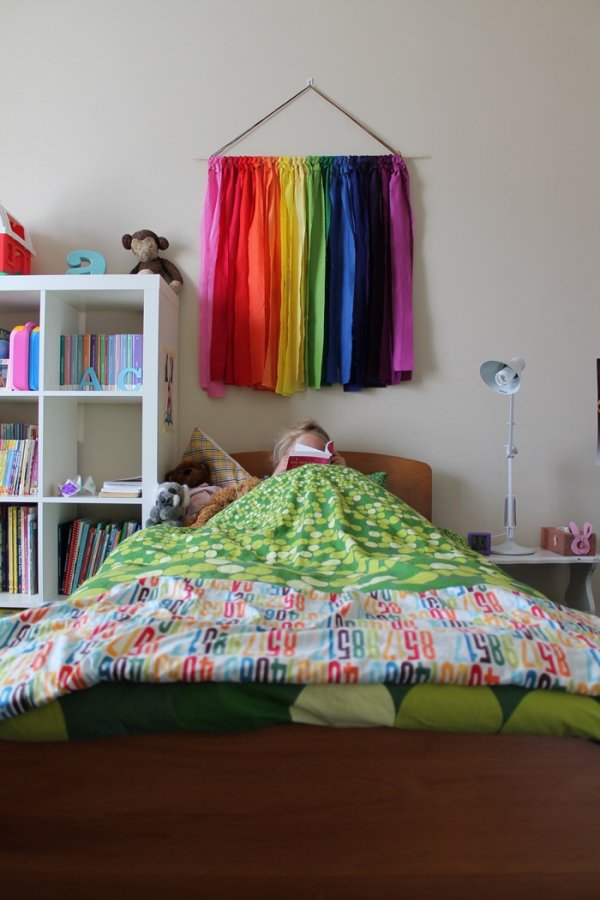 This is a wall hanging that your girl's bedroom needs, no doubt about it. This projects calls for only plain colored fabric in all shades of the rainbow, wooden rod, and leather cord for hanging. You cut the fabric into 2-3" strips and then knot them to the rod. Trim the bottom and then hang.
Source: imaginegnats.com
---
4

Cloud Raindrop Mobile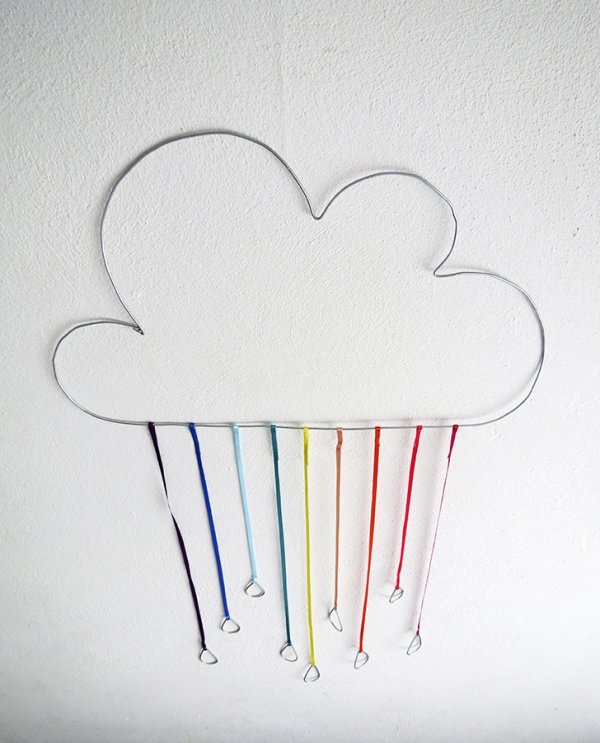 This is all sorts of pretty. I'm sure I will be trying this DIY rainbow tutorial soon. If you want to make something similar, you will need wire, ribbon, scissors, and pliers. The first step is to form your cloud. Then you shape wires to form raindrops. You will then attach the raindrops to the cloud bottom using different-colored ribbons.
Source: dreamalittlebigger.com
---
5

Rainbow Yard Dice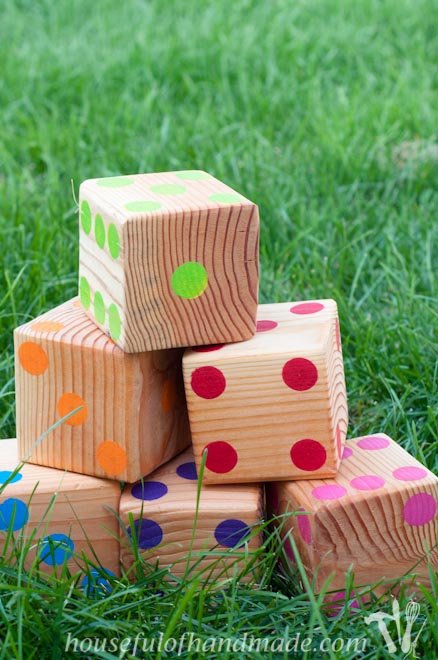 These are all sorts of awesome. The cubes used here measure 4x4. You can get them from the craft store or you can make your own. If you make your own, you can go bigger or smaller. A 4x4 size would be great, though, because you will end up with a rainbow dice perfect for yard games. They'd be great as home décor, too. To make the dots, you will need only round foam brush and paint.
Source: housefulofhandmade.com
---
6

Rainbow Pallet Garden Planter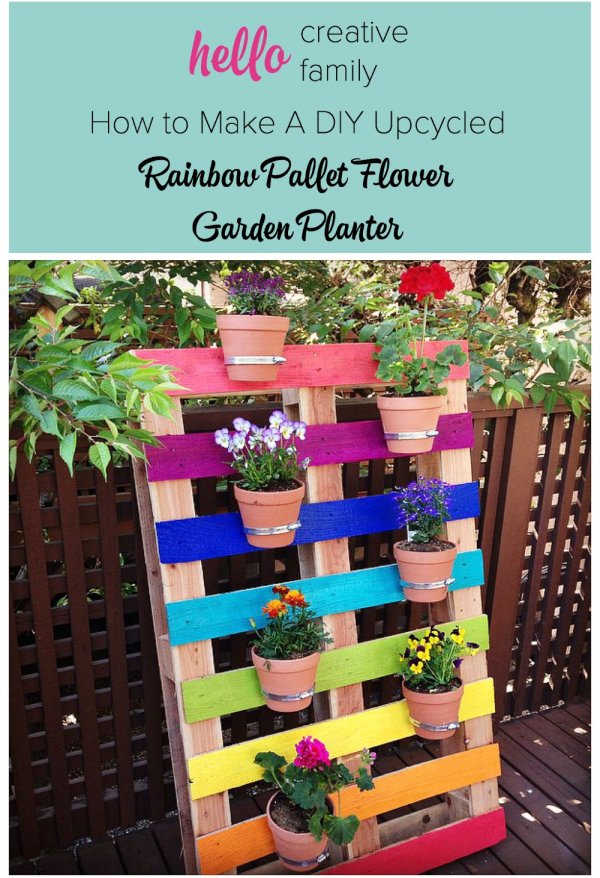 That is one pretty garden pot pallet project. Unlike most of the previous projects, this one will not need your kids' participation. Unless they want to handle the painting of the rainbow pallet section, of course. For the pot holder, you will need worm or hose clamps screwed to the wooden pallet. For an extra colorful vibe, you can paint your pots, too.
Source: hellocreativefamily.com
---
7

Pompom Rug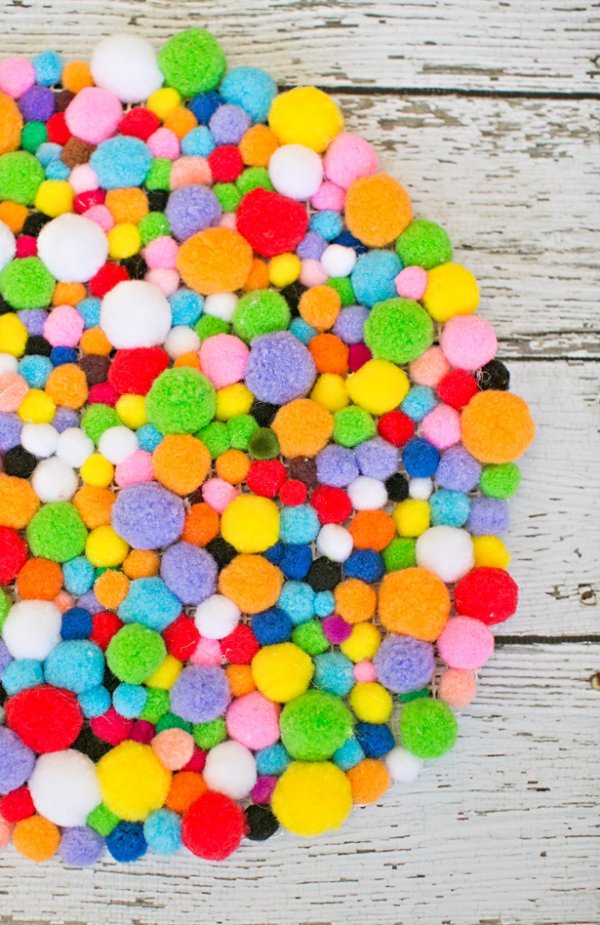 This fun and colorful DIY project is a simple gluing activity. You can buy the pompoms in different colors from any craft store. Of course, you can also make your own if you happen to have a yarn stash that can rival that of Hobby Lobby. As for the base, you will be needing a rug mat. You can get one online and you can cut it to any shape you like.
Source: hellowonderful.co
Whew! Those were some of the most colorful DIY projects we have listed here. I am loving the rain drop and sun catcher ideas. Those are going to my to-make list, for sure.
---
Comments
Popular
Related
Recent