This year is all about cute DIY projects for your dorm room. Not only will they help you to save some cash, which is always a good thing, but they give your room a unique look, and they are great for quickly updating your décor if you get bored easily like me. I've been searching out some of the best DIY dorm room projects, and here are the ones that I'd definitely recommend!
---
1

Bucket Organiser

I don't know about you, but my dorm bathroom is REALLY small. I mean, the shelf is just big enough to hold some shampoo and conditioner, so there's no way my make up collection is going to fit on there. The solution? A really cute hanging bucket organizer, like this. You'll need a strong coat hook, which you can grab from any DIY store, and some good quality rope. Then, collect up a few matching or co-ordinating buckets, and tie rope around the metal supports on the bucket. They're super cute, and very easy to clean, too!
2

Photo Frame Organiser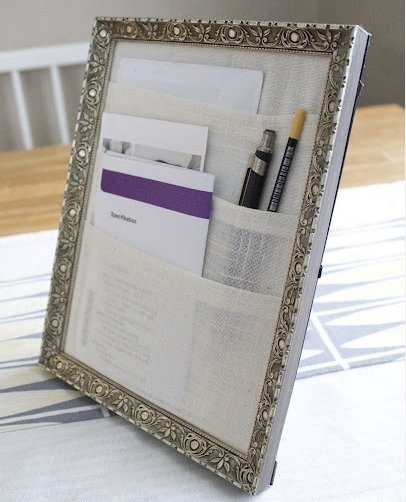 Are you short on desk space? This is a great way to get organized and stop yourself having to hunt for a pen every time you need to get stuff done, and it's really space-saving, too. First, grab a photo frame that you like. You'll also need a piece of cardboard in the same size, and some fabric. Create pockets to put pens and paper in by wrapping the fabric around the cardboard and using staples or hot glue to secure in place. It doesn't matter how many pieces of fabric that you wrap around the card, but remember that the more you wrap, the more pockets you'll have to use. Once it's dry, put the cardboard in the frame, and you've got a super cute and very unique desk organizer.
---
3

Wall Filing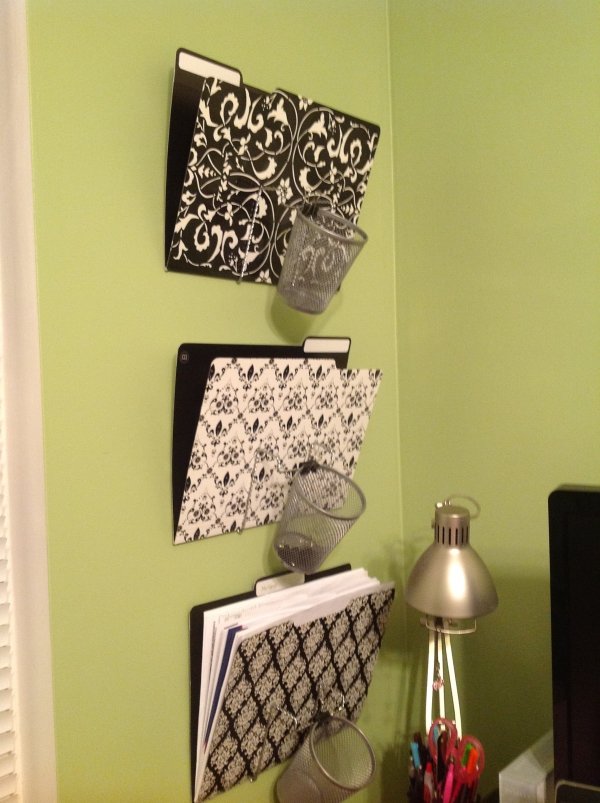 Need to be organized but have no room for a filing cabinet? No problem. Metal display easels like these are usually really cheap, so hunt some down, along with butterfly clips and cute office pencil cups. Try and keep everything co-ordinating with your wall! Next, turn the easels upside down, bend the V so that it's really narrow, and secure to the wall using nails or wall glue. Attach the pencil cups using the butterfly clips, and add in some pretty files or folders to fill with your paperwork. Cute, and oh-so-functional.
---
4

Whiteboard Frame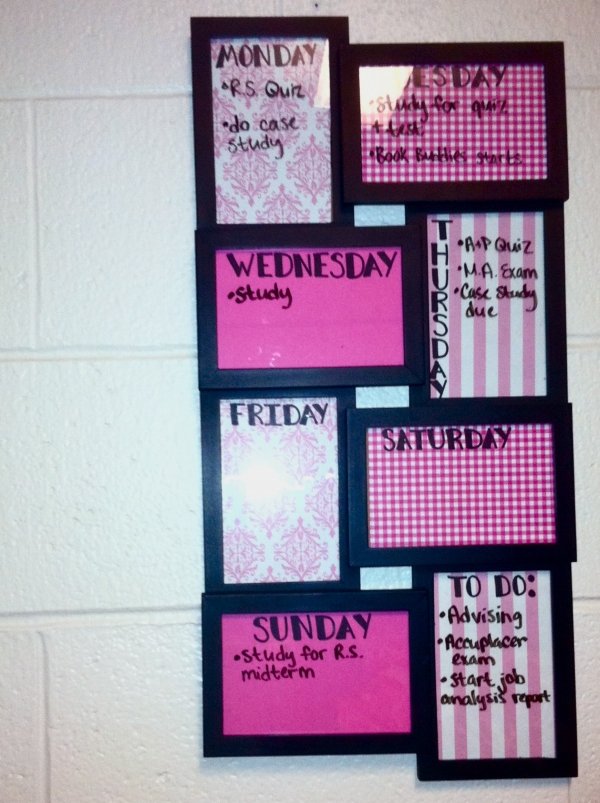 Make sure you don't miss any deadlines or dates with a super cute whiteboard like this one. You'll need a photo frame with at least 7 slots for photos – you can grab these in most homeware shops – some scrapbook paper, alphabet stickers, and a dry erase pen. Cut out scrapbook paper backing to fill each frame. Stick the alphabet stickers onto the scrapbook paper, so that each piece of paper has a day of the week written on it. Put the scrapbook paper into the frames, and use the pen to write on important dates. You can wash off with a cleaning wipe, make-up wipe, water… Win.
---
5

Cord Organizer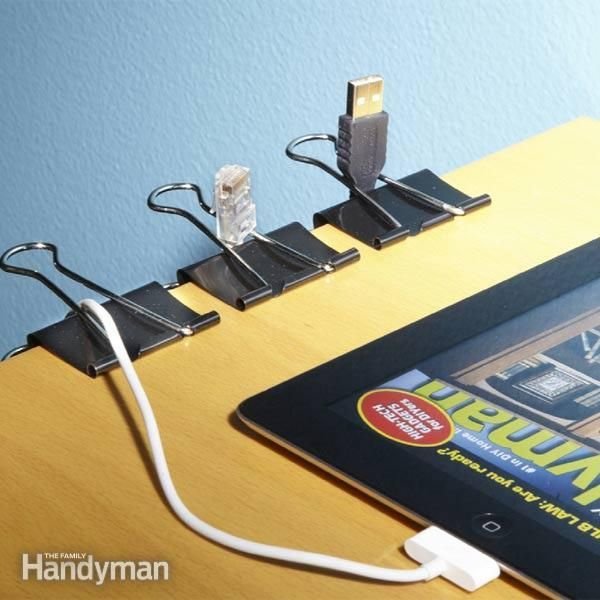 EVERYONE should do this. Seriously. There's nothing more frustrating than not being able to find your charger when you've got 3% of your battery left, and standing on your charging cables all the time isn't very good for them. So, get down to a hardware store, and invest in some file clips. You might need a few different sizes, to hold different cables. Clip them to your desk, leaving the wings sticking out, and push the charging cable up through the wing. You'll always know where your chargers are, and they'll be neat and tidy, too.
---
6

Storage Seats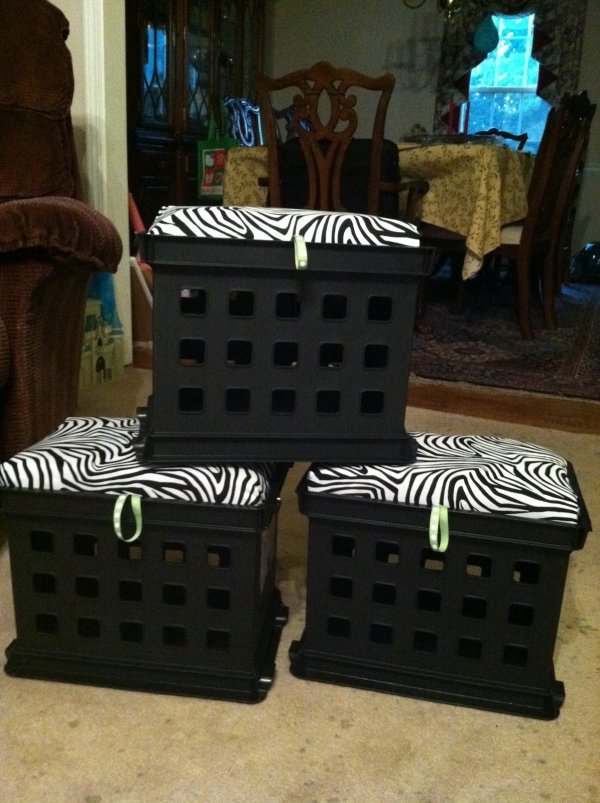 Need extra seats, or more storage? Get both at the same time. Walmart sell cute square crates, but you can grab them from anywhere. Next, grab some plywood, some cute fabrics and a twin mattress pad. Cut your plywood so that it's the same size as your crate, and then cut your mattress pad to the same size. Place your fabric over the foam and wood, and make sure you have enough to cover the top and sides. Put the foam on top of the wood, and glue the fabric into place, just like if you were wrapping a present. You can seal with staples, if you need too! Finally, turn it the right way round, and use it as the lid of the crate – and a padded seat. A really cute DIY – I've made eight of these for friends and family now!
---
7

Super Cute Drawers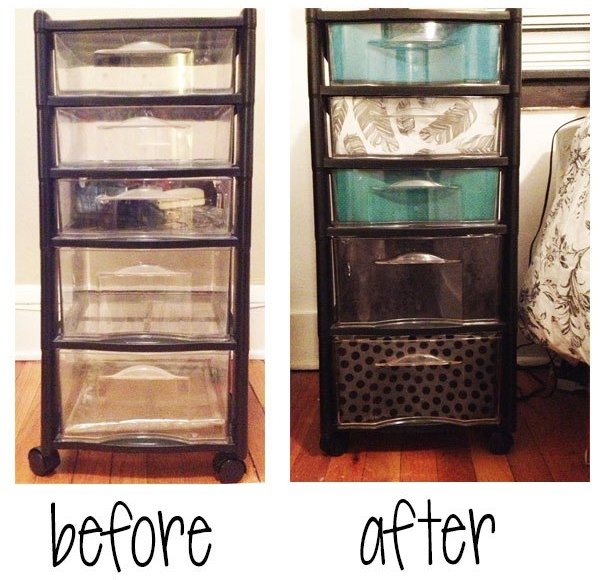 Everyone wants some really cute drawers for their dorm, but there's a big cost difference between those plastic units and the much nicer wooden or patterned designs. The answer? Grab some cheap plastic drawers in the right size, and pretty them up yourself. First, cut off those wheels. Wheels aren't cute, and the drawers will look much less Office Depot once they've gone. Next, get some paper or fabric with cute patterns on. You can get the same pattern, or try different ones. Measure your drawers, and cut out enough paper and fabric to line each drawer, including the front. Secure into place, and repeat for the next drawer, until you've done them all. Amazing.
---
8

Cute Corkboard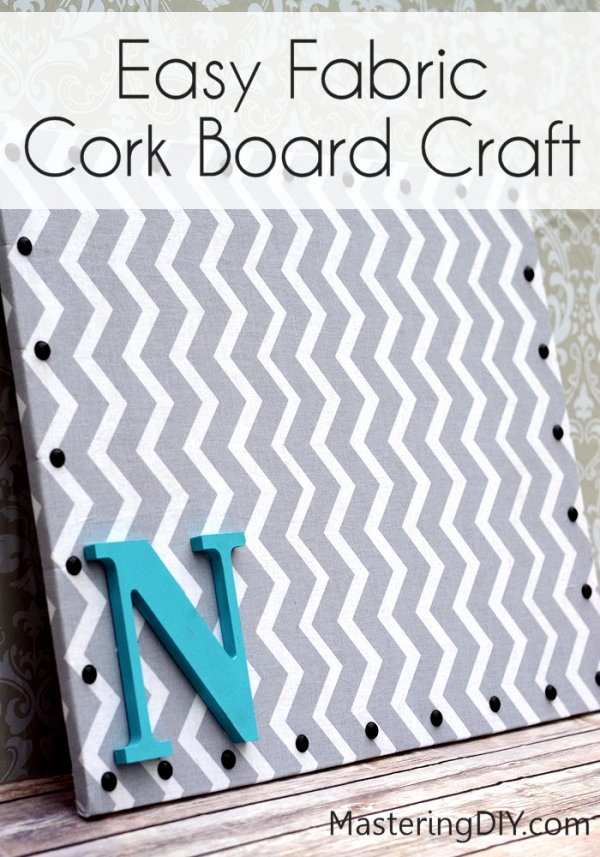 Having a pinboard is really important for keeping tickets and keepsakes secure, and it's great for putting up photos of your friends and family, too. Cheap corkboards aren't that cute, though, so here's how to make yours look amazing. Grab an unframed corkboard, and some cute fabric. You'll also want some upholstery pins, spray glue and something to decorate with – I love the wooden letter here! Cut your fabric so that it covers the corkboard, and goes over the sides. Spray the glue onto the board, and stick the fabric on top, being careful to avoid wrinkles. Make sure it's tight! Next, start adding upholstery pins in a border style around the age. Not only will this hold your fabric in place even more, but it'll look really cute, too. Next, glue your embellishment into place. Some spray glue or staples will probably be fine for this. Hang up on the wall, and get decorated!
I totally love these cute DIY dorm projects. They are a great way to make the room feel more homely, get more stuff in, and keep yourself organized, which is vital to getting the most out of it! You'll be able to start plenty of conversations with your gorgeous room, too. Have you made any amazing dorm crafts? Show me, I'd love to see them!
---
Comments
Popular
Related
Recent