DIY Candlestick Holders are fun home decor projects. The craft projects below give you ideas on how to make DIY candlesticks from scratch or how to revamp an old one. Whether you want to give a flea market candlestick holder a makeover or you want to createa new one, there is a tutorial here that will surely help you out. Have fun reading our list of** DIY candlestick holders**!
---
1

Spray Paint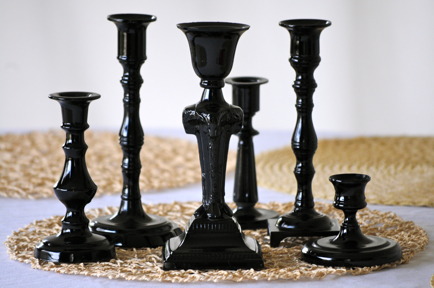 One way to give old candlestick holders a makeover is to spray them with a new paint color. This is as simple as spraying the items with primer, letting them dry, and then spraying them again with the color that you like. The black ones above used to be brass items.
---
2

Birch Logs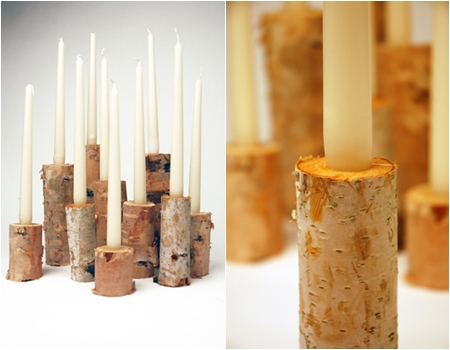 These are the perfect blend of classy and rustic. To make these, you will be needing birch logs, drill, candles, and saw. You simply saw the logs, drill a hold in the center, add felt pads to the bottom of the logs, and add the candles. Easy!
3

Wood Block
Here we have another DIY candlestick holder that is constructed from wood. Instead of logs, though, you will be using a block of wood. This is fantastic for those who are into clean lines and modern home decor. The materials you need for this craft project include drill, wood stain, and paint.
---
4

Trinkets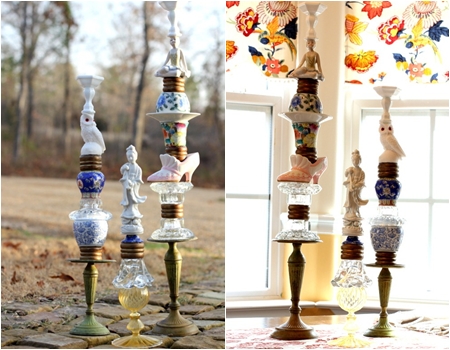 This beautifully whimsical** DIY candlestick holder** is Anthropologie-inspired. And if you assume that the original piece was ridiculously pricey, you would be right. The Anthro candlestick holders cost $398 each while the ones Abbie made cost only $15 in total. Yay for DIY!
---
5

Lampshade Base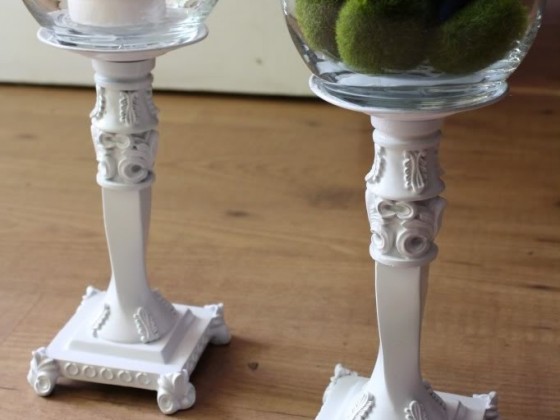 The next time you see a lampshape with an interesting base at the flea market, you will want to consider taking it home. Why? Because you can use said base to make a** DIY candlestick holder**. For this project, spray paint is your best friend.
---
6

Copper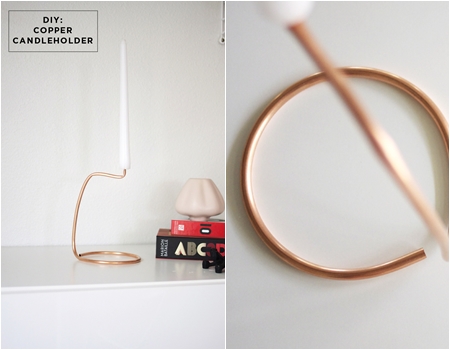 Here is another idea for those who like minimalist home decor. To make this, you will need copper coil, pliers, and candle. You simply shape the copper coil into something spiral-like, skewer your candle to the top end, and you're done.
---
7

Table Legs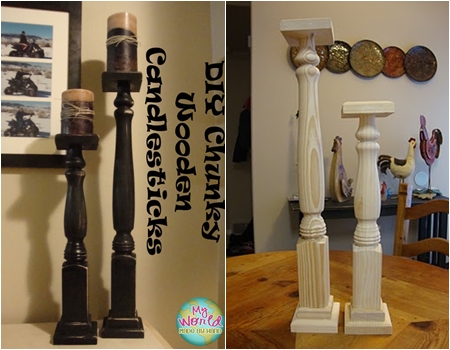 If you're looking for a way to make bulky candlestick holders, the types that stand on the floor, this DIY idea is for you. The materials you will need include wooden rosettes, table legs, wood glue, steel nails, hammer, and spray paint. Check out the link below for the tutorial.
---
8

Staircase Spindles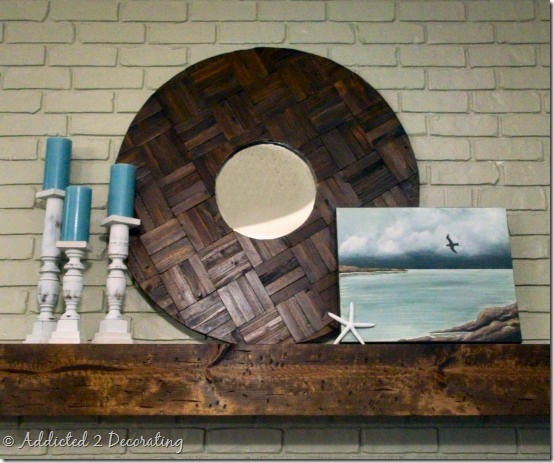 The process for making these DIY candlestick holders is similar to the previous tutorial but instead of using table legs, you will be crafting with staircase spindles. These candle holders are much smaller compared to the table leg ones, of course.
---
9

Tuna Can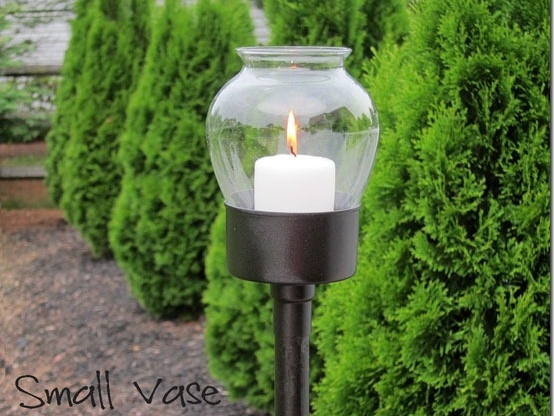 This candle holder looks store-bought, doesn't it? In reality, it is made of tuna can, copper adapter, paint stick, and other thrifted items. Instead of a votive candle, you can also use a candle stick for this particular holder.
---
10

Beer Bottles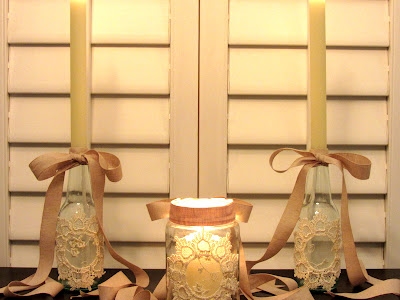 Wash beer bottle, glue pretty lace doilies to the front, add ribbons and strings for decoration, and display your candle stick. An easy way to make a pretty** DIY candlestick holder**, yes?
Aren't these DIY candlestick holders lovely? The fact that they are cheap to make or revamp is fantastic, too. Have fun following these** DIY candlestick holder** tutorials!
More
---
Popular
Recent