A quick trip to the garden store will give you plenty of hanging planter options. But what if you want something unique? What if you want your hanging plants to be housed in a container that is not only beautiful but also quite singular? The only solution is to make your own. For inspiration, we have gathered here fun DIY hanging planters. Hope you like them!
---
1

Use a Bowl and an Embroidery Hoop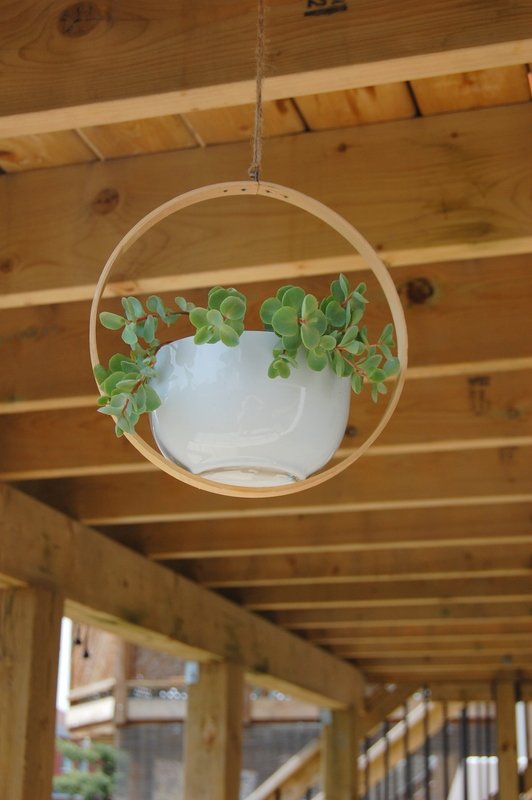 Doesn't this unique DIY hanging planter look modern and chic? Not only does it have a stylish look, it is also very easy to assemble. Basically, you will glue the bowl to the embroidery hoop using industrial glue. We recommend E600. Let dry overnight. Place your plant inside the bowl and hang.
Source: northstory.ca
---
2

Form a Basket Using Metal Tubing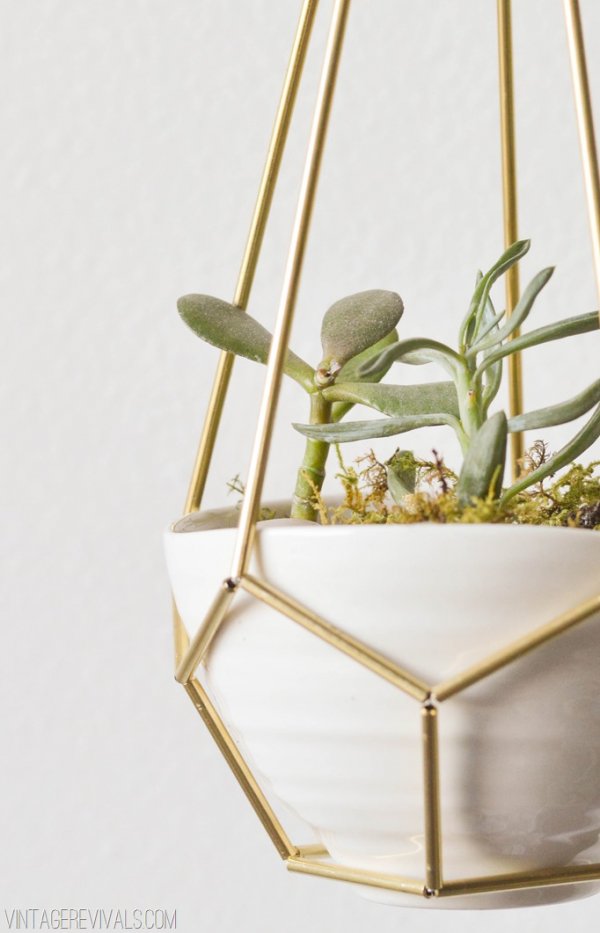 Isn't this pretty? The gold metal tubing looks gorgeous against the white bowl. The crafty part here involves "weaving" the metal tubing into a macrame style hanging basket. This is made possible by cutting the metal tubing into 1.5 and 9.5-inch pieces and threading them using thick floral wire.
Source: vintagerevivals.com
---
3

Knot a Leather Cord Basket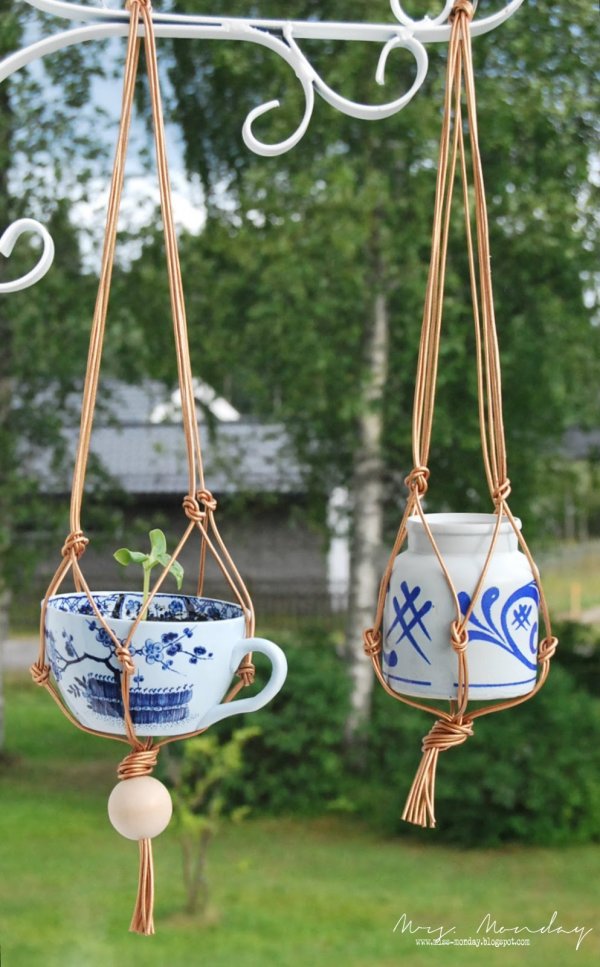 A good macrame basket is perfect for hanging plants. You can make yours using leather cord in a color that you like. Make sure that you choose thick cord because your pots of plants might be heavy. Check out the tutorial after the link to know where to knot the cord to make a beautiful hanging basket of some sort.
Source: sakssteinpapir.blogspot.no
---
4

Hang STYROFOAM Cones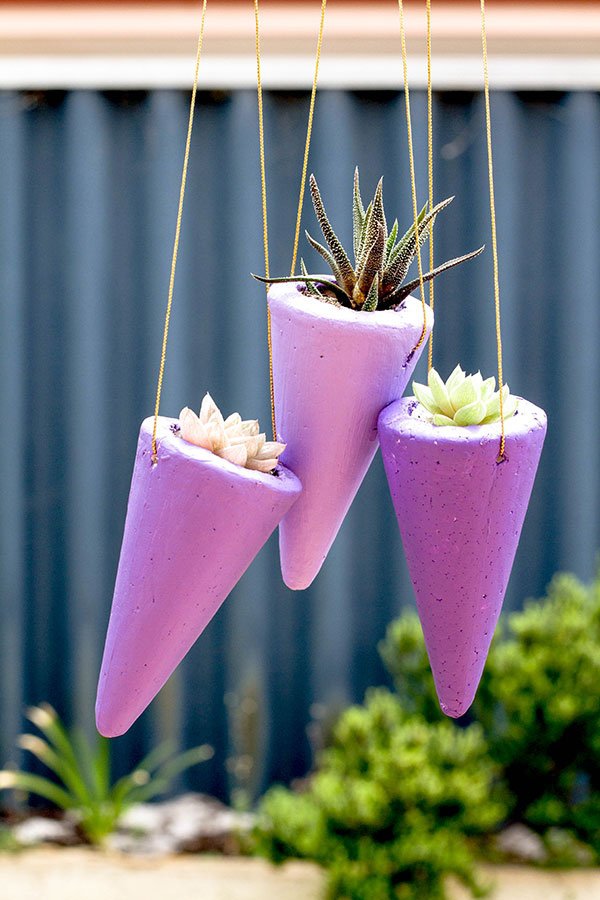 How cute! These are not considerable in size so they'd be great for small hanging plants. You make them by carving out the middle of Styrofoam cones and painting them in any color you prefer. Let dry, then make holes near the base for hanging. Another way to go about this cone idea is to make your planter using polymer clay.
Source: erynwithay.typepad.com
---
5

Recycle Plastic Bottles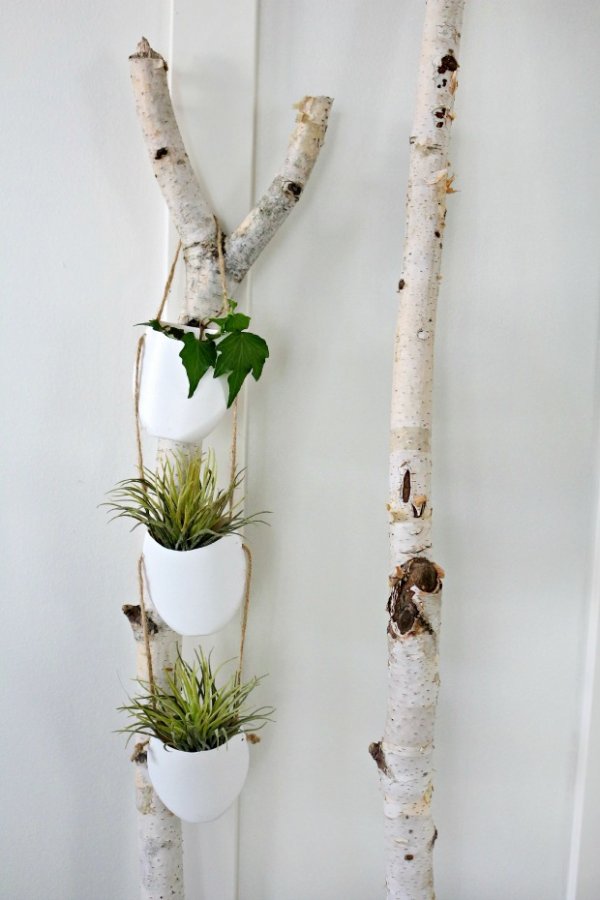 You probably discard a good number of plastic bottles every month. Save some and turn them into uniquely beautiful hanging planters. You will use only the bottom half of said plastic bottles. Poke two holes for tying a cord or rope, spray paint in white (or any color), and hang.
Source: ehow.com
---
6

Upcycle Mirrors and Embroidery Hoops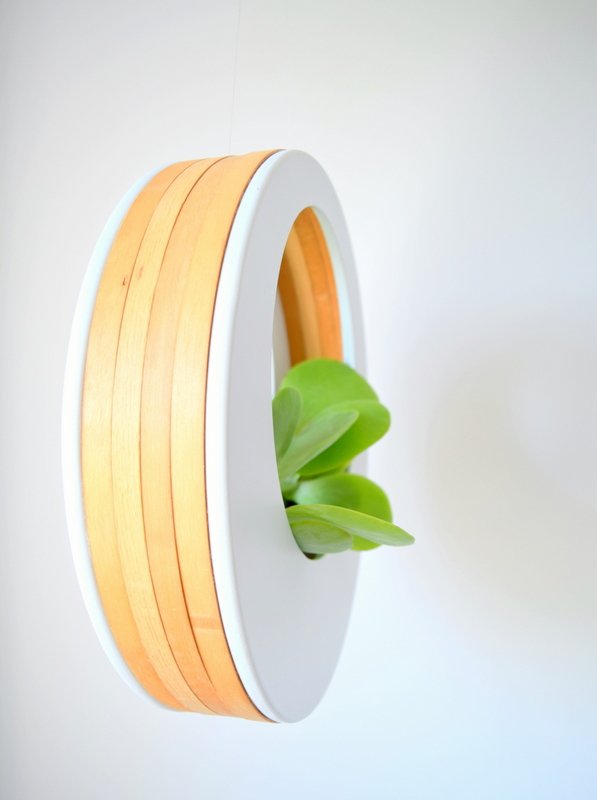 Just like the first DIY hanging planter we featured here, this project calls for the use of embroidery hoops. They will be glued together using industrial glue. The outermost sections will then be outfitted with the frames of round mirrors. Talk about beautiful and unique!
Source: northstory.ca
7

Give a Cheap Planter a Makeover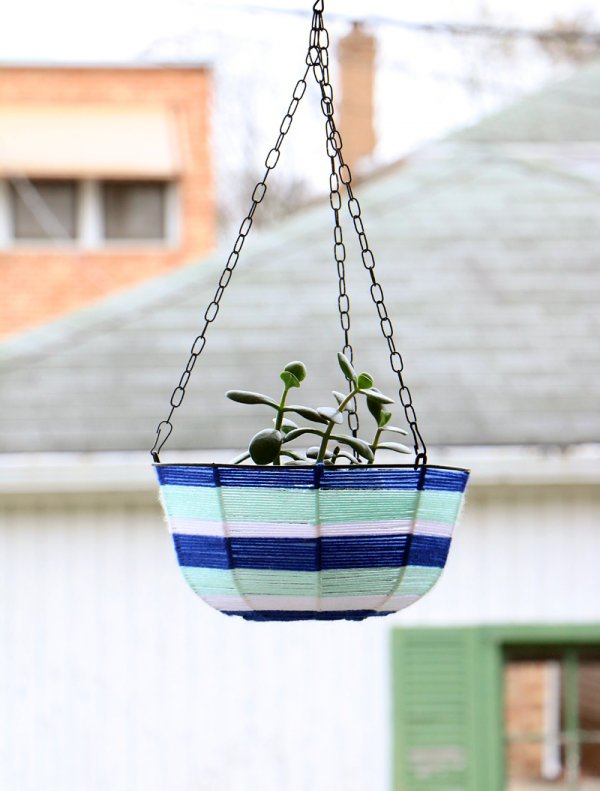 The base for this upcycled planter is something that you can buy from the garden store. They are quite cheap, but they don't exactly look nice and unique. What you can do is give them a makeover using lovely yarn. Other materials to consider are rope and leather.
Source: blitsy.com
---
8

Use a Wood Slice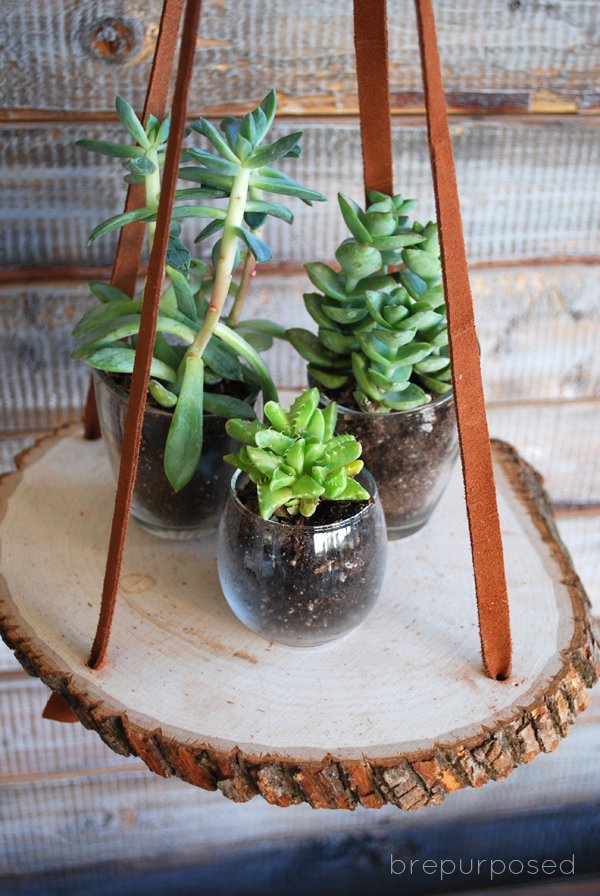 A wood slice, if balanced correctly, can be a great pedestal for several pots of plants. You can make something similar with the help of a power drill, several strips of thick leather, and of course, a thick wood slice. If you can't find leather strips, thick rope would do.
Source: brepurposed.com
---
9

Gather Some Kitchen Utensils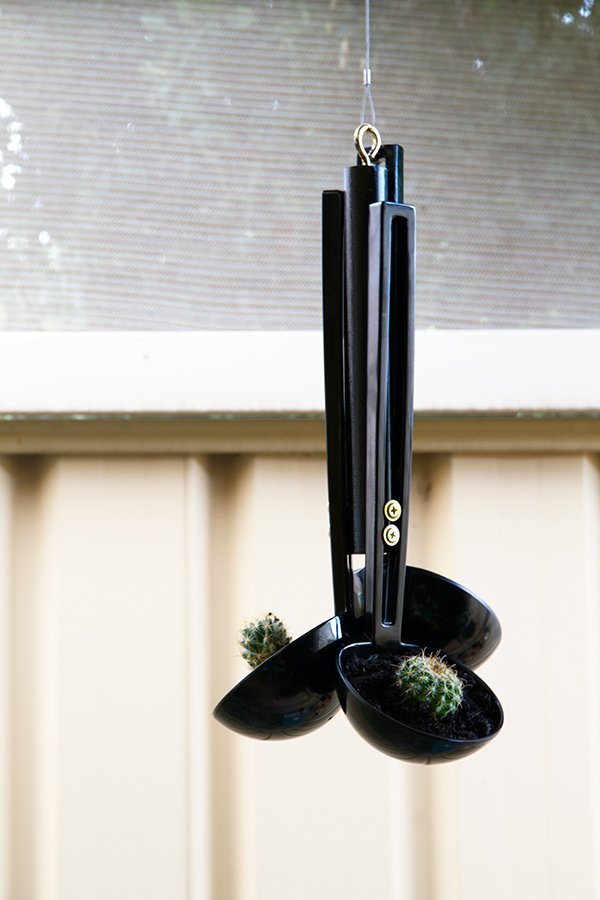 Won't this be great for the area outside your kitchen? You can make your own by screwing three ladles to a wooden dowel. Make sure that one end of the wooden dowel has an eyelet screw for hanging. The bowl part of the ladle is for planting succulents and other small plants.
Source: erynwithay.typepad.com
Aren't these DIY hanging planters beautiful? They cover a wide range of interior styles, too, from modern to somewhat shabby chic. Which one is your favorite?
---
Comments
Popular
Related
Recent