Vintage doilies bring to mind the musty and somewhat oppressive atmosphere of your grandparents' attics. You may wrinkle your nose at how old-fashioned they look, but they make for wonderful craft materials. In fact, there are many things you can do with old vintage doilies. Here are seven to start:
---
1

Turn Doilies into a Pendant Lamp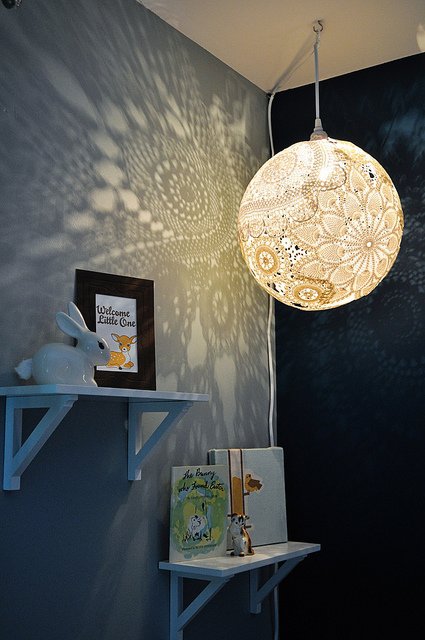 This DIY doily lamp is so pretty, it hurts to look at it. On top of the obvious beauty, this pretty doily pendant lamp is also very easy to make. It's only a simple matter of wrapping a balloon with vintage doilies, dousing them with watered down white glue, and letting them dry. After that, the balloon was popped and a light kit was inserted on top.
Source: emmmylizzzy.blogspot.com
---
2

Make a Doily Bowl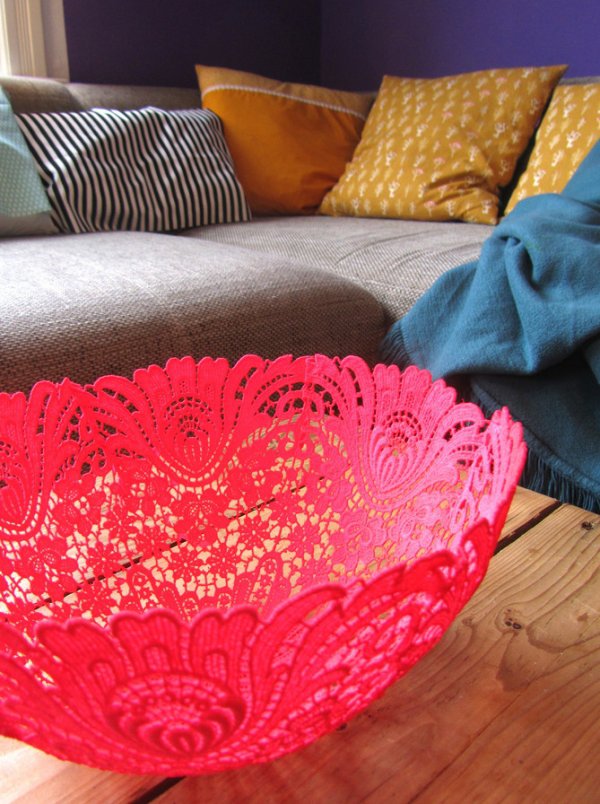 There is something about a vintage doily that immediately screams gorgeous, no matter what you end up making with it. This bowl was formed by utilizing the same balloon popping method. If you can't find a balloon, you can also use a bowl as a mold.
Source: lybstes.de
---
3

Give a Tank Top a Doily Makeover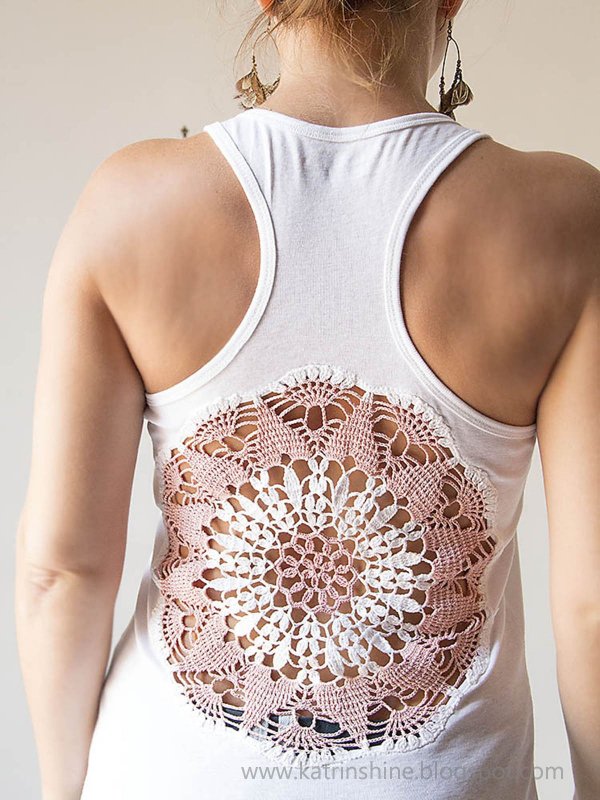 Got an old tank top that could use a new lease on life? Give it a lovely doily treatment. This is an easy sewing project that will likely take you only half an hour. Apart from the back of a tank top, this idea could also work for cardigans. If you have tiny doilies, you can use them to adorn the sleeves of a favorite blouse.
Source: katrinshine.blogspot.it
---
4

Make Lovely Doily Luminaries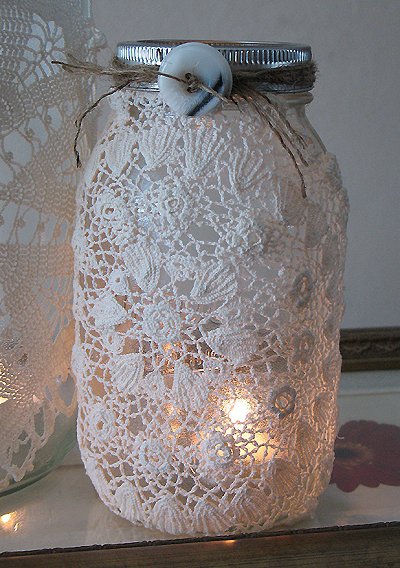 This is perhaps ones of the most popular ways to craft using vintage doilies. To make these dainty luminaries for your home, you simply need to wrap the doily around a glass jar using spray adhesive. Let dry, adorn the lid with ribbons or buttons, and you're done. Place battery-powered tealight candle inside the jar once the sun sets.
Source: craftsbyamanda.com
---
5

Create a Gorgeous Doily Necklace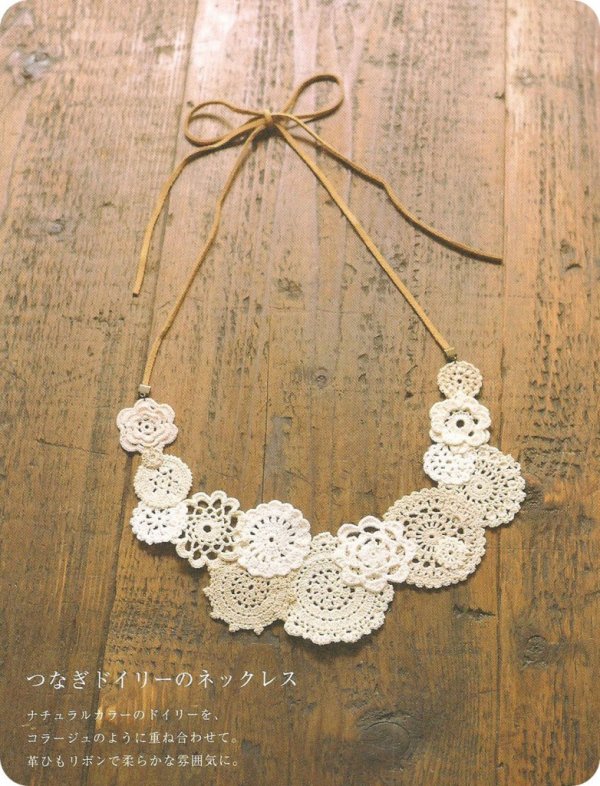 This particular craft project will require small doilies. The instructions for this jewelry tutorial are not in English but there are illustrations that you can understand quite clearly. It looks like a bit of watered down white glue was used to keep the doilies together. The glue also made the doilies stiff enough so that they'd look like a bib necklace.
Source: bookofdeer.com
---
6

Stretch a Doily for Jewelry Display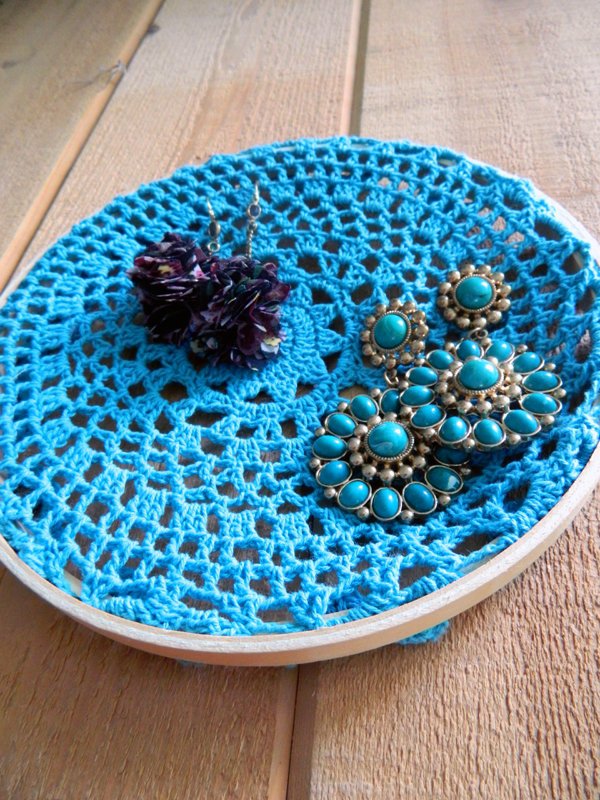 This vintage doily project doesn't require advanced craft skills. In fact, it's simply a matter of tucking a round doily into an embroidery hoop and using the holes to display earrings. If you want to take it a step farther, you can attach a ribbon to the screw of the hoop and use this ribbon to hang your pretty jewelry organizer.
Source: homeheartcraft.com
7

Catch Dreams with a Vintage Doily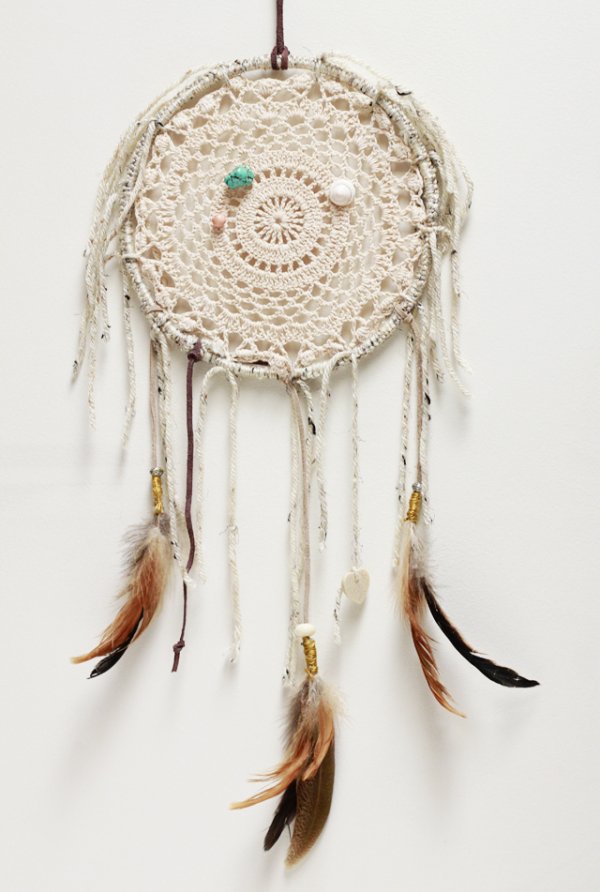 Here is another popular vintage doily DIY idea. For the frame, you can use an embroidery hoop covered with twine or lace. You can also fashion your own using thin twigs. You simply place the doily in the center and tie to the frame with more yarn or ribbons. Don't forget the dangling strings for the beads and feathers.
Source: mycalicoskies.blogspot.com
Next time you find yourself at your grandma's house or at the flea market, grab some vintage doilies to DIY with. You can also get new ones at the craft or sewing supply store.
---
Comments
Popular
Related
Recent