If you love all things miniature, you will enjoy the following DIY projects. We have here a great number of tutorials for making your very own miniature books and notebooks. When we say miniature, we are talking about projects that are about one square inch (or smaller!) in size. The following DIY miniature books and notebooks are not simply for dollhouses. Some can be made into wonderfully whimsical accessories, too.
---
1

Make a Leather-Bound Necklace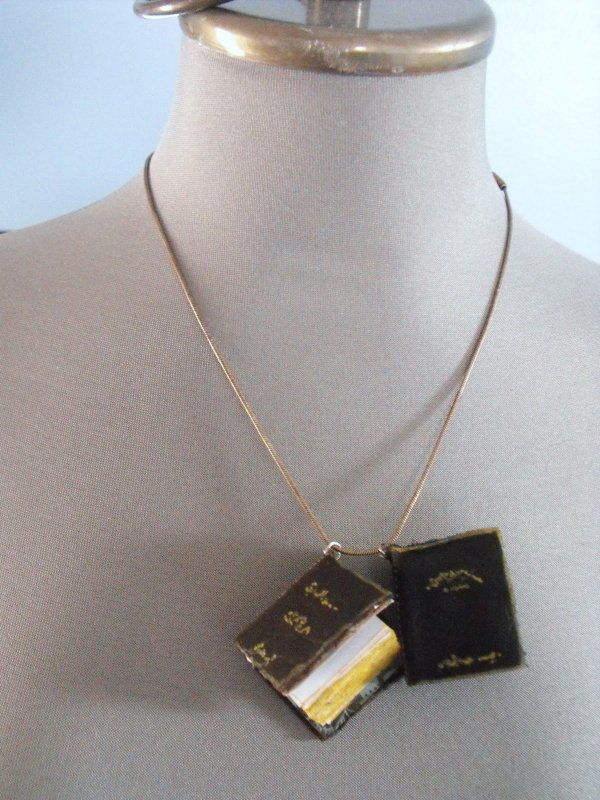 How beautiful are these DIY miniature books? The cover, as you can see, is made of leather scraps. The fun part is the weathered detailing, as shown by the edges of the cover and the title. You can achieve this using only gold permanent marker. Simply dab around the edges of the cover or draw some squiggly lines along the center. Smudge them for a vintage effect.
Source: rubymurraysmusings.blogspot.com
---
2

Use Pretty Paper Cover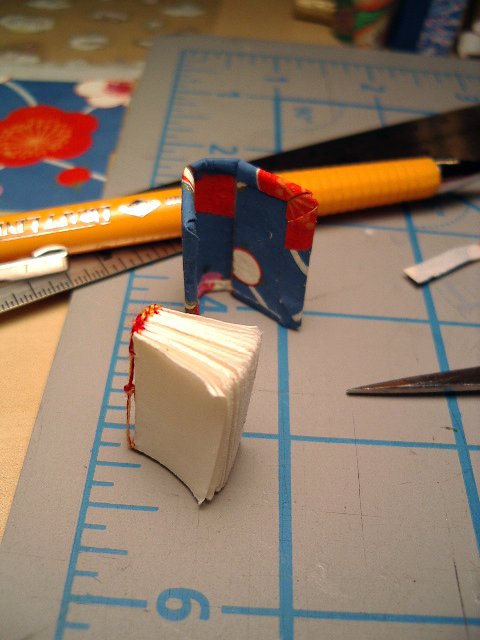 This is a cute miniature book that you can make with some pretty scrapbook paper. As you can see, the pages of this miniature book are sewn together. The tutorial linked below will give you great instructions on how to sew the pages. You can even choose to write inside these pages for a fun surprise message.
Source: flickr.com
---
3

Create a Cute Spiral Notebook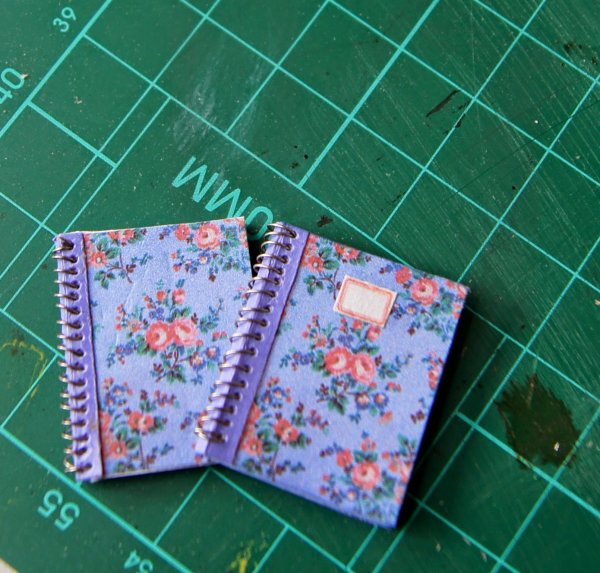 Did you know that you can make a miniature spiral notebook using only paper, wire, a punch, and a hammer? The first step to making these cute notebooks is to make the holes through one long edge of your stacked papers. Use the punch and hammer. After making the holes, thread thin wire to make the spiral style spine.
Source: nonomininostalgie.blogspot.com.es
---
4

Make a Mini Book Keychain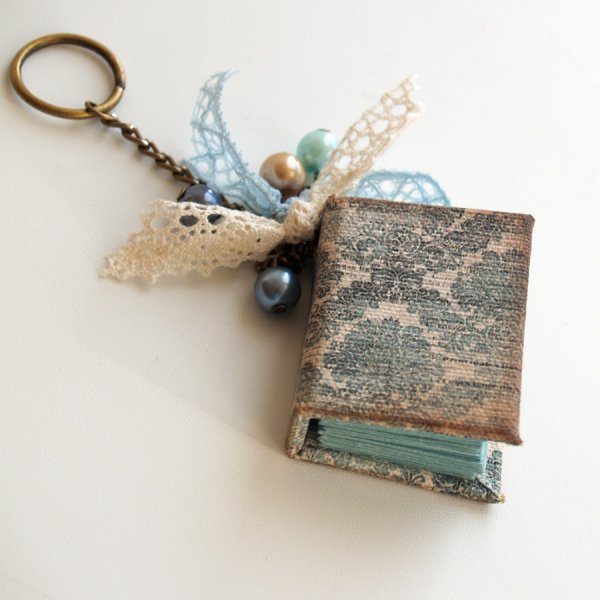 How pretty! Using paper with pretty patterns for your miniature book is always a good idea. You can make use of scrapbook paper scraps or print your own using images from the internet. Since this is a keychain, you will want to add other design elements as well. You can add beads, ribbons, lace, and pretty charms.
Source: scrapshopchallenge.blogspot.ca
---
5

Fold Some Origami Mini Books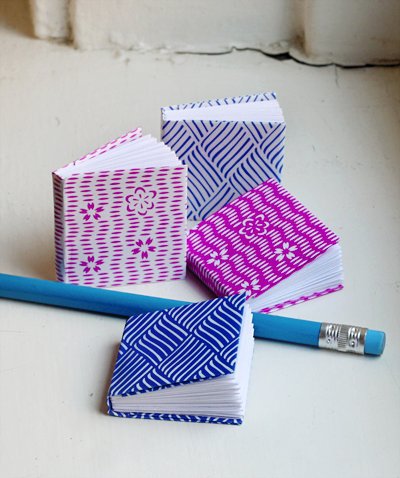 These are gorgeous! Not only will these make you fun dollhouse accessories, this tutorial is also a wonderful origami project. The pages for these mini books are in an accordion style. The cover is pretty paper with patterns. You can use scrapbook paper for the cover but for a more genuine look, we suggest looking into patterned origami paper. They come in sets with different prints.
Source: paperkawaii.com
---
6

Use Fabric Covers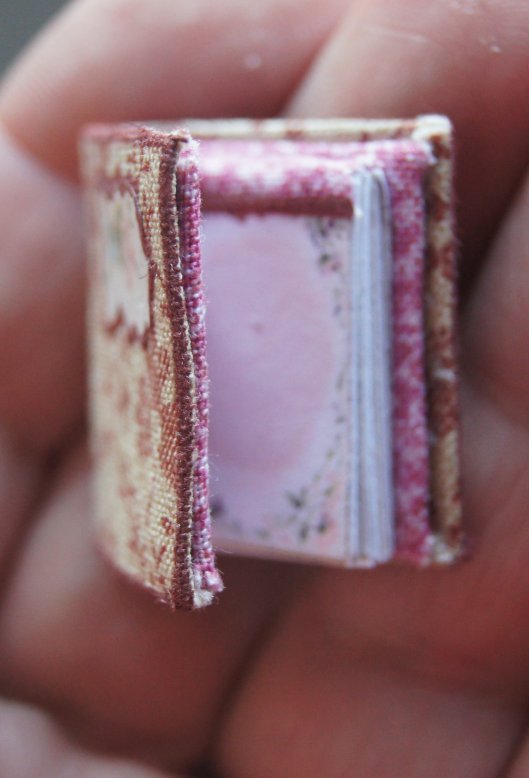 Apart from beautiful paper and leather scraps, fabric is also a great option for DIY miniature book covers. Small fabric pieces with gorgeous floral patterns would be perfect for Victorian-inspired miniature books. Some fabrics have fun cartoon-style illustrations and those would work for mini children's books as well.
Source: nonomininostalgie.blogspot.fr
7

Include Illustrations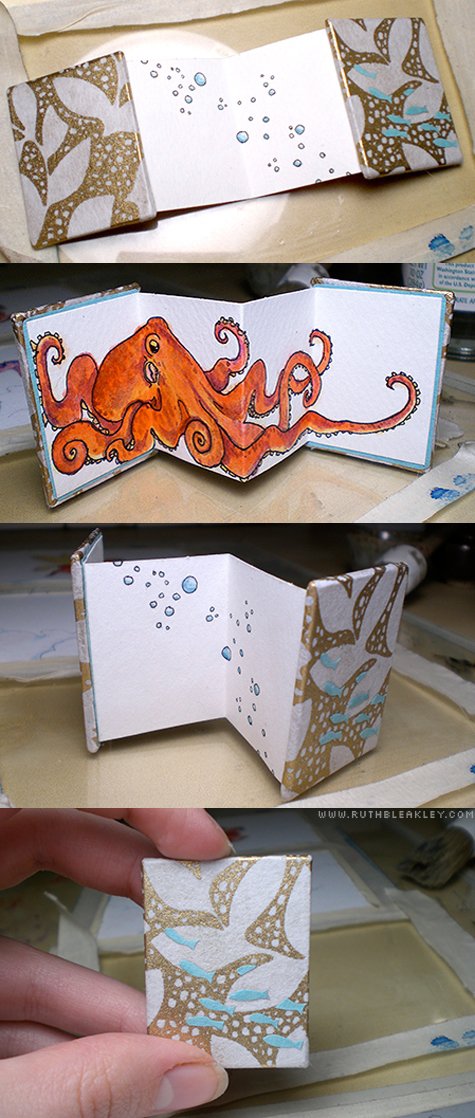 Most miniature book or notebook tutorials will give you instructions only on assembly and basic structure. This means that mini book DIYs usually leave the pages blank. But if you want your dollhouse or book project to have a fun surprise, giving the pages a real-life look is highly recommended. One way to go about it is to provide illustrations for the inside pages. You can draw them yourself or print an actual illustrated book.
Source: ruthbleakley.com
Have you died from the cuteness? I know I have! These DIY miniature books and notebooks are simply too adorable for words. Hope they inspire you to get crafty!
---
Comments
Popular
Related
Recent