There are countless examples of DIY trays to peruse online. Most of them come with your typical form and style. For those looking for unique, though, we have here 9 tray tutorials that are absolutely fabulous. These are so good, I have no doubt that you'll be tempted to make one (or two). You'll want to make some of these unique DIY trays since they have so many uses around the house. Happy making!
---
1

Try a Marble-like Tile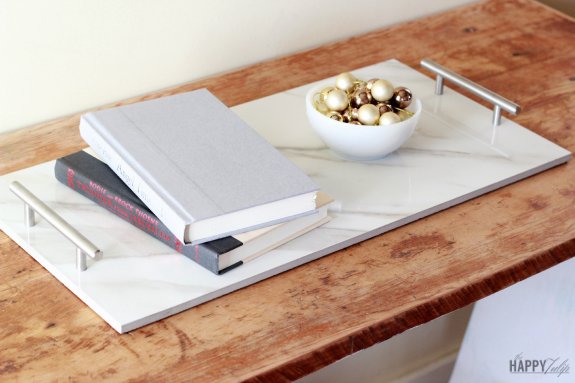 This is one classy DIY tray. It even looks store-bought, doesn't it? Apart from the beauty, you would love to know that it's an easy DIY. You simply glue drawer pulls to the short sides of a marble-like porcelain tile, add felt pads to the bottom, and that's it.
Source: thehappytulip.com
---
2

Combine Wood and Utensils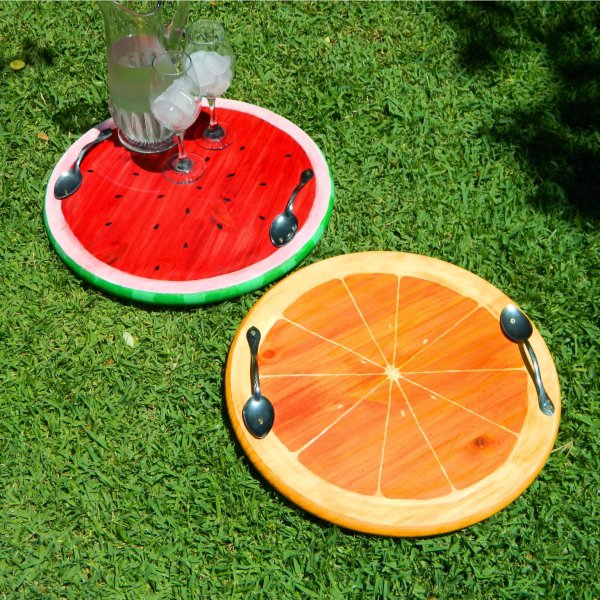 If you look closely at these fun trays, you will notice that the spoons are not part of the food presentation. In fact, they are part of the trays! Cute, right? These trays were round wooden pieces painted with fruity designs. The handles are spoons bent and screwed to the sides.
Source: markmontanoblogs.blogspot.com
3

Go with a Rustic + Industrial Style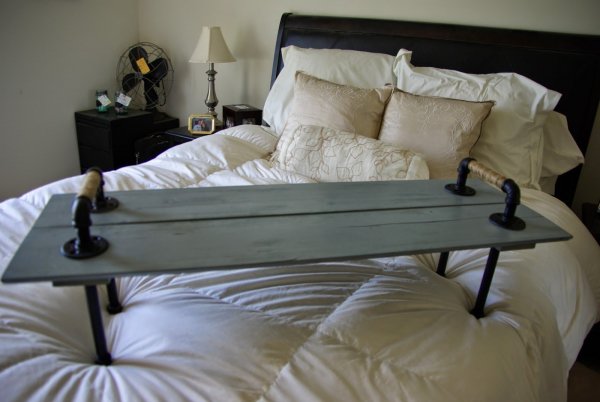 Talk about unique! This is a tray that is sturdy enough for mobile office work. You can prop it in bed and type the morning away while you have coffee. This was made with pieces of wood and pipes. You can choose to make yours a lot shorter if you think that the one above looks a tad long.
Source: ourhousenowahome.com
---
4

Paint Some Stars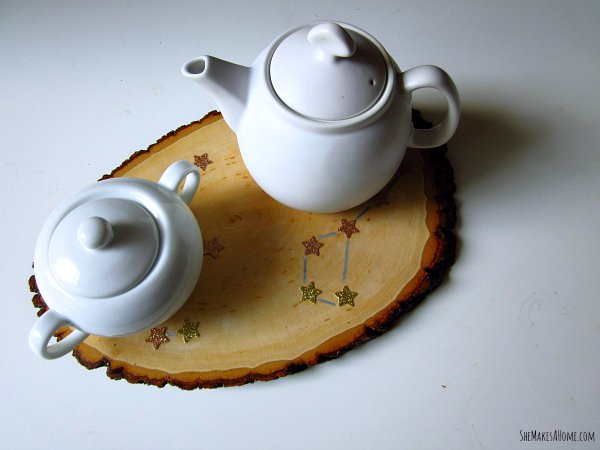 This is one adorable DIY unique tray. To make your own, you will need a wood slice. Find a size that will be perfect for serving food. You will also need metallic paper, Mod Podge, metallic paint or Sharpie, paint brush, waterproof sealer, and a star-shaped punch. The stars, as you can see, are card stock. If you want your tray to be smooth, you can choose to paint the stars instead.
Source: shemakesahome.com
---
5

Try a Unique and Portable Design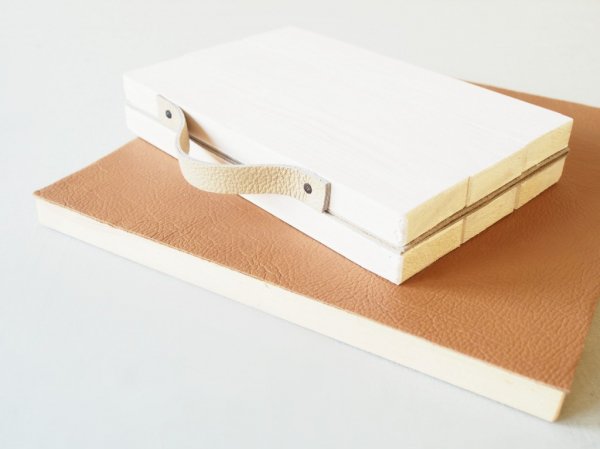 That looks like a luggage but it's actually a unique homemade tray. This is made of wooden bars covered with leather on one side. The bars can be rolled so that it's easy to store the tray. Quite nifty, right? If you can't find leather, felt or thick fabric can be used as well.
Source: monsterscircus.com
---
6

Iron Some Perler Beads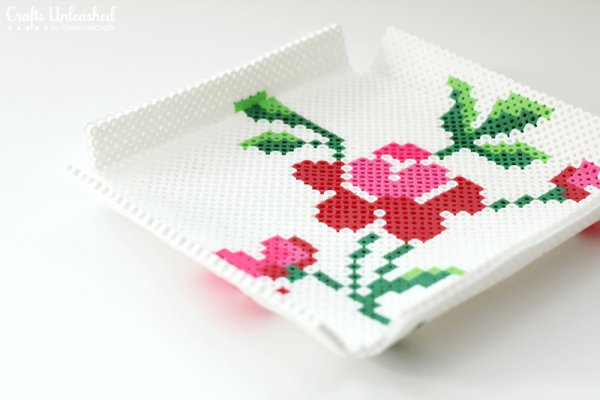 Ever worked with perler beads? They are often used to make fun character pendants or charms. But if you use a big enough pattern, you can create a fun and unique DIY tray. Make sure that you iron the tray to create slanting side for a full tray effect.
Source: craftsunleashed.com
---
7

Go for a Manly Style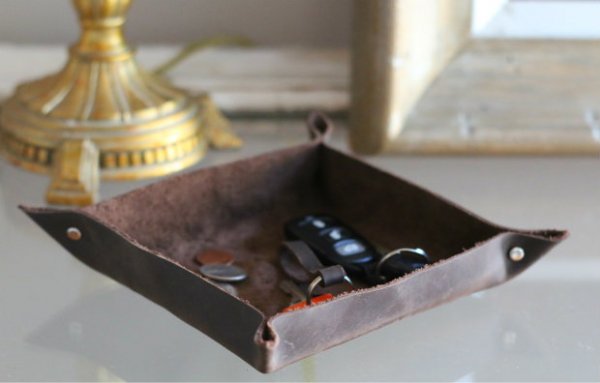 This is a gorgeous leather catch-all tray that will look handsome by your entryway or on your nightstand. Making this will require only two materials: leather and double cap rivets. As for tools, you will need craft knife, rivet setter, a mallet or hammer, and a ruler.
Source: ehow.com
---
8

Make It Clear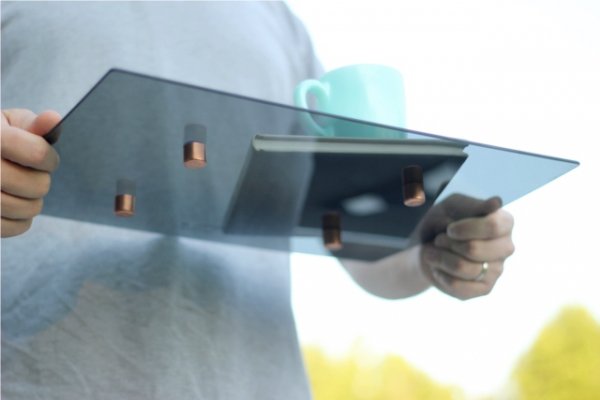 This is another beautiful and unique DIY tray that you can make at home for only a few dollars. You will basically need only glass and four copper feet for this project. You will glue the feet to the bottom of the glass, let dry, and that's it.
Source: theflourishingabode.com
---
9

Make One for the Kids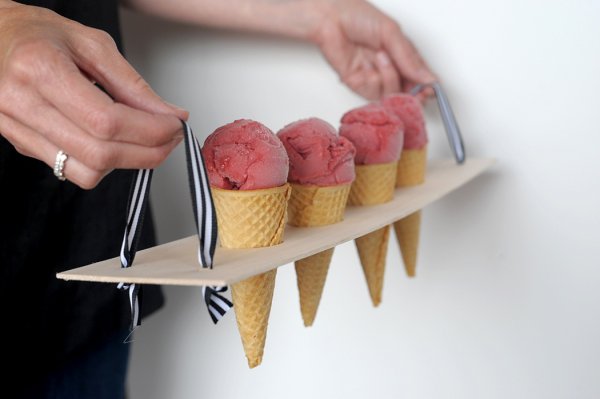 This unique DIY tray has a very specific use but I reckon you'd want to make one for a fun summer gathering. This is made of a piece of wood with round holes along the middle. The handles are ribbon. You can choose to make legs for the ice cream cone tray if you can't see yourself carrying it around during a party.
Source: aliceandlois.com
Trays are wonderful items to have for the home because they can be both functional and decorative. And if you end up making your own, they become extra special. Will you be trying some of these tray DIYs?
---
Comments
Popular
Related
Recent