For those who love all things Britain and British, we have here fun DIY Union Jack home décor projects. Most of these DIY Union Jack home crafts are beautifully functional, others are purely for decorative purposes. They all add a bit of culture and heritage to any room, though, so you will want to give one or two of these a try.
---
1

Paint a Headboard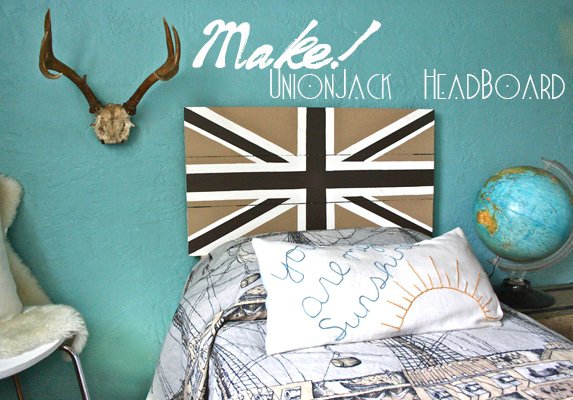 A headboard is probably one of the more popular DIY Union Jack projects that you can do. This is because a flag project basically calls for a rectangular piece of wood and there really are not a lot of places in your home where such piece of wood can be used. As you can also see, the DIY Union Jack project that you do for your home doesn't have to come in hues of red, blue, and white.
Source: theplumednest.com
2

Makeover a Trunk
Here is a fun way to give an old trunk a makeover. If you have one in your home and you no longer like the way it looks, giving it the British treatment is highly recommended. For those who don't have a trunk, we suggest going to the flea market or a nearby garage sale to procure one.
Source: frugalmomeh.com
---
3

Rework an Old Bench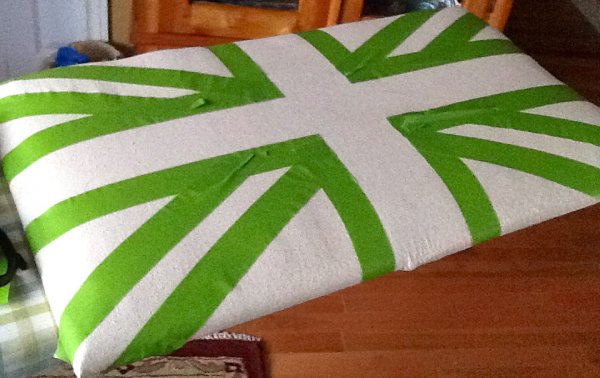 An old bench is another item in your home to which you can bestow a fun Union Jack treatment. If your old bench happens to have a cover that has seen better days, you will want to replace it first. Plain canvas or even drop cloth will work. After that, you can proceed with painting the Union Jack pattern.
Source: frontporchmercantile.com
---
4

Paint a Mason Jar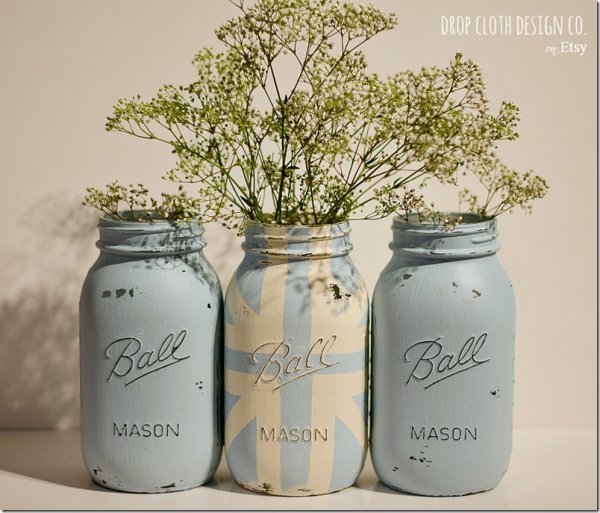 Not all DIY Union Jack projects call for flat rectangular structures. You can also use this design to give plain mason jars a fun and unique makeover. There is no tutorial for this fun craft project, but it looks easy enough to replicate. You will simply need paint, brushes, and maybe some painter's tape. You can also scrape off the paint that covers the writing on the jar to give your project more dimension.
Source: itallstartedwithpaint.com
---
5

Paint a Mirror Frame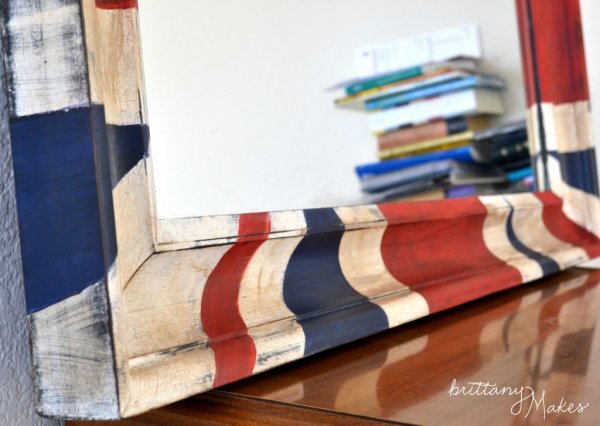 Say you don't want a Union Jack project that is too obvious. You can go about this by choosing muted colors for the paint or by choosing a "canvas" that is not too large. In this instance, the frame of a rectangular mirror works perfectly. If you want a home décor just like this, you will be needing paint and painter's tape. Check out the photos after the link for a guide on how to paint the mirror frame.
Source: brittanymakes.com
---
6

Paint a Dresser Front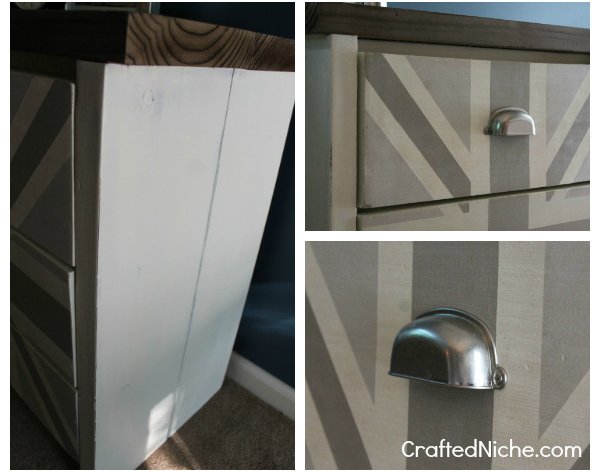 Here we have another Union Jack project in muted colors. The idea behind this is very similar to the trunk project. Basically, you give an old piece of furniture a fun makeover using only paint and painter's tape. You will, of course, want to remove the drawer pulls first before painting the dresser. Another way to go about this is to paint the top of the dresser instead of the front.
Source: craftedniche.com
---
7

Paint a Pegboard Headboard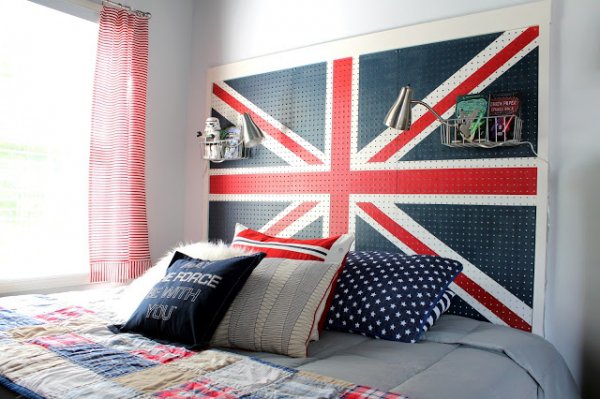 The words "pegboard headboard" may sound funny together but if you add Union Jack to the mix, you got yourself one fabulously unique home DIY. Not a lot of pegboard projects come with a painted look. You will notice that pegboard is not often used for decorative purposes. Here, though, the material is used both for a fun bedroom look and for storage as well.
Source: ourfifthhouse.com
Go ahead and try a fun flag DIY. Use it as a gift inspiration for a friend who loves all things London as well.
---
Comments
Popular
Related
Recent