I absolutely love seeking out hot kitchen designs. Is there anyone who doesn't fantasize about their dream kitchen?! From huge pantries to amazing islands and automatic wine dispensers, everyone has a dream kitchen that they'd love if money was no object. The difficulty is balancing that dream with what you can really afford. Here's some amazing hot kitchen designs to inspire you to do just that…
---
1

Plenty of Storage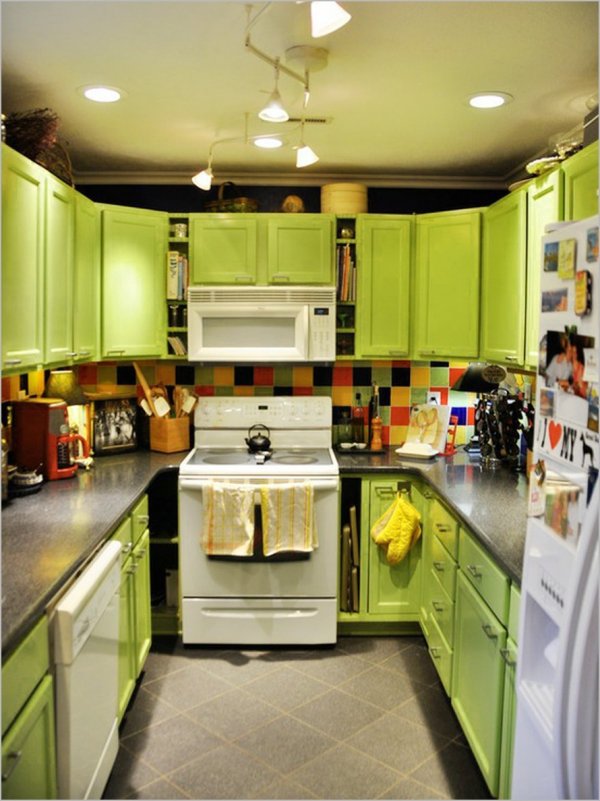 One of the essential features of hot kitchen designs at the moment is storage. From overhead cupboards to hidden closets and drawers, these rooms are designed to fit in everything you need. From this homey green kitchen to a minimalist black and white design, you can keep a professional, uncluttered look, and have somewhere to keep everything that you need. I love the photos on the fridge, too – it's a great way to add a personal touch to your kitchen.
---
2

Regal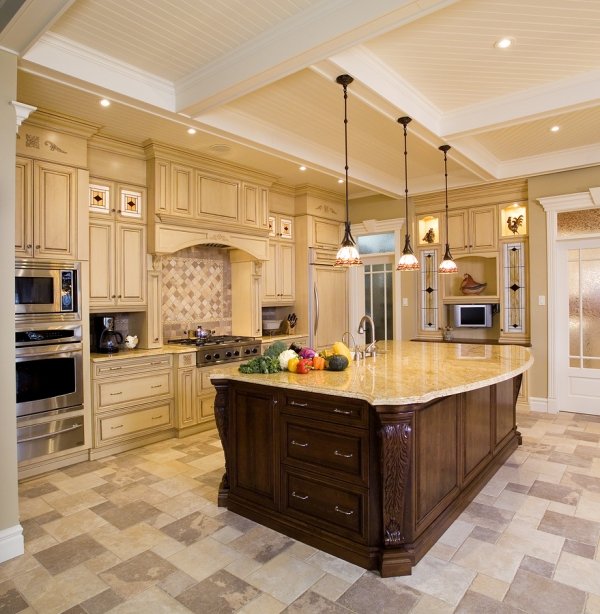 This kitchen is designed to blend two distinct influences – Regal and log cabin. The bold wood does a great job of being both, and the low lighting and accessories keep it intimate. It's a great example of how to create a warm, cosy kitchen without missing out on mod-cons.
---
3

Farmhouse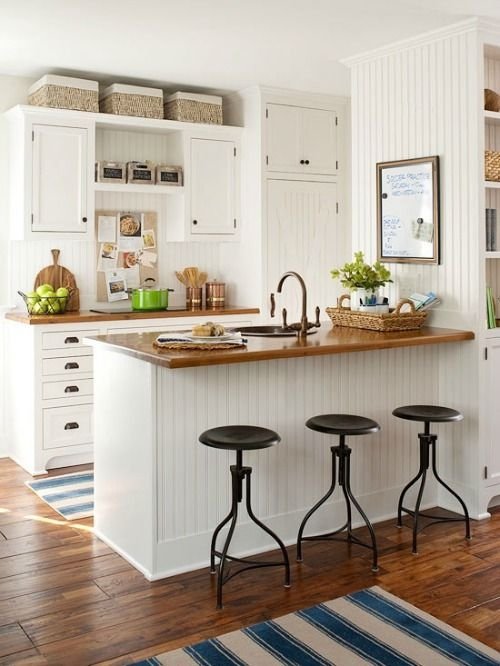 This is a very different kitchen – gone are the regal touches, and it's simple yet chic instead. The all-white décor is great for keeping it looking modern and fresh, and I love the use of green pots, flowers and apples to add a real touch of live colour.
---
4

Modern Influences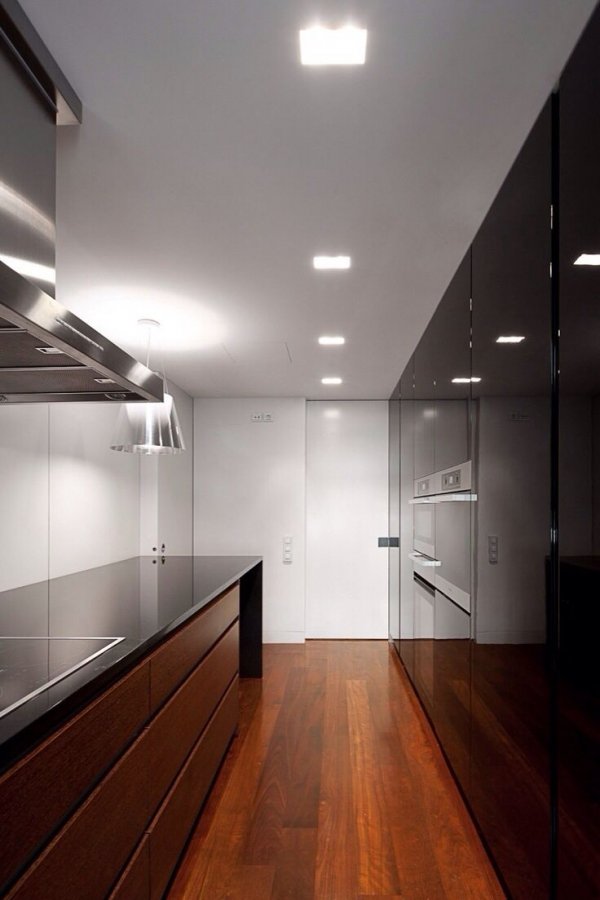 If you don't have much space and you want a really modern kitchen design, this could be the layout for you. It's really quite space conscious, but the shiny black colour theme makes it look instantly modern and chic. Built in black mod-cons ensure that you can do everything you need to do, and there's plenty of work space for preparing food, too. It's one of the best small-kitchen designs that I've seen; it doesn't even feel cluttered.
---
5

Outdoors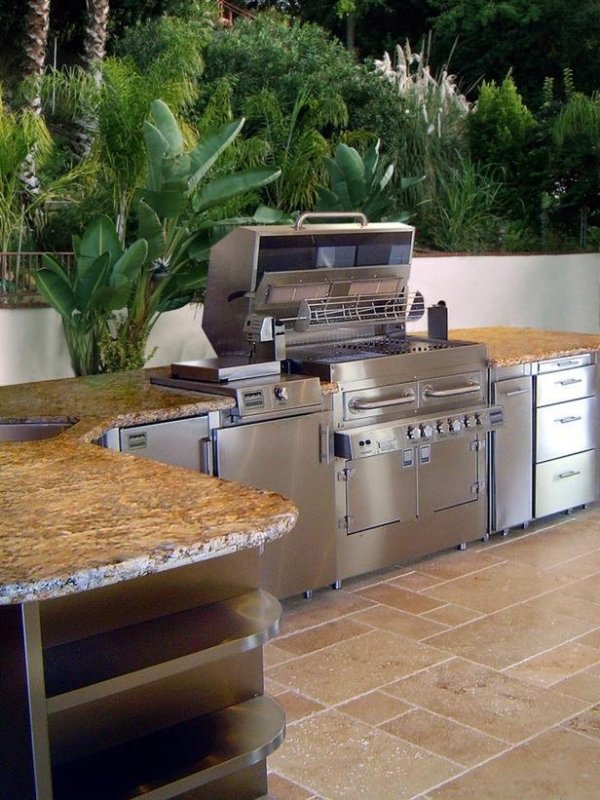 Okay, so you might not have room for an outdoor kitchen…but if you did, how amazing would this kitchen be?! A BBQ oven will let you cook everything that you need, there's plenty of fresh air, and it's full of natural light. I love all the storage, too. If you have the option to move your kitchen, or part of it, outside, go for this kind of style. You won't regret it.
---
6

Antique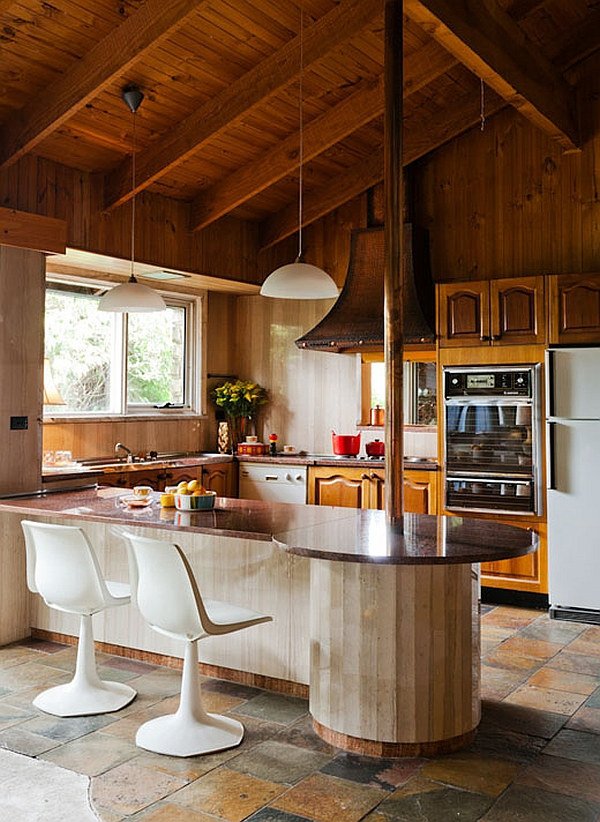 It's a mixture of the creamy off-white paint and the antique curves and designs that make this kitchen so gorgeous. First pick a statement item like the island or oven cover, and fit it to the kitchen. Dangling lights and old-fashioned curtains will add the retro impression. For anything modern, such as the oven, pick understated designs that will let the antique patterns do the talking. Win.
7

Blue Blue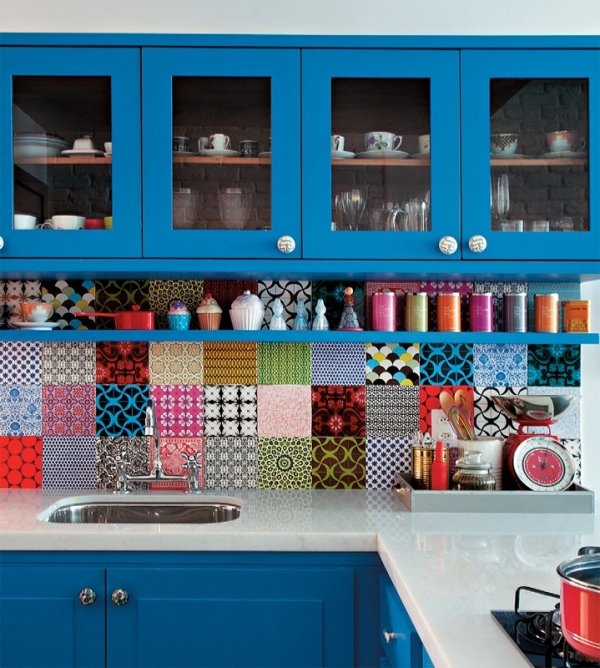 Fancy hot kitchen designs with more colour? There's plenty of those, too. From striking barn conversions that feature bright reds to accentuate the deep wooden colours to traditional yet kitsch designs like this one, with its multi-coloured tiles that are both super-cute and practical, colour is definitely something to play with this year. For a more coordinated look, try running one common tile through in a pattern, or give it a personal touch by having some favourite family photos printed onto waterproof tiles and using those instead.
Have you spotted any hot kitchen designs recently? What would your dream kitchen absolutely have to have – and what would you love to have? Leave me a comment and let me know, I'd love to hear your plans!
---
Comments
Popular
Related
Recent