If you ever bring work home or you work from home all the time, a fashionable home office is a must. After all, it's much easier to get stuff done in space that is conducive to productivity. Fortunately, you don't have to give up style to get a functional and trendy home office. Learning how to furnish a home office is pretty simple and is also an enjoyable way to create a work space that's all your own. Each of the items here are perfect for any home office and are sure to help you achieve the stunning place you crave. Let us know how it all works out!
Table of contents:
1

Mathieu Host Chair, Wheat Brown, $945.00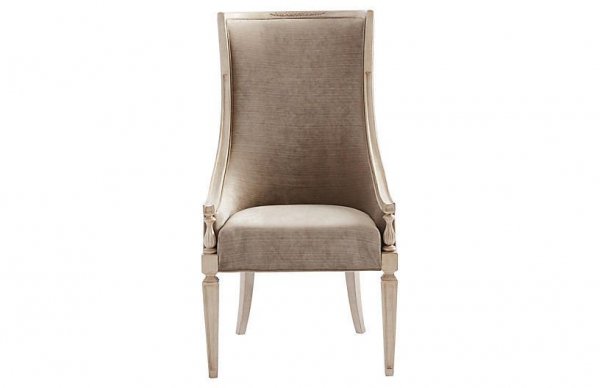 Framed in a rich medley of parawood, American walnut, and walnut burl veneer, this elegant accent chair shows off sloping arms, masterfully carved legs, and a lightly distressed finish. Topped with a cushy foam-filled seat.
Find it at: onekingslane.com
2

Blink Home Havenhurst 71" Étagère, Gold, $1,549.00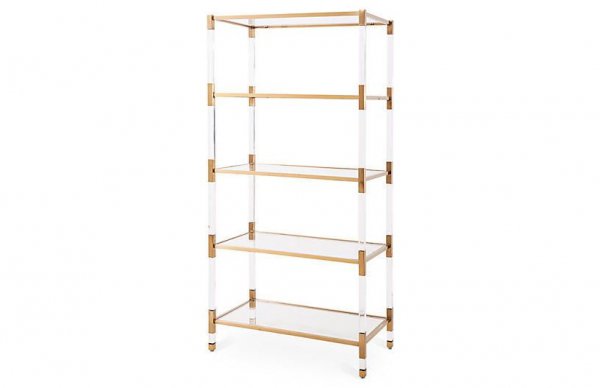 This ultramodern étagère is fashioned with an acrylic frame and golden steel accents. Four glass shelves offer a stylish surface for books, trinkets, and home accents.
Find it at: onekingslane.com
3

Soicher Marin Glamour Magazine, Pearls, 1954, $289.00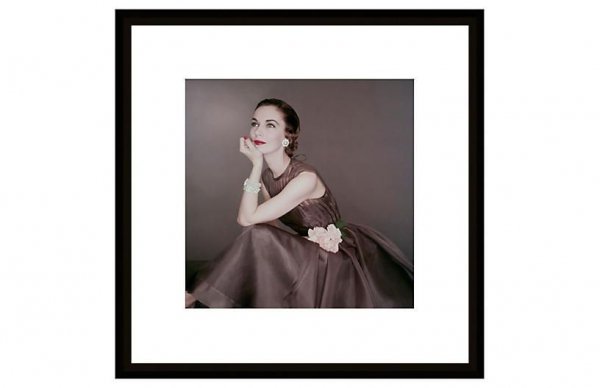 This photograph by Clifford Coffin appeared in the March 1954 issue of "Glamour" Magazine. Reproduced as an archival giclée print, the work arrives ready to hang in a classic black frame.
Find it at: onekingslane.com
4

Scarlett Swoop-Arm Chair, Navy Linen, $485.00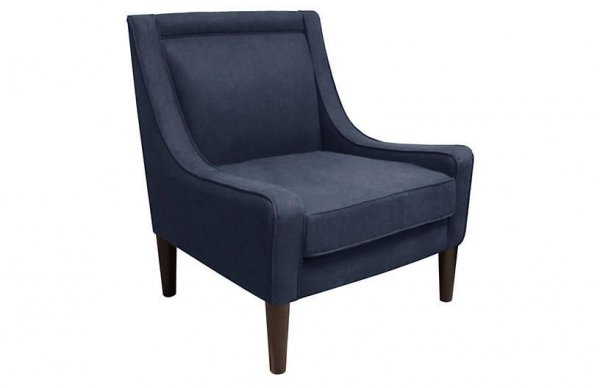 Handcrafted in the USA, this swoop-arm chair is sure to enhance your interiors with a stylish edge. Its low arms make it a perfect companion to a desk.
Find it at: onekingslane.com
5

Solid 18x18 Velvet Pillow, Indigo, $125.00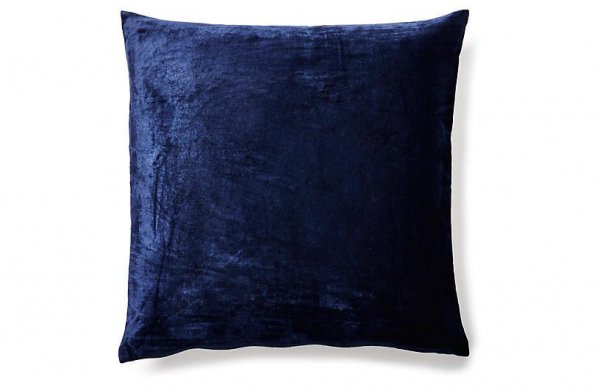 A throw pillow can do wonders for your space by adding just the color and texture it needs. This pillow's rich indigo velvet is a gorgeous case in point. The feather-and-down insert ensures long-lasting loftiness. Solid off-white back. Made in India.
Find it at: onekingslane.com
6

AntiqueLifestyle Ralph Lauren Zebra Linen/Mohair Pillow, $375.00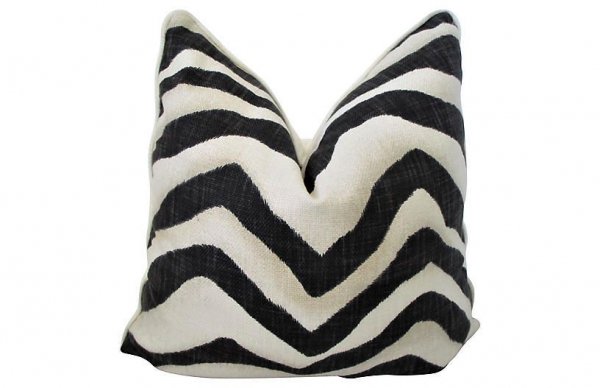 Custom pillow made with Ralph Lauren zebra pattern linen fabric. Paired with soft vintage ivory 100% mohair velvet back and matching cord trim. Ultra-plump down-and-feather insert. Hidden zipper closure.
Find it at: onekingslane.com
7

William Stafford Thurston Hopkins, Couple at Party, $159.00 - $199.00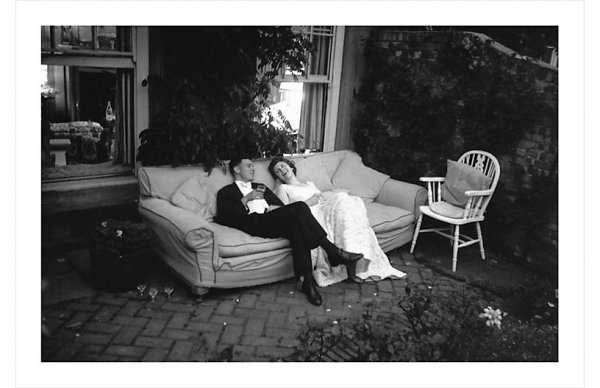 A debutante at a "coming out" ball for actress Anna Massey relaxes on a sofa with her escort in July, 1955.
Find it at: onekingslane.com
8

Von Meyer Ltd. Lucite Lamps, Pair, $995.00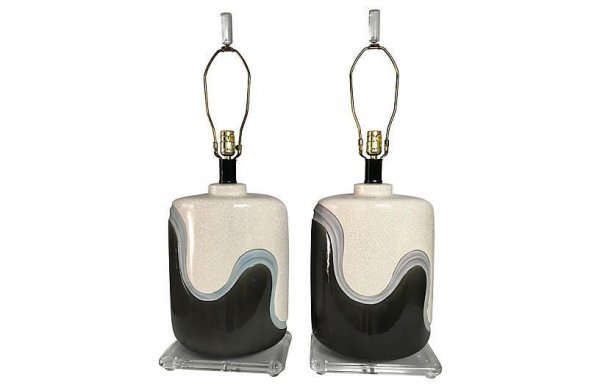 Pair of Mid-Century Modern Lucite and ceramic lamps. Wiring in working condition; supports 100W/250 volts bulb each. The harps and finials are included. Height to the glazed portion, 17"H. Height to the socket, 22.5"H. Height to top of harp, 29.5"H. Finial, 2.75"H. Age wear.
Find it at: onekingslane.com
9

Sonic Editions Marilyn in Grand Central Station, $199.00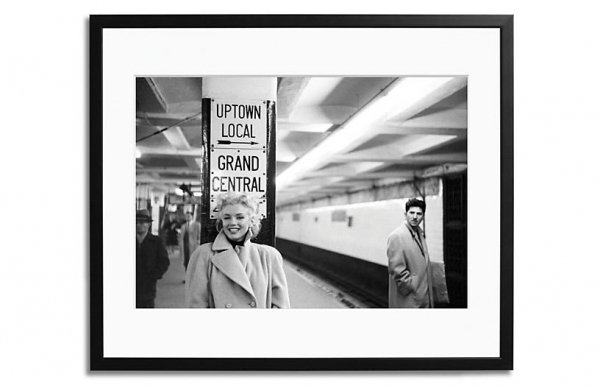 Striking a casual pose, Marilyn Monroe takes the subway in New York's Grand Central Station on March 24, 1955.
Find it at: onekingslane.com
10

Lexington Harrison Desk, Hazelnut, $2,799.00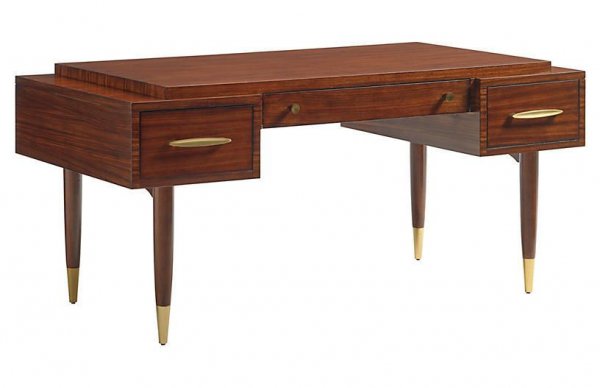 Sophisticated and refined, this desk is a stunner with its capped, tapered legs, gold-leaf-finished drawer pulls, and warm, expressive veneers. Multiple drawers and a large top surface offer plenty of space for keeping you organized in style.
Find it at: onekingslane.com
11

Lexington Melrose Writing Desk, $2,349.00

This desk is destined to make a statement. Crafted of hardwood solids and walnut veneers, the gold leaf finish of the open base adds a luxe touch and pairs beautifully with the warm, rich finish of the wood.
Find it at: onekingslane.com
12

Maxime Rug, Light Gray/Purple, $46.00 - $555.00

Featuring an allover pattern in vivid purple, this sophisticated rug is made using durable polypropylene, an easy-to-clean material that can stand up to the everyday wear and tear of areas that see heavy foot traffic. We recommend a rug pad to extend the life of the rug and keep it securely in place.
Find it at: onekingslane.com
13

Iconic Design Gallery, Inc. George Kovacs Lamps, S/2, $2,895.00

Pair of Mid-Century Modern curved dome-top table lamps with matching bases and Lucite supports attributed to George Kovacs. The domes are clad in polished chrome metal which accents the thick Lucite center slabs. Wired and in working condition; each accommodates two standard 60W bulbs. No maker's mark. Age wear, dings.

Find it at: onekingslane.com
14

Scarlett Swoop-Arm Chair, Gray Linen, $475.00

Handcrafted in the USA, this swoop-arm chair is sure to enhance your interiors with a stylish edge. Its low arms make it a perfect companion for a desk.
Find it at: onekingslane.com
15

One Kings Lane Collection Charlotte 80" Tufted Sofa, Blush, $2,495.00

Designed by us and available only at One Kings Lane: Blush-hued upholstery and elegant rolled arms add a feminine twist to this traditional sofa. Crafted with a sturdy hardwood frame, deep button tufts, and a foam fill wrapped in down with a cotton duck core, it offers the best in comfort and support. Made in the USA.
Find it at: onekingslane.com
16

Valerie Tovar, Sundaze, $249.00

This colorful abstraction from artist Valerie Tovar adds an uplifting note to your decor. Printed on gallery wrapped canvas, this reproduction is set in a white floater frame and arrives ready to hang.
Find it at: onekingslane.com
17

Interlude 9" Trefoil Knot Sculpture, Brass, $506.00

Crafted entirely of bronze with an antiqued brass finish, this modern knot sculpture makes a stunning addition to any shelf or tabletop.
Find it at: onekingslane.com
18

Kim Salmela Marlon 20x20 Velvet Pillow, Burnt Orange, $125.00

Rendered in rich, burnt orange velvet with a contrasting navy blue welt, this pillow will add a splash of color to any sofa or chair. Double-sided and filled with feather and down for long-lasting comfort and durability. Handcrafted in Southern California.
Find it at: onekingslane.com
19

Janney's Collection Midcentury Upholstered Chair, $796.00

Milo Baughman-style parsons lounge chair with angular open arms and reversible seat and back cushions. The sturdy wood frame is completely covered in tan cordless corduroy fabric. Included are two protective arm covers (not shown). Seat 15"H; arms, 23"H. Made in Lenoir NC by Bernhardt's Flair Division, 1970s. The original upholstery is in very good condition with minimal signs of wear.

Find it at: onekingslane.com
20

Kristin Drohan Collection Georgia Swivel Chair, Hibiscus Velvet, $1,995.00

Sophisticated with a retro spin, this tub-style swivel chair is beautifully upholstered in sumptuous velvet. Handcrafted in the USA using sustainable kiln-dried hardwood for the frame and premium materials for the upholstery and fill.
Find it at: onekingslane.com
21

Kristin Drohan Collection Andrew Velvet Day Chaise, Tangerine, $1,995.00 - $2,695.00

Not only is this chaise unquestionably elegant, but it's impressively durable too. The frame is crafted of sustainably forested maple, a hardwood so strong, it's often used for bowling-alley floors. The wood's been kiln-dried to remove excess moisture that could lead to warping or cracks, and the frame is reinforced with corner blocks that are glued and screwed into place. Heavy-gauge spring coils made of recycled metal are eight-way hand-tied and nailed to the frame for durability, while the luxurious down-filled seat cushions feature three-inch spring coils. Handcrafted in the USA.
Find it at: onekingslane.com
22

Lisa Tufted-Back Rose Side Chairs, Pair, $425.00

At home in virtually any style of decor, these chic side chairs show off balanced proportions and luxe velvet upholstery. Finished with button-tufted seat backs for added impact. Handcrafted in the USA.
Find it at: onekingslane.com
23

Munn Works Richard Phillips, Spectrum, 1998, $999.00

A fine-art reproduction of American artist Richard Phillips's "Spectrum" (1998). Phillips (b. 1962) is known for his large-scale, glossy, hyperrealistic paintings. In the words of the artist, "My pictures involve a kind of wasted beauty." This is a stretched-canvas print, framed in white.
Find it at: onekingslane.com
24

Lillian August Fine Furniture Langley Armchair, Gold, $1,595.00

This beautifully shaped armchair features tapered legs and gold-hued upholstery on the seat and back. The seat cushion of sturdy foam surrounded by feathers and down ensures long-lasting comfort and support.
Find it at: onekingslane.com
25

Eloise Tufted Slipper Chair, Talc Linen, $365.00

From its button tufting to its turned legs, this chair is an exemplar of timeless elegance. Ample padding ensures maximum comfort. Handcrafted in the USA.
Find it at: onekingslane.com
26

Exquisite Rugs Geometric Hide, Gray/White, $1,089.00

Naturally chic, this rug is carefully hand-stitched of cowhide into a stunning overall design. We recommend a rug pad to extend the life of the rug and keep it securely in place.

Need help choosing the right foundation? Visit our Rug Guide.
Find it at: onekingslane.com
27

Geneva Rug, Silver, $389.00 - $2,789.00

With animal spots as inspiration, this hand-knotted rug adds just a touch of wild style to a space.
Find it at: onekingslane.com
28

Bedford Modern Antiqued White-Tiled Column Lamps, Pair, $2,499.00

Pair of antique-white tiled column table lamps, square column with stepped base on four feet, brass band at base and top, by Maitland Smith, English 1970s. Overall height 36 in. Height to top of base 22 in. Base is 8 inches square, column is 3 inches square. Shade is 14 in square at top, 15 in square at bottom, shade height 14 in. Wired for use in the USA. In good working condition. Each lamp takes a single standard size bulb, max of 100W each.

Find it at: onekingslane.com
29

Munn Works Jackson Pollock, Teacup, 1946, $389.00

A fine-art giclée reproduction of Jackson Pollock's "Tea Cup" (1946). The work is presented in a custom wood frame with a gold finish.

Arguably one of the most recognizable of the Abstract Expressionists, Jackson Pollock was an influential American painter who enjoyed considerable fame and notoriety during his lifetime. A reclusive artist with a famously volatile personality, he struggled with alcoholism for most of his life. In 1945, he married the artist Lee Krasner, who became an important influence on his career and legacy.
Find it at: onekingslane.com
30

French Heritage Sorrell Upholstered Side Chair, Cherry, $525.00

A mahogany frame sets a sturdy foundation for this elegant side chair, finished with a warm cherry stain and fluted trim. An upholstered seat, splat, and back soften the look, amply padded with foam for long-lasting comfort and support.
Find it at: onekingslane.com
31

Visual Comfort & Co. French Cuff Sconce, Soft Brass, $399.00

A soft brass finish beautifully defines this sconce's sophisticated details. Paired with a silk shade in a creamy hue, this piece will complement both modern and traditional interiors. Hardwired.
Find it at: onekingslane.com
32

Munn Works Lee Ufan, from Line, 1977, $399.00

From the collection of the Guggenheim, this beautiful print radiates the serenity and quiet--and also the razor-sharp aesthetic sensibility--for which the Korean artist Lee Ufan is known. This fine print of the original is presented in a custom frame.
Find it at: onekingslane.com
33

Munn Works Lee Ufan, from Line 1980, $489.00

From the collection of the Guggenheim, this beautiful print radiates the serenity and quiet--and also the razor-sharp aesthetic sensibility--for which the Korean artist Lee Ufan is known. This fine print of the original is presented in a custom frame.
Find it at: onekingslane.com
34

Vintage Looks Modern Brass Étagère, $1,195.00

1960s Mastercraft étagère with patinated brass frame and glass shelves. No maker's mark. Light general scratching.

Find it at: onekingslane.com
35

Whitney Writing Desk, Oak/Gold, $845.00

Perfectly sized for use as a console or a writing desk, this three-drawer piece boasts an angular steel frame and rustic oak top.
Find it at: onekingslane.com
36

Chelsea House round Wall Mirror, Gold, $1,139.00

Framed in iron with an antiqued gold finish, this round wall mirror brings a luxe look to your decor.
Find it at: onekingslane.com
37

Kira Chair, Navy Dot, $445.00

Exclusive to One Kings Lane: A fun polka dot pattern gives this armchair a life and style all its own; a great statement-making piece for any space. Handcrafted in the USA.
Find it at: onekingslane.com
38

Visual Comfort & Co. Basil Small Flush Mount, Polished Nickel, $629.00

This stylish flush mount is designed with a frosted glass shade and clover-shaped polished nickel frame lined with clear glass rods. Hardwired.
Find it at: onekingslane.com
39

Soicher Marin Schmidt, House and Garden, April 2003, $209.00

A One Kings Lane exclusive: This image from Jason Schmidt for Condé Nast is displayed under glass in a white wood frame.
Find it at: onekingslane.com
40

Global Views Spike Étagère W/ White Marble, $1,749.00

This étagère pairs a beautifully crafted iron frame with inset marble shelves. Its impressive stature and multiple surfaces give you a wealth of space to display books and favorite accents.
Find it at: onekingslane.com
41

Kim Salmela Tilly 48" Bench, Light Beige/Black, $825.00

Available online exclusively at One Kings Lane: Create a footboard, add seating under a window sill, or replace your piano bench with this elegantly framed and upholstered piece. Handcrafted in Southern California.
Find it at: onekingslane.com
42

One Kings Lane Collection Lydia Camelback Settee, White Linen, $1,995.00

Designed by us and available only at One Kings Lane: Perched on turned hardwood legs with white linen upholstery and a down-wrapped fill, this modern camelback settee entices guests with classic details and quality comfort. Brass casters protect floors from scratching and marring and offer easy mobility. Made in the USA.
Find it at: onekingslane.com
43

Melrose Outdoor Chair, Beige/White, $499.00

Let your stately style extend to the porch and patio. Designed to resemble traditional hand-carved wood furnishings, this chair is exclusive to One Kings Lane and crafted of polyurethane over an internal steel skeleton, making it safe for outdoor use. Its seat and seat back are upholstered in durable, UV-resistant Sunbrella fabric and filled with a fast-drying foam.
Find it at: onekingslane.com
44

Munn Works Salvador Dalí­, Rhino, $499.00

Dalí frequently used fantastic exaggerations of recognizable images in his work, such as this rainbow-painted rhino. This etching is from the original plate, drawn and signed by the artist in 1968.

Dalí is one of the most controversial artists of the 20th century. Brilliant, innovative, grandiose and flamboyant, he is credited with the popularization of Surrealism.
Find it at: onekingslane.com
45

Saddlemans Large Devore Zebra Hide, Silver/White, $695.00

Naturally stylish with its iconic shape, extraordinary texture, and zebra-like stenciling, this hair-on-hide rug works beautifully with any decor. Because each rug has its own unique character, the appearance of each may vary slightly from the image shown.
Find it at: onekingslane.com
46

La Maison Supreme Mid-Century Modern Bar Cart, $3,685.00

Mid-Century Modern metal bar cart with three glass shelves.

Find it at: onekingslane.com
47

Portland Rug, Ivory, $389.00 - $975.00

This hand-knotted rug brings pattern, subtle color, and textural contrast to any space. Because it is crafted using a blend of wool and viscose fibers, it feels soft underfoot while displaying a silky sheen. We recommend a rug pad to extend the life of the rug and keep it securely in place.
Find it at: onekingslane.com
48

Munn Works Picasso, Tête De Femme, 1962, $429.00

A fine-art giclée reproduction of "Tête de Femme" (1962) by Pablo Picasso. The original work, a color linocut, is a stunning example of Picasso's mastery of abstraction--shapes overlap and intersect to create various textures, highlights, and shadows of the face. Custom frame.
Find it at: onekingslane.com
49

Le-Coterie Curly Mandy Square Ottoman, White, $1,495.00 - $2,095.00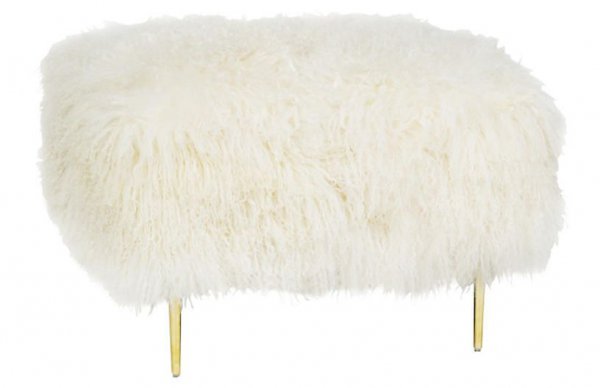 Curly and plush Tibetan lambswool tops the streamlined legs of this bench, which is amply padded to ensure that it's as comfortable as it is eye-catching. Made in the USA.
Find it at: onekingslane.com
50

Layla Rug, White/Gray, $215.00 - $1,049.00

At home in a variety of decors, this wool rug's lively, whimsical design is smartly balanced by a neutral color palette. We recommend a rug pad to extend the life of the rug and keep it securely in place.
Find it at: onekingslane.com
51

Salome Desk W/Carrara, Stonewash, $1,565.00

Detailed with a stonewash finish and Carrara marble top, this acacia desk boasts rich, organic texture and a swirling, expressive grain. Golden steel legs and hinged hardware top the look off with a hint of industrial charm.
Find it at: onekingslane.com
52

Regina Andrew Design 16" Sea Fan. Nickel, $249.00

Putting a luxe spin on seaside decor, this accent piece is crafted of aluminum to resemble a sea fan. A polished nickel finish completes the look and beautifully contrasts with the black granite base.
Find it at: onekingslane.com
53

Noir London Table Lamp, Brass, $469.00

Ideally suited for illuminating a desk or nightstand, this table lamp is presented on a round plinth with curvy brass arms and three white glass shades.
Find it at: onekingslane.com
54

C&C Reflections Classic Wooden Mirror, Gold, $220.00 - $399.00

Make any room feel bigger and brighter in an instant with this wood mirror, beautifully framed in antiqued gold. Beveled glass adds brilliance.
Find it at: onekingslane.com
55

SWI Vintage Brass & Glass Side Table, $675.00

Vintage lightweight brass swirl base side table with glass top. Attributed to Karl Springer. Slight age wear.

Find it at: onekingslane.com
56

16" Crystal Obelisk, $155.00

A design favorite for adding a sleek, sculptural element along with height, the obelisk objet crafted in crystal brings a bit of sparkle and shine too.
Find it at: onekingslane.com
57

Kim Salmela Alexander Chair, Snow Velvet, $1,595.00

Available online exclusively at One Kings Lane: A sloping back and arms give this chair immediate visual appeal. It's masterfully crafted of alder wood with exposed, tapered legs that are capped with gold ferules. The ivory hue of the woven cotton velvet upholstery is a beautiful, fresh counterpoint to the dark finish of the legs. A plush foam fill ensures long-lasting comfort. Handcrafted in Southern California.
Find it at: onekingslane.com
58

Portland Rug, Ivory/Blue, $389.00 - $1,899.00

This hand-knotted rug brings pattern, subtle color, and textural contrast to any space. Because it is crafted using a blend of wool and viscose fibers, it feels soft underfoot while displaying a silky sheen. We recommend a rug pad to extend the life of the rug and keep it securely in place.
Find it at: onekingslane.com
59

Jono Mirrors Valdosta Table Lamp, Brass/White, $299.00

Supported by a white marble block base, this steel table lamp makes an immediate impression with the dramatic arch of its neck and polished dome shade.
Find it at: onekingslane.com
60

Chelsea House Hayes Celtic Knot Demilune Console, Gold, $1,289.00

This demilune console stands proudly on three tapered iron legs finished in shimmering gold leaf. Topped with a glass inlay and an etched Celtic knot motif.
Find it at: onekingslane.com
61

Mr & Mrs Howard Klismos Side Chair, Natural Linen, $1,095.00

Golden steel nailheads call attention to the shapely back splat of this klismos side chair. Upholstered in crisp natural linen and supported by splayed hardwood legs.
Find it at: onekingslane.com
62

Modern 60" Glass Architect Desk, Silver, $979.00

This desk's sawhorse legs are rendered in polished metal, giving the classic profile a modern twist. Topped with a piece of sleek glass, this piece is ready to work in high style.
Find it at: onekingslane.com
63

The Gilded Room Grand Regency-Style Brass Étagère, $1,199.00

Tall Regency-style brass-and-glass étagère with arched top and five glass shelves. No maker's mark. Patina.

Find it at: onekingslane.com
64

Reed Linen Daybed, Blue/Ivory, $1,695.00 - $1,795.00

Elegantly slipcovered in geometric-patterned linen with a wraparound skirt that reaches the floor, this daybed has a frame made of alder, a hardwood prized for its stability. The cushion fill--lofty feathers and down with a supportive foam core--ensures long-lasting comfort. Handcrafted in the USA.
Find it at: onekingslane.com
65

Jonathan Charles Eva Side Chair, Ash Gray, $1,039.00

A wave-like splat and bold blue-and-white striped cotton-blend upholstery lend this classic oak side chair a healthy dose of contemporary appeal. Set atop splayed legs and a trestle pedestal.
Find it at: onekingslane.com
66

Mr & Mrs Howard Keswick Tufted Chair, Light Blue, $1,995.00

This chair has a versatile style that will complement both casual and formal spaces alike. It features a tight seat back, button detailing, and an exposed hardwood frame. Front casters offer mobility without scratching delicate floors.
Find it at: onekingslane.com
67

Lake Rug, Light Blue, $185.00 - $899.00

This rug features a modern abstract design that will add an artful perspective to your surroundings. Crafted of wool and viscose, this piece will feel soft underfoot while displaying a subtle silky sheen. A rug pad is recommended to keep this securely in place.
Find it at: onekingslane.com
68

Karmali Rug, Seafoam, $2,399.00 - $3,349.00

The raised viscose patterns on this piece are backed on a semi-worsted New Zealand wool pile; the rug is hand-knotted in India with a Tibetan weave. A rug pad is recommended to keep this securely in place.
Find it at: onekingslane.com
69

Scarlett Swoop-Arm Chair, Talc Linen, $485.00

Handcrafted in the USA, this swoop-arm chair is sure to enhance your interiors with a stylish edge. It is designed with low arms, allowing you to easily pull it up to a desk or writing table.
Find it at: onekingslane.com
70

One Kings Lane Collection Charlotte 80" Tufted Sofa, Shadow, $2,495.00

Designed by us and available only at One Kings Lane: Soft, neutral-hued upholstery and elegant rolled arms add a feminine twist to this traditional sofa. Crafted with a sturdy hardwood frame, deep button tufts, and a foam fill wrapped in down with a cotton duck core, it offers the best in comfort and support. Made in the USA.
Find it at: onekingslane.com
71

Global Views Klismos Star Sconce, Brass, $949.00

Crafted of brushed brass, this star-shaped sconce features hidden light bulbs that radiate a warm light from within. Hardwired.
Find it at: onekingslane.com
72

Glory Rug, Aqua, $185.00 - $899.00

Clean and graphic yet also quite classic, this aqua-hued rug will work with traditional or contemporary decor. The rug was hand-tufted in India from a soft combination of wool and viscose. A rug pad is recommended to keep this foundation securely in place.
Find it at: onekingslane.com
73

Regina Andrew Design 13" Python-Style Boutique Tray, Ivory, $249.00

This tray is designed with a tactile faux python texture and gleaming brass handles. Modern, luxe, and incredibly versatile, this piece is ideal for displaying candles, flowers, and favorite objets.
Find it at: onekingslane.com
74

Munn Works Paul Klee, the Vase, $369.00

A fine-art giclée reproduction on canvas of "The Vase" (1938) by Swiss-born German artist Paul Klee (1879-1940). Typical of Klee's late works, this piece employs heavier lines and geometric forms with fewer, but larger blocks of color.

Along with friend and fellow artist Vasily Kandinsky, Klee was a member of "Der Blaue Reiter" (The Blue Rider), a movement that sought to express spirituality through art. A 1914 trip to Tunisia profoundly influenced Klee's work, which subsequently took on a highly personal tone. Klee's abstractions often feature expressive color and symbols.
Find it at: onekingslane.com
75

Munn Works Henri Matisse, Blue Nude, $225.00

Rendered on fine-art paper, this beautiful print of a work by Henri Matisse is presented in a custom frame made of hand-finished molding.
Find it at: onekingslane.com
76

Vintage Lux Hermès Birkin Blue Jean 35cm Togo, $11,899.00

Authentic Hermès Birkin bag, 35cm, in blue jean togo leather. Palladium metal hardware. Handle drop, 4"L. Bag shows little wear on all four corners, as shown in photos. Comes with locks, keys, clochette, tirette and original dust bag.

Find it at: onekingslane.com
77

Iconic Design Gallery, Inc. Petite 4-Tier Chrome & Glass Étagère, $595.00

Midcentury petite chrome étagère with four glass shelves. Minor age wear.

Find it at: onekingslane.com
78

MINTY Desk Set, 3 Pcs, $159.00

Three-piece desk accessory set, circa 1970. Wooden case contains a pair of scissors and letter opener. Tools feature warm, lustrous brass finish over stainless steel. Hinged and lined box, 11"L x 4.75"W x 1"H. Scissors, 9"L x 2.5"W; letter opener, 7.375"L x .875"W. Minor scratches, wear to box and some discoloration of tools.

Find it at: onekingslane.com
79

I Dream in Vintage Lucite & Chrome Lamp, $375.00

Sculptural Lucite and chrome table lamp. Wired and in working condition; takes one standard 60W bulb. No maker's mark. Socket, 18.5"H. Shade not included. Age wear.

Find it at: onekingslane.com
80

Iconic Design Gallery, Inc. Paul Evans Cityscape Desk, $7,495.00

Walnut Cityscape desk by Paul Evans for Directional Furniture. Although unsigned, this desk is documented to be item PE-7346. Each side has two storage drawers and a file drawer. Left side file drawer has a lock, but missing key. Minor age wear.

Find it at: onekingslane.com
81

Fig + Stone Designs Gray Onyx Obelisk, $99.00

Veined gray and cream obelisk filed to a dull point from onyx stone.

Find it at: onekingslane.com
82

Resource Decor Erica Tiered Table, Gold, $1,125.00

Designed with a simple iron frame that's finished in gold leaf, this table features three large surfaces wrapped in soft, smooth vellum, giving you plenty of space for displaying favorite accents in style.
Find it at: onekingslane.com
83

Visual Comfort & Co. Multiarm Branch Chandelier, Gilded Iron, $1,679.00

Detailed with a bevy of gilded iron arms and rectangular glass accents, this large chandelier is destined to make a statement. Hardwired.
Find it at: onekingslane.com
84

Visual Comfort & Co. Eloise Two-Bulb Table Lamp, Denim, $629.00

Resting on a golden pedestal, this table lamp is defined by its curvy porcelain base and glossy denim-blue finish. Topped with a classic empire shade.
Find it at: onekingslane.com
85

Abrams Yves Saint Laurent, $69.00

One of the most distinctive and influential designers of the second half of the 20th century, Yves Saint Laurent takes his place in the pantheon of French couturiers alongside Coco Chanel, Christian Dior, and Jeanne Lanvin. "Yves Saint Laurent," the first comprehensive retrospective of his life's work, reveals the breadth and scope of the designer's career and explores the sources of inspiration that drove his continuous innovation.
Find it at: onekingslane.com
86

Abrams the Little Dictionary of Fashion, $19.00

Christian Dior reveals the secrets of style in this charming handbook that no woman should be without. An indispensable guide that covers everything from what to wear to a wedding to how to tie a scarf, "The Little Dictionary of Fashion" is full of timeless tips and delightful photographs and drawings.
Find it at: onekingslane.com
87

Abrams Yves Saint Laurent Style, $49.00

Yves Saint Laurent's signature style intertwines references from the art world with those of popular culture and social revolution. Since its establishment in the 1960s by the designer and Pierre Bergé, the Yves Saint Laurent haute couture house has redefined femininity, creating arguably the most famous (and sexiest) suit for women, Le Smoking tuxedo, and innovative collections with names such as Pop Art, Ballet Russes, and Picasso, all of which are included in this volume.
Find it at: onekingslane.com
88

Bradburn Home for One Kings Lane Harlow Table Lamp, Blue & White Marble, $569.00

Sealed in a blue-and-white marbled glaze, this handcrafted Italian ceramic table lamp boasts a shapely silhouette and sophisticated visual appeal. Balanced by a brass pedestal and trimmed with a silk barrel shade and gleaming round finial.
Find it at: onekingslane.com
89

Jono Mirrors Orwell 32"x35" Wall Mirror, Gold, $329.00

Individual iron bars finished in gold leaf compose this oval starburst mirror's ornate frame; its unique shape and stunning design will brighten up any room.
Find it at: onekingslane.com
90

Massoud Furniture Dagny Slipper Chair, Teal Velvet, $1,299.00

This tufted slipper chair is just as comfortable as it looks, thanks to its soft velvet upholstery in a deep jewel tone. The frame is made of beech, a wood favored by furniture makers for its strength and stability. Turned front legs and gleaming nailheads along each side add impressive finishing touches. Handcrafted in the USA.
Find it at: onekingslane.com
91

Kriskros Velvet Ottoman, Charcoal, $879.00

Clean-lined, modern, and sophisticated, this ottoman instantly updates spaces like the living room. Its charcoal upholstered seat features a plush foam cushion and showcases the chic X-base beneath. Made in the USA.
Find it at: onekingslane.com
92

Global Views Silver-Leaf Box, Champagne, $199.00 - $229.00

Trimmed with seven layers of silver leaf, this hinged box brings an undeniable sense of sophistication to a desk, vanity, or dresser.
Find it at: onekingslane.com
93

Culver S/4 22K Gold Glasses, Striped, $52.00

This elegant set features the classic Culver striped pattern restyled and reintroduced in 22-karat gold. Perfect for entertaining, holidays, wedding gifts, and more, these pieces make every day feel like a special occasion. Dishwasher safe and made in the USA.
Find it at: onekingslane.com
94

Visual Comfort & Co. Randolph Flush Mount, Brass, $689.00 - $839.00

Instantly brighten a room with this classic flush mount, designed to add ambient light to larger spaces like the living room or library. Hardwired.
Find it at: onekingslane.com
95

Visual Comfort & Co. Swing Table Lamp, Brass W/ Silk Shade, $629.00

Graceful and streamlined, this table lamp makes a polished accent for a desk or nightstand. A silk shade beautifully complements the base's soft brass finish.
Find it at: onekingslane.com

Please rate this article