If you're looking for a way to spice up a party or even a wedding reception, having some DIY succulent centerpieces is likely your answer. Succulents, as you know, are still on trend. This basically means that your party, with its succulent centerpieces, will be a hit. Every guest will surely be taking photos and posting on Instagram. For inspiration, check out the ideas below:
---
1

Eggshells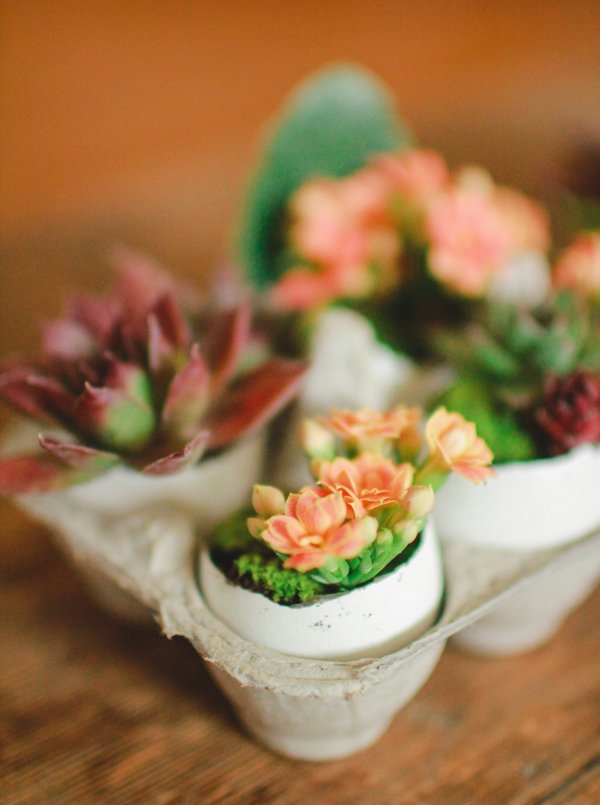 These are unique and beautiful succulent centerpieces. And it looks like they're quite easy to do, as well. You simply save some egg shells, transfer smaller succulent sections, and then display. As far as display goes, using an egg carton is looking like the best idea. But you know what could also work? Egg holders.
Source: lerobinsnest.blogspot.com
---
2

Brown Paper Bag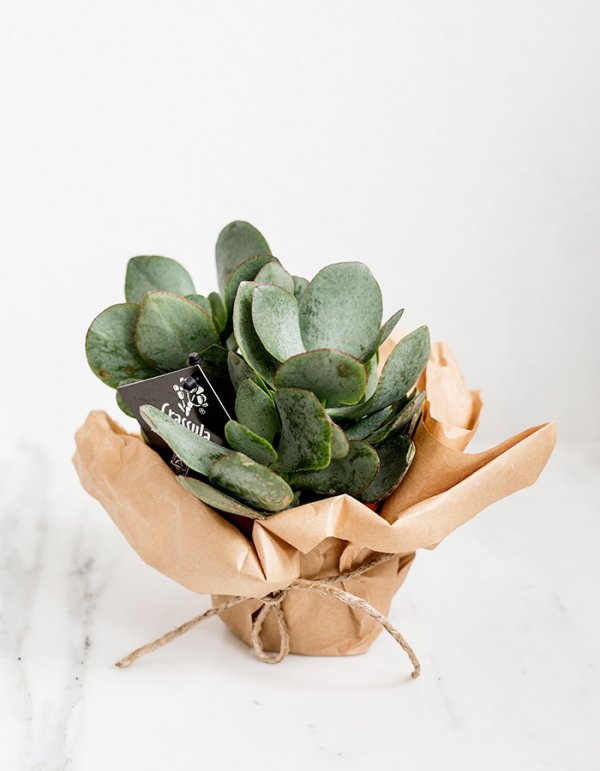 There is something wonderfully rustic about brown paper bag or Kraft paper details. And when you combine them with succulents, you have yourself a centerpiece that is positively lovely. To copy this idea, you wrap small pots of succulent with brown paper and tie with twine. Pretty ribbon in a lovely color that complements the paper will also look nice if you don't have twine.
Source: gretchengretchen.com
---
3

Boxed by Three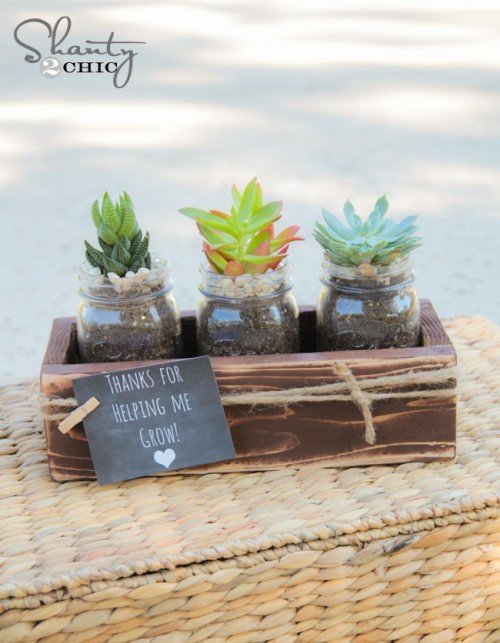 If you plan on using long tables in your party, having DIY succulent centerpieces that are also elongated in structure would be a great idea. From this particular craft idea, you will learn how to make the wooden box. It's actually quite simple to construct and will require only wood glue and wood stain. For the plants, Mason jars were used.
Source: shanty-2-chic.com
---
4

Lantern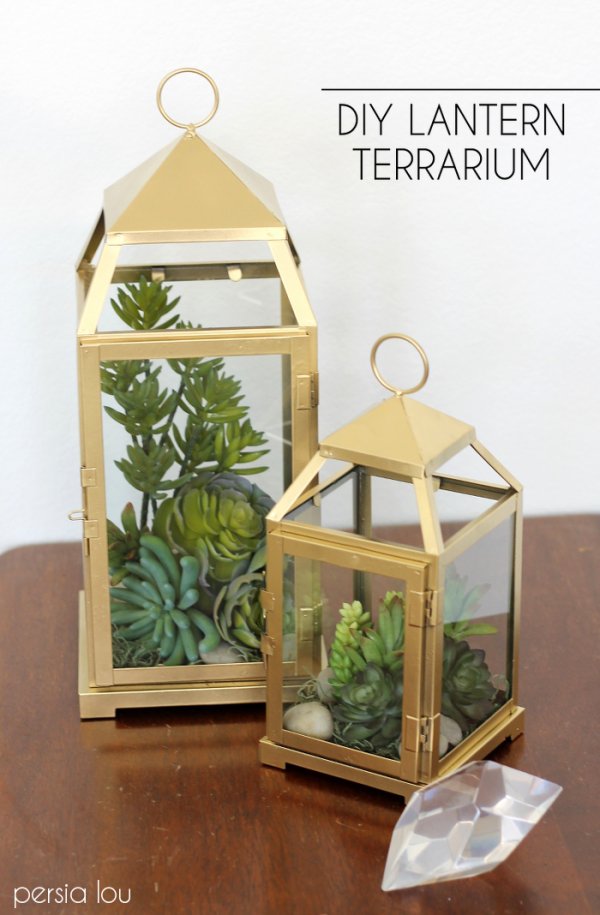 Say your party will be at night. One way to show off your succulent centerpieces during a nighttime party is to display them inside lanterns. Of course, for illumination, you will actually want to place actual tea light candles inside most of the lanterns. The succulent lantern cage is only for keeping with the theme.
Source: persialou.com
---
5

Vintage Tea Tins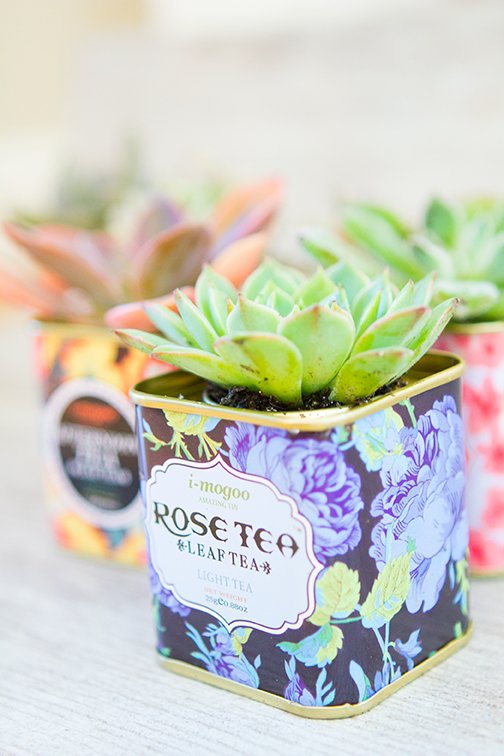 There is not a lot of crafting involved for this succulent centerpiece idea. Basically, you buy some beautiful tea tins and then transfer the succulents. But if you want this for a wedding, you can wield your Photoshopping powers to make customized tea tin labels. Maybe something with the couple's names and the date of their wedding.
Source: thesarahjohnson.com
---
6

Pumpkin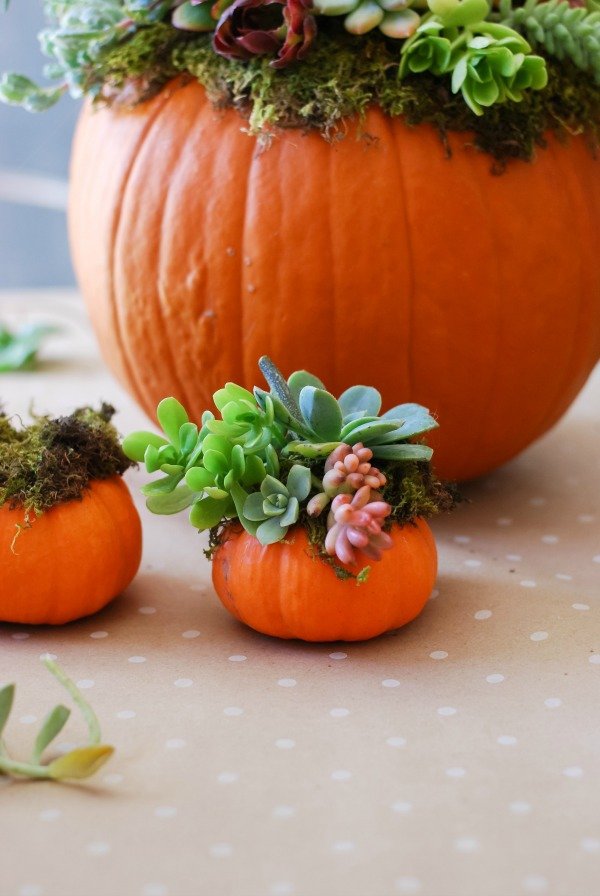 This is the perfect DIY succulent centerpiece for a party happening in autumn. For this project, there is no need to open the top of the pumpkin and scoop its insides out. In fact, you will only need to glue the plants onto the pumpkin and that's basically it. Before you add the succulents, though, you will want to hot glue a bit of moss to the pumpkin first. One large pumpkin will work for this idea but groupings of smaller gourds would look pretty, too.
Source: simplyhappenstance.com
7

Faux Stone Pot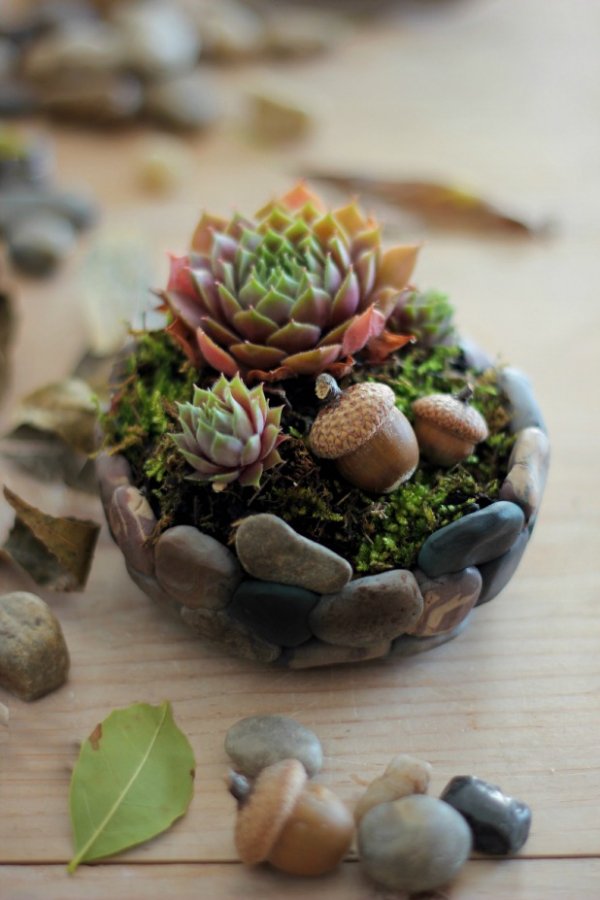 Would you believe that this stoneware pot is made of polymer clay? They were formed into balls and then flattened and kneaded to resemble stones. For an authentic stone look, two colors were combined and other materials were used. Great examples were sand, pepper, and salt. The tiny "stones" were then formed into a pot and then baked. After that, it became a cute planter for lovely succulents.
Source: ehow.com
I don't know about you but these DIY succulent centerpieces are making me want to check out the nearest garden store. They're simply darling. Would you want to have succulent centerpieces for your next party?
---
Comments
Popular
Related
Recent