You might think that a bird's nest craft project is too close to Easter in theme but it's an idea that can work all year. From the list of DIYs we have below, you can see that bird's nest to wear or to decorate your home with is too cute to pass up. If you're in the mood to make something utterly adorable for no reason at all, these bird's nest DIYs are perfect.
---
1

Aluminum Foil and Moss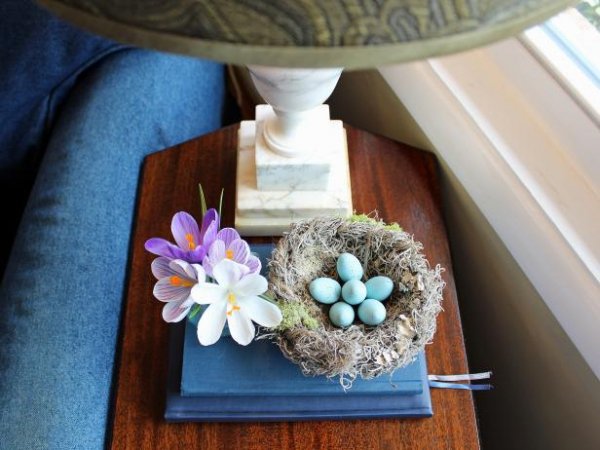 The base used for this particular bird's nest DIY is aluminum foil. To form a nice bowl-like shape, you will need to mold the aluminum foil using an actual bowl. You then cover said foil with moss and twine. Do this using hot glue. Once you have a nice nest, add eggs.
Source: hgtv.com
2

Glass Bowl and Moss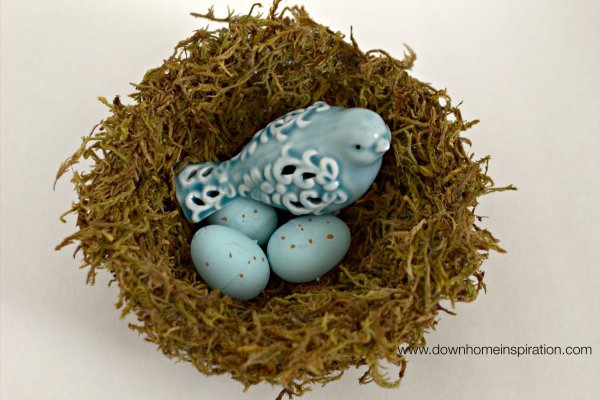 The process for making this pretty bird's nest is a little bit similar to the previous DIY. Instead of making a mold out of a bowl, you will actually be using glassware for this project. You basically cover the bowl with moss and then fill it with eggs and a lovely bird after. Use spray adhesive to cover the glass bowl with moss. You can leave the bottom of the bowl uncovered so that your nest will be easy to display on a flat surface.
Source: downhomeinspiration.com
---
3

Vintage Thread Spools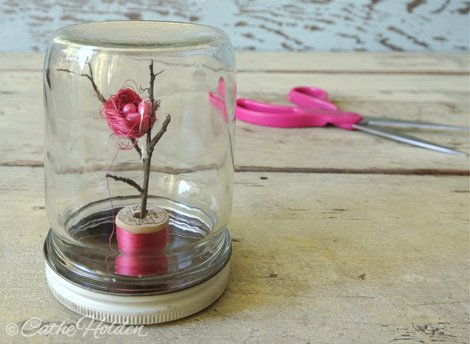 I am hopelessly in love with this idea. Miniatures are my weakness so this darling bird's nest craft project is calling out my name. If you want to make your own, you simply roll thread around your fingers and then shape into a nest using hot glue. Perch onto a twig using more hot glue and then add miniature eggs.
Source: justsomethingimade.com
---
4

Gift Topper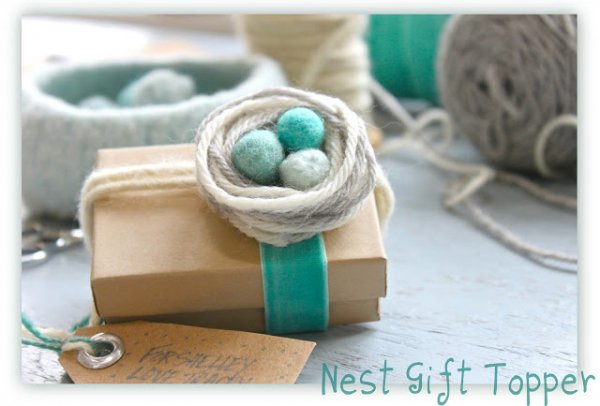 Here is another miniature bird's nest idea. This one was used as a gift topper but it can also be perfect as a cute detail for a shadow box. Place several under upside down glasses and use as whimsical table centerpieces. To make your own, you cut a small paper circle. Glue twine by coiling along the side of this circle. Continue coiling and gluing until you have a nice little nest. Add felted balls as eggs or miniatures if you can find them. Add a cute bird as well, for good measure.
Source: helanaandali.blogspot.com
---
5

Mason Jar Lamp

A bird's nest inside a Mason jar, that also happens to be a lamp? Seriously, TOO cute. The bird's nest section here can easily be constructed using moss and some fake eggs from the craft store. You don't have to do the lamp steps here, too; the nest in the jar idea is cute enough.
Source: craftsunleashed.com
---
6

Wire Necklace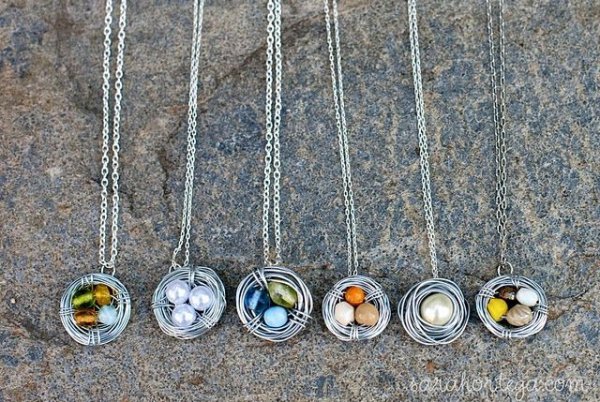 This is perhaps one of the most popular bird's nest craft ideas out there. Aren't they pretty? They are incredibly easy to make, too. To do this project, you will need only jewelry wire, beads, necklace chain, and a clasp. This nest idea can also be used to make an adorable ring.
Source: redtedart.com
---
7

Paper Bag Nest

Aren't these the cutest? The nest part here is made of brown paper bag. You cut two sides into circles and then cut said circles into coils. You then form these coils into a nest, gluing it together as you continue building. Add eggs and display.
Source: whitegunpowder.com
I bet that these DIY bird's nest projects just made you extra excited for spring. Bookmark them for great Easter craft ideas, too.
---
Comments
Popular
Related
Recent