If seeing the trees change color has you looking for ways to decorate with fall leaves, you will be happy to know there are plenty of fun crafts you can do. The gold, red, and orange colors of the leaves are so beautiful, and they make such wonderful decorations. Using fall leaves that you find outside to decorate for the season will make your entire home feel fall like. Thankfully, there are many ways to decorate with fall leaves, some of which, as you will see, are easy, and some of which require a little more effort.
---
1

Wax Paper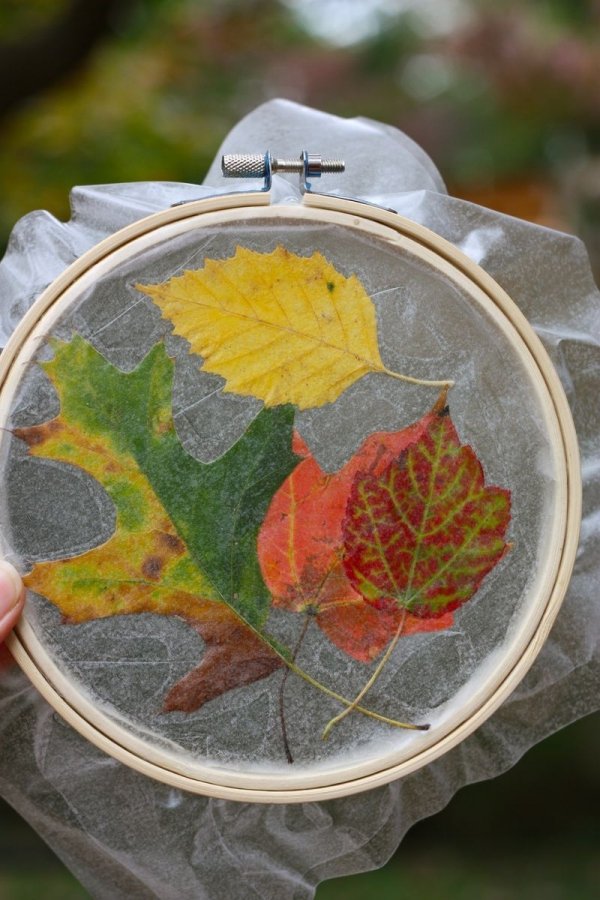 When you were in elementary school you probably used wax paper to make window decorations with fall leaves. Although it is a project that little kids love to do, making window decorations is one of the easiest ways to decorate with fall leaves. All you have to do is collect some leaves and place them between two pieces of wax paper. Then, iron the wax paper together with your iron on the lowest setting. Just make sure you keep the shiny side of the wax paper facing out!
---
2

Vases with Branches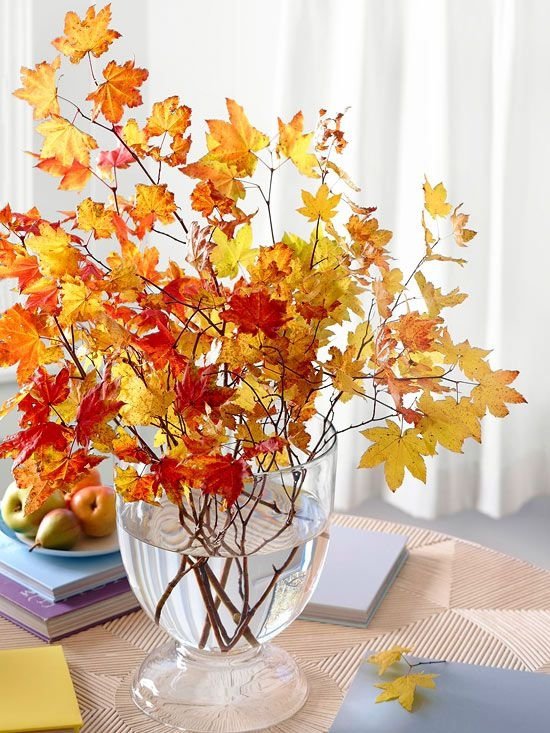 Another simple way to decorate with fall leaves is to make arrangements out of branches that you are cut from trees and bushes. Of course, these arrangements will not last long, but they will look very festive for a party.
---
3

Decoupage Leaves on Vases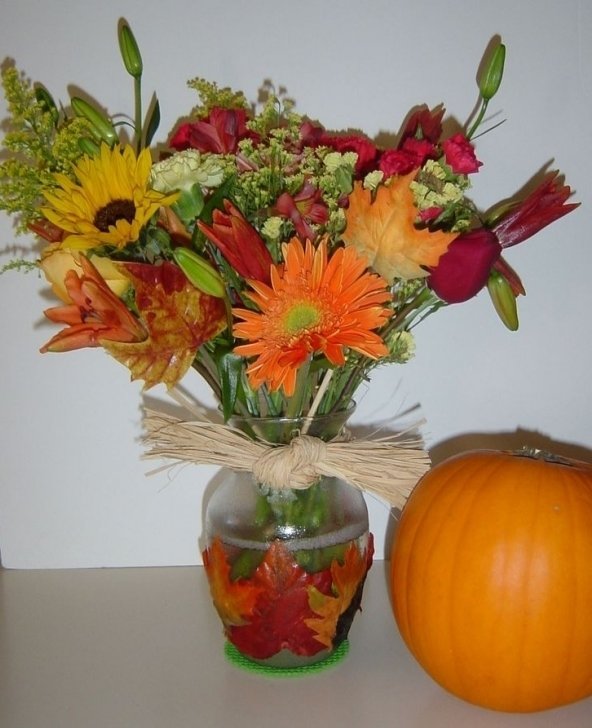 If you don't like the idea of decorating with branches arranged in vases, perhaps you would prefer to decorate vases with pretty fall leaves. All you have to do is cover a vase with Mod Podge and place the leaves over it. Let the vase dry, and add a total of 3 coats over the leaves. The end result will be a beautiful autumn vase that you can use for your flowers.
---
4

Decorate with Preserved Leaves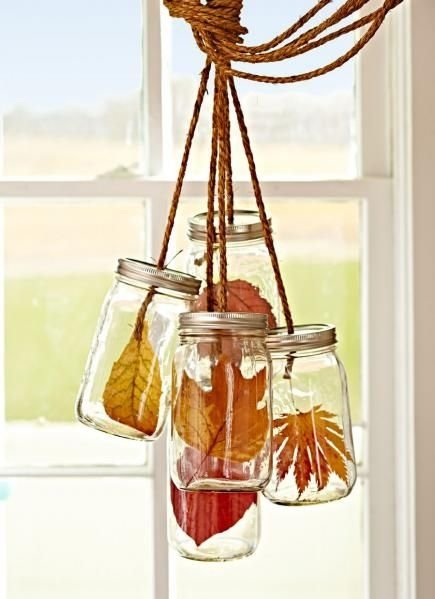 Preserved fall leaves can be used to decorate for fall in many different ways. My favorite way to use them is to fill crystal bowls with them. To preserve the leaves, all you need to do is soak them in a solution of one part glycerin and two parts water for 3 to 4 days. After you soak the leaves, blot them dry with a towel and use them to decorate in any way you desire.
---
5

Frame Pressed Leaves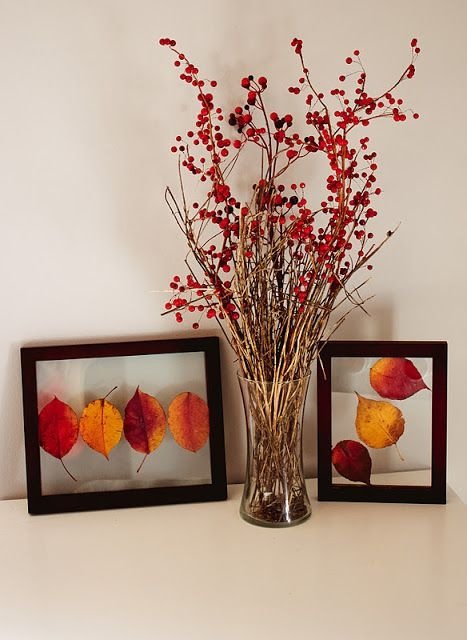 To make framed pressed leaves, you first need to press and dry the leaves by putting them between two sheets of paper towel and placing a heavy book on top of them. It may take several days for the leaves to dry, during which time, you will need to change the paper towel daily. However, once they are dry, you can arrange them on a pretty piece of paper to be framed.
---
6

Decorate Placemats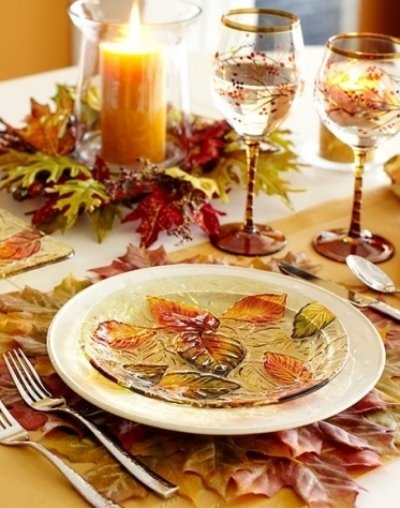 To decorate placemats, you will need to find some old cork placemats or buy some that are on sale. Ignore the picture that is on them, because it will be covered up with leaves. When you have your leaves and placemats, cover the placemats with Mod Podge and then arrange the leaves on the placemats. After this dries, use 2 to 3 more coats of Mod Podge, allowing each coat to dry.
7

Homemade Hurricane Candle Holders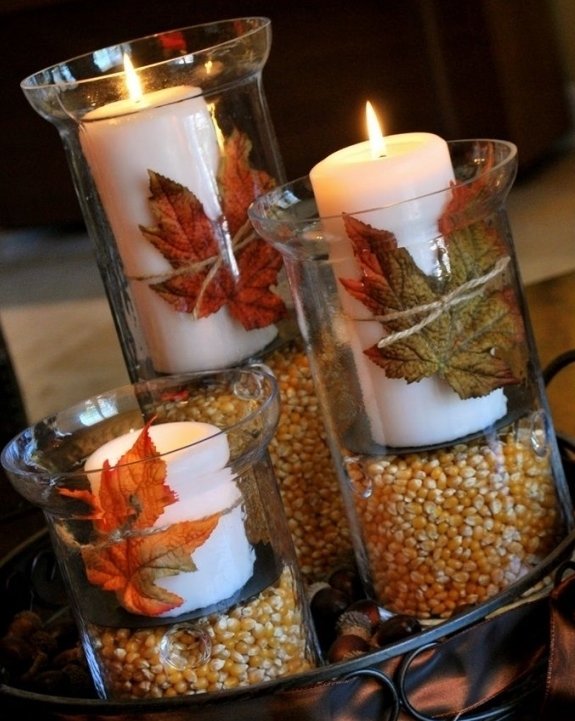 You can make beautiful hurricane candle holders using jars and fall leaves. All you have to do is use the same steps for Mod Podge you would for making placemats, but use jars instead. When you are finished, place a candle inside, and you will have a hurricane candle holder that is beautifully decorated for fall.
Decorating for fall is so much fun, especially when you get to decorate with fall leaves. All of these projects are relatively easy, and they all result in wonderful fall decorations. Which of these projects do you think you will do?
---
Comments
Popular
Related
Recent