All of these ways to spruce up your bathroom will allow you to change your bathroom in subtle or not so subtle ways and give it a punch of pizzazz. I love altering a room occasionally just to give me the sense of something new and different. I tend to be a bit of a bathroom hog, I spend a lot of time standing in front of the mirror trying out new hairstyles or makeup products and techniques. While my husband has an area set aside for his gaming and computer work, my time is usually spent playing in eye shadow and lip gloss. My bathroom looking nice, bright and cheery is important to me. Here are some ways to spruce up your bathroom that I just know you'll love as much as I do!
Table of contents:
1

Open Storage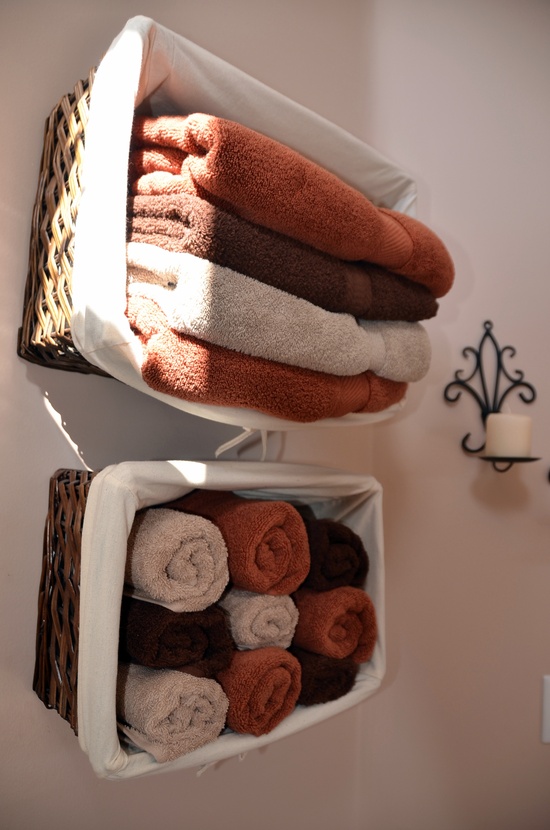 There are still wonderful ways to spruce up your bathroom even if you live in an apartment where you can't paint the walls or significantly change anything. One of the easiest things you can do to add a pop of color to a bathroom is to hang baskets on the wall and store your bath towels, hand towels and washcloths in them. This is an awesome way to switch up the color scheme in your bathroom without touching a paint brush to the walls! You only need two nails or so per basket and you can trade out the colors of the towels whenever you feel like it! If you set the baskets far enough apart you can also use the top of each as a shelf for small necessities or decorations.
2

Soothing Lights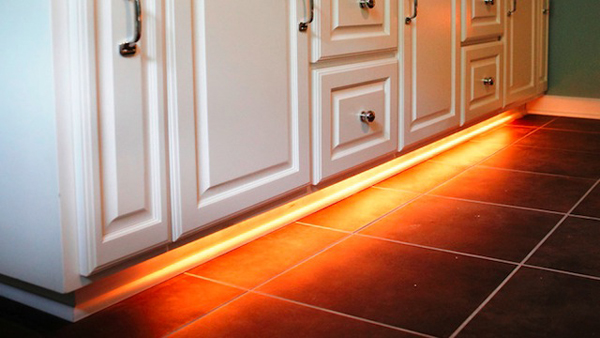 Installing a rope light beneath your bathroom counter is both practical and pleasing to look at! Keep yourself from tripping in the dark on your way to the bathroom by keeping the light on all night or soak in a soothing bubble bath leaving the room lit only by the soft light from beneath the sink. I have to admit this light trick really caught my eye and I will definitely be installing one ASAP!
3

Mismatched Tile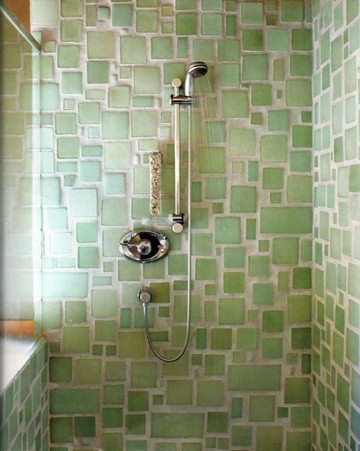 Bathroom tile can get pretty darn expensive, but if you're creative, you can make out like a bandit! Go to any home improvement store like Lowe's or Home Depot and ask if they give discounts on their broken tiles. Almost every store will give them to you exceptionally cheap. Some small businesses will give them to you for free. Use the mismatched tiles and lots of grout to form your own design or even a mosaic picture and then seal it as you would normally. It gives your shower a funky new look that's all your own!
4

Look up!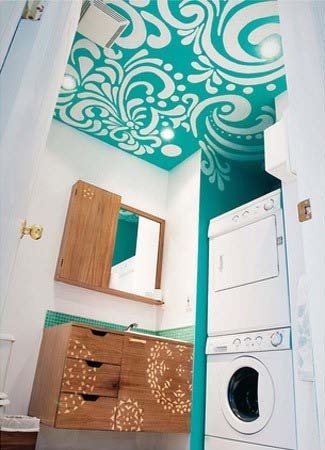 Most people paint their walls, if you want to be super creative, paint your ceiling! This is going to sound incredibly lazy, but when I got my first apartment I was told I could paint if I wanted to but when I moved out I would have to return everything to its original white color. Well I didn't want to live in a sterile white environment that felt like a hospital, but I also didn't want to have to repaint all my walls in a year when I moved. My solution was to paint the ceiling in my room and my living room. It looked great, added some awesome color, made it feel more like a home and when all was said and done, all I had to do was repaint the ceiling of two rooms instead of 9 walls (weird layout). It was so much easier and I got a TON of compliments on it! You can do so many amazing things with a ceiling: paint a cloudy sky, a solar system, stars, random colors, fireworks, the limit really is just your imagination!
5

Magnetize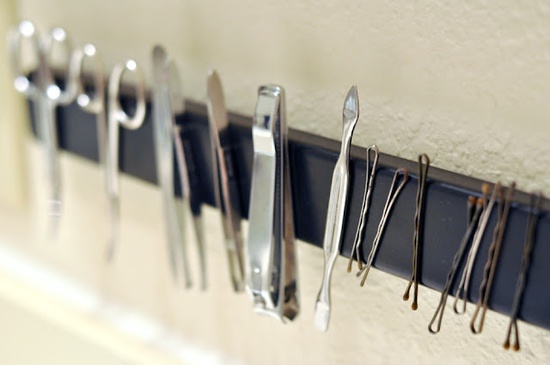 As previously mentioned in some of my other articles, I. Love. Magnets! I think they are the greatest little things ever! They are beyond useful in the bathroom, so if you don't have any on hand, add them to your shopping list right away. Take a few magnetic strips (you can leave them bare, but I like to wrap mine once in a fabric that matches the shade of my walls) use a few screws or poster putty or even strong glue dots to adhere them to the walls, the underside or inside of your medicine cabinet, the back of a door or the side of a mirror. You now have one of the greatest devices ever at your disposal! Nail clippers, scissors, bobby pins, tweezers, barrettes, pins, nail files…so many things we keep in our bathrooms are metal. Anything that isn't like a toothbrush or eye shadow container can easily have a small magnet affixed to it, making it magnetic as well! You can have everything within arms' reach, yet leave your counter tops clean!
6

Stony Shower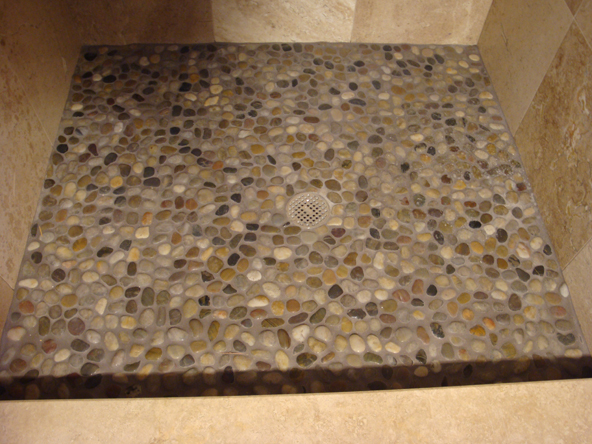 All you need to make this shower floor yourself is grout, sealer and several (40-50) bags of stones from Dollar Tree. That's right, those are Dollar Tree stones, and I have to say, that's the best use of them I have ever seen! Spread out the grout, adhere the stones and seal it up! I know I'm making it sound a lot easier than it is; it takes a lot of work on your hands and knees to get this done, but the result is definitely worth it and it doesn't cost nearly as much as having someone lay professional tile for you. An added bonus: the stones massage your feet gently as you walk on them as you bathe.
7

The Writing on the Walls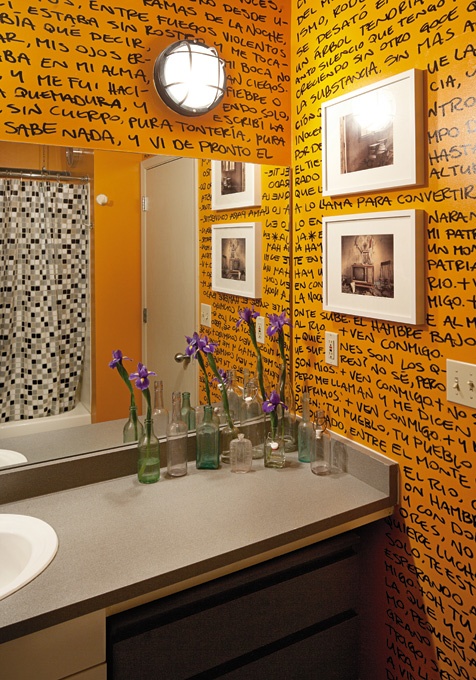 Your mother always told you not to write on the walls, but maybe if she had seen this picture she'd have thought twice about that. Black writing on a brightly colored wall is a very brave and bold statement. Use your favorite quotes or even the text from several pages of your favorite book. It looks intriguing, it's very different and at the very least, your guests will have something to read other than a magazine when they use your restroom!
Decorating and redecorating has always been a passion of mine. I love finding creative new ways to allow the various rooms I surround myself with to take on my personality. What are some interesting ways you have used to spruce up your bathroom?
Please rate this article