A true rustic modern vibe consists of a modern space with preserved and exposed natural architecture. Think natural woodwork, textiles, an open floor plan, lots of natural light, and industrial fixtures. Rustic modern design has become extremely popular- probably because sleek, modern elements combined with the warmth and charm of raw rustic architecture create a cozy and simplistic feel. If you would like to achieve elements of this look and design but don't know where to start, keep reading! Here are some ways to create a rustic modern vibe in your home.
---
1

Raw Wood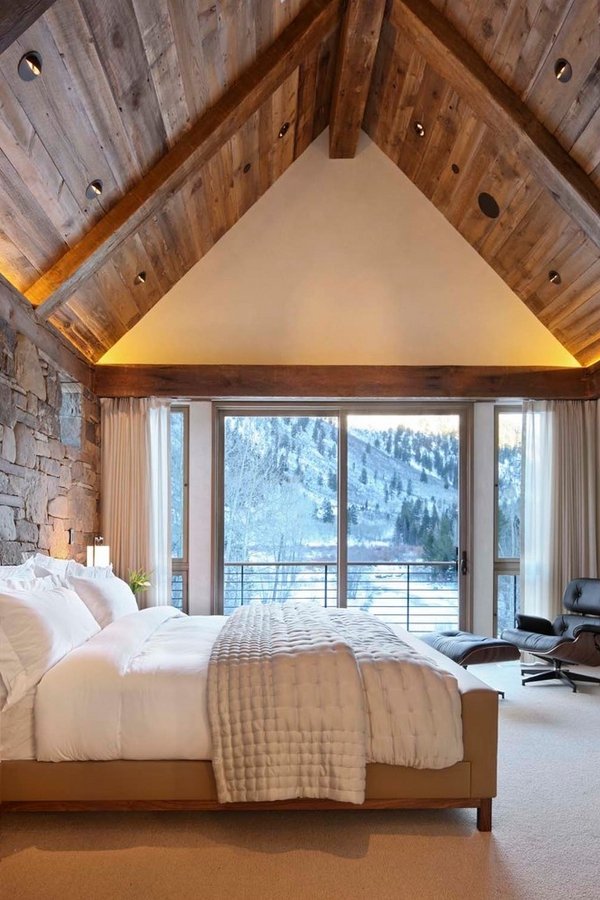 Raw wood is the essential element in achieving a rustic modern vibe in your home. Reclaimed wood is gorgeous and adds of lot of texture. A wood dining table, butcher block counters, an unpolished wood floor, and exposed beams in your ceiling are fantastic ways to create this style.
2

Brick & Stone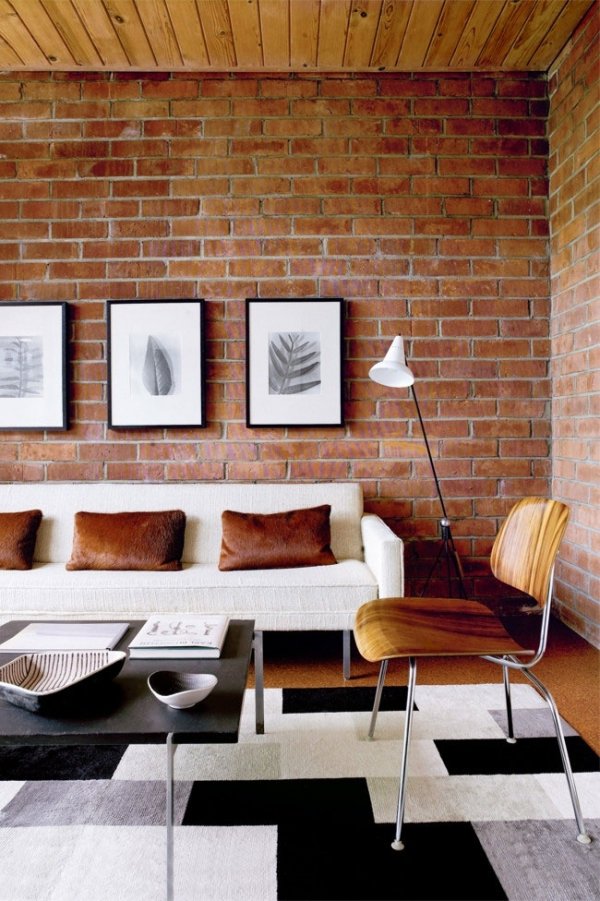 One of the first things that comes to mind when I think of rustic modern design is a natural, wood burning fireplace with either a red brick or stone overlay. I absolutely adore a brick fireplace surrounded by white walls and tiles. Many old cottage homes have original stone walls that would be amazing if preserved and kept. If you already have a fireplace or any corner nook, such as above your stove, one option could be to add brick or stone to achieve a rustic feel.
---
3

Natural Textiles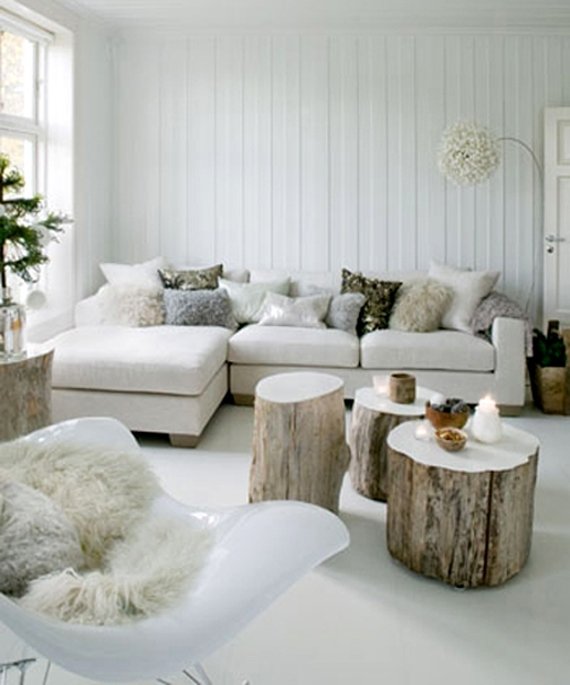 There isn't a whole lot of color or wild prints when it comes to rustic modern living. Natural textiles like burlap, wool, linen, brass fixtures, and raw animal hide in neutral tones are central. Stick to neutral colors for pillows and throws on simple, modern furniture. Burlap accessories can also add a rustic touch- such as around a plant holder or set as a place mat or centerpiece.
---
4

Elements of Nature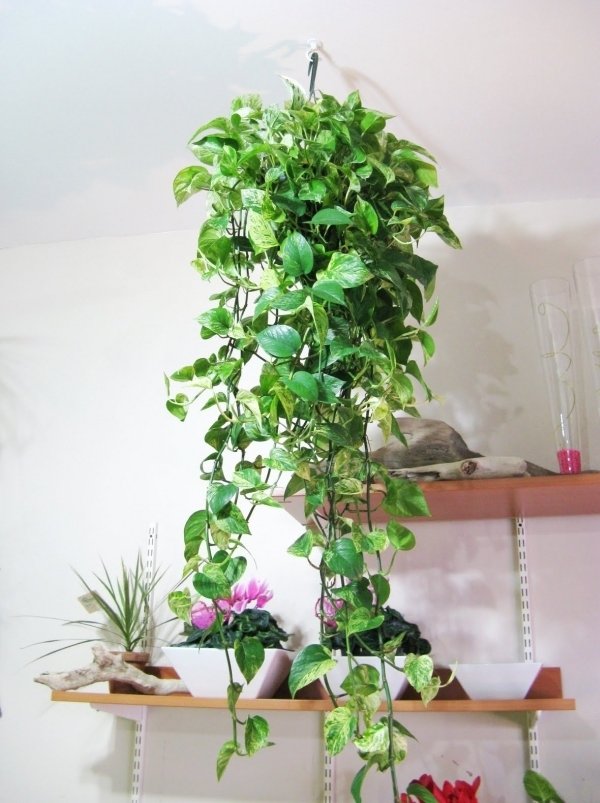 Bring in elements of nature for this look. Plant life is gorgeous- not flowers necessarily, but succulents and cacti are modern ways to add life. Potted ferns and small trees in strategic places around your home are also great. You've probably seen white antlers mounted above fireplaces and this is for sure one way to create that rustic-eclectic vibe. I have a single antler surrounding a potted green plant as my dining room centerpiece and I love it!
---
5

Simple Industrial Lighting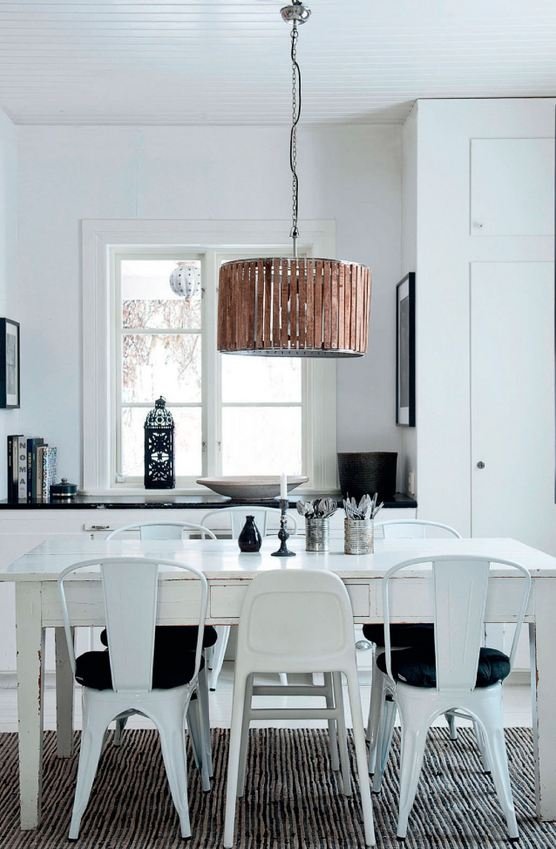 Simple industrial lighting is beautiful, artistic, and gives off a strong vintage appearance (especially when you're dealing with Edison bulbs). Industrial lighting has exposed cords, hardware, caging, and is extremely simplistic. Instead of the contemporary hanging bulbs and frosted glass lights, opt for pipe or colored cord pendant lights with single Edison bulbs on the end.
---
6

Exposed Beams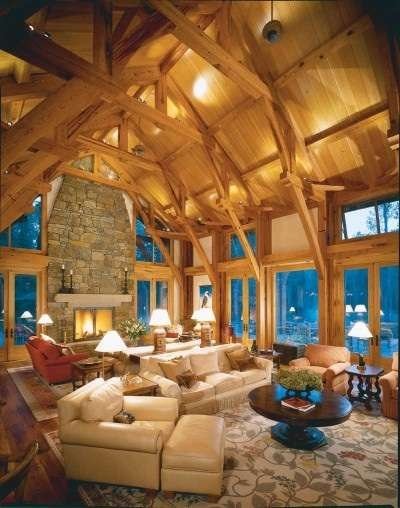 Exposed wood beams look beautiful against a clean, modern room design. Not only that, but they add a ton of style and texture to a plain old ceiling as well. You can add reclaimed wood to your ceiling, door frames, and molding for that rustic look you want to attain.
---
7

Color (or Lack Thereof)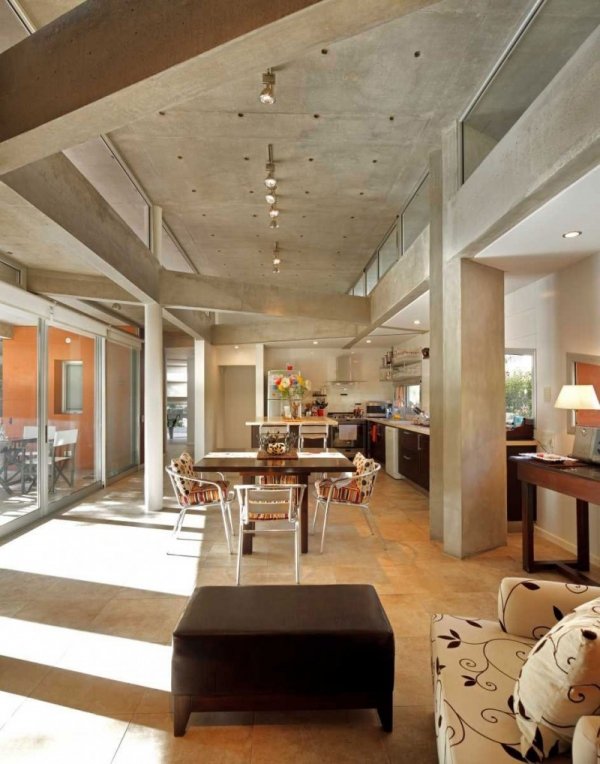 Modern style is simplistic in nature, even when it comes to wall color. White, light grays, and neutral tones are ideal for a clean, modern home. White details juxtaposed with brick, concrete, or stone create the perfect combination for a rustic modern look.
I wish all of these aspects of rustic modern decor were easy and inexpensive to attain without having to remodel. They are all wonderful attributes, however, especially if you can afford to have them in your home! I love adding rustic flair wherever possible, even if the additions are small. What aspects of rustic modern design do you love the most?
Sources: decoist.com, dwell.com, apartmenttherapy.com
---
Comments
Popular
Related
Recent